Open Access This article is
freely available
re-usable
Perspective
Miro—Working beyond Mitochondria and Microtubules
1
Department of Biochemistry, Yong Loo Lin School of Medicine, National University of Singapore, Singapore 117597, Singapore
2
NUS Graduate School for Integrative Sciences and Engineering, National University of Singapore, Singapore 117597, Singapore
Received: 5 February 2018 / Accepted: 3 March 2018 / Published: 4 March 2018
Abstract
:
The small GTPase Miro is best known for its regulation of mitochondrial movement by engaging with the microtubule-based motor proteins kinesin and dynein. Very recent findings have now showed that Miro also targets peroxisomes and regulates microtubule-dependent peroxisome motility. Moreover, Miro recruits and stabilizes the myosin motor Myo19 at the mitochondria to enable actin-based mitochondria movement, which is important for mitochondrial segregation during mitosis. Miro thus has much broader functions that previously known, and these new findings may have important implications on disease pathology.
Keywords:
Mitochondrial Rho (Miro); mitochondria; peroxisome; microtubules; actin
Acknowledgments
B.L.T. is supported by the NUS Graduate School for Integrative Sciences and Engineering.
Conflicts of Interest
The author declare no conflict of interest.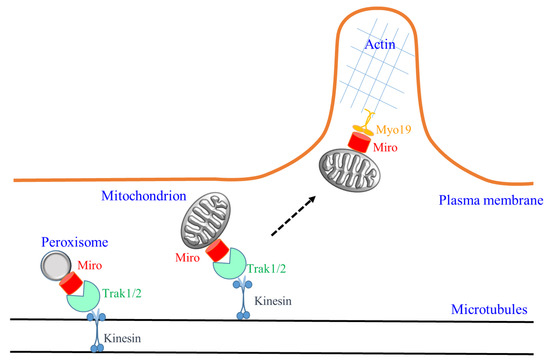 Figure 1. A schematic illustration of the new findings on Miro activity discussed in the text. Miro (splice isoforms not specified) could be localized to both mitochondria and peroxisomes to mediate microtubule-based transport by engaging the kinesin adaptors Trak1/2. Miro could also engage the actin motor Myo19 for actin-based mitochondrial transport. In neuronal cells, a switch from long-range Miro-mediated microtubule-based transport along axons and dendritic shafts to short-range actin-based transport in dendritic spines and growth cones may be conceivable, as illustrated speculatively by the dotted arrow.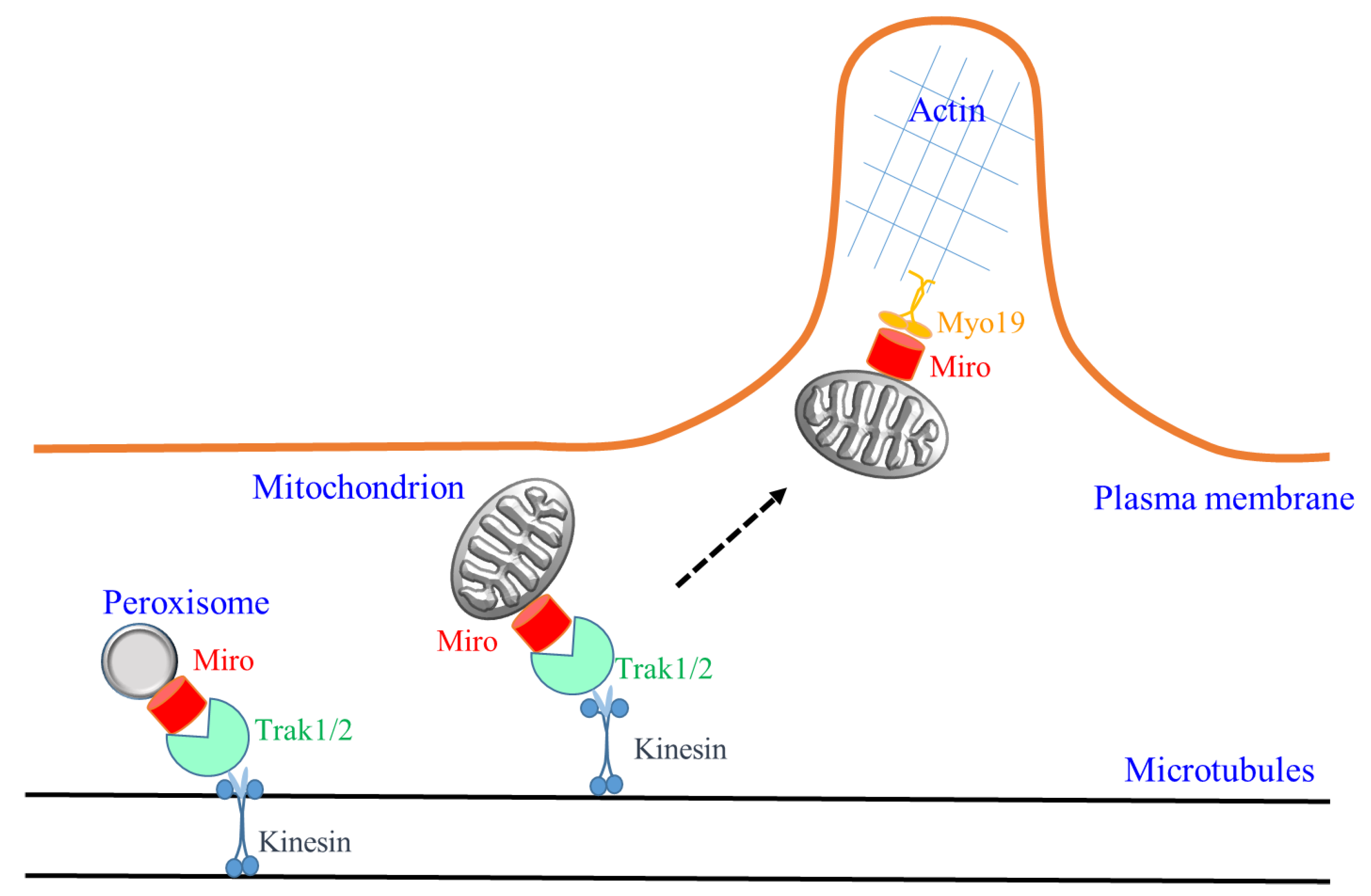 © 2018 by the author. Licensee MDPI, Basel, Switzerland. This article is an open access article distributed under the terms and conditions of the Creative Commons Attribution (CC BY) license (http://creativecommons.org/licenses/by/4.0/).