Open Access This article is
freely available
re-usable
Review
Extracellular Vesicles and Matrix Remodeling Enzymes: The Emerging Roles in Extracellular Matrix Remodeling, Progression of Diseases and Tissue Repair
1
Department of Rheumatology and Inflammation Research, Sahlgresnka Academy, University of Gothenburg, Gothenburg 41346, Sweden
2
Department of Biochemistry and Molecular Biology, Monash University, Victoria 3800, Australia
3
Department of Pathology and Forensic Medicine, Ribeirao Preto School of Medicine, University of Sao Paulo, Ribeirao Preto 14049-900, Brazil
*
Author to whom correspondence should be addressed.
Received: 5 August 2018 / Accepted: 12 October 2018 / Published: 13 October 2018
Abstract
:
Extracellular vesicles (EVs) are membrane enclosed micro- and nano-sized vesicles that are secreted from almost every species, ranging from prokaryotes to eukaryotes, and from almost every cell type studied so far. EVs contain repertoire of bioactive molecules such as proteins (including enzymes and transcriptional factors), lipids, carbohydrates and nucleic acids including DNA, coding and non-coding RNAs. The secreted EVs are taken up by neighboring cells where they release their content in recipient cells, or can sail through body fluids to reach distant organs. Since EVs transport bioactive cargo between cells, they have emerged as novel mediators of extra- and intercellular activities in local microenvironment and inter-organ communications distantly. Herein, we review the activities of EV-associated matrix-remodeling enzymes such as matrix metalloproteinases, heparanases, hyaluronidases, aggrecanases, and their regulators such as extracellular matrix metalloproteinase inducers and tissue inhibitors of metalloproteinases as novel means of matrix remodeling in physiological and pathological conditions. We discuss how such EVs act as novel mediators of extracellular matrix degradation to prepare a permissive environment for various pathological conditions such as cancer, cardiovascular diseases, arthritis and metabolic diseases. Additionally, the roles of EV-mediated matrix remodeling in tissue repair and their potential applications as organ therapies have been reviewed. Collectively, this knowledge could benefit the development of new approaches for tissue engineering.
Keywords:
extracellular vesicles; exosomes; matrix metalloproteinases; MMPs; extracellular matrix; telocytes; tumor progression; cardiovascular diseases; arthritis; tissue repair
1. Introduction
The augmented body of evidence has suggested that intercellular interactions could be disrupted physically and functionally by EV-mediated proteolytic activities, as EVs contain matrix-degrading enzymes such as matrix metalloproteinases (MMPs), heparanases, hyaluronidases, and extracellular matrix metalloproteinase inducer (EMMPRIN), and aggrecanases such as adamalysin metalloproteinases having disintegrin and thrombospondin domains (ADAMTSs) and tissue inhibitors of metalloproteinases (TIMPs), among others. As such, the presence of proteolytic molecules in EVs is one of the newly discovered sources for tissue remodeling through pericellular gelatinolytic activities (proteolysis), which modulate the structural architecture and dynamics of ECM and contribute for both the development of various diseases, tissue regeneration and amelioration of organ functions that will be discussed in this review.
2. MMPs Secretion into EVs
3. EV-Mediated Surface Interactions, Matrix Remodeling and Tumor Progression
3.1. Construction of Pre-Metastatic Niche
3.2. Fibroblastic Switching and Acquisition of Mesenchymal Mode
ECM-associated anomalies may affect cancer progression by promoting cellular transitions. It is well known that matrix degradation minimizes the adherent properties of cancer cells in order to promote their motility and invasion. As, such the motile cells may acquire the elongated forms, and assume novel phenotypes such as mesenchymal mode and the acquisition of fibroblast-like phenotypes that could be associated with distinct amoeboid forms and the shedding of large EVs (i.e., large oncosomes) into the extracellular space [
18
,
134
,
135
]. Several studies have highlighted that the potency of cancer cell migration and invasion is largely dependent on the acquisition of mesenchymal cell state. A well demonstrated example is epithelial-to-mesenchymal transition (EMT); often characterized by the secretion of MMPs, weak intercellular adhesion and reduced cellular polarity which is implicated in metastasis and acquisition of malignant traits [
136
,
137
,
138
,
139
,
140
,
141
].
Several studies have clarified that EVs mediate and facilitate the phenotypic switching of cells towards mesenchymal transitions including both EMT and MET [
120
,
142
,
143
,
144
,
145
,
146
,
147
]. EVs secreted from one cell type are taken up by other cell type, which could induce EMT-like process in recipient cells [
148
]. Breast cancer-derived EVs stimulate myofibroblast differentiation and impose consequential changes in extracellular matrix and the vascular sprouting in adipose stem cells. This incites desmoplastic reprogramming in the tumor microenvironment and tumor cells' glutamine metabolism [
149
]. TIMP-deficient fibroblasts could lose the metalloproteinase activity within the tumor-stromal compartment, demonstrating that the loss of TIMPs promotes the acquisition of cancer associated fibroblasts (CAFs) characteristics [
101
]. Since, TIMPs are major regulators (inhibitors) of the proteolytic activities of MMPs, TIMP deregulation may result in cancer progression [
101
,
150
].
3.3. Tumor Neovascularization
4. EV-Associated MMPs as Cancer Biomarkers
It has been shown that the concentrations of proteolytic content (i.e., MMPs) in human cancer cell-derived EVs are directly correlated with proteolysis-facilitated cell invasion [
155
]. Importantly, MMP-containing EVs from benign serous cysts confer minimal proteolytic activity as compared to malignant forms [
155
]. As such, the process of EVs' release and the MMP-derived gelatinolytic activities differ at various stages of cancer, thus differentiating early stage cancer from the late stage, and benign tumors from the malignant ones [
155
,
156
,
157
]. Similarly, EVs from non-small cell lung-carcinoma (NSCLC) patients consistently showed significant increases of ADAM10sa compared to their normal controls and benign-tumors. Moreover, stage IA-IIB NSCLC primary tumors of patients who died of the disease exhibited greater increases of ADAM10sa compared to those of patients who survived 5 years following diagnosis and surgery [
158
]. This indicates that enzyme-specific proteolytic activities could be harvested as potential cancer biomarkers for early detection and outcome prediction. Additionally, multiple carcinoembryonic antigen-related cell adhesion molecules (CEACAMs) and ECM proteins were identified in EVs isolated from pancreatic duct fluid of pancreatic ductal adenocarcinoma (PDAC) patients [
159
], indicating their role in carcinogenesis of PDAC and diagnostic potential.
It has been reported that EVs isolated from ascites and sera of ovarian carcinoma patients containing MMP-2, MMP-9 and plasmin are capable of promoting proteinase-dependent metastatic activity in malignant ovarian epithelium, indicating their diagnostic value [
92
]. In addition to their MMP content, EVs from cancer cells may also contain high amounts of claudin proteins, which are known to facilitate cancer progression. Importantly, EVs derived from ovarian cancer patients positive for claudin-4 are also positive for CA125 [
160
]. It is interesting to consider that claudin-4 and CA125 could be tested in combinations for their possible use as prognostic biomarkers in ovarian cancers [
161
]. Several EV-associated claudins and adhesion molecules in ovarian cancer are reviewed elsewhere [
161
].
5. EV-Driven Matrix Destruction and Development of Arthritic Diseases
6. EV-Associated MMPs: Roles in Cardiovascular Diseases
7. EV-Driven Matrix Remodeling: Metabolic Diseases and Others
EVs from visceral adipose tissue integrate into liver cells and cause the increased expression of TIMP-1, TIMP-4, and MMP-9 and decreased expression of MMP-7 and plasminogen activator inhibitor-1 in recipient cells. EV-induced expression of these molecules results into the dysregulation of TGF-β pathway in hepatocytes allowing the pathogenesis of nonalcoholic fatty (obesity-related) liver disease [
76
]. Additionally, it has been reported that vitamin D modulates the oxidative stress, inflammation, and EV biogenesis gene networks by dysregulating the expression of matrix extracellular phosphoglycoprotein, MMP-1 and MMP-28 genes (which are target of Runx2) in osteosarcoma cells [
184
].
Proteolytically active disintegrin and metalloproteinase (ADAMs) such as ADAM10 and ADAM17 carried by EVs are secreted during human abdominal aortic aneurysm (AAA) in smokers. The cultured neutrophils exposed to tobacco smoke extract showed increased ADAM10 and ADAM17 content, active cleavage of these molecules and release into EVs, which provides a novel molecular mechanism for the increased risk of AAA in smokers [
99
].
8. EV-Associated MMPs: Roles in Immunosuppression and Reproduction
The regulation of EV-associated proteolytic activities plays active roles in physiological processes such as reproduction [
52
]. The gelatinases such as MMP-2 and MMP-9 found in the seminal vesicles and ventral prostate of
Meriones libycus
are involved in the seasonal reproductive cycle. In fact, the immunosuppression of MMP-2 and MMP-9 in seminal vesicles has been observed during seasonal cycle of reproduction [
52
].
Recently, it was shown that the content of fibrillar collagens in seminal vesicles was elevated in hyperhomocysteinemic rats. Hyperhomocysteinemia increased the expression of MMP-2, -3, -7 and -9 in seminal vesicles [
185
]. The accumulation of collagen and upregulation of MMPs in seminal vesicles might contribute to the physiological remodeling of seminal vesicles. Additionally, in response to ovarian hormones, the MMP production from human uterine fibroblasts is regulated by secretion of intact EMMPRIN, proinflammatory cytokines and the activation of protein kinase C [
82
]. In addition, the presence of MMPs in EVs and their physio-/pathological functions have been reviewed elsewhere [
186
,
187
].
9. EV-Driven Matrix Remodeling: Roles in Tissue Repair and Therapies
9.1. Joint Repair
EVs present in synovial fluid and cartilage ECM are involved in joint development and in the regulation of joint homeostasis [
170
]. The knowledge already acquired in this field suggests a role for EVs as biomarkers of joint disease, and as new tools to restore joint homeostasis and enhanced articular tissue regeneration offering new therapeutic approaches for joint repair [
170
]. It was shown that adipose MSC (adMSC)-derived EVs regulate MMPs activity and protect cartilage and bone degradation in OA [
96
].
The treatment of OA chondrocytes with human adMSC-EVs inhibits MMPs activity in chondrocytes and have protective effects in OA chondrocytes—raising their potential as new therapeutic approaches in damaged joint conditions [
169
]. Additionally, EVs exert a beneficial therapeutic effect on OA model by maintaining the balance between synthesis and degradation of chondrocyte (cartilage) ECM [
188
]. Monocyte-derived EVs stimulate cytokine secretion from MSCs, upregulate the expression of genes encoding for MMPs and facilitate tissue remodeling through EV-mediated signaling during the transition from injury and inflammation to bone regeneration and play an important role in the coupling between bone resorption and bone formation [
189
].
Besides proteins, several other molecules such as lipids, glycans, and nucleic acids are also players of EV surface interactions [
74
], and are also exported to the ECM, which regulate process of bone formation, inhibit osteoclast activity, and promote fracture repair [
190
]. Such EV-cargo could be utilized for molecular therapy in several skeletal disorders such as osteoporosis, osteogenesis imperfecta, and fracture healing. Collectively, EV-mediated signaling and ECM remodeling might represent an additional mode of activating cells' intrinsic repair programs during the transition from injury to bone regeneration and inflammation resolve, thereby playing important role in the bone repair.
9.2. Corneal/ Ocular Repair
Ocular hypertension caused by ECM accumulation in the trabecular meshwork is a hallmark of glucocorticoid-induced glaucoma. As such, corticosteroid-induced alterations in adhesion cargo of EVs' and alterations in adhesion activities could account for the matrix accumulation as seen in glaucoma patients [
191
]. Action of EC-derived EVs on annulus fibrosus (AF) cells causes the enhanced matrix catabolism, which consequently induce neo-angiogenesis in the degenerating disc. Likewise, the AF cells treated with EC-derived EVs induced the MMP activity by increasing the expression of MMP-1, MMP-3 and MMP-13 at mRNA level and at protein level [
192
]. The response of these target cells is regulated by their microenvironment, which could be modified by MSC-produced MMPs and TIMPs. Such trophic activities of MSCs are actively being recognized for repairing and regeneration of osteochondral and other musculoskeletal tissues, such as tendon/ligament and meniscus [
193
].
EVs derived from non-pigmented ciliary epithelium were incubated with TM cells in dose dependent manner, which significantly decreased the expression of β-Catenin, GSK-3β in TM cells. Pro-MMP9 and MMP9 activities were significantly enhanced in TM cells treated with high concentrations of EV, indicating that these EVs modulate biological activities in recipient cells and regulate key canonical Wnt proteins expression in the eye model for the human ocular drainage system [
194
]. Likewise, the treatment of MSC-derived EVs to corneal stromal cells (CSCs) induces the upregulation of MMPs and downregulation of ECM-related proteins such as collagens and fibronectin in CSCs. The findings indicate that adipose-MSCs might play an important role in the regulation of CSC viability through ECM remodeling, via EVs [
195
].
Moreover, EVs secreted by corneal fibroblasts can transport MMP-14 to vascular ECs, as a prerequisite step for the recruitment/packaging of MMP-2 into corneal fibroblast-derived EVs [
43
]. Such transport mechanism governs the MMP-14 activity in corneal angiogenesis and could serve as an important component for targeting angiogenic processes in the cornea. This is in agreement with a recent study which shows that MMP-14 modulates signal transduction and angiogenesis in the cornea [
196
].
9.3. Cardiac Repair
It has been shown that ischemic EVs confer protection against oxidative-induced lesion, promote proliferation and sprouting of ECs and stimulate cardiac angiogenesis [
197
]. Ischemic EVs display higher levels of MMPs and promote the secretion of MMP by ECs. The angiogenic effect of ischemic EVs is partially recapitulated through EV-mediated transport of miR-222 and miR-143. Additionally, intramyocardial delivery of ischemic EVs improves neovascularization following MI [
197
]. It is believed that the excessive myocardial fibrosis is the main pathological process in the development of cardiac damage and heart failure. During mechanical stress, the myocardial fibrosis is significantly increased and fibroblast hyperplasia is induced, as well as the induction of collagen and MMPs expression both in vivo and in vitro. However, there is a repair mechanism against mechanical stress, as shown by miRNA-378 secretion from cardiomyocytes and its transport via EVs, which acts as inhibitor of excessive myocardial fibrosis during early stage of cardiac hypertrophy [
198
]. Additionally, EVs released by cardiac TCs are transferred to the damaged myocardium and play active role in normal heart physiology and regeneration [
199
].
Additionally, TCs have been reported to secrete EVs into interstitial environment, which serve as mediators of long-distance paracrine activities of the TCs in adult organs [
8
,
9
,
199
,
200
,
201
,
202
]. As such, EVs release by cardiac TCs are considered essential component in the paracrine effects of TCs in heart, which are transferred to the damaged myocardium and contribute to normal heart physiology and regeneration [
199
].
9.4. Cutaneous Repair and Healing of Wounds
10. Concluding Remarks
The participation of EVs in the development of various diseases and tissue repair has well been elaborated for their nucleic acid and proteomic contents. However, the secretion and biological activities of EV-associated matrix-remodeling enzymes and their regulators are only just beginning to emerge. Nevertheless, there is still limited knowledge on the topological localization of ECM-degrading enzymes in relation to EVs, and futures studies are needed to answer several questions: if the enzymes are soluble or membrane bound; if the membrane bound-enzymes are membrane integral proteins or peripheral proteins; if the peripheral proteins are localized on the inner surface of EVs or on the outer surface; if the catalytic site of the integral proteins are inside the EVs or outside of EVs. This will help better understanding of matrix biology, and tissue remodeling during the progression of several human diseases reviewed in this article such as tumor, cardiovascular and arthritic diseases and could help developing new strategies for tissue repair. However, the available knowledge for understanding the role of EV-mediated matrix remodeling in neurological diseases, metabolic diseases and infectious diseases is scarce in the literature.
Finally, the content and concentrations of MMPs in patient-derived EVs could help identifying complimentary biomarkers and may have prognostic values. The most pivotal aspect of EV-mediated matrix remodeling could be harvested for tissue repair and ameliorating organ functions (
Figure 2
). As such, based on current knowledge, EVs can be tailored for tissue engineering and could serve a potential source of regenerative medicine aimed at organ therapies, particularly cardiac therapy, joint repair and musculoskeletal therapies.
Author Contributions
Conceptualization, M.N.; initial draft preparation, M.N., N.S., B.R.Z., M.M., R.N.S., F.F., L.N., H.V.; writing-review & editing, M.N., N.S., B.R.Z., M.M., R.N.S., F.F., L.N., H.V. All authors read the final draft and approved for submission.
Funding
Authors acknowledge the funding from Stiftelsen Längmanska Kulturfonden, No. BA18-0708 and Adlerbertska Forskningsstiftelsen Sweden, No. 09/2017. The authors also acknowledge Fundação de Amparo à Pesquisa do Estado de São Paulo (FAPESP) No. 12/24574-3, and Coordenação de Aperfeiçoamento de Pessoal de Nível Superior (CAPES) No. 99999.007057/2015-06 and No. 99999.006332/2015-03.
Conflicts of Interest
Authors declare that there is no conflict of interest.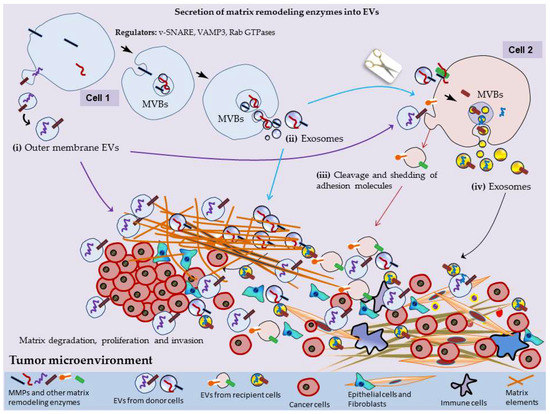 Figure 1. Schematic illustration of secretion of extracellular vesicles (EV)-associated matrix degrading enzymes, matrix remodeling and tumor progression: EVs (both outer membrane microvesicles and endosome-derived exosomes: (i) and (ii) respectively) secreted from cells carry plethora of matrix degrading enzymes on their surface or packed inside the lumen of EVs. EV-associated matrix cleaving enzymes are secreted along the entire cell periphery and can interact with neighboring cells (cell 2) whereby they cleave the surface proteins, transmembrane and adhesion molecules of recipient cells, which are either packaged into the outer membrane vesicles of recipient cells or shed directly into cells' periphery (iii). Additionally, EVs taken up by recipient cells can induce further production of matrix metalloproteinases (MMPs) and their release via EVs of recipient cells (iv). Such activities occurring along the cell periphery play active roles in matrix degradation and facilitate cellular invasion, metastasis and preparation of tumor permissive niche. MVBs: multivesicular bodies.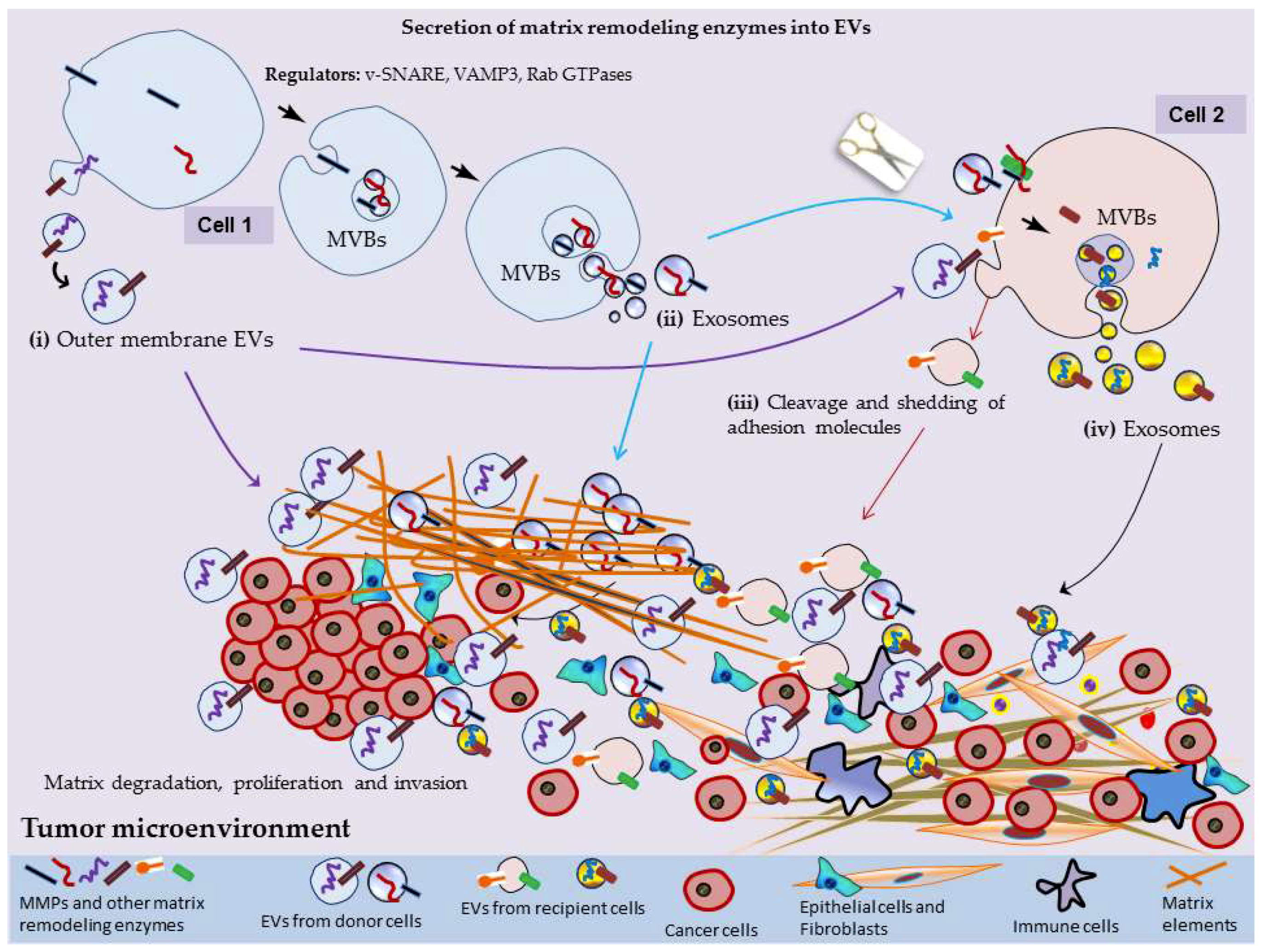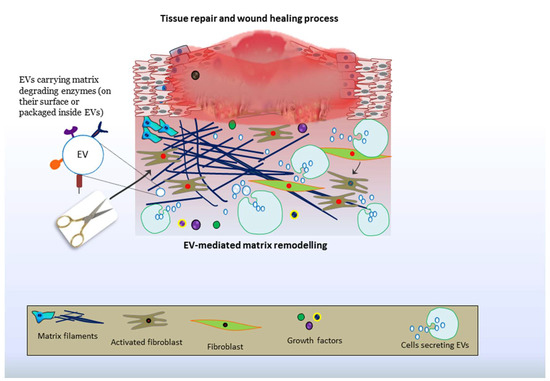 Figure 2. Schematic illustration for the roles of EV-associated MMPs in tissue repair: EV-associated matrix modeling enzymes stimulate the repair processes through matrix remodeling.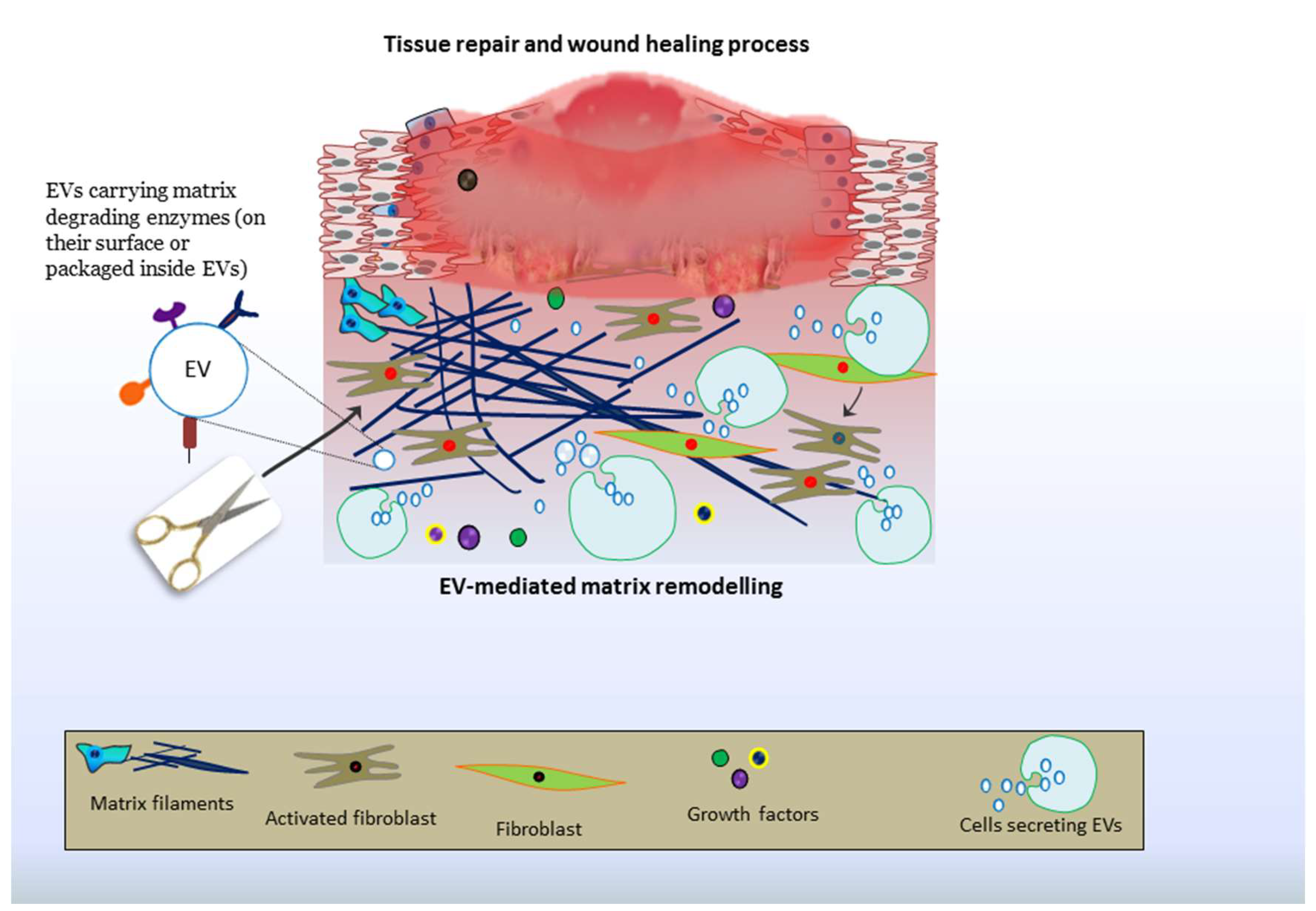 | MMPs and MMP Inducers or Inhibitors in EVs | Proteolytic Activities | Reference |
| --- | --- | --- |
| MMP-14 (MT1-MMP) | Proteolytic activities in extracellular environment. Activation of pro-MMP2. Metastasis and angiogenesis in lung and ovarian cancer. Breakdown of capillary membrane. Proteolytically active mediators of matrix destruction in smokers | [32,42,43,53,78,79] |
| EMMPRIN | Induces the production of MMPs in recipient cells, induce tumor angiogenesis and favors the tumor progression | [54,80,81,82,83,84] |
| MMP-2, MMP-9 | Immunosuppression in seminal vesicles during reproduction processes. Degradation of gelatin. Proangiogenic activity of PDGF-EVs Breakdown of capillary membrane. Cancer progression | [58,79,85,86,87,88,89,90,91,92] |
| MMP-13 | ECM degradation and promote arthritis. Protects cartilage bone from degradation in osteoarthritis. Metastasis of nasopharyngeal cancer | [93,94,95,96,97] |
| MMP-1, MMP-3, MMP-13 | Angiogenesis and tumor proliferation and invasion in prostate cancer. Pathogenesis of osteoarthritis and communication between joint tissue cells | [93,98] |
| ADAM17 | Pathogenesis of human abdominal aortic aneurysm in smokers. Substrate shedding on distant cells | [99,100] |
| ADAM10 | Enhanced cell motility, endothelial cell migration and VEGF-associated angiogenesis in cancer-associated fibroblasts. Sorting of CD23 protein into EVs which mediates IgE production and allergic response. Abdominal aortic aneurysm in smokers | [99,101] |
| ADAM15 | Tumor suppressive activities by repressing cell adhesion, growth and migration | [102] |
| ADAMTS-5, TIMP-3 | Aggrecan degradation and progression of arthritis, brevican degradation and invasion of glioma cells and rheumatoid synovial fibroblasts | [103] |
| TIMP-1 | Induction of pro-tumorigenic and angiogenic processes during lung cancer progression | [104] |
| Hyaluronan | Hyaluronan-mediated tissue regeneration | [105,106] |

© 2018 by the authors. Licensee MDPI, Basel, Switzerland. This article is an open access article distributed under the terms and conditions of the Creative Commons Attribution (CC BY) license (http://creativecommons.org/licenses/by/4.0/).