Modelling Nitrogen Uptake in Plants and Phytoplankton: Advantages of Integrating Flexibility into the Spatial and Temporal Dynamics of Nitrate Absorption
1
ICORE Structure Fédérative Interactions Cellules ORganismes Environnement, Normandie Université, UNICAEN, ICORE, F-14000 Caen, France
2
Université Clermont Auvergne, INRA, PIAF, F-63000 Clermont-Ferrand, France
3
INRA Unité Expérimentale Fourrages Environnement Ruminants (FERLUS) et Système d'Observation et d'Expérimentation pour la Recherche en Environnement (SOERE), Les Verrines CS 80006, F-86600 Lusignan, France
*
Author to whom correspondence should be addressed.
Received: 27 November 2018 / Revised: 8 February 2019 / Accepted: 14 February 2019 / Published: 27 February 2019
Abstract
Under field conditions, plants need to optimize nutrient ion and water acquisition in their fluctuating environment. One of the most important variables involved in variations of ion uptake processes is temperature. It modifies the thermodynamic processes of root uptake and ion diffusion in soil throughout day–night and ontogenetic cycles. Yet, most models of nitrogen (N) uptake in plants are built from set values of microscopic kinetic parameters,
Vm
and
Km
, derived from a Michaelis–Menten (MM) interpretation of nutrient isotherms. An isotherm is a curve depicting the response of root nitrate influx to external nitrate concentrations at a given temperature. Models using the MM formalism are based on several implicit assumptions that do not always hold, such as homothetic behavior of the kinetic parameters between the different root biological scales, i.e., the epidermis cell, root segments, root axes, and the whole root system. However, in marine phytoplankton, it has been clearly demonstrated that the macroscopic behavior in the nutrient uptake of a colony cannot be confounded with the microscopic behavior of individual cells, due to the cell diffusion boundary layer. The same is also true around plant root segments. Improved N uptake models should either take into account the flexibility of the kinetic parameters of nitrate uptake at the cellular level (porter–diffusion approach) or use the more realistic macroscopic kinetic parameters proposed by the flow–force approach. Here we present recent solutions proposed in marine phytoplankton and plant nutrient uptake models to make a more flexible description of the nutrient ion uptake process. Use of the mechanistic porter–diffusion approach developed in marine phytoplankton introduces more flexibility in response to cell characteristics and physical processes driven by temperature (diffusion and convection). The thermodynamic flow–force interpretation of plant-based nutrient uptake isotherms introduces more flexibility in response to environmental cues and root aging. These two approaches could help solve many problems that modelers encounter in these two research areas.
View Full-Text
►

▼

Figures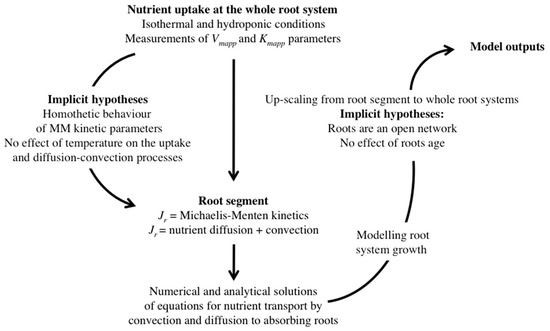 Figure 1
This is an open access article distributed under the
Creative Commons Attribution License
which permits unrestricted use, distribution, and reproduction in any medium, provided the original work is properly cited (CC BY 4.0).

Share & Cite This Article
MDPI and ACS Style
Le Deunff, E.; Malagoli, P.; Decau, M.-L. Modelling Nitrogen Uptake in Plants and Phytoplankton: Advantages of Integrating Flexibility into the Spatial and Temporal Dynamics of Nitrate Absorption. Agronomy 2019, 9, 116.
Note that from the first issue of 2016, MDPI journals use article numbers instead of page numbers. See further details here.
Related Articles
Comments
[Return to top]