Open Access This article is
freely available
re-usable
Review
Reframing the Debate Surrounding the Yield Gap between Organic and Conventional Farming
1
Department of Sustainable Agriculture and Energy, Weihenstephan-Triesdorf University of Applied Sciences, 85354 Freising, Germany
2
Department of Plant Sciences, University of California, Davis, CA 95616, USA
*
Author to whom correspondence should be addressed.
Received: 28 December 2018 / Accepted: 11 February 2019 / Published: 13 February 2019
Abstract
:
In this article, we review the literature regarding the yield gap between organic and conventional agriculture and then reflect on the corresponding debate on whether or not organic farming can feed the world. We analyze the current framework and highlight the need to reframe the yield gap debate away from "Can organic feed the world?" towards the more pragmatic question, "How can organic agriculture contribute to feeding the world?". Furthermore, we challenge the benchmarks that are used in present yield comparison studies, as they are based on fundamentally distinct paradigms of the respective farming methods, and then come up with a novel model to better understand the nature of yield gaps and the benchmarks that they are premised on. We thus conclude that, by establishing appropriate benchmarks, re-prioritizing research needs, and focusing on transforming natural resources rather than inputs, organic systems can raise their yields and play an ever-greater role in global sustainable agriculture and food production in the future.
Keywords:
yield gap; cropping systems; yield-limiting factor; yield ratio; organic agriculture; feeding the world
1. Introduction
Whether organic agriculture can feed the world is a controversial topic and it is the subject of much debate in recent literature. A number of studies have sought to answer this question by quantifying yield gaps between organic and conventional agriculture, with the recent estimates of reductions in yield for organic systems ranging from 9% to 25%. Diverse meta-analytical approaches have been employed to arrive at these values, in some cases presenting global averages and in others by separating the analysis by crop type, geographical region, or other moderating variables. Recent meta-analyses are reviewed here in
Section 1
, with a brief discussion of the individual categories of cereals, legumes, oil crops, and tubers.
The meta-analytical design is useful in understanding the average value and range of yield gaps, and in many cases meta-analyses consider moderating variables, such as climate, fertilization rates, or rotational diversity, which allow for a more detailed discussion of how yield gaps might vary under certain conditions. However, even statistically rigorous and nuanced meta-analyses rely on the assumption that organic and conventional yields can be compared directly.
Section 2
describes why conventional agriculture is not always a suitable benchmark by which to measure organic agriculture and then argues for an alternative approach to viewing the complex differences between conventional and organic systems.
Modeling approaches complement meta-analytical studies and allow for further exploration of how moderating variables affect yield. Multiple models of agricultural systems have been proposed, from input/output models to more complicated equations (
Section 3
). We present a novel model describing cropping systems as processes that transform natural resources and inputs into yield (
Section 3
). Each cropping system is viewed as a unique case in which inputs and their relative importance differ in comparison to alternative cropping systems. This model can be used to explain some of the observed variation in yield gaps between organic and conventional agriculture among crop types and environments (
Section 3
). In addition, the model provides important insights into how to direct organic agriculture research priorities in the future.
2. Meta-Analytic Approaches
Recent Meta-Analyses
The meta-analytical framework that was used in these studies is clearly valuable and it has allowed for yield gaps to be quantified across a broader range of conditions than can be achieved with any single study. Despite progress towards greater nuance by calculating multiple yield gaps according to geographic region, crop type, or nitrogen management, meta-analyses nonetheless lose some of the detail that is visible in a single study. Using a meta-analytical approach to investigate how yield gaps change due to complex factors, such as agrobiodiversity, rotational complexity, or integrated crop-livestock systems requires a statistically rigorous number of published studies in each subcategory, and these studies are not always available.
3. Reframing the Yield Gap Debate
Meta-analytical studies are a valuable technique to summarize yield comparison studies, but we suggest that it is time to reconsider the question that they address and the benchmarks they use.
Meta-analytical approaches comparing conventional and organic yields worldwide often seek to contribute to the debate of whether organic agriculture can feed the world. However, that is the wrong question, or perhaps it is the right question at the wrong time. Today, when organic agriculture accounts for 1.2% of worldwide agricultural land [
31
], it does not make sense to question whether it can feed the world. Perhaps in thirty or forty years, in a world where organic agriculture accounts for 40–50% of arable land, this question may gain renewed meaning. However, at present, the focus must be on questions relevant to the current state of affairs: how, and how much, can organic methods contribute to feeding the world? The "Can organic feed the world?" debate has thus far led to lively controversy, but few satisfying answers; reframing the question can move the debate toward concrete examples, as presented in
Section 3
.
Using conventional agriculture as the benchmark against which organic agriculture must be compared falsely assumes that the systems have the same goals and values. When comparing a conventional wheat farmer's yields in Germany of 7–10 Mg/ha, achieved using all available synthetic fertilizers and plant protection agents, with the 3.5–6.5 Mg/ha achieved by his neighbor with organic practices assumes that the two systems are essentially the same, except that organic agriculture uses non-synthetic inputs. In reality, however, the farmers are operating under distinct paradigms. Conventional and organic agriculture have different values, even when low-input practices are employed in conventional systems and the conventional-organic comparison becomes less of a dichotomy than a continuum. The conventional approach assumes that the production of food, fiber, and fuel must be maximized to satisfy the demands of a growing human population. Organic agriculture seeks to balance yield with other values, such as biodiversity and conservation of natural resources, as, for instance, required by Reg. (EC) 834/2007. The maximum yield achievable in the organic paradigm must necessarily lie somewhere below the conventional level if it is to leave room for other creatures to exist and to avoid exploitation of the natural environment. The abundance of many insect and plant species is negatively correlated with yield [
11
] and a more recent study even suggested pesticide usage, increased application of fertilizers, and year-round tillage in intensive farming as plausible reasons for a 75% decline of flying insect biomass over 27 years [
32
]. Organic agriculture must be judged not by the production-driven values system of conventional agriculture, but instead by standards that are consistent with its own values. The model that is presented in
Section 3
shows how the distinct values of organic and conventional agriculture cause a divergence in inputs that accounts for a large proportion of yield gaps, as calculated by previous methods.
Furthermore, the geographical bias of the conventional benchmark used in many meta-analyses distorts the reader's perspective on the debate over feeding the world. While some meta-analyses discriminate between geographical regions, others fail to do so, and thus often use the artificially high benchmark of intensive agriculture in the developed world. In Central Europe, yields that were achieved under the optimized intensive cultivation approach the theoretical maximum that was established by climatic conditions. Nonetheless, their direct contribution to eradicating world hunger is small, as many of the crops are commodities produced for the global commodity markets. Discussion about feeding the world based on these systems is misleading. Feeding the world primarily requires raising yields in subsistence agriculture, not incremental gains in the production of low-value commodities, and the conversion to organic agriculture in developing regions is predicted to make a greater contribution to global food security than conversion in Europe and North America [
33
]. Farmers in Central Europe who produce commodities for the world market desire optimizing yields by all available means and will do so as long as it is affordable. Farmers in developing countries produce food to fill the needs of the local community, not global markets, and must do so on soil that is often more vulnerable than that in the global North.
Section 3
describes how focusing on the transformation of natural resources rather than transformation of high inputs can greatly contribute to fighting world hunger by addressing yield gaps where they are most critical for food security.
4. A Novel Model for Cropping Systems as Applied to Yield Gaps
5. Conclusions and Future Directions
Author Contributions
Conceptualization: K.-P.W.; methodology: K.-P.W., J.E.S.; writing—original draft preparation: J.E.S. and K.-P.W.; writing—review & editing: J.E.S. and K.-P.W.; visualization: J.E.S. and K.-P.W.; supervision: K.-P.W.; funding acquisition: K.-P.W.
Funding
Parts of the content of this article originate from an extensive literature survey carried out in the "OK-Net Arable" project that has received funding from the European Union's Horizon 2020 research and innovation programme under grant agreement No. 689687.
Conflicts of Interest
The authors declare no conflict of interest. The funders had no role in the design of the study, in the collection, analyses, or interpretation of data, in the writing of the manuscript and in the decision to publish the results.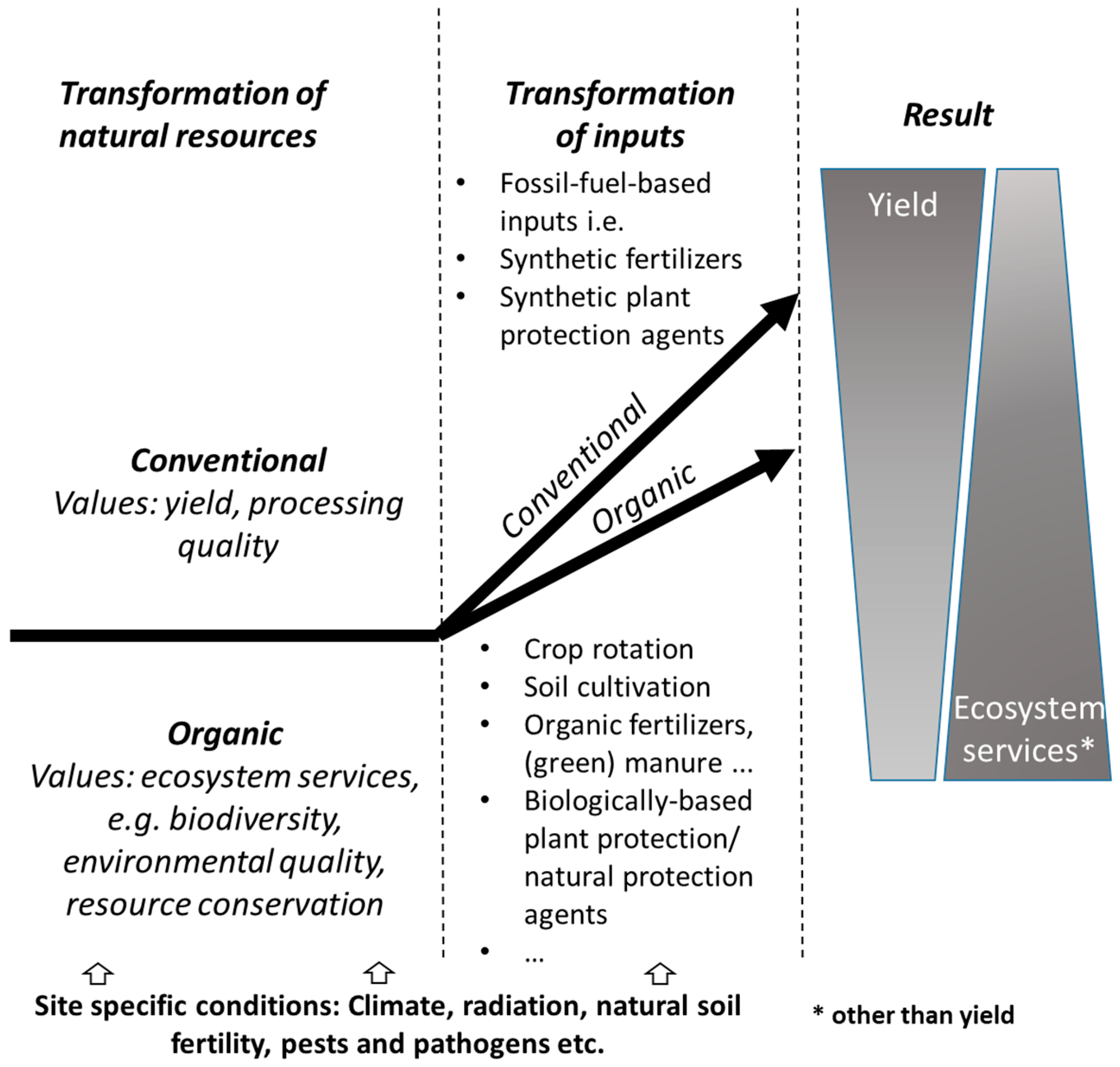 Figure 2. The true yield gap between organic and intensive conventional management shrinks when an ecologically sustainable threshold is set as benchmark.
Figure 3. The gap between conventional and organic yield may go into reverse under less favorable conditions.

Table 1. Yield gaps by category and crop. Yield gaps (representing all plots and years of the respective study) vary by category of crop under consideration. * denotes a meta-analysis.
Study
Category
Crop
Yield Gap
All/major
[2]
All
All
−10 to −15% *
[3]
All
All
−25% *
[1]
All
All
−9% *
[4]
All
All (global)
−19% *
[5]
All
All
−20% *
[6]
All
All (developed countries)
−9% *
[7]
Major crops
Potato, peas, leek, barley, sugar beet, maize (Netherlands)
−13%
Cereals
[8]
Cereals
Barley, oats, wheat
−30%
[9]
Cereals
Barley, oats, wheat
−35%
[10]
Cereals
Buckwheat
NS
[11]
Cereals
Cereals
−54%
[12]
Cereals
Cereals
−25%
[3]
Cereals
Cereals
−26%*
[6]
Cereals
Cereals (developed countries)
−7% *
[5]
Cereals
Cereals (global average)
−21% *
[13]
Cereals
Corn
−24 to −41%
[14]
Cereals
Corn
−0%
[15]
Cereals
Corn
NS
[16]
Cereals
Corn
−13 to −33%
[17]
Cereals
Corn (legume rotation)
−62%
[17]
Cereals
Corn (manure-fertilized)
+37%
[16]
Cereals
Sorghum
−16 to −27%
[13]
Cereals
Wheat
NS
[18]
Cereals
Wheat
−17 to −84%
[16]
Cereals
Wheat
−10 to +10%
[19]
Cereals
Winter wheat
−42%
[20]
Cereals
Winter wheat
−39%
[21]
Cereals
Winter wheat
−38%
[22]
Cereals
Winter wheat
−10%
[23]
Cereals
Winter wheat
−14%
[24]
Cereals
Winter wheat
−36%
[25]
Cereals, Legumes
Corn, soybean, wheat
−10%
Fruits
[3]
Fruits
Fruits
NS *
[6]
Fruits
Fruits (developed countries)
−4% *
[5]
Fruits
Fruits (global average)
−28% *
Legumes
[3]
Legumes
Legumes
NS *
[6]
Legumes
Legumes (developed countries)
−18% *
[5]
Legumes
Legumes (global average)
−12% *
[13]
Legumes
Soybean
−19%
[16]
Legumes
Soybean
−17%
[2]
Legumes
Soybean (legume rotation)
+96%
[2]
Legumes
Soybean (manure-fertilized)
+52%
Oil crops
[3]
Oil crops
Oil crops
NS *
[6]
Oil crops
Oil crops (developed countries)
−1% *
[5]
Oil crops
Oil crops (global average)
−26% *
Tubers
[9]
Tubers
Potato
−15%
[22]
Tubers
Potato
−36 to −42%
[6]
Tubers
Starchy roots (developed countries)
−11% *
[5]
Tubers
Roots/tubers (global average)
−26%*
Vegetables
[26]
Vegetables
Sweet corn, tomato
NS
[27]
Vegetables
Tomato
−4 to −9%
[15]
Vegetables
Tomato
NS
[3]
Vegetables
Vegetables
−33% *
[6]
Vegetables
Vegetables (developed countries)
−12% *
[5]
Vegetables
Vegetables (global average)
−20% *

© 2019 by the authors. Licensee MDPI, Basel, Switzerland. This article is an open access article distributed under the terms and conditions of the Creative Commons Attribution (CC BY) license (http://creativecommons.org/licenses/by/4.0/).