Open Access This article is
freely available
re-usable
Review
Functional Metabolomics—A Useful Tool to Characterize Stress-Induced Metabolome Alterations Opening New Avenues towards Tailoring Food Crop Quality
Chair of Food Chemistry and Molecular Sensory Science, Technical University of Munich, Lise-Meitner-Strasse 34, 85354 Freising, Germany
*
Author to whom correspondence should be addressed.
Received: 2 July 2018 / Accepted: 2 August 2018 / Published: 3 August 2018
Abstract
:
The breeding of stress-tolerant cultivated plants that would allow for a reduction in harvest losses and undesirable decrease in quality attributes requires a new quality of knowledge on molecular markers associated with relevant agronomic traits, on quantitative metabolic responses of plants to stress challenges, and on the mechanisms controlling the biosynthesis of these molecules. By combining metabolomics with genomics, transcriptomics and proteomics datasets a more comprehensive knowledge of the composition of crop plants used for food or animal feed is possible. In order to optimize crop trait developments, to enhance crop yields and quality, as well as to guarantee nutritional and health factors that provide the possibility to create functional food or feedstuffs, knowledge about the plants' metabolome is crucial. Next to classical metabolomics studies, this review focuses on several metabolomics-based working techniques, such as sensomics, lipidomics, hormonomics and phytometabolomics, which were used to characterize metabolome alterations during abiotic and biotic stress in order to find resistant food crops with a preferred quality or at least to produce functional food crops.
Keywords:
plant stress; abiotic stress; biotic stress; metabolomics; phytometabolomics; sensomics; phytohormonics; liquid chromatography-mass spectrometry (LC-MS/MS); nuclear magnetic resonance spectroscopy (NMR); targeted metabolomics; untargeted metabolomics; functional food
1. Importance of Metabolomics for Agricultural Research
Targeted as well as non-targeted metabolomic-based working techniques, such as phytometabolomics, sensomics, lipidomics or hormonomics can help to unravel metabolic pathways, signal transmissions as well as metabolites with different bioactivity which can be simultaneously up- or down-regulated by stress conditions. After decoding marker compounds by means of these non-targeted approaches, marker metabolites can be isolated from the plant material and characterized by means of 1/2D-NMR or MS based structure identification techniques as well as by biological assays (e.g., using antifungal susceptibility test systems). Although the last-named structure identification techniques and the testing of the metabolite's bioactivity do not belong to the metabolomics approach, its application is mandatory to understand biological processes.
2. Analytical Techniques Used to Characterize Stress-Induced Metabolome Alterations in Plants
3. Phytometabolomics—From Plant Stress to Metabolic Response
Plants continuously encounter various biotic and abiotic environmental stresses during their growth and development phases. While biotic stress is caused by pathogens, parasites, predators, and other competing organisms, abiotic stress arises from inappropriate levels of physical components in the environment, such as temperature or water extremes [
21
]. Both stress factors lead likewise to yield and quality losses in plant crops used for human nutrition. The aim is, on the one hand, to avoid those immense quality and yield losses to ensure feeding the world's growing population and on the other hand, to develop new functional foods and to reduce insecticides and pesticides used in agriculture. Therefore, knowledge of molecular networks and pathway activation of plants during their stress response is essential.
Only recently Mithöfer and Boland [
48
] asked the question "Do you speak chemistry?". They highlighted that plants always respond by emitting chemical compounds to signal their environment. Moreover, they pointed out that plants use metabolites as chemical sensing and communication systems. On the one hand, signaling molecules and phytoalexins are formed, on the other hand it is suggested that plants "cry for help" by producing secondary metabolites as indirect defense system. Those cry-for-help compounds, usually belonging to the group of volatile organic compounds, attract predators or herbivores helping the plant to get rid of other stress triggers [
48
,
49
]. Therefore, it is important to notice that stress-specific as well as common metabolites, so-called generalist and specialist, can either be formed or their amounts up-regulated [
5
].
The understanding of metabolic stress pathways is just possible if comparative metabolite characterization by means of metabolomics analysis of stressed and non-stressed plants followed by structure identification experiments is performed. In the following three sub-sections an initial overview of the literature about biotic and abiotic stress studies is undertaken.
3.1. From Abiotic Plant Stress to Metabolic Response
3.2. From Biotic Stress Metabolomics to Metabolic Response
In sum, in the future more versatile and sensitive multiple-targeted MS quantification methods to evaluate food and crop quality are required.
3.3. Functional Phytometabolomics—Characterization Approach of Plant Stress Metabolites
In conclusion, the science-driven breeding of stress-tolerant cultivated plants that would allow for a reduction in harvest losses and undesirable decrease in quality attributes requires a new quality of knowledge on molecular markers associated with relevant agronomic traits, on quantitative metabolic stress responses of plants, and the mechanisms controlling their biosynthesis. The field of "functional phytometabolomics", using targeted and non-targeted MS or NMR techniques to quantitatively assess key metabolome alterations in plant-derived crops and foods induced by biotic stress challenges as well as abiotic stress conditions, is, therefore, a promising field of research.
In the phytometabolomics approach, metabolites up-regulated during stress challenges are visualized by means of working techniques used in the field of metabolomics. Markers previously not published in literature could e.g., be visualized by retention time and mass to charge ratio in UHPLC-TOF-MS analysis. They are isolated in purities higher than 98% from the plant material using medium pressure liquid chromatography (MPLC) and preparative HPLC techniques and are identified by means of LC-MS, LC-MS/MS, UHPLC-TOF-MS and 1/2D NMR experiments. Testing of different biological activities (anti-fungal, anti-bacterial, anti-oxidant activities etc.) of those compounds allows initial insights into their biological functions. To translate the knowledge on how stress-resistant traits master their successful defense against stress conditions into breeding programs, genotype-specific metabolome alterations have to be characterized. Subsequently, the gene clusters controlling the biosynthetic pathways of key stress metabolites have to be identified by means of genome-wide association and QTL mapping studies. Just to highlight two examples: Firstly, Matsuda et al. [
19
] characterized several bioactive flavon glycosides, which can be used for new human drug discovery in rice by means of a metabolom genome-wide association study. Thereby, they highlighted "that one plant species produces more diverse phytochemicals than previously expected, and plants still contain many useful compounds for human applications". Secondly, only recently Rambla et al. [
18
] used a QTL analysis, to show that 102 QTLs correspond to 39 different volatile organic compounds, including flavor active key metabolites, in tomatoes. This research will help to navigate breeding programs and to optimize post-harvest treatment of plant-derived food products from producer to consumer/processor towards the production of high-quality food products.
4. Phytohormone Profiling by Means of Plant Hormonomics
Phytohormones are a class of low molecular weight, structurally diverse, but highly bioactive compounds in plants. They act as chemical messengers, triggering and controlling physiological processes during plant growth and development (e.g., cell elongation, regulation of apical dominance, vascular differentiation, fruit development, latal and adventitious root formation) as well as in response to abiotic and biotic stress conditions [
2
,
80
,
81
]. Next to ethylene, auxins, cytokinins, brassinosteroids, gibberellins, jasmonates, salicylates, polyamines, abscisates and signal peptides, strigolactones are part of the phytohormone family [
81
,
82
]. During stress exposure those phytohormone classes interact with each other by means of synergistic or antagonistic cross-talks, resulting in each other's biosynthesis or up-regulation response [
83
]). In the past, several studies provided evidence that plant hormones are necessary for plants to adapt during stress conditions, especially, during abiotic stress factors by mediating a wide range of adaptive responses [
83
]. They play a key role in the plant's intricate signal networks, often immediately altering gene expression by inducing or preventing the degradation of transcriptional regulators via the ubiquitin–proteasome system [
83
,
84
]. Thanks to Kumar et al. [
2
], metabolic engineering of phytohormons can be used to improve quality and stress tolerance of crops. Although the analysis of plant hormones, such as auxins, especially their quantification by means of SIDA-LC-MS/MS revealed significant insights in their tissue- and cell-type-specific analysis, their distribution profiles in plant organs, tissues, and cells still remains elusive [
81
]. A wide variety of targeted GC-MS and LC-MS/MS methods have been published dealing with the quantification of exact amounts of single members of the phytohormone family (e.g., cf.: Porifiro et al. [
85
]; Novák et al. [
81
]). However, in the last two decades, only one method was described to characterize those physiologically important molecules in their network interactions in one single run [
86
]. Only recently, Ondřej Novák and his team developed a new, versatile and sensitive targeted UHPLC-MS/MS method, which enables the simultaneous quantification of 101 phytohormone-related metabolites (phytohormones and their precursors) in less than 20 mg plant material [
86
]. This allows the characterization of the majority of known phytohormones as well as their biosynthetic precursors, that regulate diverse processes in plants by intricate signaling networks. With this newly developed, targeted metabolomics approach, so called "plant hormonomics", Šimura et al. [
86
] were able to detect 45 and quantify a total of 43 endogenous compounds out of the 101 phytohormones in both root and shoot samples, in salt-stressed and non-stressed, 12-day-old
Arabidopsis thaliana
seedlings. Subsequent multivariate statistical analysis cross-compared with data obtained from transcriptomic studies enabled the identification of the main phytohormones involved in the adaption of
Arabidopsis thaliana
to salt stress. The multivariate statistical analysis revealed that 23 of the quantified 43 metabolites significantly differed between the salt-stressed and non-stressed roots. In contrast, the shoots and the roots differed in the concentrations of 15 compounds. Those hormone profiles obtained were cross-compared with transciptomic data. Well in line with findings from Rhy and Cho [
87
], who found that jasmoic acid and abscisic acid promote salt tolerance in
Arabidopsis
, Šimura et al. [
86
] observed increased levels of abscisic acid, its oxidation products phaseic acid, dihydrophaseic acid, and jasmonic acid in salt-stressed root samples. In addition, different responses of gibberillinic acid derivatives, especially its active form GA4, and its transcriptomic data, were found by Šimura et al. [
86
]. In sum, this newly developed multiple parallel analysis of phytohormones, called "plant hormonomics" enables the real-time profiling of hormone networks of large collections of phytohormones, their precursors, transport forms and degradation products in single stressed or non-stressed samples [
86
,
88
].
Although, Šimura et al. [
86
] were already able to quantify the main phytohormones in less than 20 mg of salt stressed
Arabidopsis
samples, special derivatisation reactions of the analytes prior to their analysis will conceivably lead to an increase in sensitivity and selectivity during MS analysis in the future [
85
,
88
,
89
,
90
]. For example, the response/sensitivity during LC-ESI-MS/MS analysis of metabolites only present in very low concentrations in plants, like indole-3-acetic acid, a member of the auxin family, can be tremendously increased up to 200-fold after methylation [
89
]. In addition, several aldehyde trapping derivatisation reagents are known to enhance the sensitivity during ESI-MS analysis of biological mixtures [
91
]. In future, it could be an extremely important and advantageous step in hormonomics to analyze a combination of derivatised and non-derivatised phytohormone classes, simultaneously in one method.
5. Sensomics—A Phenotyping Tool to Characterize Crops Flavor Impression
6. Conclusions
Plants continuously encounter various biotic and abiotic environmental stresses during their growth and development phases, which leads likewise to yield and quality losses. To avoid those previously listed economical losses, to reduce insecticides and pesticides used in agriculture, to ensure feeding the world's growing population, and to develop new functional foods knowledge about molecular networks and the pathway activation of plants during their stress response is essential.
This review has emphasized the importance of metabolomics-based working techniques to discover metabolome alterations during abiotic and biotic stress conditions. Therefore, metabolomics is a promising tool for knowledge-based targeted breeding programs. It also shows that due to missing databases and non-standardized LC-MS conditions, basic metabolomics, lipidomics and phytohormonics strategies, without isolation and unequivocal structure identification experiments, are sometimes insufficient. Therefore, techniques using biological and molecular structural characterizations of marker metabolites in combination with metabolomics techniques, such as phytometabolomics or sensomics approaches, are useful solutions to produce high-quality phytoalexin-enriched functional foods in the future.
Author Contributions
C.D. wrote the manuscript. K.H. critically revised the final version of the manuscript.
Funding
Work in the Dawid lab is funded by the SFB924/TP-B12.
Conflicts of Interest
The authors declare no conflict of interest.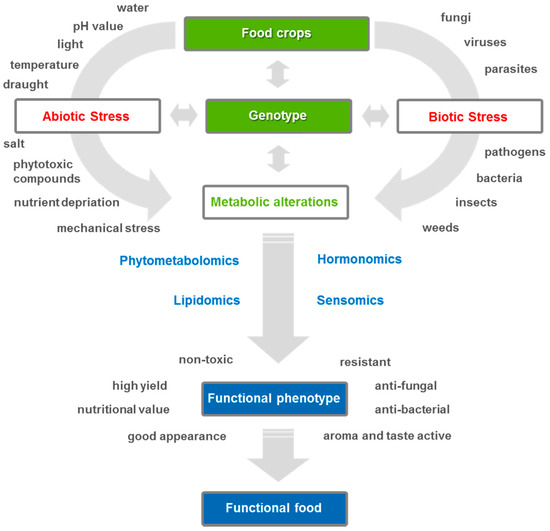 Figure 1. Functional metabolomics—a useful tool to discover metabolome alterations during abiotic and biotic stress to find the perfect functional pheno-/genotype to produce functional food.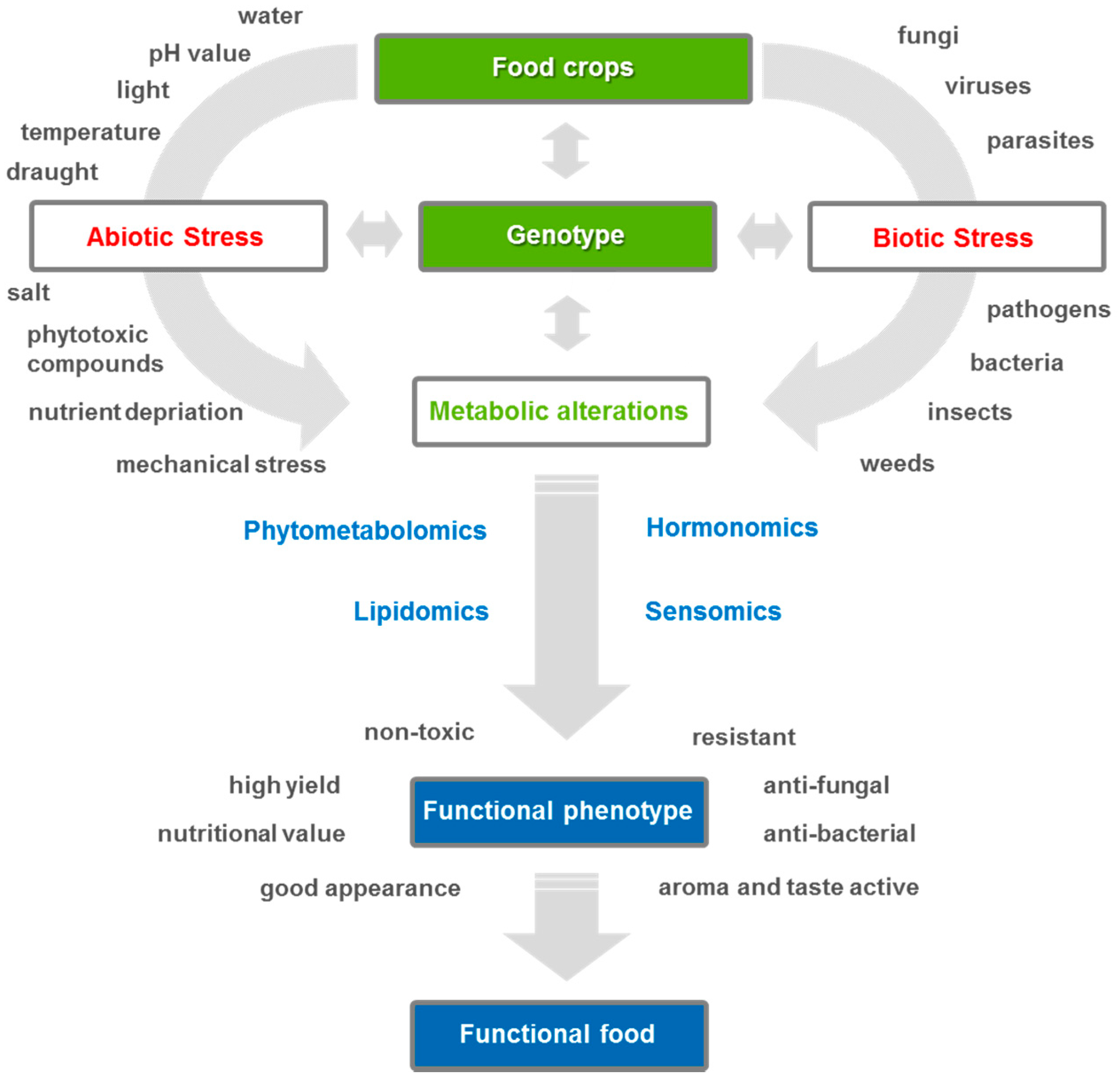 © 2018 by the authors. Licensee MDPI, Basel, Switzerland. This article is an open access article distributed under the terms and conditions of the Creative Commons Attribution (CC BY) license (http://creativecommons.org/licenses/by/4.0/).