Effect of Seaweed Aqueous Extracts and Compost on Vegetative Growth, Yield, and Nutraceutical Quality of Cucumber (
Cucumis sativus

L.) Fruit

1

Tecnologico Nacional de México/Instituto Tecnológico de Minatitlán, Blvd. Institutos Tecnológicos S/N, Col. Buena Vista Norte, Minatitlán, Veracruz 96848, Mexico

2

Tecnologico Nacional de México/Instituto Tecnologico de Torreón, Maestría en Ciencias en Suelos, Carretera Torreón-San Pedro Km 7.5, Ejido Ana, Torreón, Coahuila 27170, Mexico

3

Universidad Juárez del Estado de Durango/Facultad de Agricultura y Zootecnia, Ejido Venecia, Carretera Tlahualilo km 35, Gómez Palacio, Durango 35111, Mexico

4

Tecnologico Nacional de México/Instituto Tecnológico de Villahermosa. Ingeniería Química, Bioquímica y Ambiental, Villahermosa, Tabasco 86010, Mexico

*

Author to whom correspondence should be addressed.

Received: 24 October 2018 / Revised: 10 November 2018 / Accepted: 12 November 2018 / Published: 15 November 2018
Abstract
The objective of this research was to evaluate the production and phytochemical quality of cucumber (
Cucumis sativus
) fruits, in response to the foliar application of different seaweed extracts. This study was carried out under shadow mesh conditions in the autumn–winter agricultural cycle at the Instituto Tecnológico de Torreón, Torreón, Coahuila, Mexico. The experimental design was completely random, using six treatments with six repetitions each. The treatments evaluated were:
Macrocystis pyrifera
,
Bryothamnion triquetrum
,
Ascophyllum nodosum
,
Grammatophora
spp.,
Macrocystis integrifolia
, and a control treatment with inorganic fertilization. The substrate used was a mixture of sand and vermicompost. The yield, commercial size, and phytochemical compounds of the fruit were evaluated. Results showed that the yield using Steiner solution (6.75 kg m
−2
) was higher than that obtained with
Bryothamnion triquetrum
algae (6.07 kg m
−2
). Regarding the phenolic content, the extracts surpassed the control treatment, with
Macrocystis pyrifera
and
Macrocystis integrifolia
being statistically equal, with values of 47.37 and 43.73 mg equiv. of Ac. Gallic 100 g fresh weight, respectively. The antioxidant capacity by ABTS+ and DPPH+ methods was higher using the treatment with
Macrocystis pyrifera
algae with 149.4 and 454.1 μM equiv Trolox/100 g fresh base, respectively. This treatment also presented the highest value of vitamin C with 5.07 mg/100 g fresh base, being 27% greater than the control treatment. Algae extracts increased the quality of the fruits by obtaining the highest antioxidant capacity, making their use a viable option to minimize the application of conventional fertilizers, thereby attenuating the effects on the environment and improving the health of the population.
View Full-Text
►

▼

Figures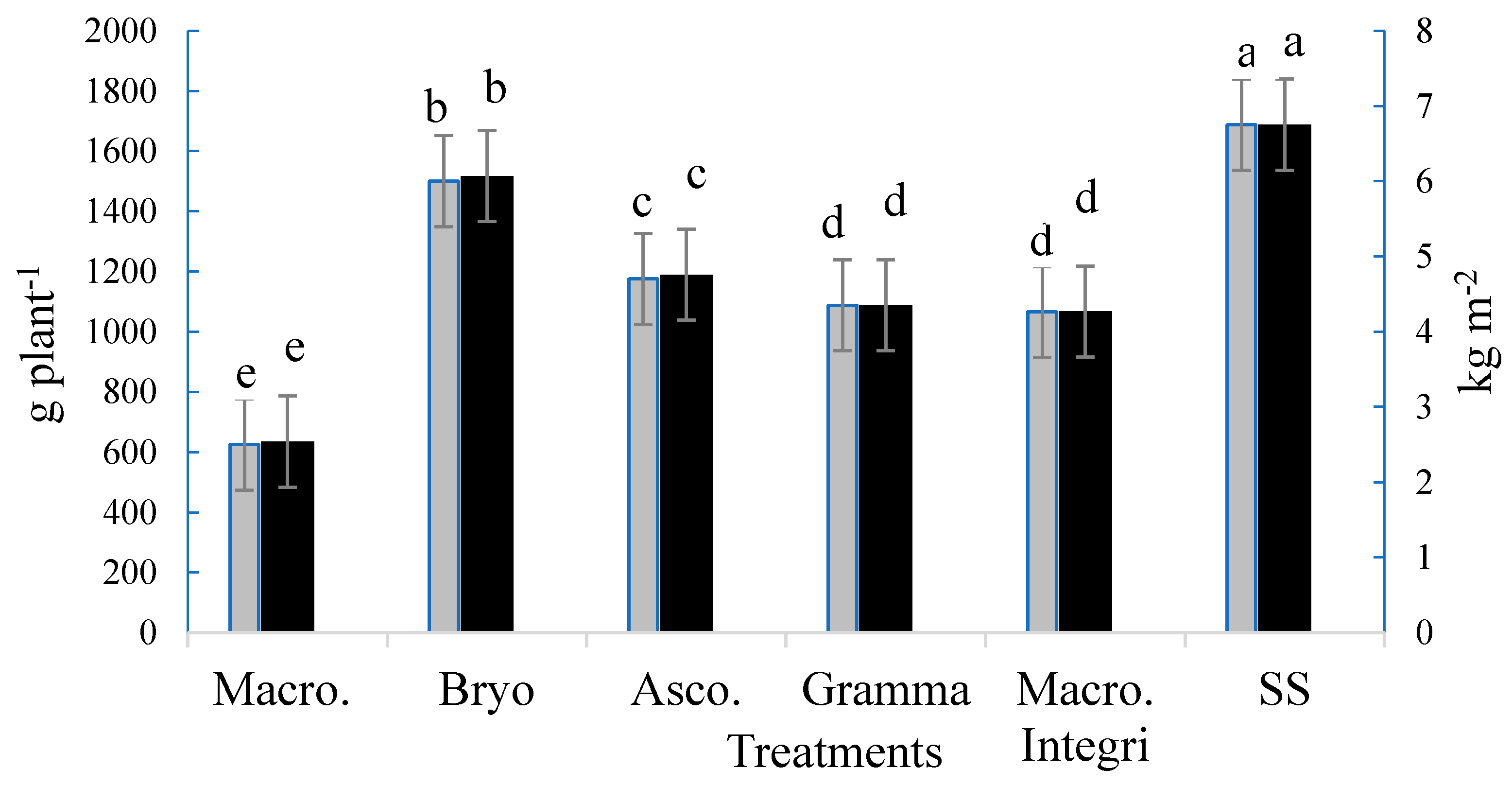 Figure 1
This is an open access article distributed under the
Creative Commons Attribution License
which permits unrestricted use, distribution, and reproduction in any medium, provided the original work is properly cited (CC BY 4.0).

Share & Cite This Article
MDPI and ACS Style
Trejo Valencia, R.; Sánchez Acosta, L.; Fortis Hernández, M.; Preciado Rangel, P.; Gallegos Robles, M.Á.; Antonio Cruz, R.C.; Vázquez Vázquez, C. Effect of Seaweed Aqueous Extracts and Compost on Vegetative Growth, Yield, and Nutraceutical Quality of Cucumber (Cucumis sativus L.) Fruit. Agronomy 2018, 8, 264.
Note that from the first issue of 2016, MDPI journals use article numbers instead of page numbers. See further details here.
Related Articles
Comments
[Return to top]