Quality Control and Structural Assessment of Anisotropic Scintillating Crystals
1
Dipartimento di Scienze e Ingegneria della Materia, dell'Ambiente ed Urbanistica (SIMAU), Università Politecnica delle Marche, 60131 Ancona, Italy
2
Interdipartimental Crystal Research & Analysis Center (ICRYS), Interdepartmental Crystal Research & Analysis Center, 60131 Ancona, Italy
3
Dipartimento di Ingegneria Civile, Edile e Architettura (DICEA), Università Politecnica delle Marche, 60131 Ancona, Italy
4
Dipartimento di Ingegneria Industriale e Scienze Matematiche (DIISM), Università Politecnica delle Marche, 60131 Ancona, Italy
*
Author to whom correspondence should be addressed.
Received: 29 June 2019 / Revised: 12 July 2019 / Accepted: 15 July 2019 / Published: 23 July 2019
Abstract
Nowadays, radiation detectors based on scintillating crystals are used in many different fields of science like medicine, aerospace, high-energy physics, and security. The scintillating crystals are the core elements of these devices; by converting high-energy radiation into visible photons, they produce optical signals that can be detected and analyzed. Structural and surface conditions, defects, and residual stress states play a crucial role in their operating performance in terms of light production, transport, and extraction. Industrial production of such crystalline materials is a complex process that requires sensing, in-line and off-line, for material characterization and process control to properly tune the production parameters. Indeed, the scintillators' quality must be accurately assessed during their manufacture in order to prevent malfunction and failures at each level of the chain, optimizing the production and utilization costs. This paper presents an overview of the techniques used, at various stages, across the crystal production process, to assess the quality and structural condition of anisotropic scintillating crystals. Different inspection techniques (XRD, SEM, EDX, and TEM) and the non-invasive photoelasticity-based methods for residual stress detection, such as laser conoscopy and sphenoscopy, are presented. The use of XRD, SEM, EDX, and TEM analytical methods offers detailed structural and morphological information. Conoscopy and sphenoscopy offer the advantages of fast and non-invasive measurement suitable for the inspection of the whole crystal quality. These techniques, based on different measurement methods and models, provide different information that can be cross-correlated to obtain a complete characterization of the scintillating crystals. Inspection methods will be analyzed and compared to the present state of the art.
View Full-Text
►

▼

Figures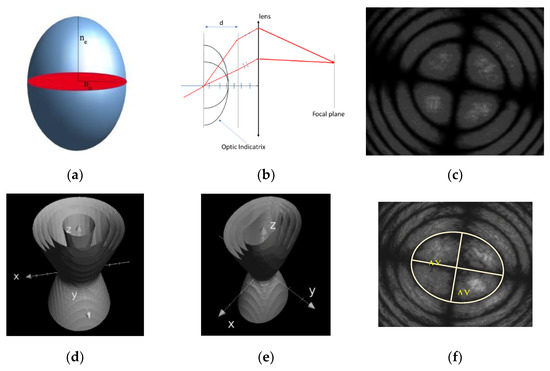 Figure 1
This is an open access article distributed under the
Creative Commons Attribution License
which permits unrestricted use, distribution, and reproduction in any medium, provided the original work is properly cited (CC BY 4.0).

Share & Cite This Article
MDPI and ACS Style
Montalto, L.; Natali, P.P.; Scalise, L.; Paone, N.; Davì, F.; Rinaldi, D.; Barucca, G.; Mengucci, P. Quality Control and Structural Assessment of Anisotropic Scintillating Crystals. Crystals 2019, 9, 376.
Note that from the first issue of 2016, MDPI journals use article numbers instead of page numbers. See further details here.
Related Articles
Comments
[Return to top]