Inorganic, Organic, and Perovskite Halides with Nanotechnology for High–Light Yield X- and
γ

-ray Scintillators

1

CINTRA UMI CNRS/NTU/THALES 3288, Research Techno Plaza, 50 Nanyang Drive, Level 6, Border X Block, Singapore 637553, Singapore

2

School of Electrical and Electronic Engineering, Nanyang Technological University, 50 Nanyang Avenue, Singapore 639798, Singapore

3

Energy Research Institute @NTU (

[email protected]

), Nanyang Technological University, Research Techno Plaza, X-Frontier Block, Level 5, 50 Nanyang Drive, Singapore 637553, Singapore

4

Department of Physics, National University of Singapore, 2 Science Drive 3, Singapore 117542, Singapore

5

XLIM Research Institute, UMR 7252 CNRS/University of Limoges, 123, avenue Albert Thomas, 87060 Limoges CEDEX, France

6

Institut d'Electronique, de Microélectronique et de Nanotechnologie (IEMN), CNRS UMR 8520-Université de Lille, 59650 Villeneuve d'Ascq, France

7

Institute of Physics, Faculty of Physics, Astronomy, and Informatics, Nicolaus Copernicus University, Grudziadzka 5, 87-100 Torun, Poland

8

Université de Lyon, Université Claude Bernard Lyon 1, CNRS, Institut Lumière Matière UMR 5306, F-69622 Villeurbanne, France

*

Authors to whom correspondence should be addressed.

Received: 31 December 2018 / Revised: 27 January 2019 / Accepted: 4 February 2019 / Published: 8 February 2019
Abstract
Trends in scintillators that are used in many applications, such as medical imaging, security, oil-logging, high energy physics and non-destructive inspections are reviewed. First, we address traditional inorganic and organic scintillators with respect of limitation in the scintillation light yields and lifetimes. The combination of high–light yield and fast response can be found in Ce
, Pr
and Nd
lanthanide-doped scintillators while the maximum light yield conversion of 100,000 photons/MeV can be found in Eu
doped SrI
. However, the fabrication of those lanthanide-doped scintillators is inefficient and expensive as it requires high-temperature furnaces. A self-grown single crystal using solution processes is already introduced in perovskite photovoltaic technology and it can be the key for low-cost scintillators. A novel class of materials in scintillation includes lead halide perovskites. These materials were explored decades ago due to the large X-ray absorption cross section. However, lately lead halide perovskites have become a focus of interest due to recently reported very high photoluminescence quantum yield and light yield conversion at low temperatures. In principle, 150,000–300,000 photons/MeV light yields can be proportional to the small energy bandgap of these materials, which is below 2 eV. Finally, we discuss the extraction efficiency improvements through the fabrication of the nanostructure in scintillators, which can be implemented in perovskite materials. The recent technology involving quantum dots and nanocrystals may also improve light conversion in perovskite scintillators.
View Full-Text
►

▼

Figures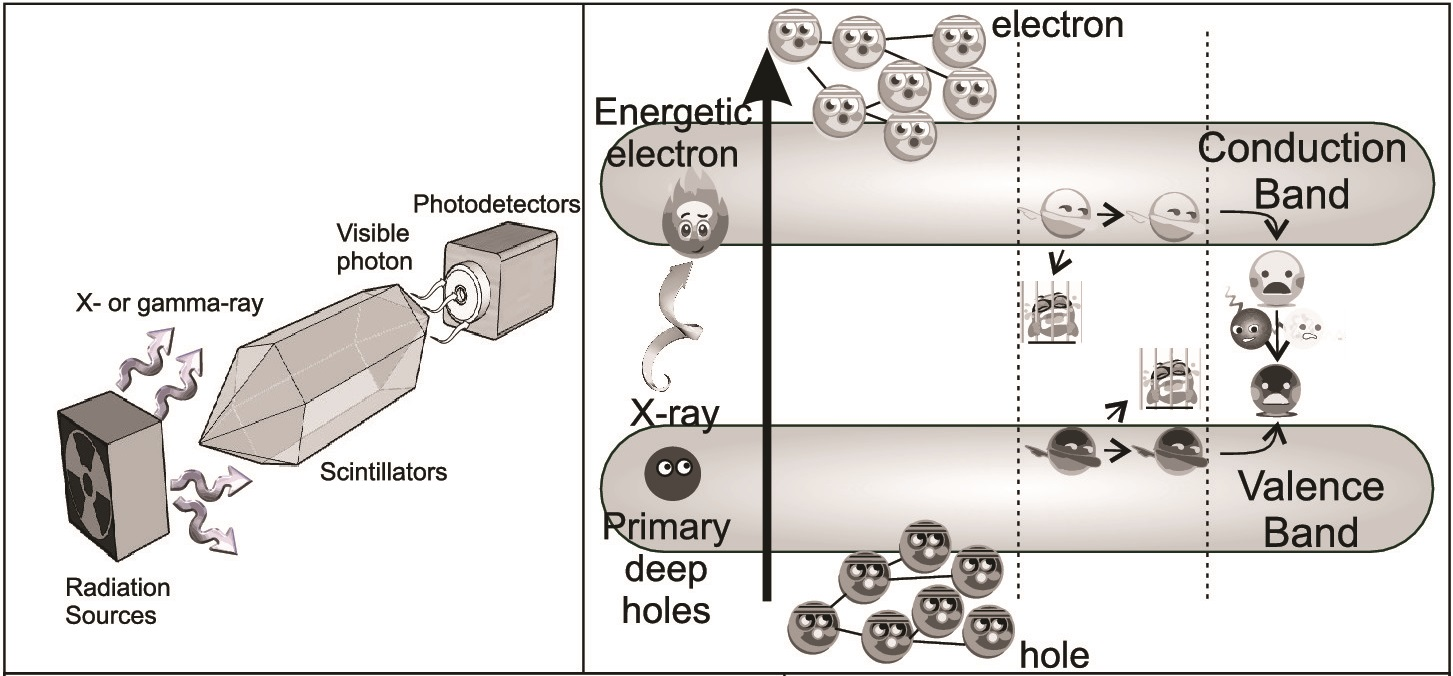 Graphical abstract
This is an open access article distributed under the
Creative Commons Attribution License
which permits unrestricted use, distribution, and reproduction in any medium, provided the original work is properly cited (CC BY 4.0).

Share & Cite This Article
MDPI and ACS Style
Maddalena, F.; Tjahjana, L.; Xie, A.; Arramel; Zeng, S.; Wang, H.; Coquet, P.; Drozdowski, W.; Dujardin, C.; Dang, C.; Birowosuto, M.D. Inorganic, Organic, and Perovskite Halides with Nanotechnology for High–Light Yield X- and γ-ray Scintillators. Crystals 2019, 9, 88.
Note that from the first issue of 2016, MDPI journals use article numbers instead of page numbers. See further details here.
Related Articles
Comments
[Return to top]