Crystallization and Crystallographic Analysis of a
Bradyrhizobium Elkanii

USDA94 Haloalkane Dehalogenase Variant with an Eliminated Halide-Binding Site

1

Faculty of Science, University of South Bohemia in Ceske Budejovice, Branisovska 1760, 37005 Ceske Budejovice, Czech Republic

2

Center of Nanobiology and Structural Biology, Institute of Microbiology of the Czech Academy of Sciences, Zamek 136, 37333 Nove Hrady, Czech Republic

3

Institute of Biochemistry, University of Lübeck, Ratzeburger Allee 160, 23538 Lübeck, Germany

4

Loschmidt Laboratories, Department of Experimental Biology and RECETOX, Faculty of Science, Masaryk University, Kamenice 5/A4, 62500 Brno, Czech Republic

5

International Clinical Research Center, St. Anne's University Hospital Brno, Pekarska 53, 65691 Brno, Czech Republic

*

Author to whom correspondence should be addressed.

†

These authors contributed equally to this work.

Received: 27 June 2019 / Revised: 18 July 2019 / Accepted: 19 July 2019 / Published: 23 July 2019
Abstract
Haloalkane dehalogenases are a very important class of microbial enzymes for environmental detoxification of halogenated pollutants, for biocatalysis, biosensing and molecular tagging. The double mutant (Ile44Leu + Gln102His) of the haloalkane dehalogenase DbeA from
Bradyrhizobium elkanii
USDA94 (DbeAΔCl) was constructed to study the role of the second halide-binding site previously discovered in the wild-type structure. The variant is less active, less stable in the presence of chloride ions and exhibits significantly altered substrate specificity when compared with the DbeAwt. DbeAΔCl was crystallized using the sitting-drop vapour-diffusion procedure with further optimization by the random microseeding technique. The crystal structure of the DbeAΔCl has been determined and refined to the 1.4 Å resolution. The DbeAΔCl crystals belong to monoclinic space group
C
121. The DbeAΔCl molecular structure was characterized and compared with five known haloalkane dehalogenases selected from the Protein Data Bank.
View Full-Text
►

▼

Figures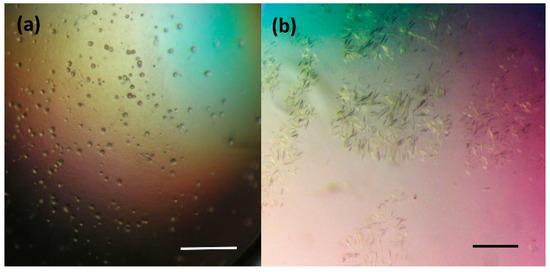 Figure 1
This is an open access article distributed under the
Creative Commons Attribution License
which permits unrestricted use, distribution, and reproduction in any medium, provided the original work is properly cited (CC BY 4.0).

Share & Cite This Article
MDPI and ACS Style
Prudnikova, T.; Kascakova, B.; Mesters, J.R.; Grinkevich, P.; Havlickova, P.; Mazur, A.; Shaposhnikova, A.; Chaloupkova, R.; Damborsky, J.; Kuty, M.; Kuta Smatanova, I. Crystallization and Crystallographic Analysis of a Bradyrhizobium Elkanii USDA94 Haloalkane Dehalogenase Variant with an Eliminated Halide-Binding Site. Crystals 2019, 9, 375.
Note that from the first issue of 2016, MDPI journals use article numbers instead of page numbers. See further details here.
Related Articles
Comments
[Return to top]