Phase and Residual Stress Evaluation of Dual-Phase Al70Cr30N and Al80Cr20N PVD Films
1
Kennametal GmbH, Altweiherstr. 27, 91320 Ebermannstadt, Germany
2
Kennametal Inc., 1600 Technology Way, Latrobe, PA 15650, USA
*
Author to whom correspondence should be addressed.
Received: 5 June 2019 / Revised: 30 June 2019 / Accepted: 10 July 2019 / Published: 15 July 2019
Abstract
We investigated arc ion-plated Al
70
Cr
30
N and Al
80
Cr
20
N thin films deposited with three different bias voltages (50 V, 100 V, and 150 V) to study crystal phase stabilities, residual stresses, and mechanical properties. Commercial compositions of Al
x
Cr
100–

x
N coatings typically range from
x
= 50 to 70 where the cubic face centered crystal phase occurs. The present study focuses on films near the solubility limit of Al in the cubic Cr(Al)N lattice around 70 at.%, above which hexagonal AlN (h–AlN) starts to form in significant amounts. Residual stress values are obtained by two methods: grazing incidence diffraction with the wholepattern fitting and the conventional side inclination method (sin
2
Ψ method). When multiple phases are present in the film, wholepattern fitting turns out to be particularly effective and a comparison of both measurement methods will be discussed. The Al
70
Cr
30
N films consist of the cubic phase with crystallite sizes of about 70 nm for all bias voltages. Compressive stress increased with bias voltage from about 3 to almost 6 GPa and coatings become brittle. Al
80
Cr
20
N films showed a different dependence on bias voltage. Using 50 V bias voltage in deposition, the major phase is h–AlN phase with a crystallite grain size of < 30 nm and (0002) preferred orientation. With increasing bias the cubic phase is stabilized also reaching about 70 nm crystallite size. In general, the compressive residual stress was significantly lower than for Al
70
Cr
30
N films for the same bias voltages which may be a result of the presence of the hexagonal phase. Wear and scratch tests confirmed higher ductility of the Al
80
Cr
20
N variants but reduced resistance of the films in impact wear testing.
View Full-Text
►

▼

Figures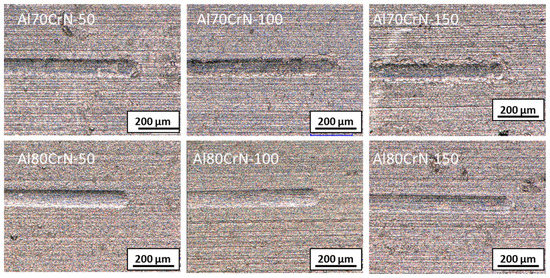 Figure 1
This is an open access article distributed under the
Creative Commons Attribution License
which permits unrestricted use, distribution, and reproduction in any medium, provided the original work is properly cited (CC BY 4.0).

Share & Cite This Article
MDPI and ACS Style
Kohlscheen, J.; Shibata, T. Phase and Residual Stress Evaluation of Dual-Phase Al70Cr30N and Al80Cr20N PVD Films. Crystals 2019, 9, 362.
Note that from the first issue of 2016, MDPI journals use article numbers instead of page numbers. See further details here.
Related Articles
Comments
[Return to top]