Fe Melting Transition: Electrical Resistivity, Thermal Conductivity, and Heat Flow at the Inner Core Boundaries of Mercury and Ganymede
Department of Earth Sciences, University of Western Ontario London, London, ON N6A5B7, Canada
*
Author to whom correspondence should be addressed.
†
Now at Institute for Planetary Materials, Okayama University, Misasa, Tottori 682-0193, Japan.
Received: 10 June 2019 / Revised: 2 July 2019 / Accepted: 12 July 2019 / Published: 15 July 2019
Abstract
The electrical resistivity and thermal conductivity behavior of Fe at core conditions are important for understanding planetary interior thermal evolution as well as characterizing the generation and sustainability of planetary dynamos. We discuss the electrical resistivity and thermal conductivity of Fe, Co, and Ni at the solid–liquid melting transition using experimental data from previous studies at 1 atm and at high pressures. With increasing pressure, the increasing difference in the change in resistivity of these metals on melting is interpreted as due to decreasing paramagnon-induced electronic scattering contribution to the total electronic scattering. At the melting transition of Fe, we show that the difference in the value of the thermal conductivity on the solid and liquid sides increases with increasing pressure. At a pure Fe inner core boundary of Mercury and Ganymede at ~5 GPa and ~9 GPa, respectively, our analyses suggest that the thermal conductivity of the solid inner core of small terrestrial planetary bodies should be higher than that of the liquid outer core. We found that the thermal conductivity difference on the solid and liquid sides of Mercury's inner core boundary is ~2 W(mK)
−1
. This translates into an excess of total adiabatic heat flow of ~0.01–0.02 TW on the inner core side, depending on the relative size of inner and outer core. For a pure Fe Ganymede inner core, the difference in thermal conductivity is ~7 W(mK)
−1
, corresponding to an excess of total adiabatic heat flow of ~0.02 TW on the inner core side of the boundary. The mismatch in conducted heat across the solid and liquid sides of the inner core boundary in both planetary bodies appears to be insignificant in terms of generating thermal convection in their outer cores to power an internal dynamo suggesting that chemical composition is important.
View Full-Text
►

▼

Figures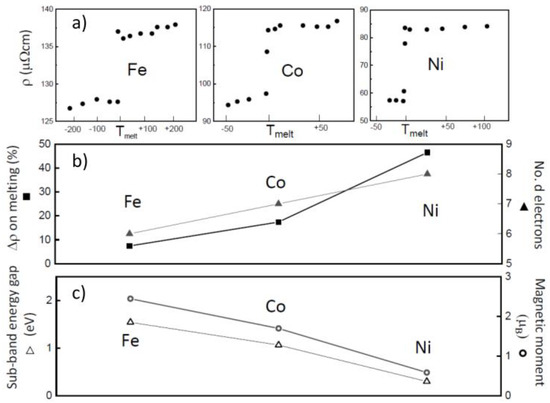 Figure 1
This is an open access article distributed under the
Creative Commons Attribution License
which permits unrestricted use, distribution, and reproduction in any medium, provided the original work is properly cited (CC BY 4.0).

Share & Cite This Article
MDPI and ACS Style
Ezenwa, I.C.; Secco, R.A. Fe Melting Transition: Electrical Resistivity, Thermal Conductivity, and Heat Flow at the Inner Core Boundaries of Mercury and Ganymede. Crystals 2019, 9, 359.
Note that from the first issue of 2016, MDPI journals use article numbers instead of page numbers. See further details here.
Related Articles
Comments
[Return to top]