Open Access This article is
freely available
re-usable
Article
Geometrically Necessary Dislocations on Plastic Deformation of Polycrystalline TRIP Steel
1
Department of Materials Science and Metallurgical Engineering, Universitat Politècnica de Catalunya, Campus Diagonal Besòs-EEBE, Barcelona 08019, Spain
2
Centre for Research in Multiscale Engineering of Barcelona, Universitat Politècnica de Catalunya, Campus Diagonal Besòs-EEBE, Barcelona 08019, Spain
3
Department of Materials Science and Engineering, Saarland University, Saarbrucken 66123, Germany
*
Author to whom correspondence should be addressed.
Received: 20 March 2019 / Accepted: 30 May 2019 / Published: 3 June 2019
Abstract
:
In this study, the main deformation behavior in terms of geometrically necessary dislocations (GND) was investigated on a transformation induced plasticity (TRIP) stainless steel by using sharp indentation at nanometric length scale. Results evidence that austenitic grains display an isotropic behavior on terms of GND, the main deformation mechanism being the Frank–Read source activated at local level.
Keywords:
metastable stainless steels; nanoindentation; electron backscattered diffraction; plastic deformation mechanisms; geometrically necessary dislocations
1. Introduction
Transformation induced plasticity (TRIP) steels present a metastable austenitic phase which transforms to martensite due to plastic deformation, either during forming or under service conditions [
1
]. This phase transformation acts as a reinforcing mechanism which makes those steels ideal materials to replace the conventional grades due to their excellent combination of formability, crash-absorbing capability, and good corrosion resistance [
2
]. The γ to α′ phase transformation is complex and the theory on martensitic transformation remains uncompleted. Numerous studies have tried to quantify the transformation and several models have been postulated to predict the mechanical behavior [
3
,
4
,
5
,
6
,
7
,
8
,
9
,
10
,
11
,
12
,
13
,
14
,
15
,
16
,
17
,
18
]. However, the lack of a profound understanding of how parameters such as chemical composition, temperature, strain rate, grain size, and deformation mode influence the transformation makes it hard to generate precise constitutive models. In this sense, it is important to understand the micromechanics of single grains, especially the dependence of mechanical properties (hardness and elastic modulus) and phase transformation with crystallographic orientation.
Several researchers have studied the mechanical properties of steels by means of nanoindentation of individual grains [
19
,
20
,
21
,
22
,
23
,
24
,
25
,
26
,
27
]. For example, Tromas et al. [
19
] reported the hardness and elastic modulus anisotropy of plasma-nitrided AISI 316L stainless steel as a function of the crystallographic structure, and Taylor et al. [
20
] evaluated the hardness of grains in dual phase steels. There are also a few reports on the mechanical behavior of the individual austenite grains in TRIP steels [
21
,
22
], but all of them deal with the most extended group of these steels, those with a ferritic matrix. Recently, the dependence of the local mechanical properties of the austenite phase with the crystallographic orientation has been demonstrated [
23
]. Results achieved for the same steel grade here studied, that is, AISI 301LN, pointed out that hardness of (001) and (101) oriented grains is lower than for (111) ones. This hardness inhomogeneity had been previously reported for others materials using the nanoindentation technique [
24
,
25
,
26
] and it was attributed to the presence of the geometrically necessary dislocations (GNDs) resulting from the γ → α' transformation in the vicinity of the interface. However, in the literature this information is not available for TRIP stainless steels.
Within this context, the aim of the present work was to analyze the dislocation motion depending on the crystallographic orientation by GNDs that promote differences in plastic deformation and therefore influence the hardening behavior that these steels present at the microstructural level.
2. Experimental Procedure
The material investigated was a commercial AISI 301LN stainless steel, equivalent to grade EN 1.4318, supplied by Outokumpu (Finland) as 2 mm thick sheets (more information is available in [
28
]).
A homogeneous array of 400 imprints (20 by 20) was made by using a Berkovich indenter. This array was performed at 200 nm of maximum displacement into surface by using a nanoindenter XP (MTS) equipped with a continuous stiffness measurement module, the latter allowing a dynamic determination of the mechanical properties during the indentation process. A constant distance around 5 μm was held between each imprint in order to avoid any overlapping effect. Along the indentation process, the indentation strain rate was held at 0.05 s−1.
Electron backscatter diffraction (EBSD) analyses, in terms of local orientation gradients in deformed austenitic grains, were carried out using a FEI Helios NanoLab field emission scanning electron microscopy (FESEM) operated at 20 keV. EBSD analyses were performed using EDAX TSL OIM data collection system with a step size of 30 nm. The data post-processing consisted of the application of a confidence index (CI) standardization routine and the filtering of the data possessing a CI below 0.09. GNDs density is provided in terms of 10
−12
m
−2
. This calculation was performed according the methodology proposed by Field et al. [
29
], whose algorithm considers both types of dislocations: Edge and screw.
Surface observation of a small region of the homogeneous indentation array, as well as the main deformation mechanisms induced near the residual imprints, were performed by atomic force microscopy (AFM), working in tapping mode. A dimension 3100 microscope from Bruker was used to carry out the different measurements. All the images were processed with the WSxM software [
30
].
3. Results and Discussion
4. Conclusions
(i)

The nanomechanical tests conducted by using a sharp Berkovich indenter on individual austenitic grains led to the activation of the main deformation mechanisms. Hence, slip traces have been observed by advanced characterization techniques.

(ii)

A GND map methodology provides information regarding the complex stress fields induced by nanoindentation inside certain crystallographic orientations.

(iii)

Austenitic grains display an isotropic behavior regarding the GND maps, with the Frank–Read source being the main deformation mechanism.

(iv)

All these results can serve as valuable inputs for microstructurally informed computations aimed at predicting the flow behavior at the macroscopic length scale.
Author Contributions
J.J.R., S.S. and A.G. carried out the methodology, formal analysis and validation of the results. J.J.R. carried out the original draft preparation, while G.F. and A.M. focused on review, editing and supervision.
Acknowledgments
The authors would like to acknowledge the financial support from the Spanish Government through the project MAT2015-70780-c4-3. S.S., A.G. and F.M. wish to acknowledge the EFRE Funds of the European Commission for support of activities within the AME-Lab project. This work was supported by the CREATe-Network Project, Horizon 2020 Program of the European Commission (RISE Project Nr. 644013). J.J.R. acknowledges the Serra Hunter program of the Generalitat de Catalunya.
Conflicts of Interest
The authors declare no conflict of interest.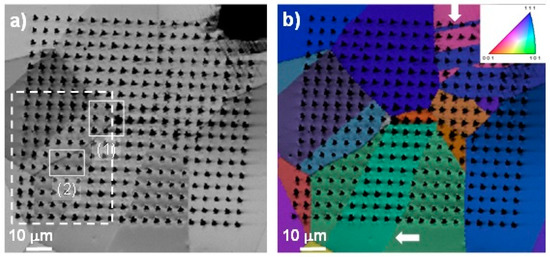 Figure 1.
(
a
) Image quality (IQ) and (
b
) local crystallographic orientation map of an indentation array of 400 imprints (20 by 20) done at a maximum displacement into surface of around 200 nm. White arrows in
Figure 1
b show the pre-existing twins.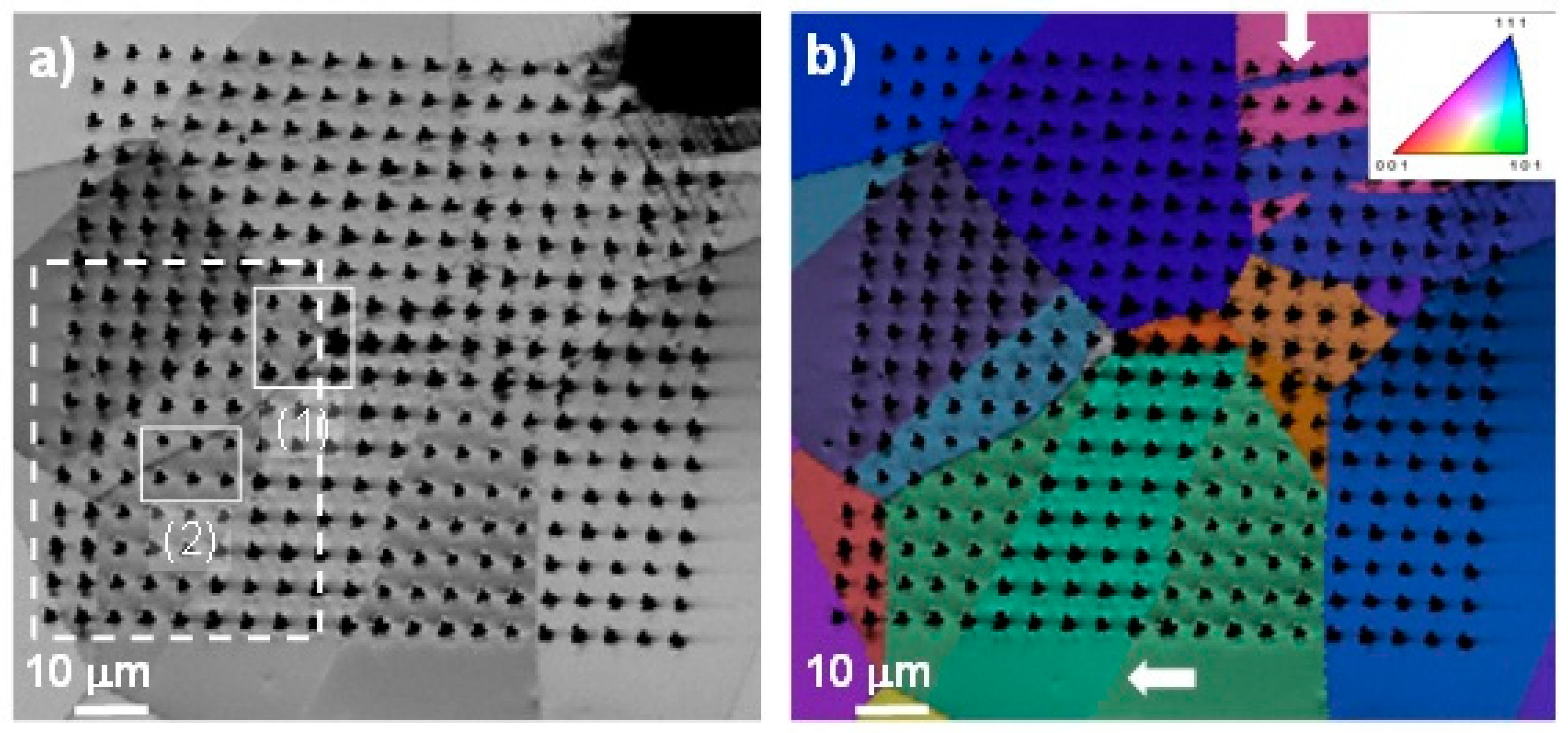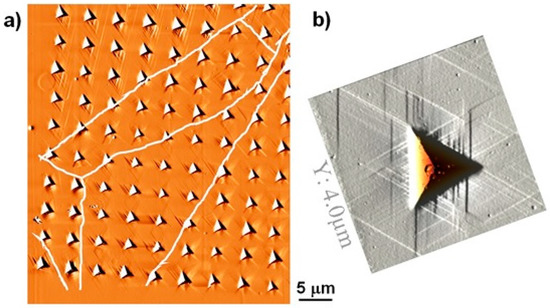 Figure 2. (a) Set of twelve overlapped atomic force microscopy (AFM) images (error signal mode) exhibiting the main plastic deformation mechanisms around the residual imprints. (b) AFM image of one indentation.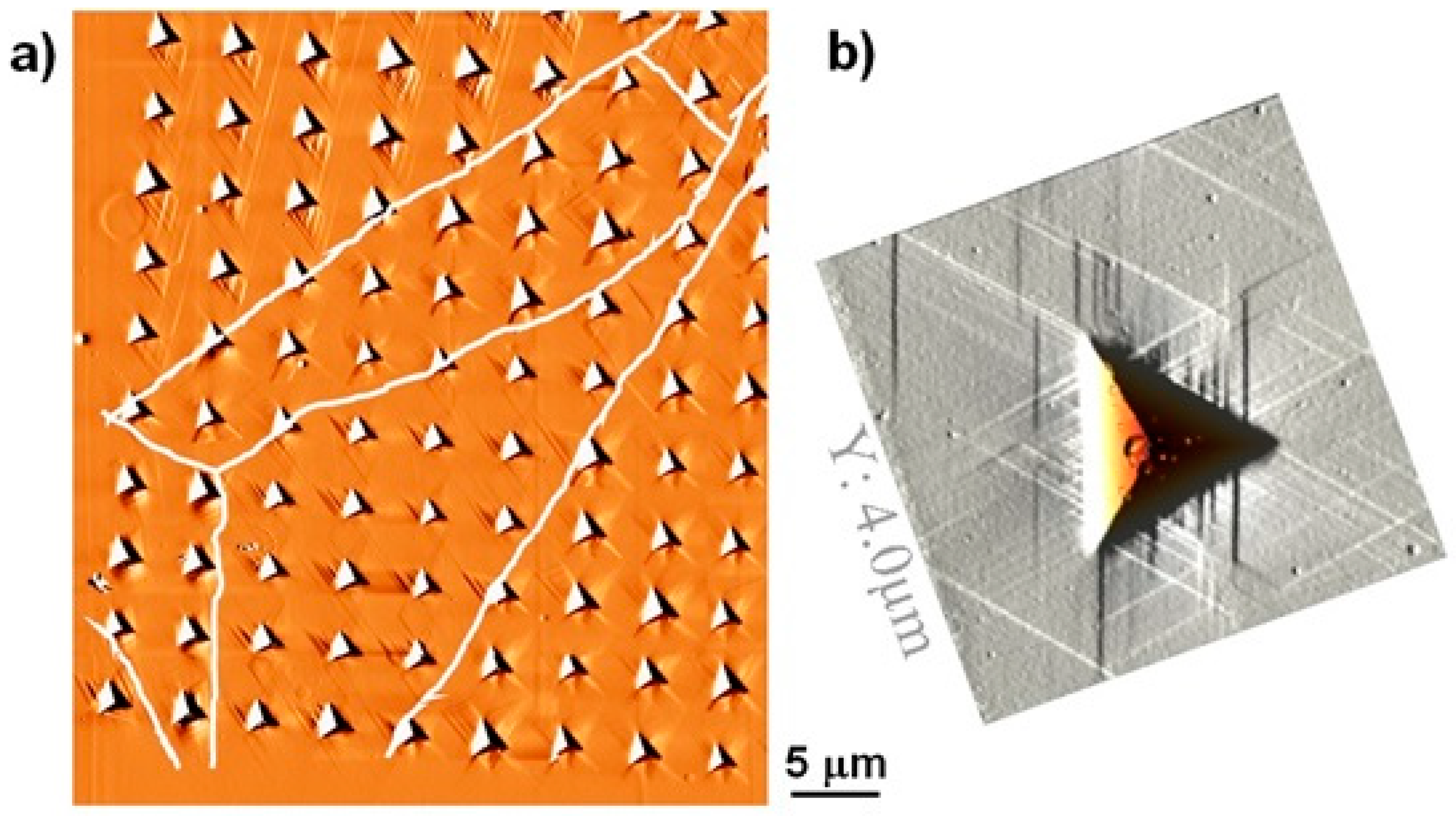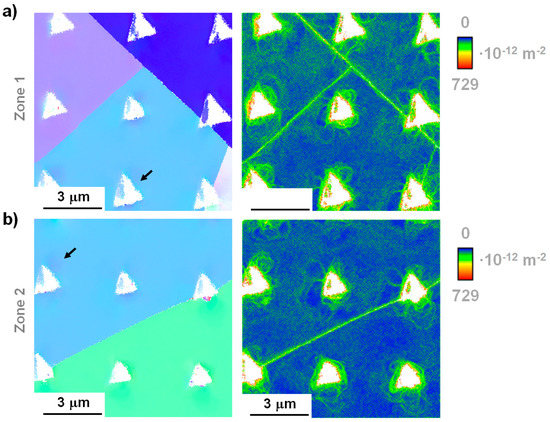 Figure 3.
The local crystallographic orientation (left hand side) and the geometrically necessary dislocations (GNDs) map (right hand side), for both regions of interest labelled in
Figure 1
a, observed in more detail ((
a
,
b
), respectively).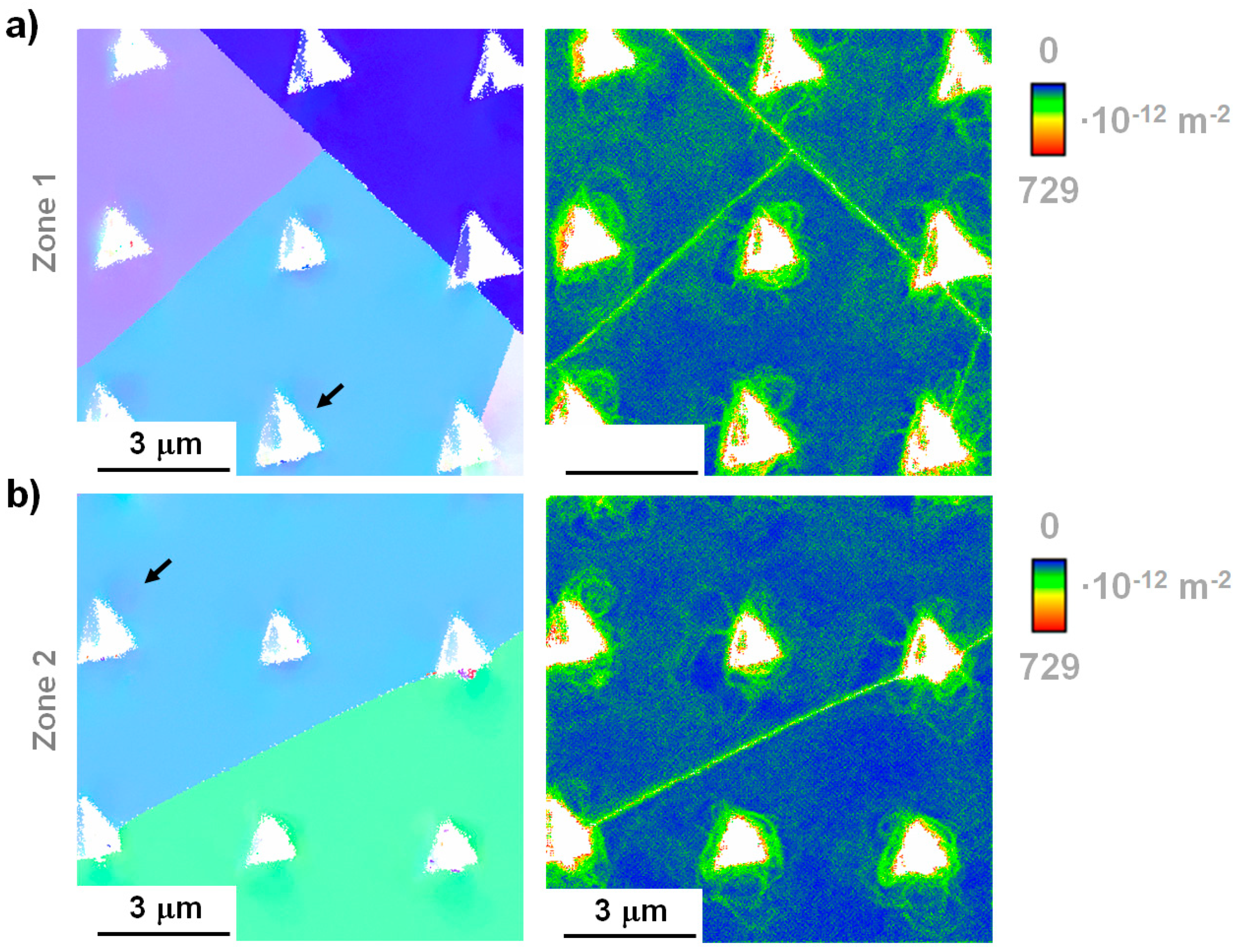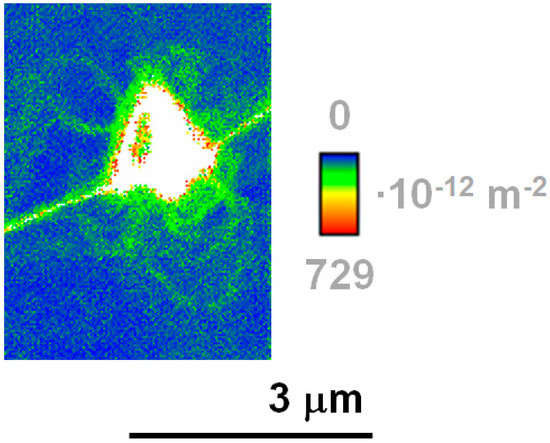 Figure 4. GND map of a residual imprint performed at 200 nm of maximum displacement into surface showing the dislocation map induced during the indentation process.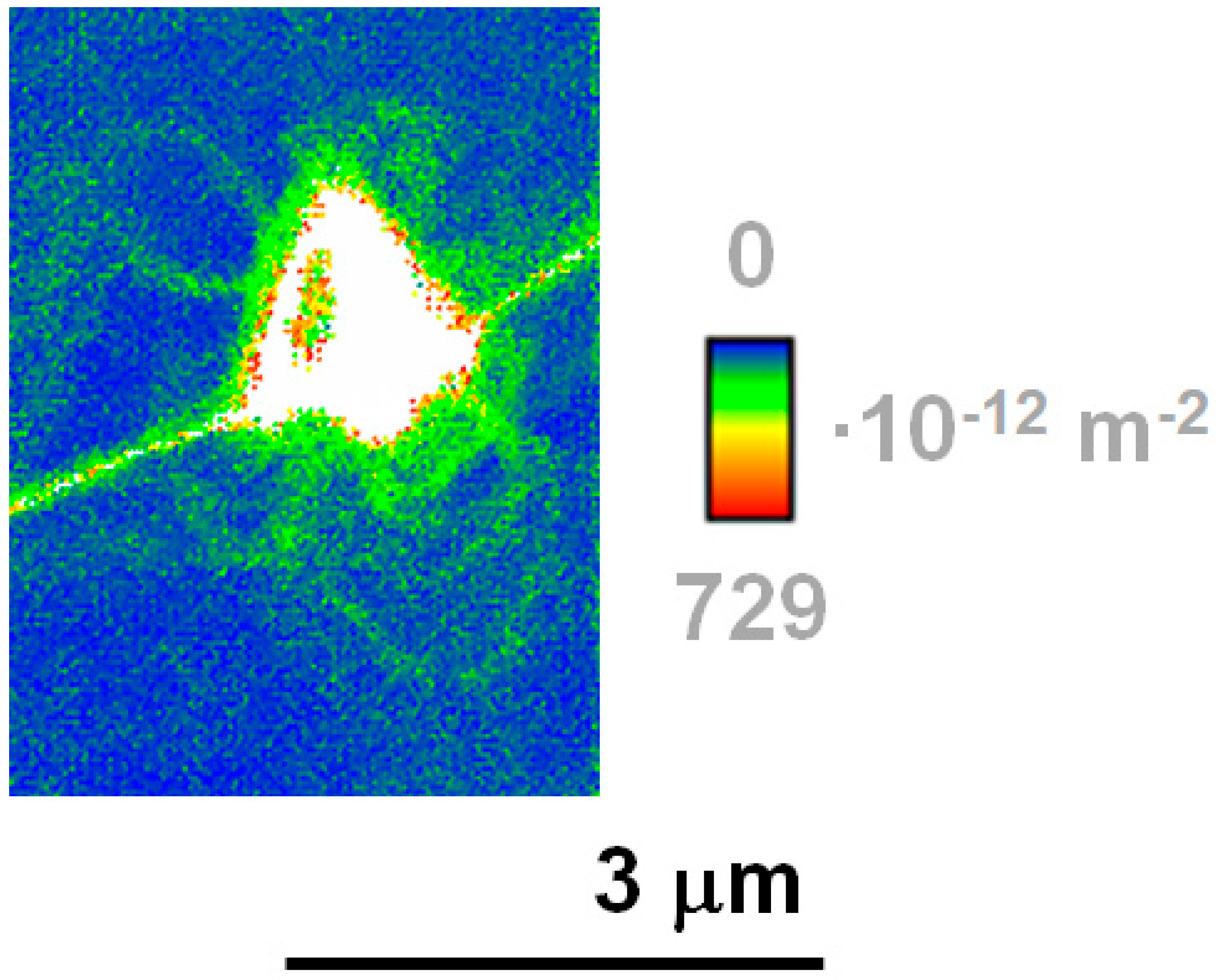 © 2019 by the authors. Licensee MDPI, Basel, Switzerland. This article is an open access article distributed under the terms and conditions of the Creative Commons Attribution (CC BY) license (http://creativecommons.org/licenses/by/4.0/).