Open Access This article is
freely available
re-usable
Article
Growth and Strain Engineering of Trigonal Te for Topological Quantum Phases in Non-Symmorphic Chiral Crystals
1
Department of Physics, University of Arkansas, Fayetteville, AR 72701, USA
2
Institute for Nanoscience and Engineering, University of Arkansas, Fayetteville, AR 72701, USA
3
Microelectronics-Photonics Graduate Program, University of Arkansas, Fayetteville, AR 72701, USA
*
Authors to whom correspondence should be addressed.
Received: 22 August 2019 / Accepted: 14 September 2019 / Published: 20 September 2019
Abstract
:
Strained trigonal Te has been predicted to host Weyl nodes supported by a non-symmorphic chiral symmetry. Using low-pressure physical vapor deposition, we systematically explored the growth of trigonal Te nanowires with naturally occurring strain caused by curvature of the wires. Raman spectra and high mobility electronic transport attest to the highly crystalline nature of the wires. Comparison of Raman spectra for both straight and curved nanowires indicates a breathing mode that is significantly broader and shifted in frequency for the curved wires. Strain induced by curvature during growth therefore may provide a simple pathway to investigate topological phases in trigonal Te.
Keywords:
Weyl semimetal; nanowire; topological semimetal; strain engineering; helical materials
1. Introduction
Chiral materials possess structures with well-defined left- or right-handedness, which can be inverted by several symmetry operations, such as spatial inversion, mirror reflection, and roto-inversion. The structural chirality has been recognized to play an important role in diverse disciplines [
1
,
2
]. In condensed matter physics, the structural chirality of chiral crystals has been known to lead to a wide spectrum of electronic, magnetic, and optical phenomena, including chiral magnet and skyrmions [
3
,
4
], unusual optical and transport properties [
5
,
6
], etc. Recently, there has been growing interest in chiral crystals, owing to their topological nature. It has been predicted that the Kramers–Weyl nodes, which are locked at the time reversal invariant momenta (TRIM) in the Brillouin zone (BZ) and thus robust against annihilation [
7
], occur universally in all non-magnetic chiral crystals with spin–orbit coupling [
4
].
Among various chiral crystals, trigonal tellurium (Te) and Selenium (Se) are particularly interesting due to the potential to support highly tunable topological states. Trigonal Te crystallizes as helical chains with three atoms per turn along the
c
-axis (the screw axis), with chains ordered in hexagonal arrays within the
a
–
b
plane (
Figure 1
). Depending on the chirality of the screw axis, the space group can be
P
3
1
21 (right-handed) or
P
3
2
21 (left-handed). Although pristine Te at ambient pressure is a band semiconductor with an indirect gap of 0.3 eV [
8
], a transition to a strong topological insulator has been predicted for Te under shear strain [
9
]. Recent theoretical calculations have further revealed multiple pairs of Weyl nodes even in pristine Te and Se, which are protected by the non-symmorphic screw symmetry of a three-fold helical lattice [
8
,
10
]. Unlike the Kramers–Weyl nodes in chiral crystals mentioned above, the Weyl nodes in Te are not located at TRIM, so they display great tunability. For example, applying pressure on Te up to 2.17 GPa closes the band gap near the BZ
H
point (see
Figure 1
b for BZ for Te) and eventually creates multiple pairs of Weyl nodes near the Fermi level at the
K
–
H
line, leading to an inversion symmetry-breaking Weyl semimetal state [
8
]. These Weyl nodes are further movable along the
K
–
H
line with increasing pressure [
8
,
10
].
Unlike the tantalum arsenide (TaAs) family [
11
,
12
,
13
,
14
,
15
,
16
,
17
,
18
,
19
,
20
,
21
], which has been well-established as the inversion symmetry-breaking Weyl semimetals, the potential Weyl states in pristine and pressurized Te and Se, though predicted at almost the same time as the TaAs family, remain unexplored experimentally, with the exception of a recent report on angle-resolved photoemission spectroscopy for the valence band of bulk Te that reveals signatures consistent with Weyl nodes at and near the
H
point [
22
], and the possible quantum Hall effect of "massive" Weyl fermions [
23
]. The lack of reported progress investigating the topological properties of Te could originate in the experimental difficulty handling samples under hydrostatic pressure. In this work, we take advantage of the negative compression modulus along the
c
-axis in Te [
24
] to develop a pathway to investigate the potential Weyl states, as well as their tunability in curved Te nanowires. We show that, with the integration of strain and electrostatic gating, Te nanowires provide a versatile platform that will eventually allow electronic and spectroscopic characterization of the predicted Weyl states.
2. Materials and Methods
The Te nanowires used in this work were synthesized via a home-built physical vapor deposition (PVD) technique, as will be described in more detail later. Nanowires were characterized using polarized Raman spectroscopy (Horiba Jobin), scanning electron microscopy (SEM, FEI Nova Nanolab), and electronic transport. Raman spectra were collected using an excitation wavelength of 633 nm and an approximate power of 600 µW. Polarization of the excitation was adjusted with a half wave plate to be parallel to the
c
-axis of the nanowires (tangent to the curve for curved nanowires). Devices for electronic transport characterization were fabricated using a combination of electron beam lithography, thermal evaporation, and lift-off. A crucial fabrication detail to eliminate native oxide on the Te nanowires is a two-minute etch in 25% hydrochloric acid prior to contact deposition to remove a 4 nm thick native oxide. Transport measurements were voltage-biased DC current measurements.
3. Results
3.1. Nanowire Synthesis
As shown in
Figure 1
a, the chemical bonds in Te are highly anisotropic, with relatively strong bonds within the helical chains and relatively weak bonds between them. The degree of bonding anisotropy is intermediate between strongly layered and strongly 3D extremes, and these helical crystals have been described in the literature as both quasi-one-dimensional (1D) weakly bonded solids [
25
] and 1D van der Waals materials [
26
]. Anisotropic bonding in these materials is sufficient to permit synthesis of 1D nanowires [
26
,
27
,
28
,
29
,
30
,
31
,
32
] and two-dimensional (2D) flakes [
33
,
34
,
35
,
36
,
37
,
38
], as well as mechanical exfoliation of bulk crystals [
39
]. The relatively low melting (450 °C) and boiling points (988 °C) of Te permit 1D nanowires and 2D nano-flakes of Te to be easily synthesized via low-pressure physical vapor deposition (LP-PVD), as has been reported before [
40
,
41
]. In our experiments, the nanowire growth was conducted in a dual-heating zone tube furnace with the elemental source material (pure Te, 10 mg) and a growth substrate placed in hotter and colder zones, respectively, separated by 20 centimeters (
Figure 2
a,). At appropriate temperatures for both zones, the source vapor is carried by a flow of Ar gas from the hotter zone to colder zone, and condenses on the substrate to form nanostructures. In our growths, the Ar flow is turned on prior to the growth to flush the growth chamber, and turned off after growth ends, followed by a natural cool down of the furnace.
With more than 100 growths with varying growth parameters, including temperature, Ar flow rate, chamber pressure, and growth duration, we mapped out the parameter space of growth conditions. We found that most of the successful growths occurred with the hot and the cold zones being kept at 450–550 °C and 200–350 °C, respectively. The density and morphologies of the nanostructures are sensitively dependent on the Ar flow rate and chamber pressure. As summarized in
Figure 2
b, high pressure clearly favors denser growth, while increasing the Ar flow rate leads to enhanced diameter of nanowires and even prompts the formation of 2D flakes.
In addition to the straight nanowires, curved wires appear when the chamber pressure is above 40 Torr. As will be discussed later, curved nanowires with built-in strain provide a versatile platform for electronic and spectroscopic characterization of the predicted Weyl states. Among various parameters, pressure provides a threshold of 40 Torr, above which curved nanowires start to form. Below this threshold, the growths regardless of any combination of other parameters are unable to fabricate curved nanowires. However, the curvature of nanowires appears not to be tunable with pressure. Above the threshold pressure (40 Torr), curved wires with varied curvatures can be obtained on the same substrate in each growth.
3.2. Characterizations of Te Nanowires
The electronic properties of the synthesized nanowires were examined by the standard two-terminal field-effect transistor devices (Cr/Au contacts) with a back gate. In
Figure 3
, we show the ambipolar, predominantly
p
-type transport of a typical device fabricated with a 160 nm-thick Te nanowire (
Figure 3
a), from which an on–off ratio of 8 × 10
3
was observed at 10 K. A contact resistance-limited, two-terminal field-effect mobility of 1000 cm
2
/Vs can be extracted from the device transconductance shown in
Figure 3
b. The mobility is reduced with increasing temperature, reaching 200 cm
2
/Vs at room temperature, which is comparable with other reports [
27
,
42
,
43
] and demonstrates the quality of the crystallinity of our Te nanowires. We estimated the mobility using the following equation [
44
]:
where = , is the gate length, C is the capacitance of the wire, and is the bias voltage. Capacitance C was calculated by using Equation (2) [
44
],
where is the insulator dielectric constant, is the insulator thickness, and a is the Te wire radius. Parameters for the device measured are g
m
= 4 × 10
−7
S, L
G
= 5 µm, V
sd
= 50 mV, C = 4.8 × 10
−16
F, ε = 3.9, t
ox
= 300 nm, and a = 80 nm.
Temperature-dependent resistance of a representative nanowire shows metallic behavior at zero backgate voltage, consistent with the strongly
p
-type character of the wires (
Figure 3
b), assuming Schottky-dominated contact resistance, which increases at low temperatures. The numerically calculated transconductance of the device at 10 K reaches a peak at a gate voltage of 45 V, followed by a minimum at lower gate voltages (
Figure 3
d). We speculate that this minimum originates from interband scattering, as trigonal Te has several bands adjacent to the valence band maximum [
45
]. We also observed transconductance oscillations near pinch-off, as shown in
Figure 3
d (above 45 V on the gate). Determining whether these oscillations originate from disorder, Coulomb blockade, or other mesoscopic mechanisms would require further investigation at lower temperatures.
3.3. Strain Engineering of Te Nanowires
With this in mind, Te nanowires are particularly suitable for strain engineering, given the convenient strain application and large achievable strain in nanostructures as compared to bulk. Here, we demonstrate a new approach to apply strain in Te nanowires, the intrinsic built-in strain in curved nanowires.
4. Discussion: Experimental Examination of the Weyl State in Strained Te Nanowires
Author Contributions
Growth, R.B.; K.P.; and T.H.; Raman, T.H.; M.H.D. and H.C; Device Fabrication and characterization, T.H.; S.D.; K.M.W., and H.O.H.C.; writing, M.H.D.; R.B.; H.O.H.C.; and J.H.; supervision, H.O.H.C. and J.H.
Funding
J.H. acknowledges support from the U.S. Department of Energy (DOE), Office of Science, Basic Energy Sciences program under award DE-SC0019467 (personnel, growth, and material characterizations), H.O.H.C. is supported by DOE award number DE-SC0019467 (material characterization) and NSF award number DMR-1841821 (device fabrication). K.M.W. acknowledges support from NSF award number EEC-1757979.
Conflicts of Interest
The authors declare no conflict of interest.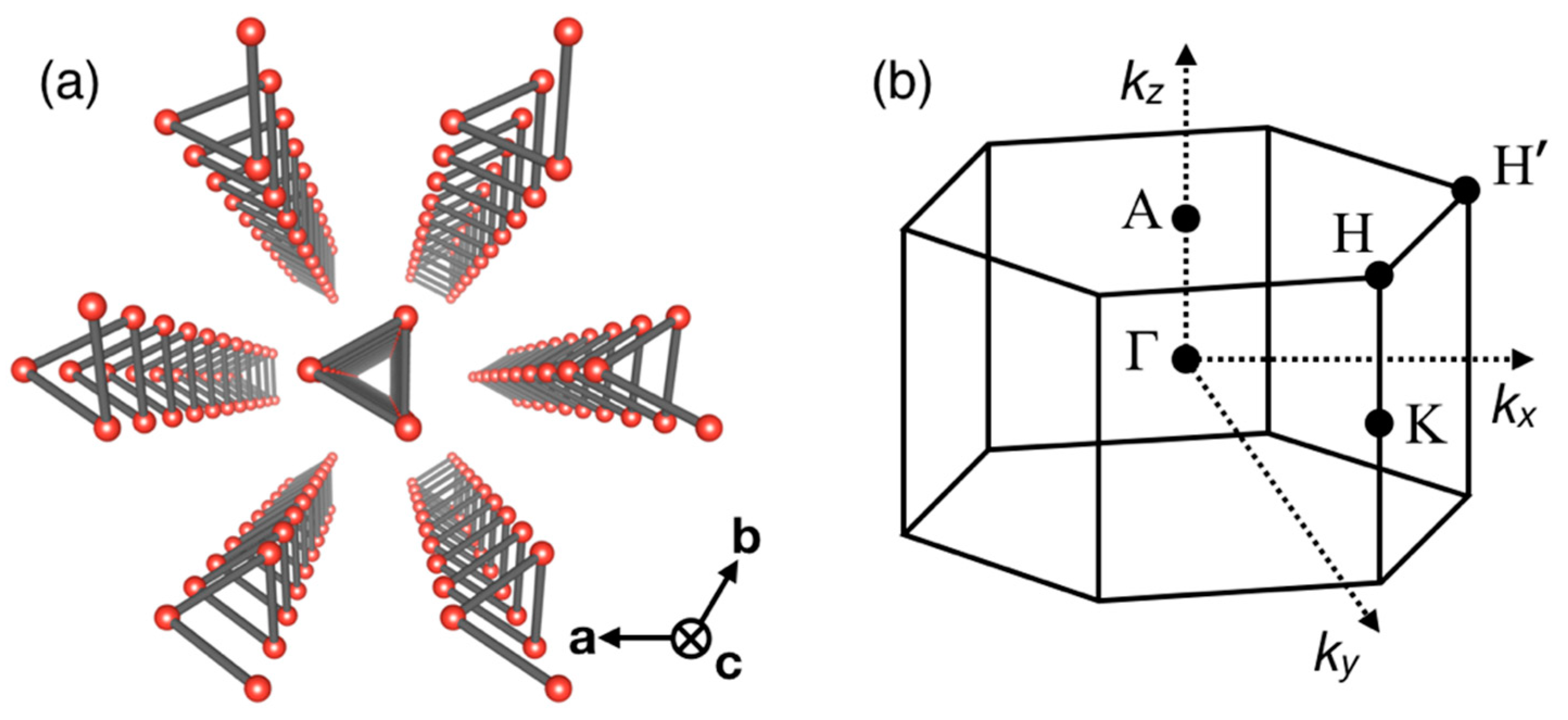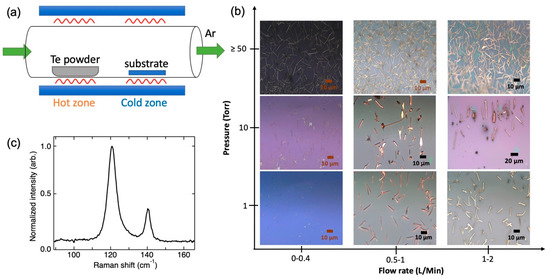 Figure 2. (a) Schematic of two-zone, low-pressure physical vapor deposition growth of Te nanowires. (b) Summary of pressure and flow rate dependence of growth outcomes. (c) Representative Raman spectrum of a synthesized Te nanowire.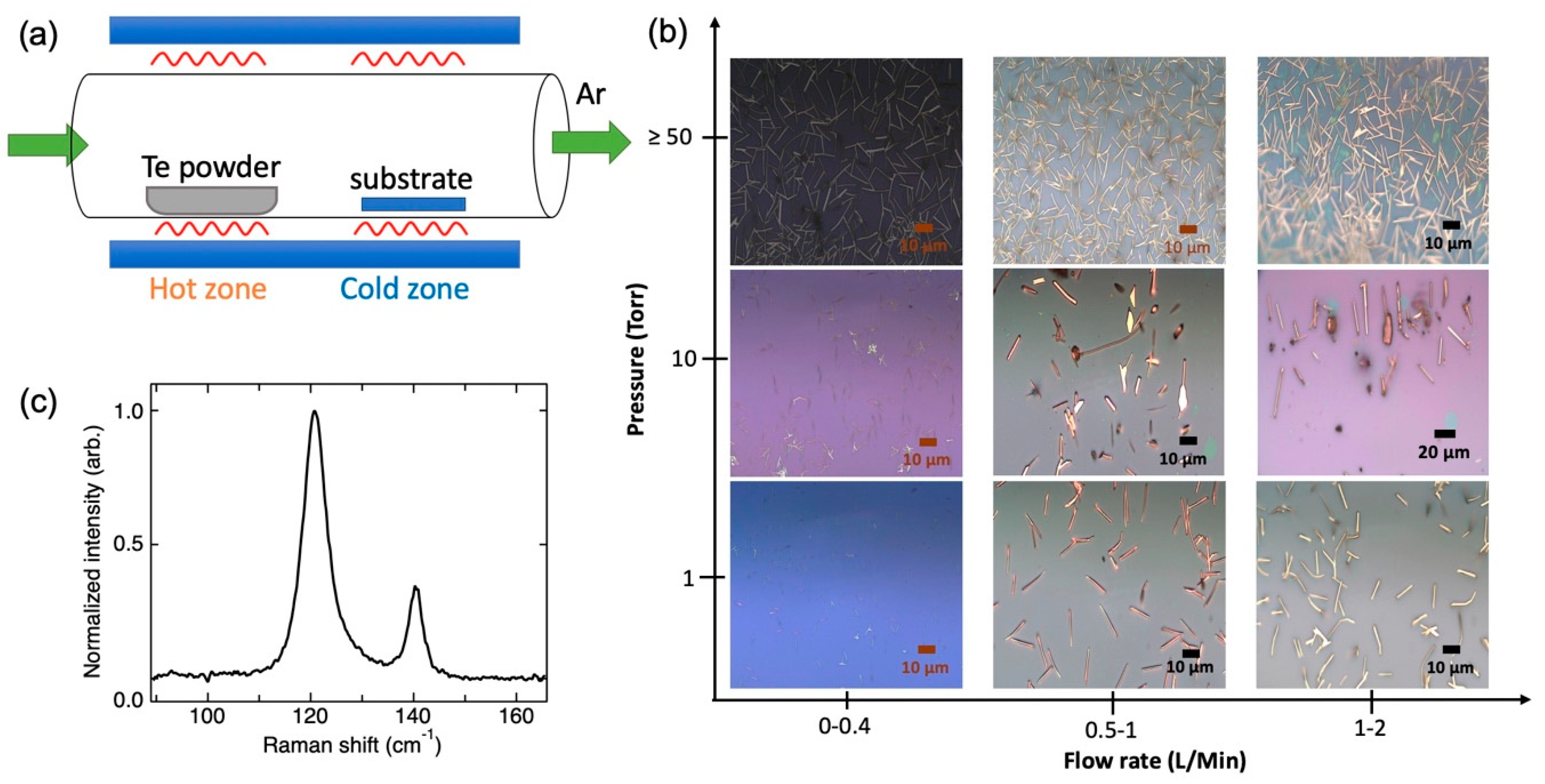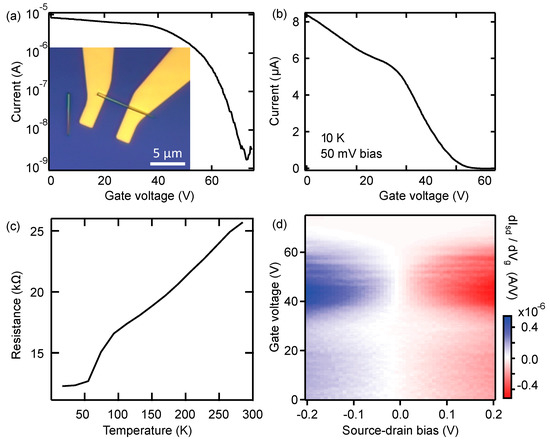 Figure 3.
(
a
) Two-terminal Te nanowire device current at 50 mV source–drain bias and 10 K.
Inset:
Micrograph of a device. (
b
) Same data as (a) on a linear scale. (
c
) Temperature dependence of the nanowire resistance at zero gate voltage. (
d
) Numerically differentiated transconductance at 10 K.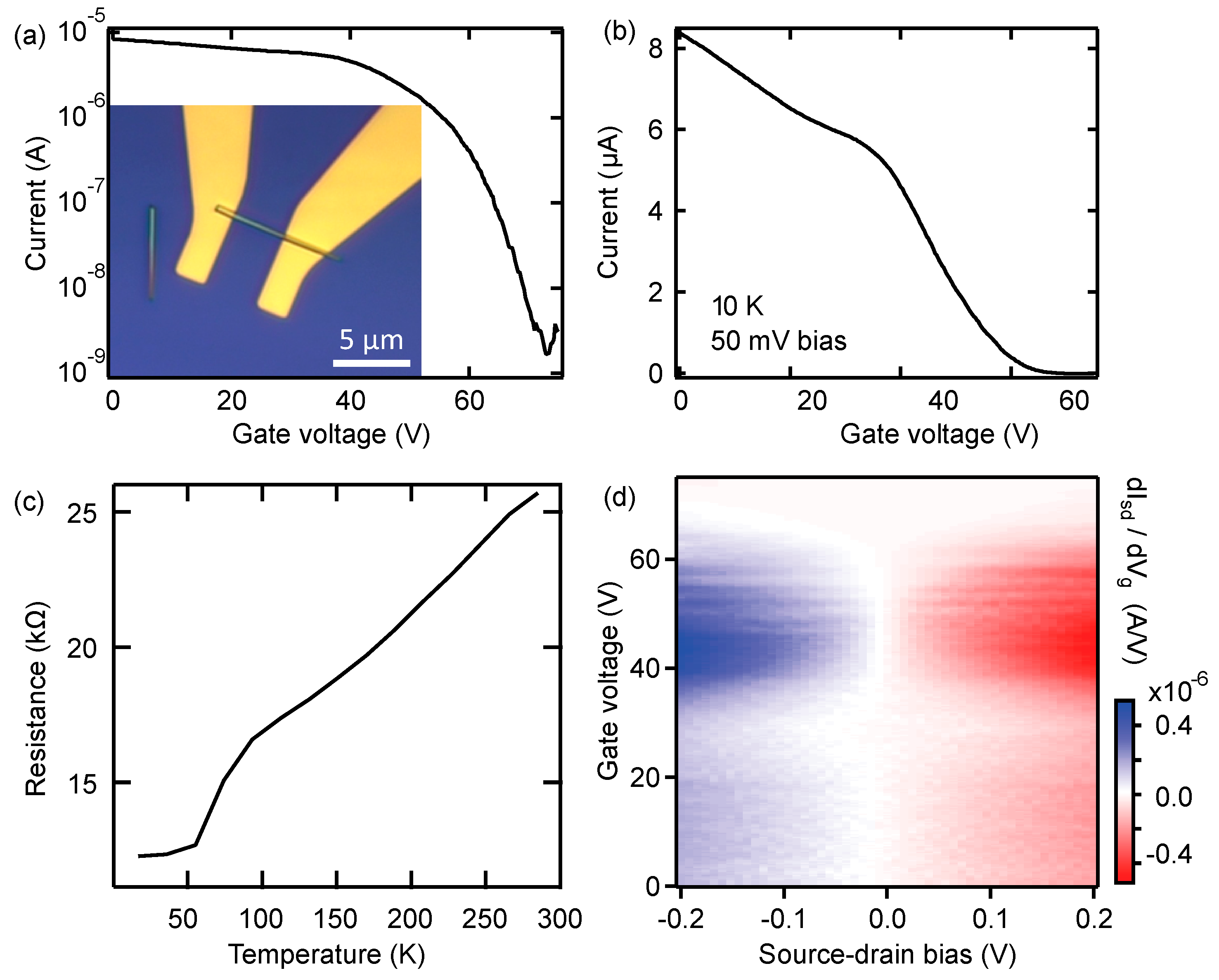 Figure 4. (a) Optical micrograph of physical vapor deposition (PVD)-grown Te nanowires, including small diameter curved nanowires. (b) Scanning electron microscopy (SEM) image of the same area shown in (a). The red circle indicates the approximate spot size and location of Raman spectroscopy laser. (c) Darkfield optical micrograph of a different Te nanowire growth. Examples of different curvature radii are shown.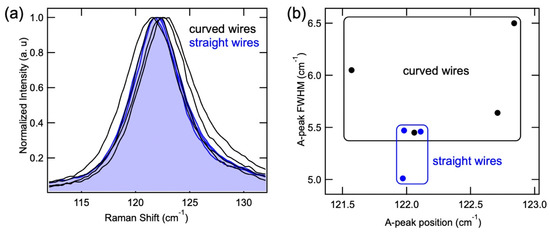 Figure 5. (a) Raman spectra of four curved (black) and three straight (blue) Te nanowires. (b) Widths and peak positions extracted from Lorentzian fits to the seven spectra shown in (a).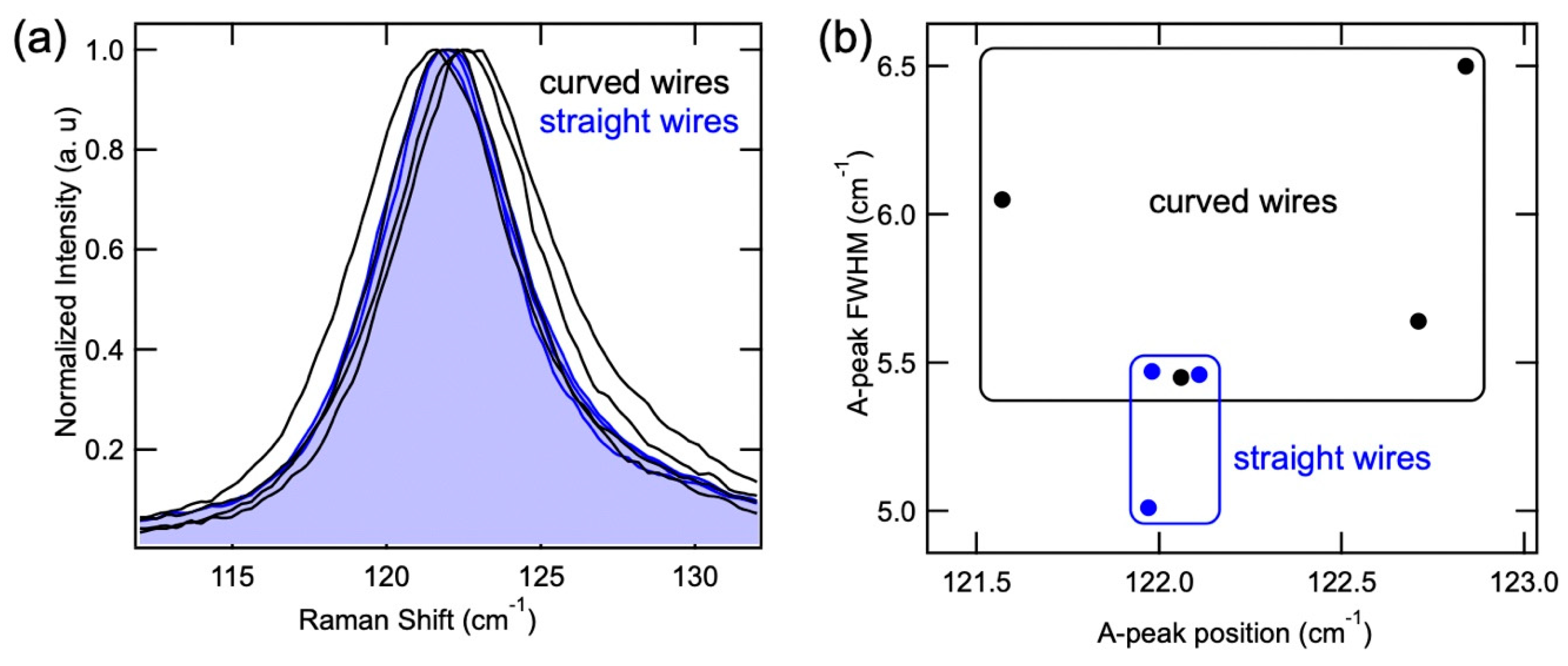 © 2019 by the authors. Licensee MDPI, Basel, Switzerland. This article is an open access article distributed under the terms and conditions of the Creative Commons Attribution (CC BY) license (http://creativecommons.org/licenses/by/4.0/).