Open Access This article is
freely available
re-usable
Review
Status of Growth of Group III-Nitride Heterostructures for Deep Ultraviolet Light-Emitting Diodes
Department of Electrical and Computer Engineering, Virginia Commonwealth University, 601 West Main Street, Richmond, VA 23284, USA
*
Author to whom correspondence should be addressed.
Academic Editor: Ikai Lo
Received: 4 September 2017 / Accepted: 29 September 2017 / Published: 4 October 2017
Abstract
:
We overview recent progress in growth aspects of group III-nitride heterostructures for deep ultraviolet (DUV) light-emitting diodes (LEDs), with particular emphasis on the growth approaches for attaining high-quality AlN and high Al-molar fraction AlGaN. The discussion commences with the introduction of the current status of group III-nitride DUV LEDs and the remaining challenges. This segues into discussion of LED designs enabling high device performance followed by the review of advances in the methods for the growth of bulk single crystal AlN intended as a native substrate together with a discussion of its UV transparency. It should be stated, however, that due to the high-cost of bulk AlN substrates at the time of writing, the growth of DUV LEDs on foreign substrates such as sapphire still dominates the field. On the deposition front, the heteroepitaxial growth approaches incorporate high-temperature metal organic chemical vapor deposition (MOCVD) and pulsed-flow growth, a variant of MOCVD, with the overarching goal of enhancing adatom surface mobility, and thus epitaxial lateral overgrowth which culminates in minimization the effect of lattice- and thermal-mismatches. This is followed by addressing the benefits of pseudomorphic growth of strained high Al-molar fraction AlGaN on AlN. Finally, methods utilized to enhance both p- and n-type conductivity of high Al-molar fraction AlGaN are reviewed.
Keywords:
AlN; AlGaN; deep ultraviolet; light-emitting diodes; MOCVD
1. Introduction
With the excellent properties including compactness, low operating power, and long lifetime, deep ultraviolet (DUV) light-emitting diodes (LEDs) and laser diodes (LDs) with wavelengths in the range of 200–350 nm are of great interests for a wide variety of applications. These include, water and air purification, sterilization/disinfection of medical tools, medical diagnostics, phototherapy, polymer curing, and sensing. Among all the wide bandgap semiconductors, group III-nitrides (GaN, AlN, InN, and their ternary and quaternary alloys) are deemed as the most suitable material family for the implementation of DUV LEDs and LDs. This materials family features a wide tunable emission wavelength range covering the entire UVA (315–400 nm) and UVB (280–315 nm) regions and part of the UVC (100–280 nm) region with the shortest achievable wavelength of 210 nm with this materials system. In addition to the continuously tunable band gap, group III-nitrides also have the advantage of some robust physical properties such as high melting point, high thermal conductivity, high mechanical strength, and most importantly, the possibility of achieving both n- and p-type conduction needed to fabricate a p-n junction diode. During the last decade, a number of groups around the world have been participating in the development of group III-nitrides-based DUV light emitters. Commercial products covering the UVA to UVC range are already available. However, compared with the excellent performance achieved in group III-nitride-based LEDs operating in the near UV and visible ranges, the efficiency of DUV LEDs remains rather modest in that, typical external quantum efficiency (EQE) values of deep UV LEDs are around 0.1%–10%, depending on the wavelength. Many factors have been identified as limiting the implementation of high-efficiency DUV LEDs, encompassing material growth, light extraction, heat dissipation, etc. Almost all aspects of the DUV devices could undergo substantial improvement.
In this review we focus on the most recent progress in growth approaches of group III-nitride heterostructures for DUV LEDs. First, we give an overview of the current status of group III-nitride UDV LEDs and remaining challenges with special emphasis on the limiting factors in the context of material growth. Then, after overviewing DUV device designs for improved efficiency, we segue into discussion of growth and properties of bulk AlN, which is said to eventually provide the platform for the DUV LEDs. Then, approaches for the growth of AlN and high Al-molar fraction AlGaN epilayers are addressed. Finally, methods utilized to enhance both p- and n-type conductivity of high Al-molar fraction AlGaN are discussed.
2. Current Status and Challenges of Group III-Nitride DUV LEDs
Benefiting from the improvements in the crystalline quality of AlN and high Al-molar fraction AlGaN layers, and the optimization of LED structure design, the EQE and output power of AlGaN-based DUV LEDs have increased remarkably in recent years. To enumerate, EQE in near and deep UV LEDs with wavelengths between 220 and 400 nm, developed by several industrial and academic groups, is plotted in
Figure 1
. In 2010, an EQE of over 3% and an output power of over 1 mW at 10 mA continuous wave (CW) driving were demonstrated in flip-chip DUV LEDs with emission wavelengths between 255 and 280 nm [
1
]. Reasonably high IQE near 70% and an EQE of 1.3% at 100 mA forward current were achieved in 260 nm pseudomorphic UV LEDs on high quality AlN substrates in 2011 [
2
]. Improvement of the extraction efficiency by die-thinning and encapsulation led to enhancement of the EQE to 4.9% for 271 nm LEDs under CW operation [
3
]. In 2012, a maximum EQE of 10.4% at 20 mA CW current with an output power up to 9.3 mW for 278 nm DUV LEDs was achieved through migration-enhanced metal organic chemical vapor deposition (MEMOCVD) to reduce the threading dislocation density (TDD) and by using transparent p-type cladding and contact layers, UV reflecting ohmic contacts, and optimized chip encapsulation [
4
]. In 2015, a 265 nm DUV LED with an output power density above 90 mW/cm
2
based on extraction enhancement was reported [
5
]. In this study, to mitigate the effect of total internal reflection at the AlN surface and the strong absorption of the contact layers, a hybrid structure consisting of photonic crystals and sub-wavelength nanostructures was patterned on the backside of the AlN substrate. A maximum light extraction enhancement of 19.6% was obtained in comparison to that of a flat AlN substrate surface device, resulting in an EQE of 6.3% [
5
]. To avoid absorption by the p-contact and the p-electrode, researchers replaced p-GaN by transparent p-AlGaN as the p-contact layer, and replaced Ni/Au with Ni(1 nm)/Al as the p-electrode to enhance the reflectivity. In the process, an enhancement of EQE from 2% to 5.5% in 287 nm LEDs grown on sapphire, and a maximum EQE value of 10.8% under 5 mA operating current in 276 nm LEDs were reported [
6
,
7
]. In 2017, an EQE of 20.3% under 20 mA direct current was achieved in 275 nm LEDs through enhanced light extraction efficiency (LEE) by using a transparent AlGaN:Mg contact layer, a Rh mirror electrode, an AlN template on a patterned sapphire substrate, and encapsulation resin [
8
].
As can be seen from
Figure 1
, despite the unquestionable progress exhibited of late, the EQE of DUV LEDs with emission wavelength below 350 nm is still much lower than those in the near UV range. There are multiple reasons responsible for the reduced performance of DUV devices, including:
(1)

The unavailability of low-cost, lattice, thermal expansion coefficient-matched, and transparent substrate material. Bulk AlN single crystals are very expensive, while sapphire, the most commonly used substrate for DUV LEDs, has a large lattice mismatch (13.3%) and large difference of thermal expansion coefficient with AlN (7.5 × 10−6 K−1 for sapphire vs. 4.2 × 10−6 K−1 for AlN), and inferior thermal conductivity.

(2)

The low surface mobility of the Al species on the growth surface, which favors a high density of extended defects such as threading dislocations, resulting in low internal quantum efficiency (IQE) of DUV LEDs.

(3)

The notorious low p-type conductivity in high Al-molar fraction AlGaN due to the large activation energy of Mg acceptor, which results in poor hole injection and also detrimental electron overflow from the active region.

(4)

Low LEE caused by strong total internal reflection and self-absorption.
To conquer the above challenges, many approaches have been proposed and developed for growing better quality group III-nitride heterostructures. In the following, the approaches that have shown advantages/potential for enabling high-EQE DUV LEDs are discussed.
3. Device Design for Improved Performance of Group III-Nitride DUV LEDs
4. Growth and Optical Properties of Bulk AlN for DUV LEDs
5. High-Temperature Growth of AlN and High Al-Molar Fraction AlGaN by MOCVD
Not only the lattice and thermal mismatch between the epilayer and foreign substrates, but also the low surface adatom mobility of Al at typical growth temperatures (below 1200 °C) is a dominating factor that leads to the generation of high TDD in AlGaN-based DUV LEDs. Due to the lower surface migration rate (mobility) of Al than that of Ga, it is more difficult to achieve the layer-by-layer two-dimensional growth of AlN and high Al-molar fraction AlGaN. At typical growth temperatures (1200 °C or less), Al adatoms cannot move to energetically favorable lattice steps, thus resulting in three-dimensional (3D) islandic growth and the formation of extended defects such as dislocations and grain boundaries. Therefore, the crystalline quality degrades in AlGaN with increasing Al content. Because the surface diffusion coefficient is strongly temperature dependent, and adatom surface mobility increases with increasing growth temperature, high-temperature MOCVD technique has been employed for the growth of AlN and high Al-molar fraction AlGaN.
Figure 4
shows the evolution of surface morphologies of AlN on sapphire substrate grown at different temperatures [
59
]. When growing AlN at growth temperatures typical of GaN (~1200 °C) the surface showed 3D columnar-like morphology (not shown). At an increased temperature of 1300 °C, transition from the rough morphology to a rather flat surface exhibiting a high density of hexagonal pits was observed. When the temperature was raised further up to 1500 °C, the pit density reduced drastically and a smooth surface with an rms roughness value of 0.4 nm was achieved.
In addition to the reduction of TDD and providing a flat surface morphology, high temperature growth was also found to be effective for reducing the density of unintentional impurities and point defects in AlN and high Al-molar fraction AlGaN, which is critically important for enhancing the IQE of DUV LEDs. Secondary ion mass spectroscopy (SIMS) has shown that, in pit-free AlN layers grown at 1500 °C and above, oxygen and Si concentrations were 5 × 10
17
cm
−3
and 1 × 10
17
cm
−3
, respectively, while oxygen concentration was above 1 × 10
19
cm
−3
in samples with a high pit density [
59
]. Similar results have been reported in another study [
60
,
61
]. In AlN films grown at high temperatures (above 1350 °C), they were found to be below the detection limit of SIMS, while for AlN grown below 1200 °C, the Si, C, and O concentrations were of the order of 10
18
–10
19
cm
−3
. The low temperature (12 K) cathodoluminescence (CL) spectra recorded on high temperature grown AlN films were characterized by sharp excitonic emission peaks with weak broad defect-band emission [
62
]. In contrast, the CL spectra from samples grown at relatively low temperatures revealed intense defect-band emission with broad near band edge emission. Time-resolved photoluminescence (TRPL) and time-resolved cathodoluminescence (TRCL) measurements for high Al-molar fraction AlGaN films also confirmed that high temperature growth with appropriate defect management is preferable to reduce nonradiative recombination, which is crucial for high IQE in DUV LEDs [
61
].
6. Pulsed-Flow Growth of AlN and High Al-Molar Fraction AlGaN
7. Epitaxial Lateral Overgrowth of AlN and High Al-Molar Fraction AlGaN
The epitaxial lateral overgrowth (ELO) technique has proven to be a useful approach for growing epilayers with low TDD on foreign substrates. It provides an avenue for DUV-LEDs with improved performance. The method relies on the growth of nitrides on windows opened in a dielectric mask material such as SiO
2
or patterned substrate/template formed by etching followed by lateral extension and coalescence [
73
,
74
]. The defects can propagate to the upper layer only through the areas where there are windows, while the defect density is considerably reduced in the laterally grown area. Growth anisotropy in the form of different growth rates on different crystallographic planes plays a key role in this method [
75
]. One must also be concerned with defects caused by joining of advancing wings over the masked areas [
76
].
Due to its selectivity, the regrowth of GaN and low Al-molar fraction AlGaN commences only on the mask-free window area with no nucleation on the masked areas by the dielectric. Therefore, dielectric mask material produced by ex situ deposition and etching procedures [
77
] or in situ spontaneous etching [
78
] can be used for ELO GaN and low Al-molar fraction AlGaN.
Figure 6
shows a cross-sectional transmission electron microscopy (TEM) image of an ELO GaN sample on sapphire substrate with in-situ nanoporous SiN
x
mask [
79
]. Most threading dislocations are blocked by the SiN
x
network, and those emanating from the pores are mostly bent into horizontal configurations.
The ELO technique with dielectric masks has also been used for TDD reduction in AlGaN with low Al-molar fraction intended for applications in LEDs in the UVA range [
80
]. For AlN and high Al-molar fraction AlGaN, the slow lateral growth rate of Al containing compounds and the low-selectivity between a mask and unmasked area due to large sticking coefficient of Al adatoms precludes the possibility of using dielectric masks for ELO. Maskless ELO by laterally overgrowing a trench instead of a mask material is an alternative avenue to reduce densities of both threading dislocations and cracks. ELO of AlN and high Al-molar fraction AlGaN such as Al
0.96
Ga
0.04
N on sapphire or SiC substrate have been reported by several groups [
76
,
81
,
82
,
83
]. Significant reduction in TDD was observed in the areas between ridges. A maximum output power of 2.7 mW under CW operation of 273 nm DUV LEDs on ELO AlN templates with the wing region having TDD of 3 × 10
8
cm
−2
was reported by Hirayama et al. [
84
] By reducing the TDD in AlN layers on sapphire from 10
10
cm
−2
to 10
9
cm
−2
, output powers of 1 mW and about 4 mW for 295 nm and 324 nm LEDs, respectively, were demonstrated by Kueller et al. [
73
] This method has also been applied for growing AlN template on Si (111) substrate, as illustrated in
Figure 7
. ELO AlN templates on Si (111) substrate with FWHM values of 920 and 780 arcsec for XRD ω-rocking curves from the (0002) and (101) reflections, respectively, with simultaneous reduction in crack density were achieved by Zhang et al. [
85
] A peak pulsed power and slope efficiency of ~0.6 mW and ~1.3 mW/mA, respectively, were demonstrated for 359 nm UV LEDs after removing the Si (111) substrate. In another report, FWHMs of 780 and 980 arcsec for XRD ω-rocking curves from the (0002) and (102) reflections, respectively, were achieved in ELO AlN on Si (111). DUV LEDs with an emission wavelength of 256–278 nm exhibiting an output power of ~10 μW at a DC injection current of 140 mA without removing the Si substrate [
86
].
8. Pseudomorphic Growth of High Al-Molar Fraction AlGaN on AlN
9. AlN/AlGaN Superlattice Buffer
One important approach used to improve the material quality of AlGaN-based heterosturctures is via AlN/AlGaN (or AlGaN/AlGaN) superlattice buffer. The utility of AlN/AlGaN superlattice in relieving strain for DUV LEDs was proposed as far back as in 2002. Zhang et al. [
95
] demonstrated the utility of ten period AlN/Al
0.2
Ga
0.8
N superlattices, inserted between HT-AlN/LT-AlN/sapphire composite and the n-type AlGaN layer, in significantly reducing the biaxial tensile strain in the n-AlGaN layer, allowing 3 μm thick crack-free Al
0.2
Ga
0.8
N films. Later Wang et al. [
96
] reported that AlN/AlGaN superlattice buffer also acts as a dislocation filter for TDD reduction in AlGaN layers on sapphire substrate. This buffer was found to greatly enlarge the coherence lengths of mosaic blocks and reduce the TDD by two orders of magnitude in Al
0.2
Ga
0.8
N layers. Xi et al. [
97
] conducted a comparative study of n-type AlGaN grown on sapphire by using a superlattice buffer and a LT-AlN interlayer. Improved electrical properties with higher electron concentration and mobility and surface morphologies, lacking hexagonal hillocks on the Al
0.3
Ga
0.7
N surface, was achieved in samples with AlN/AlGaN or AlGaN/AlGaN superlattice buffer, compared with samples with only a LT-AlN interlayer buffer [
97
].
Chitnis et al. [
98
] also demonstrated improved performance in DUV LEDs with AlN/AlGaN superlattice buffer layer. By using the pulsed atomic layer epitaxy (PALE) approach discussed in
Section 6
, and an AlN/Al
0.85
Ga
0.15
N superlattice strain-relief buffer, output power levels of 10.2 mW at 1 A pulsed current and 1 mW at 100 mA CW current were achieved in LEDs emitting at 325 nm and grown on sapphire substrates. In recently developed high-power DUV LEDs, the AlN/AlGaN superlattice buffer approach was employed by several groups [
4
,
16
]. For example, the LEDs emitting at 278 nm with an EQE of 10.4% and an output power of 9.3 mW at 20 mA CW current utilized strain-relief AlN/AlGaN superlattices on 10 μm thick AlN layers by migration-enhanced metalorganic chemical vapor deposition (MEMOCVD) [
4
]. In 255, 280, and 310 nm DUV LEDs with output powers of 45.2, 93.3, and 65.8 mW and EQEs of 1.3%, 3.0%, and 2.4%, respectively, at 350 mA pulsed current, AlN/AlGaN superlattices were also implemented as a basic design strategy for strain-relief [
16
].
10. Doping Considerations in High Al-Molar Fraction AlGaN
11. Conclusions
We have provided a succinct overview of the recent progress in growth of III-nitride heterostructures for DUV LEDs, with particular emphasis on growth of AlN and growth and doping of high Al-molar fraction AlGaN. Although at this stage, the efficiency of DUV LEDs is behind those operating in the near UV and the visible spectra ranges, one can be optimistic in that the efficiencies and output powers of DUV LEDs will continue to increase in the near future and EQEs of tens of percent are achievable. Homoepitaxial growth on bulk AlN crystals looks attractive barring cost concerns. The developments in bulk AlN single crystals have already led to superior device performance as compared to those on foreign substrates owing to reduced defect density in the films. Wider applications on AlN bulk crystal substrates are expected with further improvements in the bulk crystal growth technologies together with needed reduction in cost. Pseudomorphic growth of strained AlGaN has shown the capability of growing high-quality epilayers with TDDs comparable to the starting substrate and driving the critical Al-molar fraction up to 80%, at which polarization of emitted light switches from TE to TM mode, thus improving both IQE and light extraction efficiency. Optimized heterostructure design, which includes AlGaN multi-quantum barrier as electron blocking layer, has enabled a marked increase in electron injection efficiency. New strategies such as AlN pillar arrays, sidewall emission-enhanced chip geometry, and durable encapsulation have also shown their potential in light extraction enhancement. The combination of advanced material growth approaches, device design, and light extraction strategies stand to make DUV LEDs more efficient in the future.
Acknowledgments
The authors would like to thank M. Kneissl of Technische Universität Berlin for providing the original version of
Figure 1
.
Author Contributions
All the authors have participated in the literature review and in the correction and revision of the manuscript.
Conflicts of Interest
The authors declare no conflict of interest.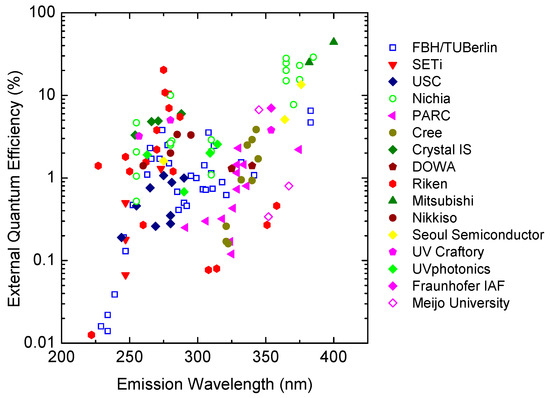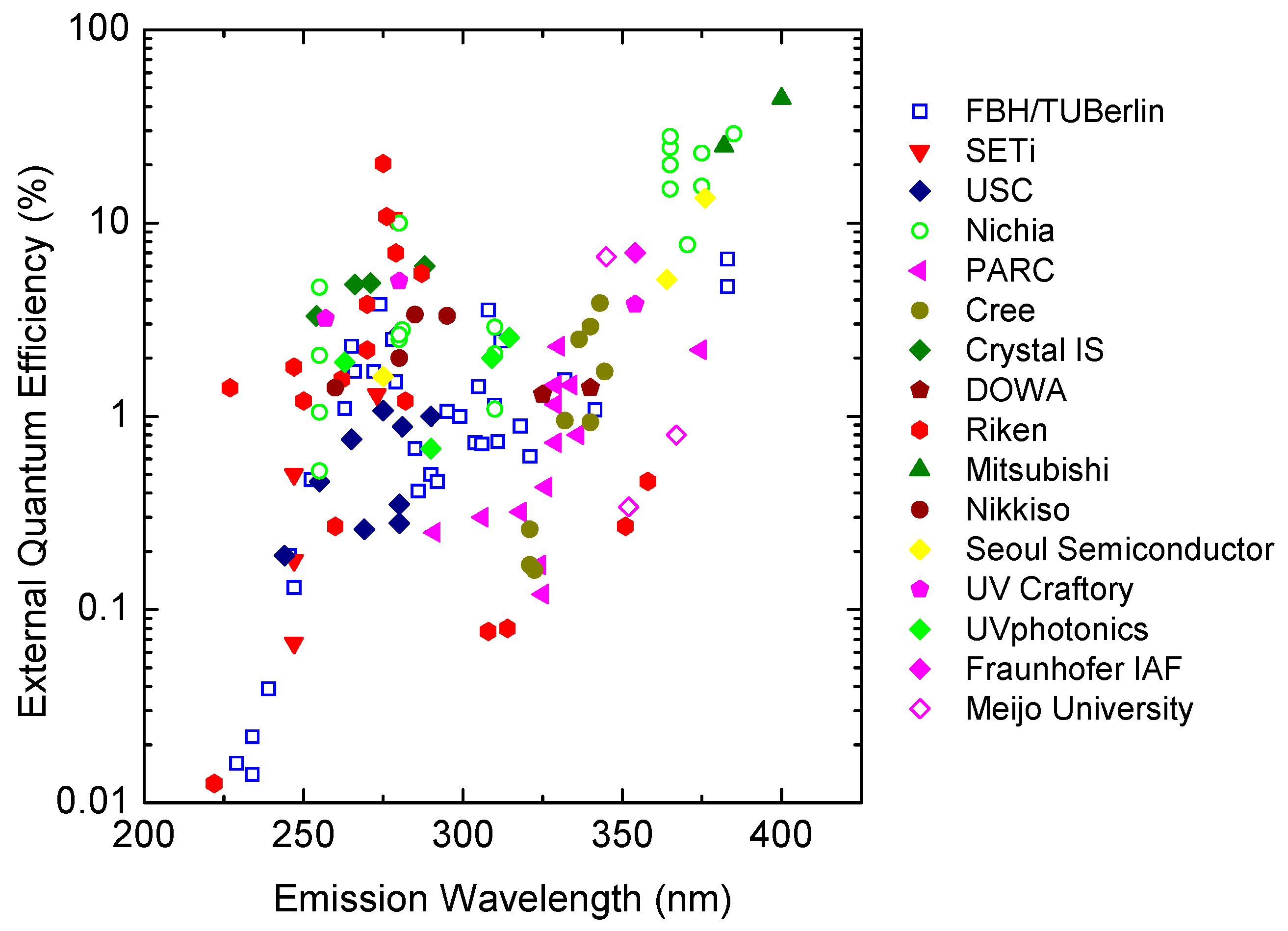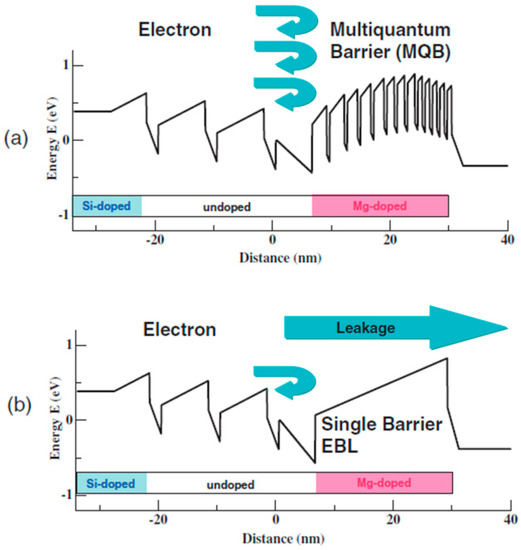 Figure 2.
Schematic of electron injection into multiple quantum wells (MQWs) in AlGaN-based DUV LEDs using (
a
) a multiple quantum barrier (MQB) and (
b
) a single barrier electron blocking layer (EBL). Reprinted with permission from [
17
]. Copyright 2014, The Japan Society of Applied Physics.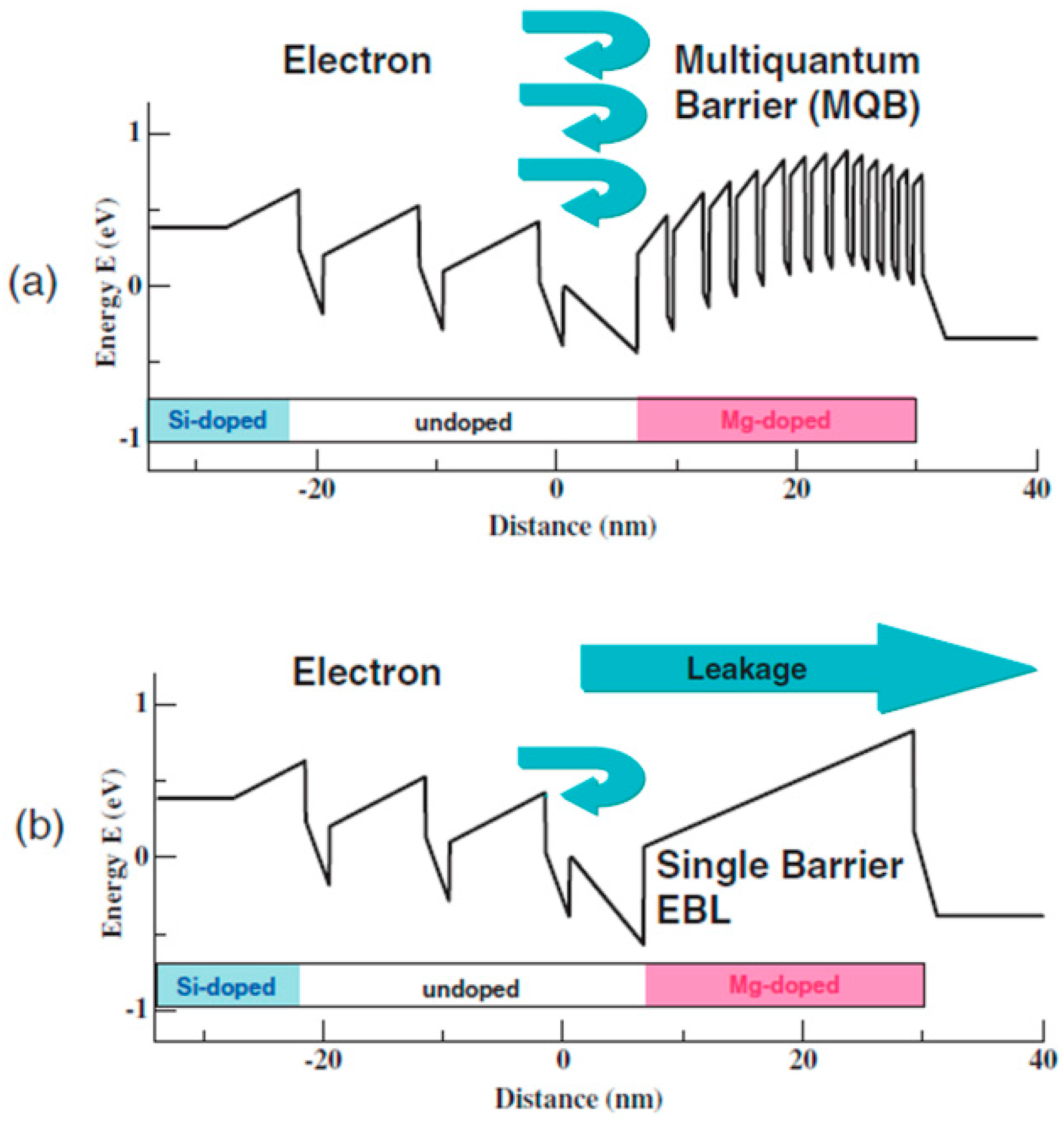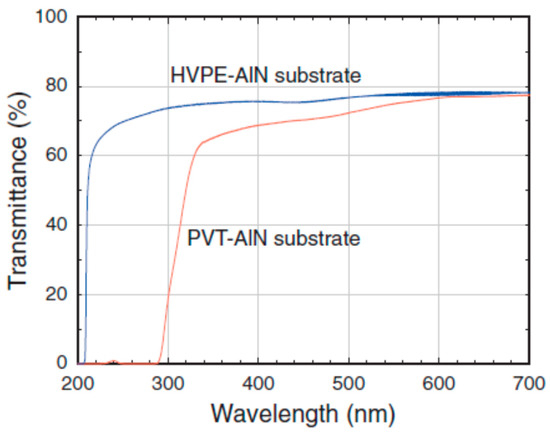 Figure 3.
External optical transmission spectra of physical vapor transport (PVT)- and hydride vapor phase epitaxy (HVPE)-AlN substrates measured at RT in air. Substrates of the same thickness and surface polish state were used. Reprinted with permission from [
57
]. Copyright 2012, The Japan Society of Applied Physics.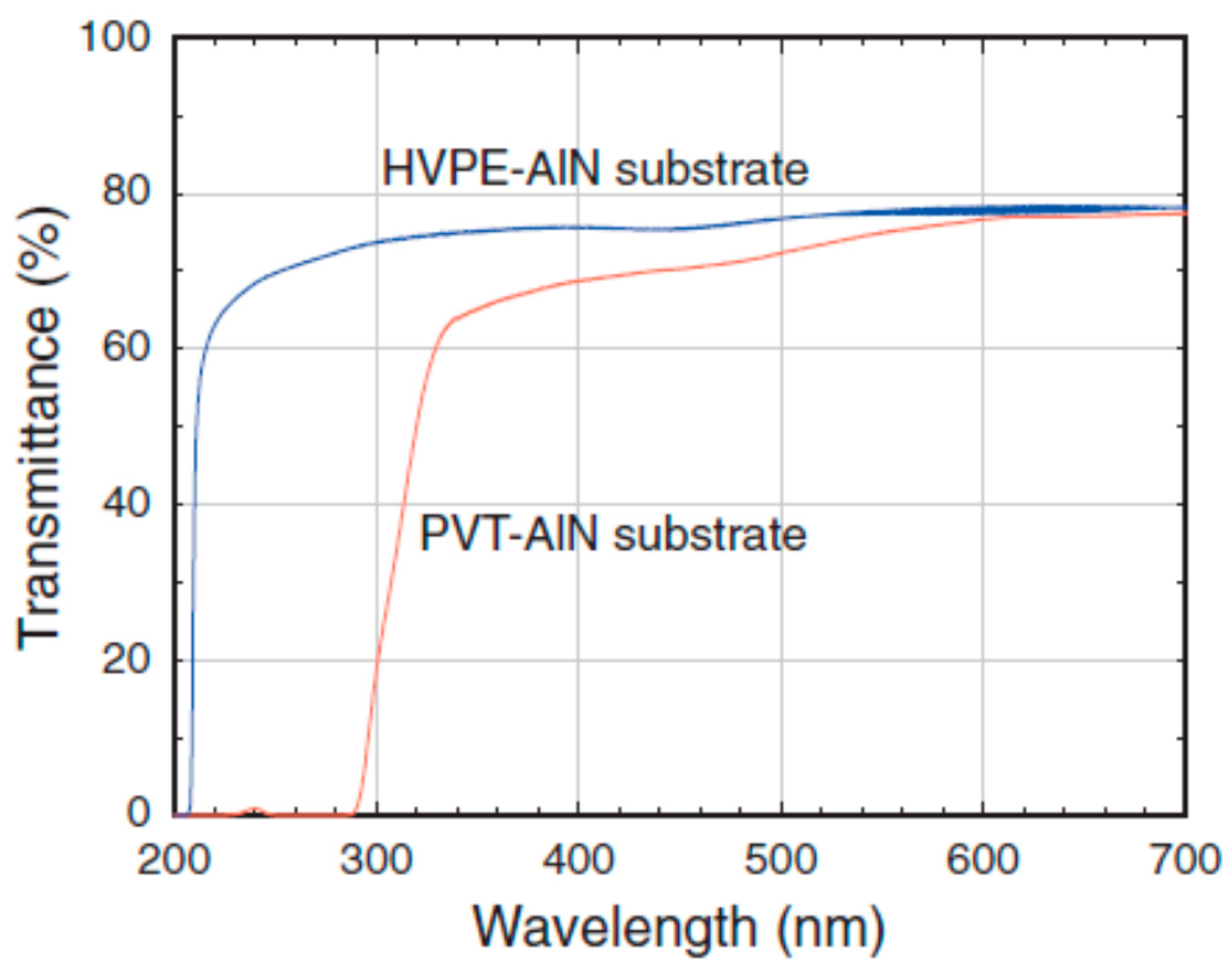 Figure 4.
Atomic force microscopy (AFM) scans (5 × 5 μm) of 0.7 μm thick AlN: nid on sapphire grown at temperatures of 1300 °C, 1400 °C, and 1500 °C. RMS values are 4 nm, 1 nm and 0.4 nm from left to right. Reprinted with permission from [
59
]. Copyright 2008, WILEY-VCH Verlag GmbH & Co. KGaA, Weinheim.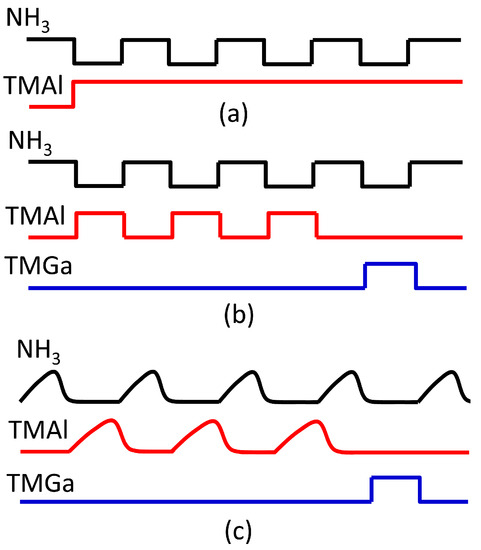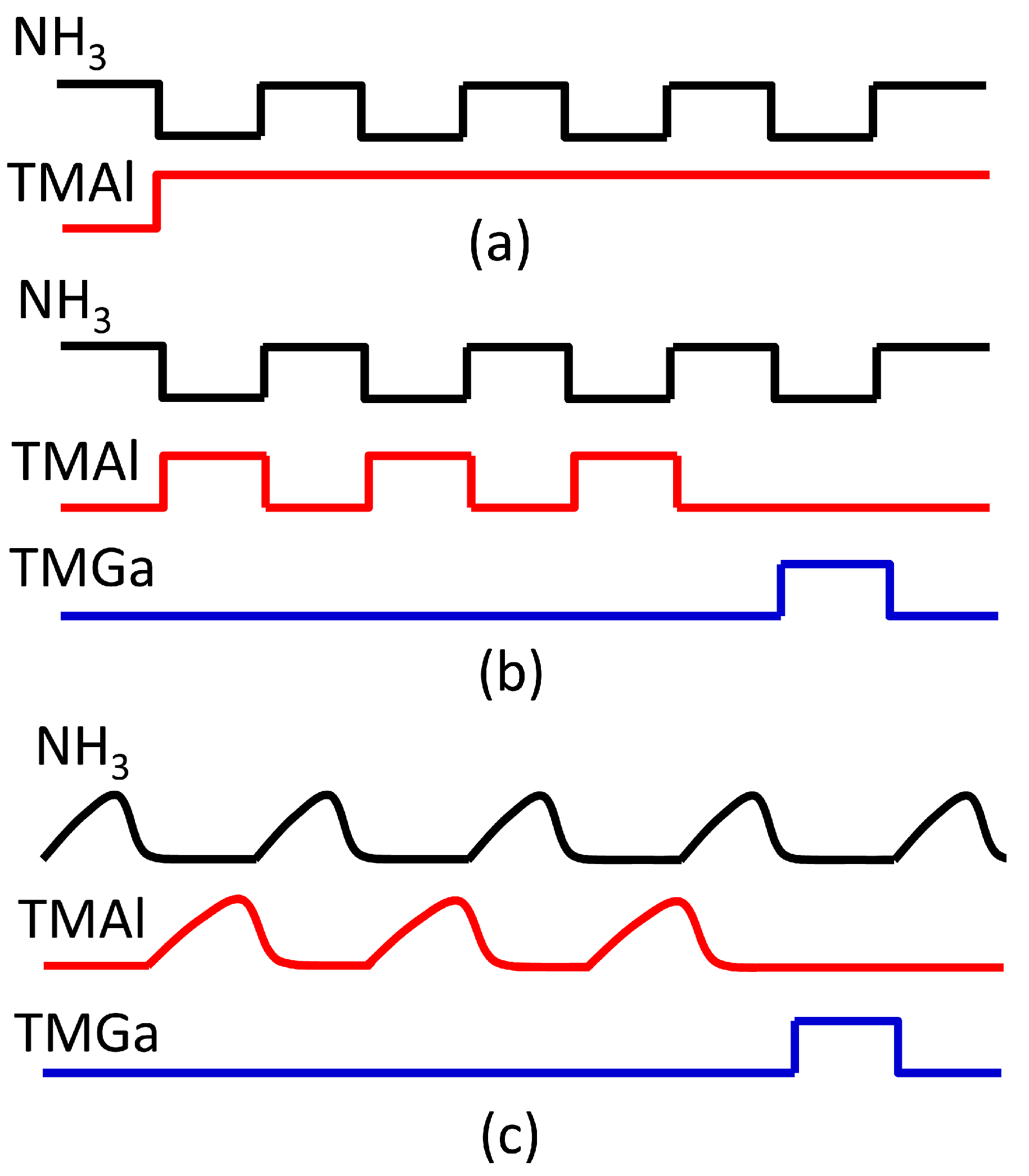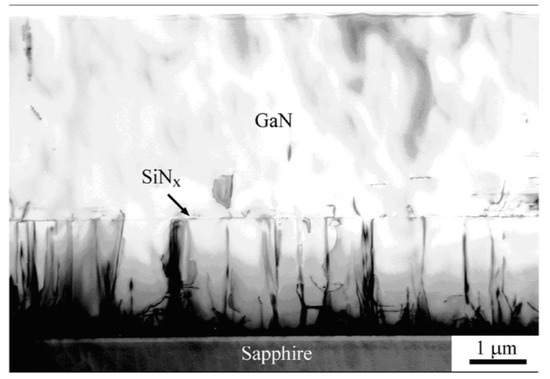 Figure 6.
Cross-sectional transmission electron microscopy (TEM) micrograph of a GaN thin film grown with 5 min in situ SiN
x
network by MOCVD on sapphire. Reprinted from [
79
], with the permission of AIP publishing.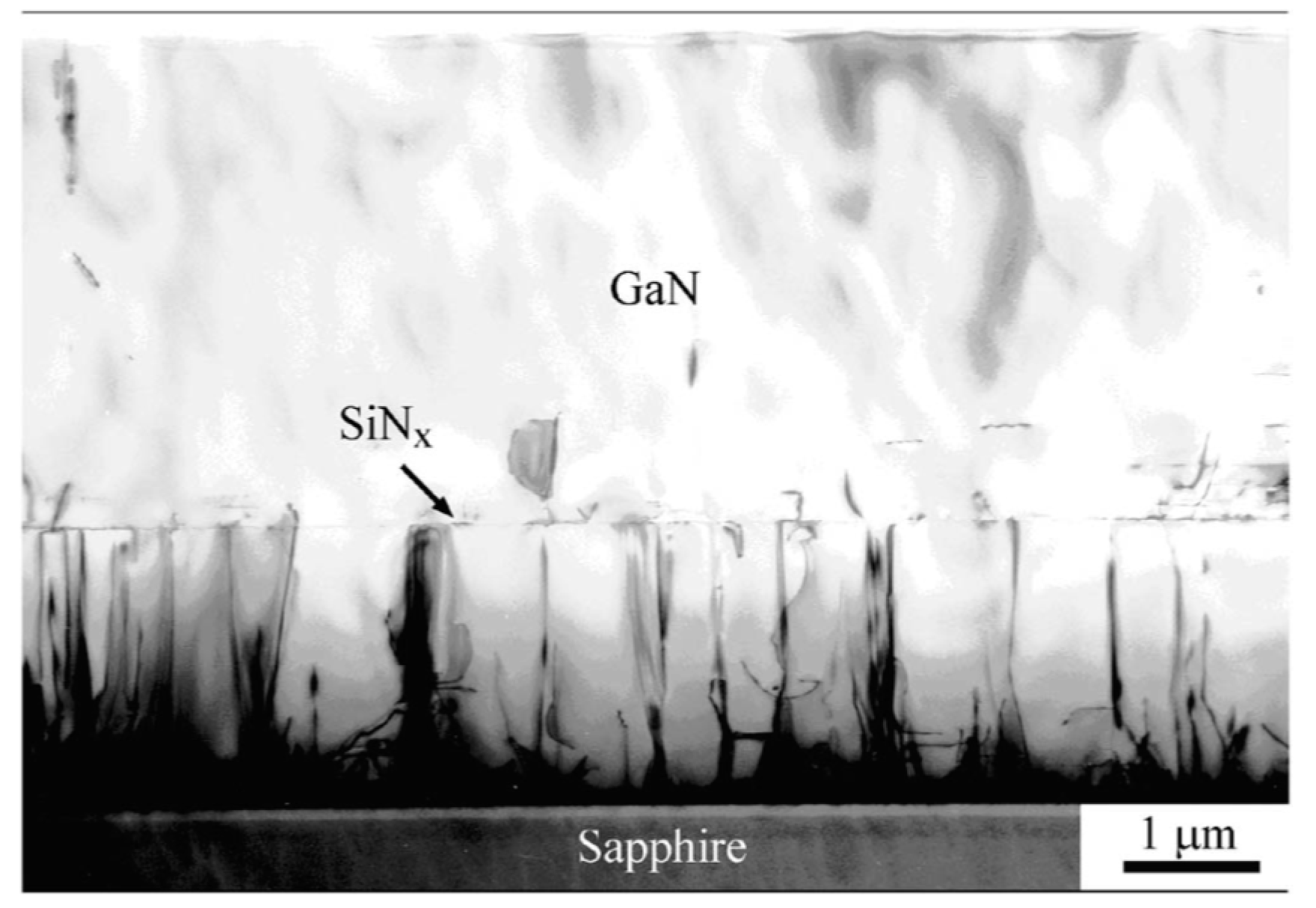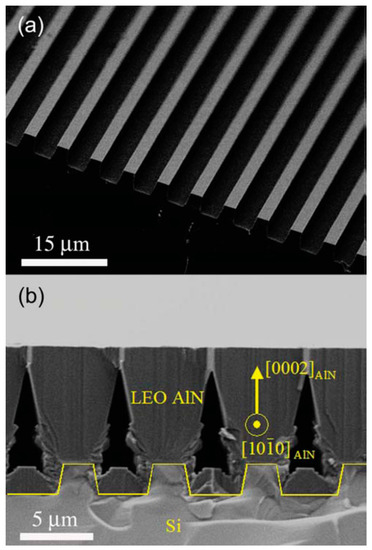 Figure 7.
Scanning electron microscope (SEM) images of (
a
) perspective view of the stripe-patterned AlN/Si(111) template with nominally 3 µm ridges and 3 µm trenches (6 µm period) and (
b
) cross-sectional view of the ELO AlN layer on the patterned template. The patterning stripe is along [1010] AlN. Reprinted from [
85
], with the permission of AIP publishing.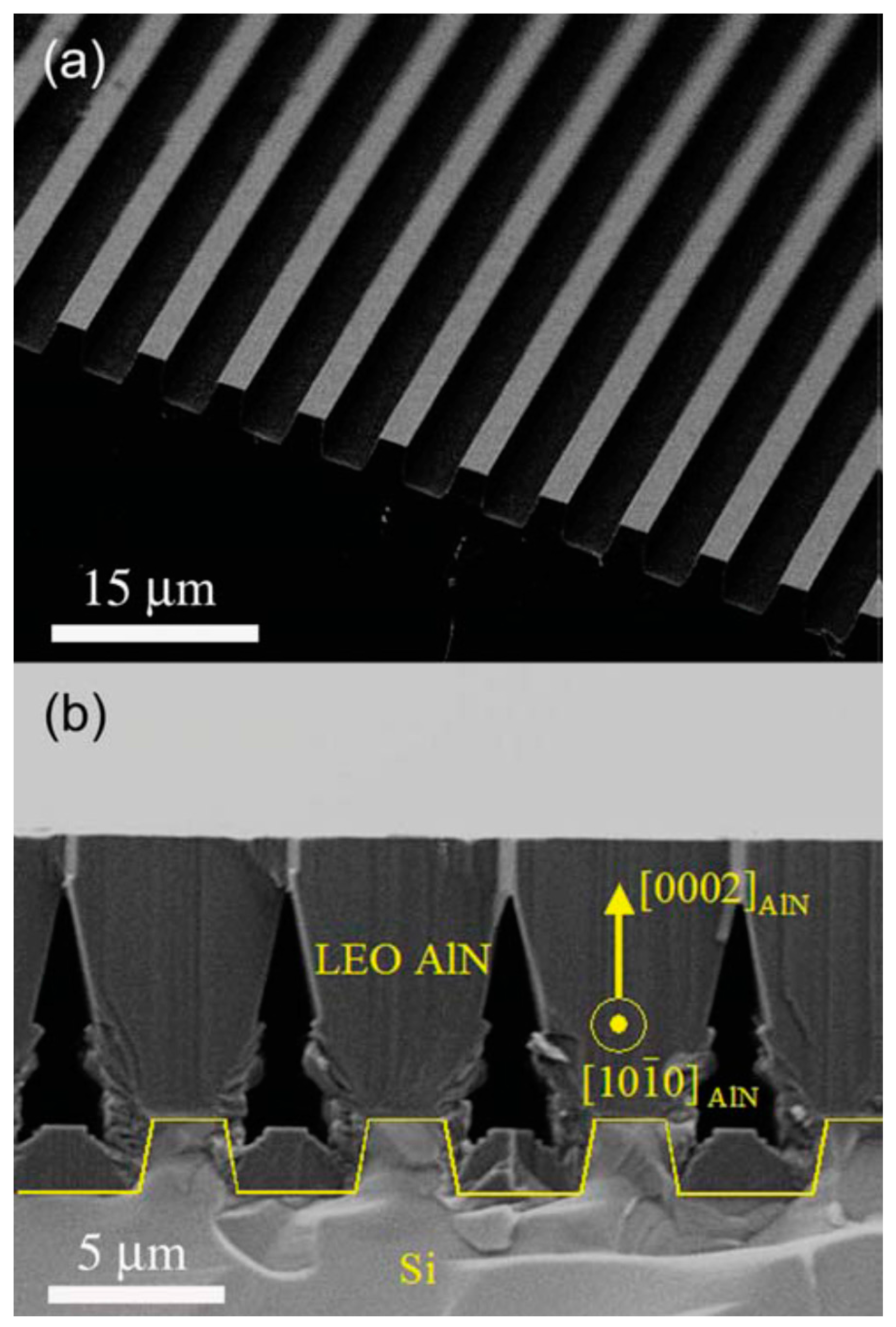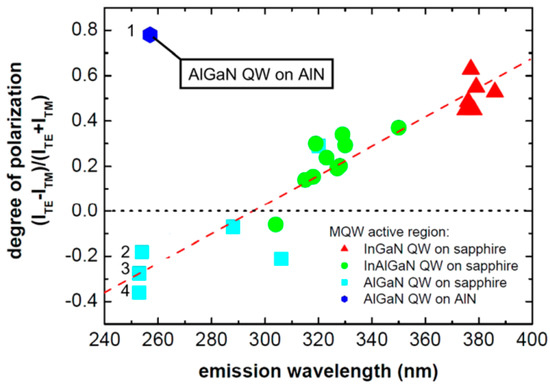 Figure 8.
Degree of polarization of emission from LEDs fabricated on sapphire or AlN substrates. For the devices grown on sapphire, TE polarization is obtained at wavelengths greater than ~310 nm and TM polarization is obtained for wavelengths less than ~310 nm. Device 1, in the upper left hand corner represents a different approach in that its active region consisting of short period AlGaN/AlGaN quantum wells was pseudomorphically grown on AlN. As depicted, it emits highly TE polarized light at 253 nm. The quantum wells in Devices 2–4 (cyan colored squares) are identical in design to Device 1 but are grown on sapphire. The long dashed line is intended to illustrate the trend for LEDs grown on sapphire while the horizontal dotted line depicts the case of equally split polarization. Reprinted from [
92
], with the permission of AIP publishing.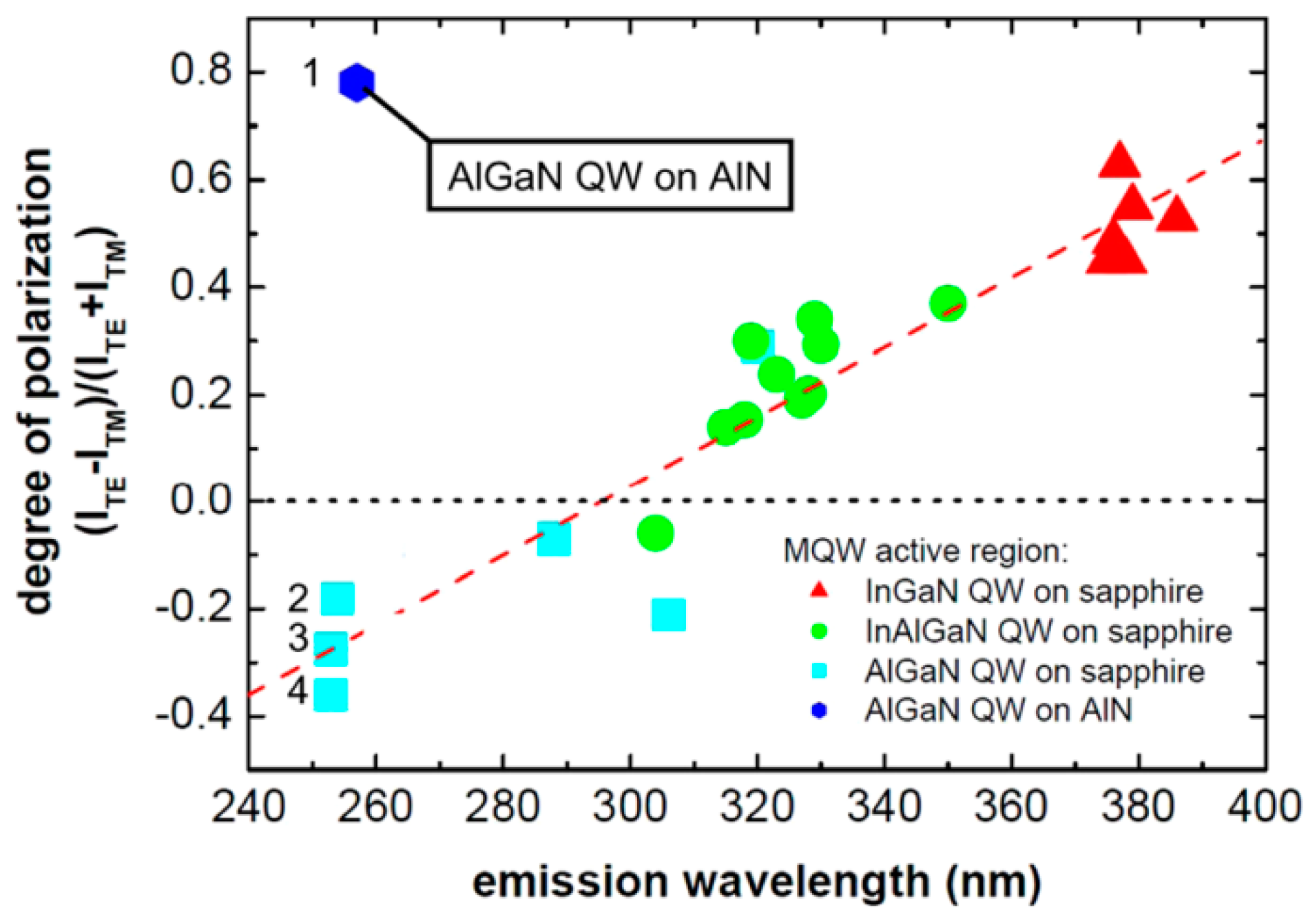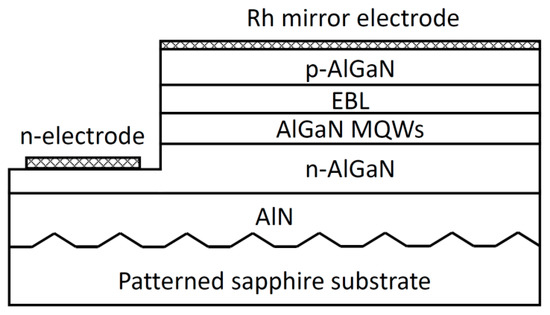 Figure 9.
Schematic of UV LED structures with a transparent p-type AlGaN: Mg contact layer and a Rh mirror electrode. After Reference [
8
].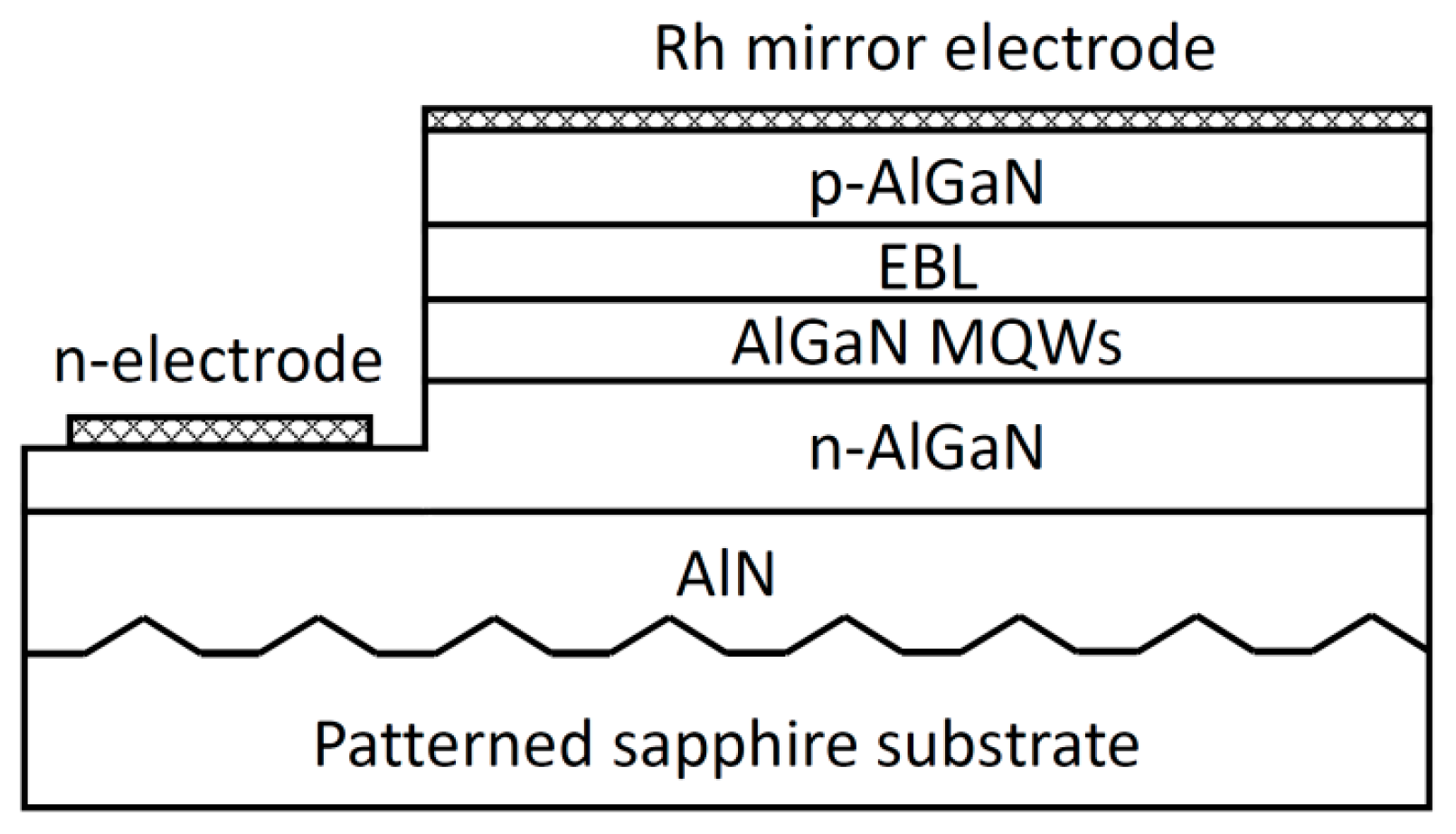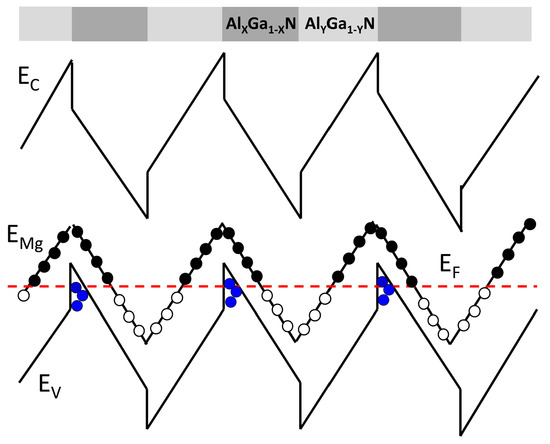 Figure 10. Schematic of the band structure of an Mg-doped AlxGa1-xN/AlyGa1-yN (x < y) superlattice. The dashed red line represents the Fermi energy; the empty circles represent the energy of the Mg acceptor when ionized, and the blue solid circles represent the accumulation of holes at the heterointerfaces.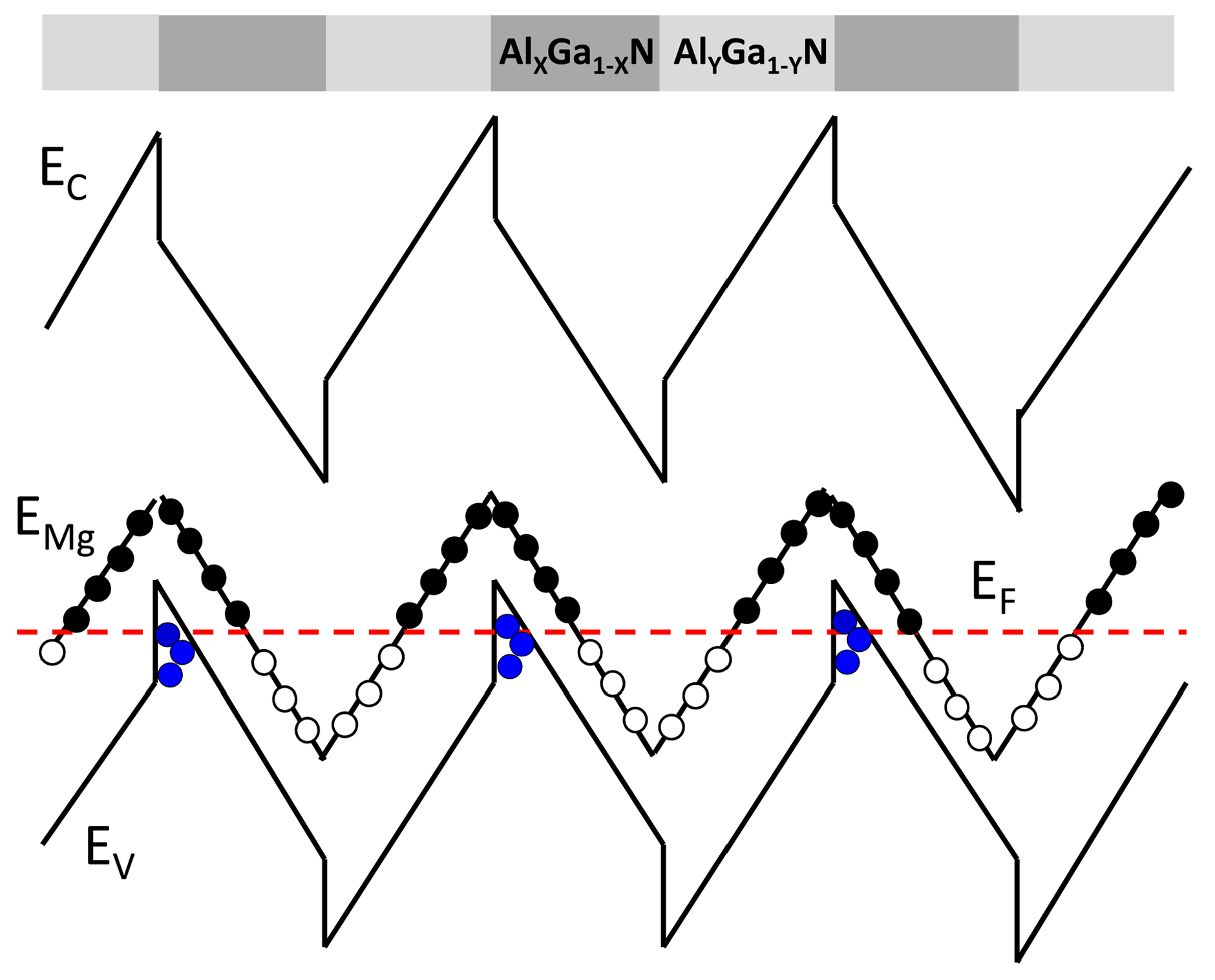 | Substrate | a-Axis (Å) | c-Axis Å | Mismatch to GaN | Mismatch to AlN | Thermal conductivity (W/cm K) | UV transparency | Availability | Price |
| --- | --- | --- | --- | --- | --- | --- | --- | --- |
| Sapphire | 4.765 | 12.982 | 16.1% | 13.3% | 0.23 | √√ | √√ | √√ |
| Si (111) | 3.840 | 3.136 | 17% | 19% | 1.6 | X | √√ | √√ |
| 6H-SiC | 3.073 | 15.117 | 3.8% | 1.3% | 4.9 | X | √ | X |
| 4H-SiC | 3.076 | 10.053 | 3.7% | 1.2% | 3.7 | X | √ | X |
| GaN | 3.189 | 5.186 | 0% | 2.4% | 3.2 | X | X | XX |
| AlN | 3.112 | 4.982 | 2.5% | 0% | 2.1 | √ | XX | XXX |

© 2017 by the authors. Licensee MDPI, Basel, Switzerland. This article is an open access article distributed under the terms and conditions of the Creative Commons Attribution (CC BY) license (http://creativecommons.org/licenses/by/4.0/).