Synthesis, Crystal Structure, and Magnetic Properties of Giant Unit Cell Intermetallics R117Co52+δSn112+γ (R = Y, La, Pr, Nd, Ho)
Department of Chemistry and Biochemistry, Florida State University, Tallahassee, FL 32306, USA
*
Author to whom correspondence should be addressed.
Academic Editors: Helmut Cölfen and Haidong Zhou
Received: 10 September 2016 / Revised: 7 December 2016 / Accepted: 14 December 2016 / Published: 20 December 2016
Abstract
Ternary intermetallics R
117
Co
52+δ
Sn
112+γ
(R = Y, La, Pr, Nd, and Ho) have been prepared by arc-melting followed by annealing at 800 °C. All the compounds belong to the Tb
117
Fe
52
Ge
112
structure type (space group
Fm
m
) characterized by a complex giant cubic unit cell with
a
~ 30 Å. The single-crystal structure determination of Y- and La-containing compounds reveals a significant structural disorder. A comparison of these and earlier reported crystal structures of R
117
Co
52+δ
Sn
112+γ
suggests that more extensive disorder occurs for structures that contain larger lanthanide atoms. This observation can be explained by the need to maintain optimal bonding interactions as the size of the unit cell increases. Y
117
Co
56
Sn
115
exhibits weak paramagnetism due to the Co sublattice and does not show magnetic ordering in the 1.8–300 K range. Ho
117
Co
55
Sn
108
shows ferromagnetic ordering at 10.6 K. Both Pr
117
Co
54
Sn
112
and Nd
117
Co
54
Sn
111
exhibit antiferromagnetic ordering at 17 K and 24.7 K, respectively, followed by a spin reorientation transition at lower temperature.
View Full-Text
►

▼

Figures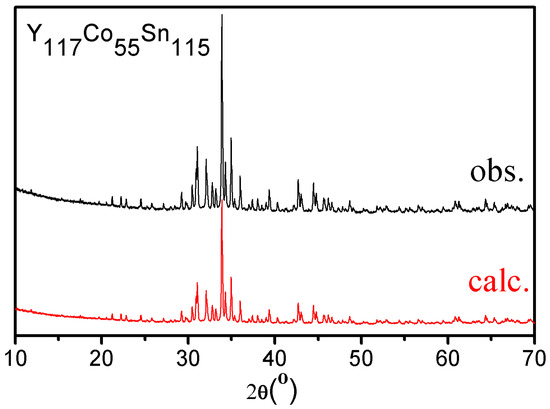 Figure 1
This is an open access article distributed under the
Creative Commons Attribution License
which permits unrestricted use, distribution, and reproduction in any medium, provided the original work is properly cited (CC BY 4.0).

Share & Cite This Article
MDPI and ACS Style
Chai, P.; Abramchuk, M.; Shatruk, M. Synthesis, Crystal Structure, and Magnetic Properties of Giant Unit Cell Intermetallics R117Co52+δSn112+γ (R = Y, La, Pr, Nd, Ho). Crystals 2016, 6, 165.
Note that from the first issue of 2016, MDPI journals use article numbers instead of page numbers. See further details here.
Related Articles
Comments
[Return to top]