Hydrogen Production from Glycerol Photoreforming on TiO2/HKUST-1 Composites: Effect of Preparation Method
1
Laboratorio de Catálisis y Materiales, ESIQIE-Instituto Politécnico Nacional, México City 07738, Mexico
2
Laboratoire de Chimie Physique, CNRS UMR 8000 Université Paris-Sud, 91405 Orsay, France
*
Author to whom correspondence should be addressed.
Received: 12 March 2019 / Revised: 28 March 2019 / Accepted: 31 March 2019 / Published: 4 April 2019
Abstract
Coupling metal-organic frameworks (MOFs) with inorganic semiconductors has been successfully tested in a variety of photocatalytic reactions. In this work we present the synthesis of TiO
2
/HKUST-1 composites by grinding, solvothermal, and chemical methods, using different TiO
2
loadings. These composites were used as photocatalysts for hydrogen production by the photoreforming of a glycerol-water mixture under simulated solar light. Several characterization techniques were employed, including X-ray diffraction (XRD), UV-Vis diffuse reflectance spectroscopy (DRS), infrared spectroscopy (FTIR), and time-resolved microwave conductivity (TRMC). A synergetic effect was observed with all TiO
2
/HKUST-1 composites (mass ratio TiO
2
/MOF 1:1), which presented higher photocatalytic activity than that of individual components. These results were explained in terms of an inhibition of the charge carrier (hole-electron) recombination reaction after photoexcitation, favoring the electron transfer from TiO
2
to the MOF and creating reversible Cu
1+
/Cu
0
entities useful for hydrogen production.
View Full-Text
►

▼

Figures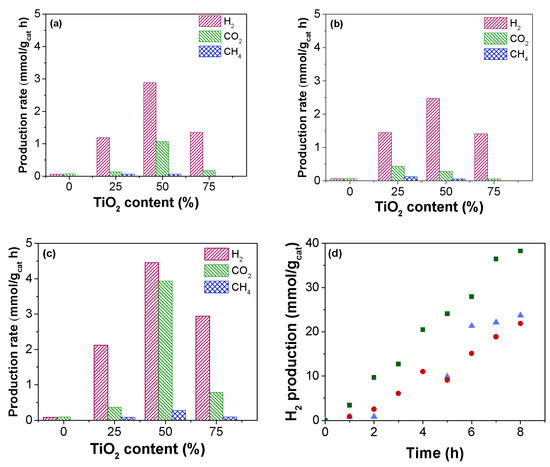 Figure 1
This is an open access article distributed under the
Creative Commons Attribution License
which permits unrestricted use, distribution, and reproduction in any medium, provided the original work is properly cited (CC BY 4.0).

Share & Cite This Article
MDPI and ACS Style
Martínez, F.M.; Albiter, E.; Alfaro, S.; Luna, A.L.; Colbeau-Justin, C.; Barrera-Andrade, J.M.; Remita, H.; Valenzuela, M.A. Hydrogen Production from Glycerol Photoreforming on TiO2/HKUST-1 Composites: Effect of Preparation Method. Catalysts 2019, 9, 338.
Note that from the first issue of 2016, MDPI journals use article numbers instead of page numbers. See further details here.
Related Articles
Comments
[Return to top]