Tetracopper(II) Cores Driven by an Unexplored Trifunctional Aminoalcohol Sulfonic Acid for Mild Catalytic C–H Functionalization of Alkanes
1
Centro de Química Estrutural, Instituto Superior Técnico, Universidade de Lisboa, Av. Rovisco Pais, 1049-001 Lisboa, Portugal
2
Research Institute of Chemistry, Peoples' Friendship University of Russia (RUDN University), 6 Miklukho-Maklaya st., 117198 Moscow, Russia
*
Authors to whom correspondence should be addressed.
Received: 4 March 2019 / Revised: 15 March 2019 / Accepted: 15 March 2019 / Published: 1 April 2019
Abstract
Three new tetracopper(II) coordination compounds were easily generated from Cu(NO
3
)
2
, a trifunctional aminoalcohol sulfonic acid (H
3
bes,
N
,
N
-bis(2-hydroxyethyl)-2-aminoethanesulfonic acid) as a principal building block, and a benzene carboxylic acid as a supporting ligand (i.e., benzoic (Hba), 4-hydroxybenzoic (Hfba), or 3-hydroxybenzoic (Hthba) acid). The obtained microcrystalline products, [Cu
4
(µ-Hbes)
3
(µ-H
2
bes)(µ-L)]·2H
2
O (L = ba
−
(
1
), fhba
−
(
2
), and thba
−
(
3
)), were fully characterized by FTIR (Fourier-transform infrared spectroscopy), elemental analysis, ESI-MS (Electrospray Ionisation Mass Spectrometry), and single-crystal X-ray diffraction methods. Compounds
1
–
3
were applied as effective homogeneous catalysts in the oxidative C−H functionalization of alkanes (cycloalkanes and propane). Two different model reactions were explored: (1) mild oxidation of alkanes with hydrogen peroxide to give alcohols and ketones, and (2) mild carboxylation of alkanes with carbon monoxide, water, and potassium peroxodisulfate to give carboxylic acids. For these reactions, effects of different parameters, as well as mechanistic and selectivity characteristics, were studied.
View Full-Text
►

▼

Figures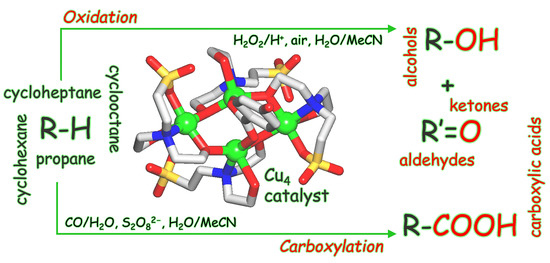 Graphical abstract
This is an open access article distributed under the
Creative Commons Attribution License
which permits unrestricted use, distribution, and reproduction in any medium, provided the original work is properly cited (CC BY 4.0).

Share & Cite This Article
MDPI and ACS Style
Costa, I.F.M.; Kirillova, M.V.; André, V.; Fernandes, T.A.; Kirillov, A.M. Tetracopper(II) Cores Driven by an Unexplored Trifunctional Aminoalcohol Sulfonic Acid for Mild Catalytic C–H Functionalization of Alkanes. Catalysts 2019, 9, 321.
Note that from the first issue of 2016, MDPI journals use article numbers instead of page numbers. See further details here.
Related Articles
Comments
[Return to top]