Heteropolyacid Salt Catalysts for Methanol Conversion to Hydrocarbons and Dimethyl Ether: Effect of Reaction Temperature
1
The Key Laboratory of Low-Carbon Chemistry & Energy Conservation of Guangdong Province/State Key Laboratory of Optoelectronic Materials and Technologies, Sun Yat-sen University, Guangzhou 510275, China
2
Polymer Program, Institute of Materials Science and Department of Chemical & Biomolecular Engineering, University of Connecticut, Storrs, CT 06269, USA
*
Authors to whom correspondence should be addressed.
Received: 24 February 2019 / Revised: 22 March 2019 / Accepted: 26 March 2019 / Published: 1 April 2019
Abstract
Phosphotungstic and silicotungstic acid salt catalysts (CuPW, CuSiW, FePW, FeSiW) were synthesized by substitution of protons with ferric and copper ions through a simple replacement reaction. The structure and thermal stability were characterized by IR, XRD and TG, and the salts showed a keggin structure and a thermal tolerance near 450 °C. Temperature programmed reactions indicated that the four catalysts showed similar trends in the change of methanol conversion, DME selectivity, and light olefins selectivity at 100–400 °C. Copper salt catalysts showed a 100% DME selectivity at temperatures ranging from 100–250 °C, while FeSiW and FePW catalysts had a 100% DME selectivity near 250 °C. Moreover, the heteropolyacid salt catalysts also produced a certain number of light olefins at the temperature ranging from 250–350 °C, and the CuSiW catalyst exhibited the highest ethylene and propylene selectivity of 44%. In the stability test evaluated at 200 °C, the catalysts showed different tendencies during the induction period and the same trends during the reduction period for the methanol conversion to DME, due to the differences in the strengths of the strong acid sites. Finally, the silicotungstic acid salt catalysts showed the longest lifetime of 120 h, much longer than the heteropolyacids. This approach provides an effective way to synthesize hydrocarbons through methanol, especially DME, at different temperatures using one catalyst.
View Full-Text
►

▼

Figures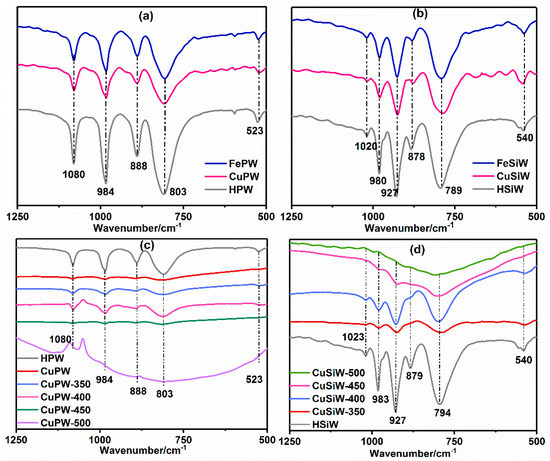 Figure 1
This is an open access article distributed under the
Creative Commons Attribution License
which permits unrestricted use, distribution, and reproduction in any medium, provided the original work is properly cited (CC BY 4.0).

Share & Cite This Article
MDPI and ACS Style
Yu, Y.; Sun, D.; Wang, S.; Xiao, M.; Sun, L.; Meng, Y. Heteropolyacid Salt Catalysts for Methanol Conversion to Hydrocarbons and Dimethyl Ether: Effect of Reaction Temperature. Catalysts 2019, 9, 320.
Note that from the first issue of 2016, MDPI journals use article numbers instead of page numbers. See further details here.
Related Articles
Comments
[Return to top]