Synthetic Biomimetic Coenzymes and Alcohol Dehydrogenases for Asymmetric Catalysis
1
Department of Biotechnology, Delft University of Technology, Van der Maasweg 9, 2629 HZ Delft, The Netherlands
2
Chemistry Research Laboratory, University of Oxford, 12 Mansfield Road, Oxford OX1 3TA, UK
3
State Key Laboratory of Bioreactor Engineering and Shanghai Collaborative Innovation Centre for Biomanufacturing, East China University of Science and Technology, Shanghai 200237, China
4
University College Dublin, Belfield, Dublin 4, Ireland
5
School of Chemistry, University of Nottingham, Nottingham NG7 2RD, UK
6
Department of Biotechnology, University of the Free State, 205 Nelson Mandela Drive, Bloemfontein 9300, South Africa
*
Authors to whom correspondence should be addressed.
†
These authors contributed equally to this work.
Received: 1 February 2019 / Revised: 21 February 2019 / Accepted: 23 February 2019 / Published: 26 February 2019
Abstract
Redox reactions catalyzed by highly selective nicotinamide-dependent oxidoreductases are rising to prominence in industry. The cost of nicotinamide adenine dinucleotide coenzymes has led to the use of well-established elaborate regeneration systems and more recently alternative synthetic biomimetic cofactors. These biomimetics are highly attractive to use with ketoreductases for asymmetric catalysis. In this work, we show that the commonly studied cofactor analogue 1-benzyl-1,4-dihydronicotinamide (BNAH) can be used with alcohol dehydrogenases (ADHs) under certain conditions. First, we carried out the rhodium-catalyzed recycling of BNAH with horse liver ADH (HLADH), observing enantioenriched product only with unpurified enzyme. Then, a series of cell-free extracts and purified ketoreductases were screened with BNAH. The use of unpurified enzyme led to product formation, whereas upon dialysis or further purification no product was observed. Several other biomimetics were screened with various ADHs and showed no or very low activity, but also no inhibition. BNAH as a hydride source was shown to directly reduce nicotinamide adenine dinucleotide (NAD) to NADH. A formate dehydrogenase could also mediate the reduction of NAD from BNAH. BNAH was established to show no or very low activity with ADHs and could be used as a hydride donor to recycle NADH.
View Full-Text
►

▼

Figures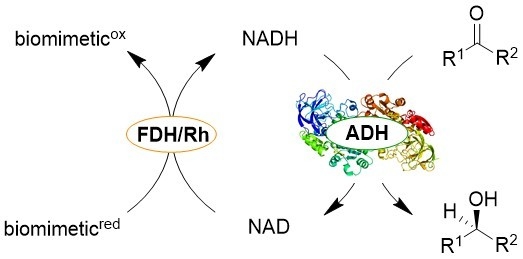 Graphical abstract
This is an open access article distributed under the
Creative Commons Attribution License
which permits unrestricted use, distribution, and reproduction in any medium, provided the original work is properly cited (CC BY 4.0).

Share & Cite This Article
MDPI and ACS Style
Josa-Culleré, L.; Lahdenperä, A.S.K.; Ribaucourt, A.; Höfler, G.T.; Gargiulo, S.; Liu, Y.-Y.; Xu, J.-H.; Cassidy, J.; Paradisi, F.; Opperman, D.J.; Hollmann, F.; Paul, C.E. Synthetic Biomimetic Coenzymes and Alcohol Dehydrogenases for Asymmetric Catalysis. Catalysts 2019, 9, 207.
Note that from the first issue of 2016, MDPI journals use article numbers instead of page numbers. See further details here.
Related Articles
Comments
[Return to top]