A Facile Synthesis of Visible-Light Driven Rod-on-Rod like α-FeOOH/α-AgVO3 Nanocomposite as Greatly Enhanced Photocatalyst for Degradation of Rhodamine B
State Key Laboratory of Chemical Resource Engineering, Beijing Advanced Innovation Center for Soft Matter Science and Engineering, Beijing Engineering Center for Hierarchical Catalysts, Beijing University of Chemical Technology, Beijing 100029, China
*
Author to whom correspondence should be addressed.
Received: 22 August 2018 / Revised: 6 September 2018 / Accepted: 7 September 2018 / Published: 12 September 2018
Abstract
In this work, we have synthesized the rod-on-rod–like α-FeOOH/α-AgVO
3
nanocomposite photocatalysts with the different amounts of solvothermally synthesized α-FeOOH nanorods via a simple co-precipitation method. The as-synthesized photocatalysts were characterized by X-ray diffraction (XRD), Fourier-transform infrared (FT-IR) spectroscopy, UV−Visible diffuse reflectance spectroscopy, scanning electron microscopy (SEM), element mapping, high-resolution transmission electron microscopy (HR-TEM) and X-ray photoelectron spectroscopy (XPS) analysis. The observed SEM images show that both α-AgVO
3
and α-FeOOH exhibits the rod-shaped morphology with nano size. Furthermore, the photocatalytic activities of the obtained photocatalysts were evaluated towards the degradation of Rhodamine B (RhB) under visible-light irradiation. It is demonstrated that the 3 mg α-FeOOH added to the α-FeOOH/α-AgVO
3
nanocomposite exhibited an enhanced photocatalytic performance as compared with the pure α-AgVO
3
and α-FeOOH. This significant improvement can be attributed to the increased photo-excited electron-hole pair separation efficiency, large portion of visible-light absorption ability and the reduced recombination of the electron-hole pair. The recycling test revealed that the optimized nanocomposite exhibited good photostability and reusability properties. In addition, the believable photodegradation mechanism of RhB using α-FeOOH/α-AgVO
3
nanocomposite is proposed. Hence, the developed α-FeOOH/α-AgVO
3
nanocomposite is a promising material for the degradation of organic pollutants in an aqueous environment.
View Full-Text
►

▼

Figures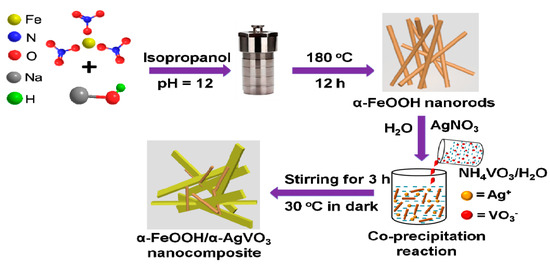 Figure 1
This is an open access article distributed under the
Creative Commons Attribution License
which permits unrestricted use, distribution, and reproduction in any medium, provided the original work is properly cited (CC BY 4.0).

Share & Cite This Article
MDPI and ACS Style
Sun, M.; Senthil, R.A.; Pan, J.; Osman, S.; Khan, A. A Facile Synthesis of Visible-Light Driven Rod-on-Rod like α-FeOOH/α-AgVO3 Nanocomposite as Greatly Enhanced Photocatalyst for Degradation of Rhodamine B. Catalysts 2018, 8, 392.
Note that from the first issue of 2016, MDPI journals use article numbers instead of page numbers. See further details here.
Related Articles
Comments
[Return to top]