Step-by-Step Growth of HKUST-1 on Functionalized TiO2 Surface: An Efficient Material for CO2 Capture and Solar Photoreduction
1
Department of Materials Science, INSTM, University of Milano-Bicocca, Via R. Cozzi, 55, 20125 Milano, Italy
2
Dipartimento di Energia, Ingegneria dell'Informazione e Modelli Matematici DEIM—Università degli Studi di Palermo, Viale delle Scienze (Ed. 6), 90128 Palermo, Italy
3
Istituto di Chimica dei Composti Organometallici ICCOM-CNR, Via Madonna del Piano, 10, 50019 Sesto Fiorentino (Firenze), Italy
4
Istituto Officina dei Materiali IOM-CNR, Laboratorio TASC, Area Science Park-Basovizza, Edificio MM, Strada Statale 14, km 163,5, I-34149 Trieste, Italy
5
Istituto di Scienze e Tecnologie Molecolari ISTM-CNR, via G. Fantoli, 16-15, 20138 Milano, Italy
*
Author to whom correspondence should be addressed.
Received: 13 July 2018 / Revised: 19 August 2018 / Accepted: 22 August 2018 / Published: 27 August 2018
Abstract
The present study reports on a simple preparation strategy of a hybrid catalyst, TiO
2
/HKUST-1, containing TiO
2
anatase nanoparticles (NPs) with tailored morphology and photocatalytic activity coupled with a porous metal-organic framework (MOF), namely HKUST-1, as an advanced material for the CO
2
photocatalytic reduction. In detail, TiO
2
/HKUST-1 catalyst was prepared via an easy slow-diffusion method combined with a step-by-step self-assembly at room temperature. The growth of crystalline HKUST-1 onto titania surface was achieved by functionalizing TiO
2
nanocrystals, with phosphoesanoic acid (PHA), namely TiO
2
-PHA, which provides an intimate contact between MOF and TiO
2
. The presence of a crystalline and porous shell of HKUST-1 on the TiO
2
surfaces was assessed by a combination of analytical and spectroscopic techniques. TiO
2
/HKUST-1 nanocomposite showed a significant efficiency in reducing CO
2
to CH
4
under solar light irradiation, much higher than those of the single components. The role of MOF to improve the photoreduction process under visible light was evidenced and attributed either to the relevant amount of CO
2
captured into the HKUST-1 porous architecture or to the hybrid structure of the material, which affords enhanced visible light absorption and allows an effective electron injection from TiO
2
-PHA to HKUST-1, responsible for the photochemical reduction of CO
2
.
View Full-Text
►

▼

Figures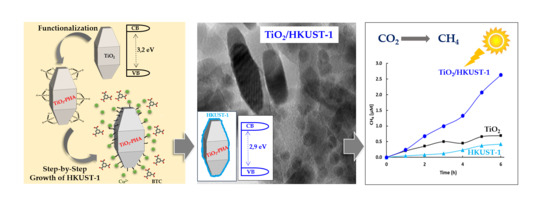 Graphical abstract
This is an open access article distributed under the
Creative Commons Attribution License
which permits unrestricted use, distribution, and reproduction in any medium, provided the original work is properly cited (CC BY 4.0).

Share & Cite This Article
MDPI and ACS Style
Di Credico, B.; Redaelli, M.; Bellardita, M.; Calamante, M.; Cepek, C.; Cobani, E.; D'Arienzo, M.; Evangelisti, C.; Marelli, M.; Moret, M.; Palmisano, L.; Scotti, R. Step-by-Step Growth of HKUST-1 on Functionalized TiO2 Surface: An Efficient Material for CO2 Capture and Solar Photoreduction. Catalysts 2018, 8, 353.
Note that from the first issue of 2016, MDPI journals use article numbers instead of page numbers. See further details here.
Related Articles
Comments
[Return to top]