Open Access This article is
freely available
re-usable
Article
NOx Removal by Selective Catalytic Reduction with Ammonia over a Hydrotalcite-Derived NiFe Mixed Oxide
1
College of chemistry and Chemical Engineering, Taiyuan University of Technology, Taiyuan 030024, China
2
College of Chemistry and Chemical Engineering, Jinzhong University, Jinzhong 030619, China
*
Authors to whom correspondence should be addressed.
Received: 24 July 2018 / Accepted: 6 September 2018 / Published: 8 September 2018
Abstract
:
A series of NiFe mixed oxide catalysts were prepared via calcining hydrotalcite-like precursors for the selective catalytic reduction of nitrogen oxides (NOx) with NH3 (NH3-SCR). Multiple characterizations revealed that catalytic performance was highly dependent on the phase composition, which was vulnerable to the calcination temperature. The MOx phase (M = Ni or Fe) formed at a lower calcination temperature would induce more favorable contents of Fe2+ and Ni3+ and as a result contribute to the better redox capacity and low-temperature activity. In comparison, NiFe2O4 phase emerged at a higher calcination temperature, which was expected to generate more Fe species on the surface and lead to a stable structure, better high-temperature activity, preferable SO2 resistance, and catalytic stability. The optimum NiFe-500 catalyst incorporated the above virtues and afforded excellent denitration (DeNOx) activity (over 85% NOx conversion with nearly 98% N2 selectivity in the region of 210–360 °C), superior SO2 resistance, and catalytic stability.
Keywords:
NiFe-LDH; mixed oxide; NiFe
2
O
4
spinel; NO
x
; NH
3
-SCR
1. Introduction
Emission of nitrogen oxides (NO
x
) is a main contributing factor to the induction of regional air pollution and ecosystem acidification [
1
]. During the past few decades, stringent regulations on NO
x
emissions have been issued worldwide and various measures have been devoted to diminish NO
x
, among which the removal of NO
x
from stationary sources by selective catalytic reduction of NO
x
with NH
3
(NH
3
-SCR) has been attracting significant attention due to the low cost and high efficiency [
2
,
3
,
4
]. The most adopted SCR catalysts in practical applications are V-based catalysts, while the toxicity of active vanadium species, together with high N
2
O formation at high temperatures, restricts their further application [
5
]. Therefore, for the current situation, developing environmentally friendly substitutive catalysts with excellent efficiency, strong stability, and high SO
2
resistance in NH
3
-SCR is imperative.
Recently, great efforts have been made to exploit novel NH
3
-SCR catalysts, and some transition metal oxide catalysts have received wide attention [
6
,
7
,
8
]. Notably, iron-based catalysts have been considered as a potential candidate for the NH
3
-SCR application due to their high reactivity, cost-effectiveness, superior SO
2
durability, and non-toxicity. However, pure iron catalysts are subject to to the limitations of a low acid amount [
9
] and inferior N
2
selectivity beyond 330 °C [
10
,
11
].
Up to now, a lot of reports have found that introducing other active ingredients (e.g., titanium oxides [
12
], manganese oxides [
13
], or tungsten oxides [
2
]) is an effective way to promote the denitration (DeNO
x
) performance of iron-based catalysts. Especially, nickel species possess abundant surface acidity sites [
14
] and a favorable ability to increase the N
2
selectivity of NH
3
-SCR reactions [
15
,
16
], which was expected to be introduced into the iron-based catalytic system [
17
]. Furthermore, nickel oxides are considered as valuable materials to induce a synergistic effect with other active species, such as NiMnO
x
[
18
,
19
] and NiTiO
x
[
20
], which are very sensitive to the synthesis process.
It was reported that layered double hydroxide (LDHs) materials are excellent precursors for the preparation of metal oxide catalysts with the desired chemical and phase composition [
21
]. Thermal decomposition of hydrotalcite-like materials could produce layered double oxides (LDOs) possessing a relatively high surface area, which could promote the catalytic performance.
Herein, a series of economical and eco-friendly NiFe mixed oxides catalysts were prepared via calcining a hydrotalcite-like compound at various temperatures. The NH3-SCR activity, SO2 resistance, and stability were evaluated for the different NiFe mixed oxides catalysts. The correlations among phase composition, structure, and catalytic performance were systematically explored by XRD (X-ray diffraction), FT-IR (Fourier Transform Infrared), TG (thermogravimetric analysis), N2 physisorption, NH3-TPD (NH3-Temperature Programmed Desorption), H2-TPR (H2-Temperature Programmed Reduction), and XPS (X-ray Photoelectron Spectroscopy). It was proved that the DeNOx performance was highly dependent on the phase composition of NiFe mixed oxides catalysts, which was available via adjusting the calcination temperature of NiFe-LDH. This work may serve as an important reference for LDH precursors to be tailored for potential applications in adjusting the phase component and catalytic performance.
2. Results and Discussion
3. Materials and Methods
3.1. Catalyst Preparation
The NiFe hydrotalcite-like precursor with the molar ratio of Ni to Fe being 4 was prepared by the urea hydrolysis method [
44
]. First, a urea solution and a mixed solution with Ni(NO
3
)
2
·6H
2
O, Fe(NO
3
)
3
·9H
2
O, and sodium citrate in the corresponding ratio were dissolved fully with deionized water. Afterwards, the solution was transferred to a beaker and hydrothermally treated at 120 °C for 24 h. The NiFe-LDH precursors were obtained after extraction, filtration, washing, and drying at 60 °C for 12 h. Subsequently, the precursors were calcined at the required temperature (400–600 °C) for 5 h to obtain the NiFe mixed oxides. Finally, the NiFe catalysts were crushed and sieved through 40–60 mesh for catalytic evaluation.
3.2. Catalyst Characterization
XRD patterns of the samples were characterized using a DX-2700 instrument (Dandong Aolong Radiative Instrument Group Co. Ltd, Liaoning, China) with a Cu Kα radiation source (λ = 1.54184 Å, 40 KV, and 30 mA) in the 2θ range of 5–85° at a step of 8° min−1. The FTIR spectrum was recorded on a TENSOR II FTIR spectrophotometer (Bruker, Billerica, MA, USA). The hydrotalcite-like samples were pressed into KBr pellets. TG coupled with MS analysis was employed to analyze the thermal decomposition of the NiFe-LDH precursor. A Mettler Toledo 851® thermobalance system (Balzers Ltd., Milton Keynes, UK) was used for TG measurements, which were carried out in a flow of Ar (80 mL min−1) for a temperature range of 25–800 °C with a heating rate of 10 K min−1. A ThermoStar Balzers MS (Balzers Ltd., Milton Keynes, UK) was used to monitor the evolved gases during the thermal decomposition process. The textural structures of the NiFe-LDO catalysts were determined using an ASAP 2460 automated gas sorption (Micromeritics, Norcross, GA, USA) analyzer through the N2 adsorption-desorption equilibrium at −196 °C. The specific surface area and pore diameter were determined and calculated by the Brunauer–Emmett–Teller (BET) and Barrett–Joyner–Halenda (BJH) methods, respectively. H2-TPR and NH3-TPD were performed on a TP-5080 instrument (Xianquan Industry and Trade Development Co. Ltd, Tianjin, China) coupled with MS using 0.08 g catalysts. Prior to the H2-TPR test, the sample was pre-treated at 300 °C for 1 h in an Ar flow and then cooled to room temperature. Subsequently, the feeding gas was switched from Ar to 10% H2/Ar (20 mL min−1) and the temperature was increased from 30 °C to 900 °C with a heating rate of 10 K min−1. In the case of NH3-TPD, the samples were also pre-treated at 300 °C for 1 h, cooled to room temperature in a flow of He, and then saturated with 3% NH3/He (25 mL min−1) for 1 h at 50 °C. After NH3 exposure, the sample was purged with He until excessive NH3 was removed. Then, the TPD data were collected from 30 °C to 900 °C at a rate of 10 K min−1 in He flow. XPS were recorded on a Thermo ESCALAB 250XI electron spectrometer (Thermo Fisher Scientific, Waltham, MA, USA) with Al Kα as a radiation source (1486.6 eV). Binding energies of Ni 2p and Fe 2p were calibrated based on the graphite C 1s core level at 284.8 eV.
3.3. Catalytic Performance Tests
The NH
3
-SCR activities over the catalysts were evaluated in a fixed-bed reactor with 0.38 g catalysts (40–60 mesh). The feed gas consisted of 600 ppm NO, 600 ppm NH
3
, 5.0% O
2
, 0 or 10.0% H
2
O, 0 or 100 ppm SO
2
, and balanced with N
2
at a flow rate of 350 cm
3
min
−1
, and the gas hourly space velocity (GHSV) was 45,000 h
−1
. The inlet and outlet gas concentrations of NO, N
2
O, NO
2
, and NH
3
were detected by an online Fourier-transform-IR spectrometer (MultiGas
TM
6030) (MKS, Andover, MA, USA). The SCR reaction was carried out in the temperature range of 150–450 °C and the data were recorded when the steady-state reaction was maintained after 30 min at each temperature. The NO
x
conversion and N
2
selectivity were calculated according to the following expression:
where [NO]
in
and [NH
3
]
in
refer to the inlet concentrations of NO and NH
3
, respectively, and [NO]
out
, [NO
2
]
out
, and [N
2
O]
out
refer to the reactor outlet concentrations of NO, NO
2
, and N
2
O, respectively.
4. Conclusions
A series of NiFe mixed oxides catalysts derived from hydrotalcite-like precursors were prepared and novelly employed as NH3-SCR catalysts. The result proposed that the ideal phase composition of NiFe mixed oxides catalysts was available via adjusting the calcination temperature of NiFe-LDH, which had a significant effect on DeNOx activity. The oxide phase formed at a lower calcination temperature is propitious for a better redox property and low-temperature activity, while the presence of NiFe2O4 spinels could contribute to high-temperature activity as well as SO2 resistance and stability. We testify to NiFe-500 being the optimal catalyst incorporating NiO and NiFe2O4 spinels, where the virtues of the two phases were synergistically exerted and the best NH3-SCR performance was achieved.
Author Contributions
X.W. and Y.D. designed and administered the experiments. C.Z. and X.L. performed experiments. R.W. collected and analyzed data. R.W., X.W., and Y. D wrote the manuscript.
Acknowledgments
The project was supported by National Natural Science Foundation of China (No. 21073131), Shanxi Provincial (No. 201601D10207).
Conflicts of Interest
The authors declare no conflicts of interest.
Figure 1. Catalytic performance of the serial NiFe-layered double oxide (LDO) catalysts: (A) nitrogen oxide (NOx) conversion; (B) N2 selectivity; (C) stability tests at 300 °C; (D) SO2/H2O resistance tests at 300 °C. Reaction conditions: 600 ppm NO, 600 ppm NH3, 5% O2, 100 ppm SO2 (when used), 10% H2O (when used), balance N2, gas hourly space velocity (GHSV) = 45,000 h−1.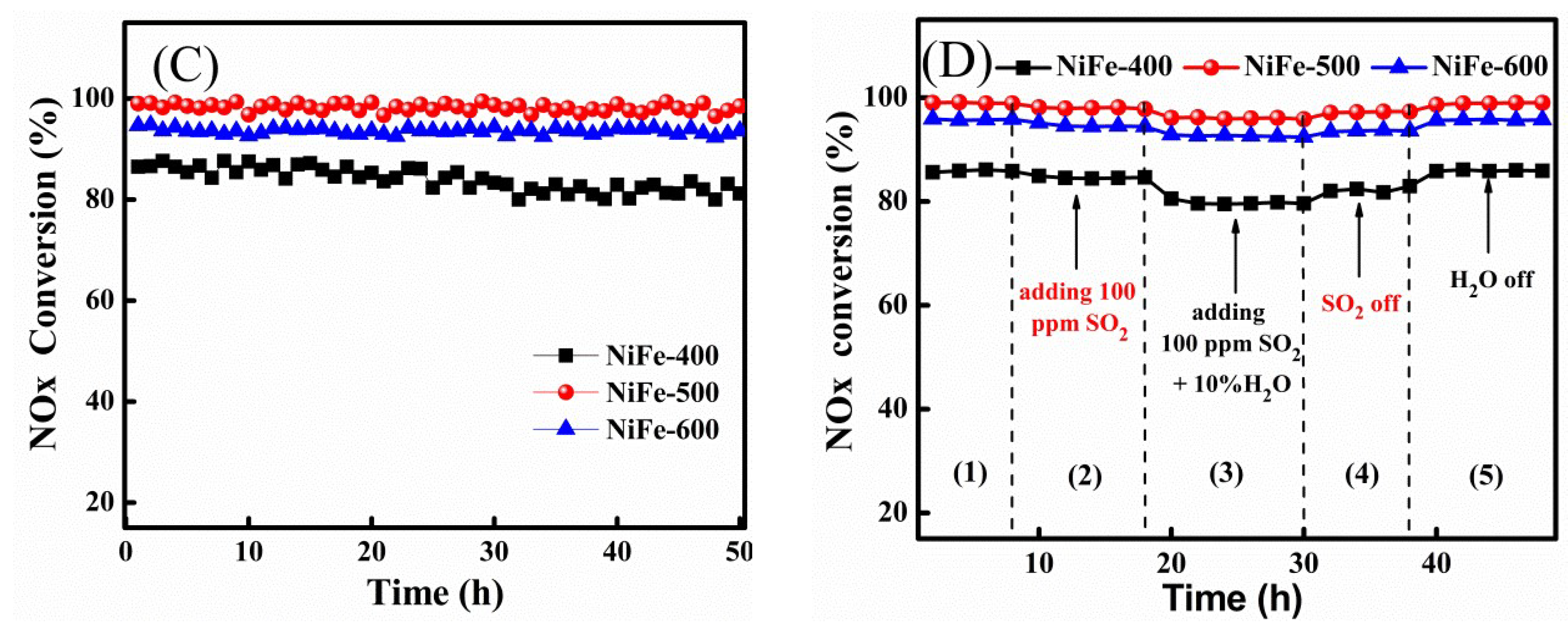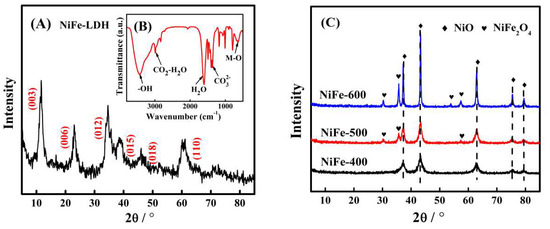 Figure 2. XRD pattern (A) and FT-IR spectrum (B) of NiFe- layered double hydroxide (LDH) precursor; XRD patterns of NiFe-LDO catalysts (C).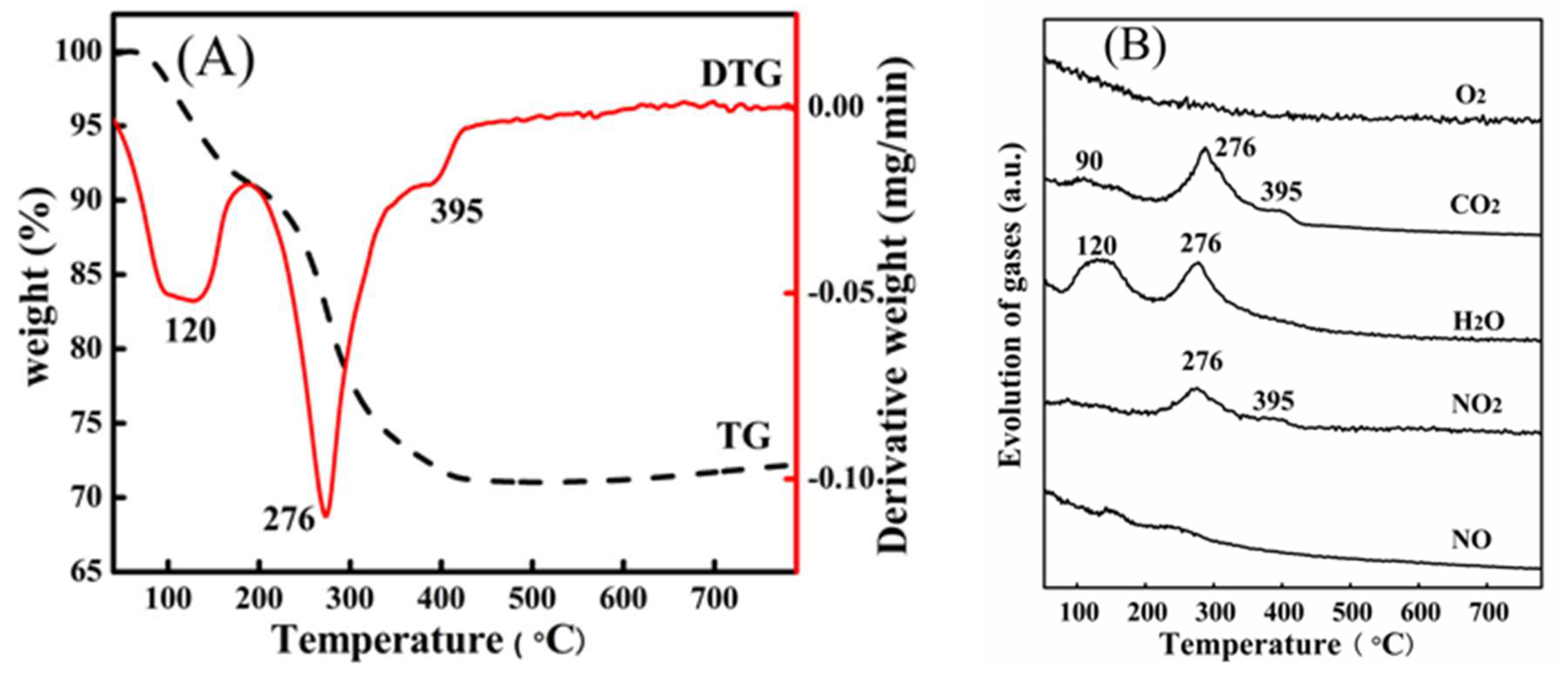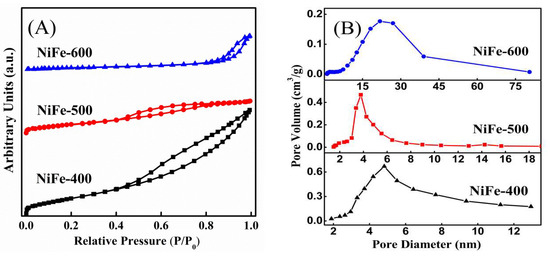 Figure 4. N2 adsorption and desorption isotherms (A) and pore diameter distribution (B) of the serial NiFe-LDO catalysts.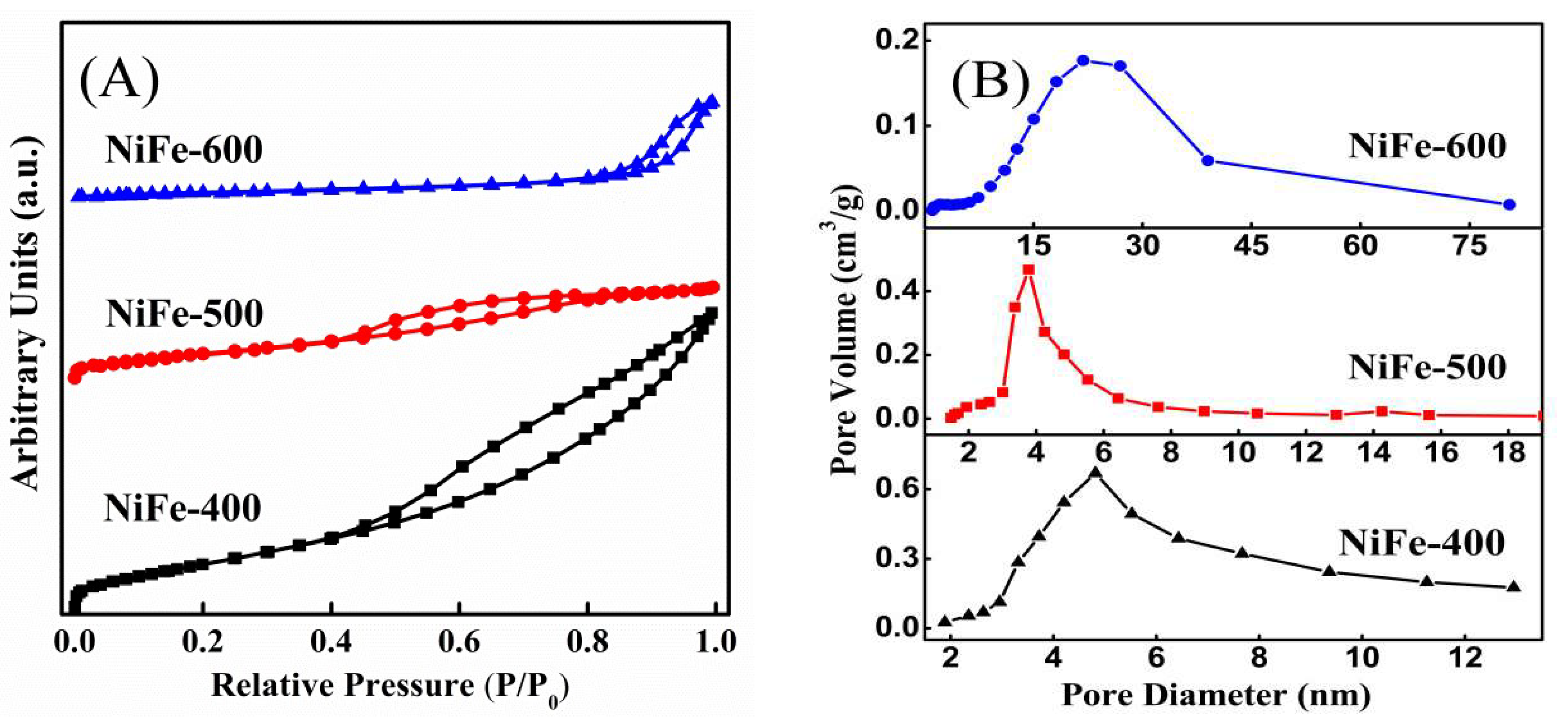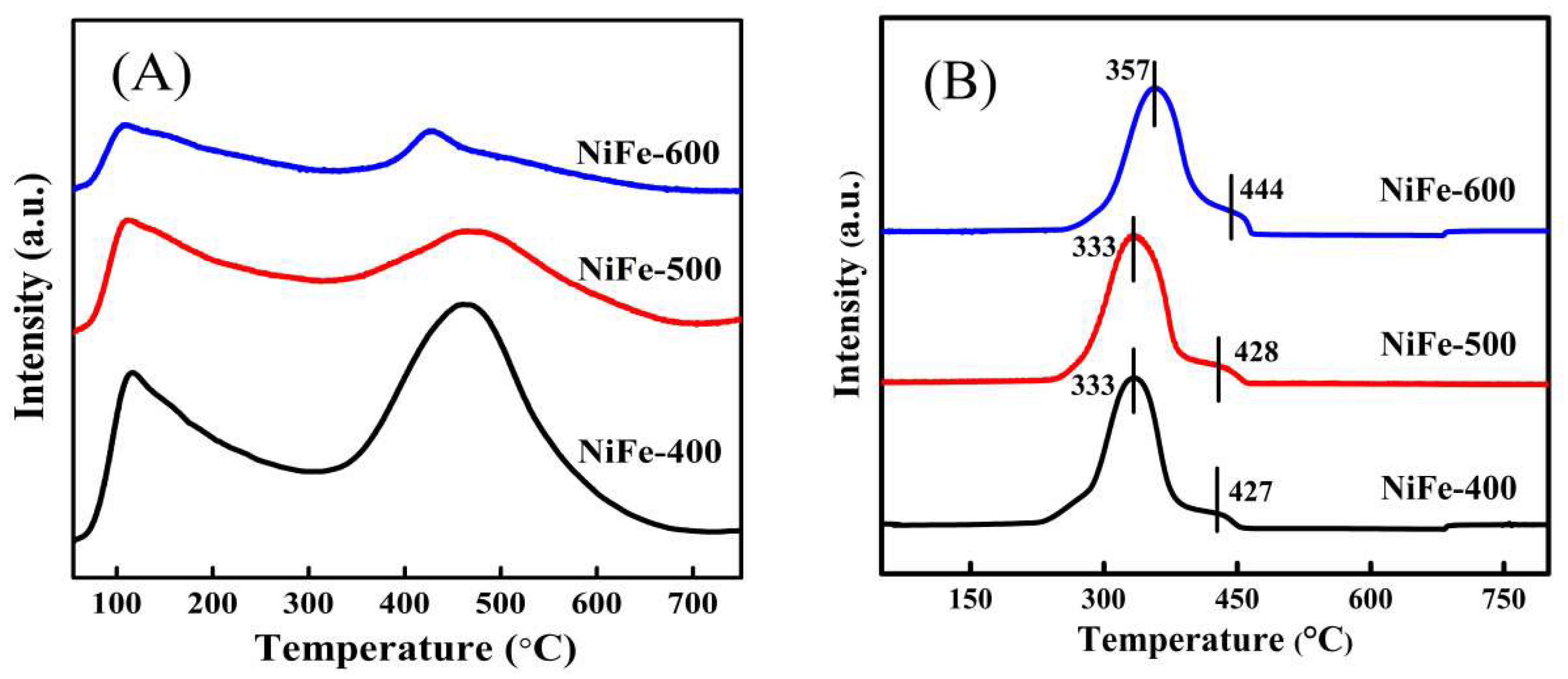 Figure 6. The ideal model of catalysts with MOx (M = Ni or Fe) or multiple phases (MOx and a NiFe2O4 spinel).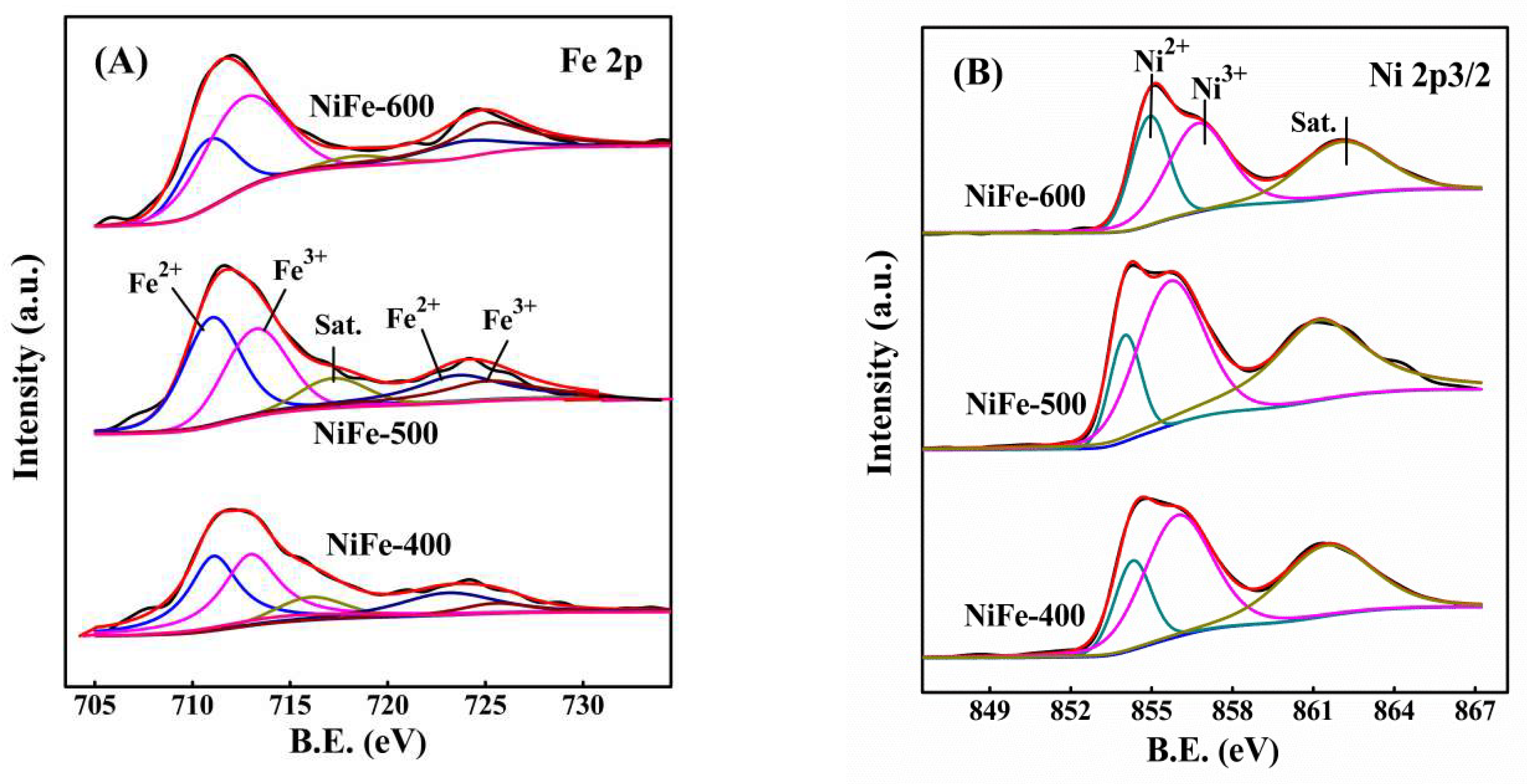 | Catalysts | BET Surfaces Areas (m2/g) | Average Pore Diameter (nm) |
| --- | --- | --- |
| NiFe-400 | 169.3 | 5.1 |
| NiFe-500 | 89.6 | 4.0 |
| NiFe-600 | 20.9 | 15.5 |
Catalysts
Total Amount of NH3 Desorption a
Proportion of NH3 Desorption (%)
Weak Acid Sites (55–300 °C)
Strong Acid Sites (300–700 °C)
NiFe-400
1
34.5
65.5
NiFe-500
0.65
42.5
57.5
NiFe-600
0.27
52.4
47.6
a Normalized by the NH3 desorption peaks area of the NiFe-400 sample (28,487.8 a.u.).
Catalysts
Peak 1
Peak 2
Total Actual H2 Consumption
Total Theoretical H2 Consumption
T1
A1
E1
T2
A2
E2
NiFe-400
333
13.99
13.86
427
0.59
0.77
14.58
14.63
NiFe-500
333
14.21
14.05
428
0.41
0.88
14.62
14.93
NiFe-600
357
13.68
12.10
444
0.95
2.62
14.63
14.72
where T1 and T2 refer to the reduction peak temperature; A1 and A2 refer to the actual H2 consumption of peak 1 and peak 2, respectively; and E1 and E2 refer to the theoretical H2 consumption of peak 1 and peak 2, respectively.
Catalysts
Fe 2p
Ni 2p
Fe (%)
Fe3+ / (Fe2+ + Fe3+) (%)
Ni (%)
Ni3+ / (Ni2+ + Ni3+) (%)
NiFe-400
1.7
51.4
28.3
72.5
NiFe-500
2.2
43.8
30.9
75.5
NiFe-600
5.4
66.5
25.6
60.1

© 2018 by the authors. Licensee MDPI, Basel, Switzerland. This article is an open access article distributed under the terms and conditions of the Creative Commons Attribution (CC BY) license (http://creativecommons.org/licenses/by/4.0/).