Modeling the OEC with Two New Biomimetic Models: Preparations, Structural Characterization, and Water Photolysis Studies of a Ba–Mn Box Type Complex and a Mn4N6 Planar-Diamond Cluster
1
Departamento de Química Inorgánica, Facultade de Ciencias, Universidade de Santiago de Compostela, 27002 Lugo, Spain
2
Departamento de Química Inorgánica, Facultade de Química, Universidade de Santiago de Compostela, 15782 Santiago de Compostela, Spain
3
Departament of Pharmacology, Faculty of Veterinary, University of Santiago de Compostela, 27002 Lugo, Spain
4
Centro de Investigacións Científicas Avanzadas (CICA) and Departamento de Química, Campus Zapateira, Universidade da Coruña, 15008 A Coruña, Spain
*
Author to whom correspondence should be addressed.
Received: 28 July 2018 / Revised: 25 August 2018 / Accepted: 3 September 2018 / Published: 7 September 2018
Abstract
The oxygen-evolving complex (OEC) is the native enzyme that catalyzes the oxidation of water in natural photosynthesis. Two new classes of manganese cluster complexes of formula Ba
2
Mn
2
L
1
2
(H
3
L
1
)
2
(CH
3
OH)
4
1
and Mn
4
L
2
6
Cl
2
2
were prepared (H
4
L
1
=
N
,
N
′-(ethane-1,2-diyl)bis(2-hydroxybenzamide); L
2
= methyl picolinimidate) and characterized by standard techniques including microanalysis, IR spectroscopy, ESI spectrometry, and magnetic susceptibility measurements. X-ray diffraction studies of these complexes revealed (i) a box-type structure for
1
formed by two redox-active manganese(III) ions and two barium(II) ions connected by two bridging
bis
amido-bisphenoxy ligand molecules; and (ii) a planar-diamond array for Mn
4
N
6
cluster
2
where the picolinimidates act as chelating ligands through the two nitrogen atoms. The ability of
1
and
2
to split water has been studied by means of water photolysis experiments. In these experiments, the oxygen evolution was measured in aqueous media in the presence of
p
-benzoquinone (acting as the hydrogen acceptor), the reduction of which was followed by UV-spectroscopy. The relevant photolytic activity found for
1
is in contrast to the inactivity of
2
in the photolytic experiments. This different behavior is discussed on the basis of the structure of the biomimetic models and the proposed reaction mechanism for this process supported by DFT calculations.
View Full-Text
►

▼

Figures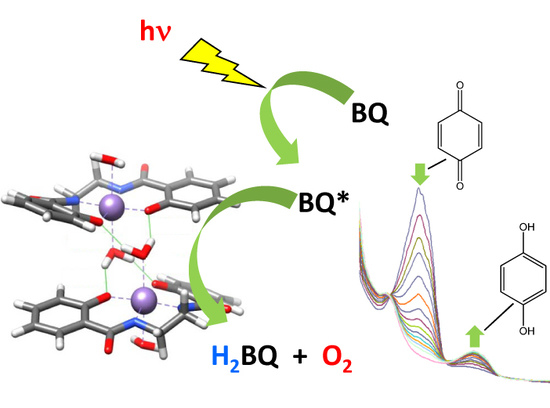 Graphical abstract
This is an open access article distributed under the
Creative Commons Attribution License
which permits unrestricted use, distribution, and reproduction in any medium, provided the original work is properly cited (CC BY 4.0).

Share & Cite This Article
MDPI and ACS Style
Rouco, L.; Fernández-García, M.I.; Pedrido, R.; Botana, L.M.; Esteban-Gómez, D.; Platas-Iglesias, C.; Maneiro, M. Modeling the OEC with Two New Biomimetic Models: Preparations, Structural Characterization, and Water Photolysis Studies of a Ba–Mn Box Type Complex and a Mn4N6 Planar-Diamond Cluster. Catalysts 2018, 8, 382.
Note that from the first issue of 2016, MDPI journals use article numbers instead of page numbers. See further details here.
Related Articles
Comments
[Return to top]