Influence of Transition Metal on the Hydrogen Evolution Reaction over Nano-Molybdenum-Carbide Catalyst
1
Department of Chemical Engineering, School of Chemical Engineering and Light Industry, Guangdong University of Technology, Guangdong 510006, China
2
Energy Conversion Engineering Group, Institute of Regional Innovation (IRI), Hirosaki University, 2-1-3 Matsubara, Aomori 030-0813, Japan
3
School of Materials Science and Engineering, Zhengzhou University, Zhengzhou 450001, China
4
School of Chemistry and Chemical Engineering, Qufu Normal University, Qufu 273100, China
*
Author to whom correspondence should be addressed.
Received: 29 June 2018 / Revised: 18 July 2018 / Accepted: 20 July 2018 / Published: 22 July 2018
Abstract
The highly efficient electrochemical hydrogen evolution reaction (HER) provides a promising way to solve energy and environment problems. In this work, various transition metals (Fe, Co, Ni, Cu, Ag, and Pt) were selected to support on molybdenum carbides by a simple organic-inorganic precursor carburization process. X-ray diffraction (XRD) analysis results indicated that the β-Mo
2
C phase was formed in all metal-doped samples. X-ray photoelectron spectroscopy analysis indicated that the binding energy of Mo
2+
species (Mo
2
C) shifted to a lower value after metal was doped on the molybdenum carbide surface. Comparing with pure β-Mo
2
C, the electrocatalytic activity for HER was improved by transition metal doping on the surface. Remarkably, the catalytic activity improvement was more obvious when Pt was doped on molybdenum carbide (2% Pt-Mo
2
C). The 2% Pt-Mo
2
C required a η
10
of 79 mV, and outperformed that of pure β-Mo
2
C (η
10
= 410 mV) and other transition metal doped molybdenum carbides, with a small Tafel slope (55 mV/dec) and a low onset overpotential (32 mV) in 0.5 M H
2
SO
4
. Also, the 2% Pt-Mo
2
C catalyst demonstrated a high stability for the HER in 0.5 M H
2
SO
4
. This work highlights a feasible strategy to explore efficient electrocatalysts with low cost via engineering on the composition and nanostructure.
View Full-Text
►

▼

Figures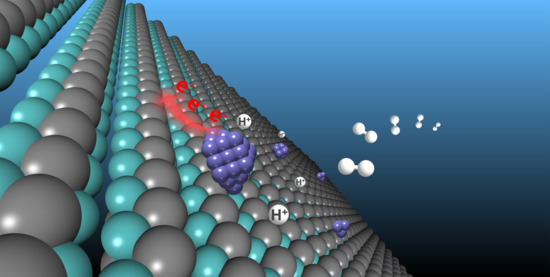 Graphical abstract
This is an open access article distributed under the
Creative Commons Attribution License
which permits unrestricted use, distribution, and reproduction in any medium, provided the original work is properly cited (CC BY 4.0).

Share & Cite This Article
MDPI and ACS Style
Chen, M.; Ma, Y.; Zhou, Y.; Liu, C.; Qin, Y.; Fang, Y.; Guan, G.; Li, X.; Zhang, Z.; Wang, T. Influence of Transition Metal on the Hydrogen Evolution Reaction over Nano-Molybdenum-Carbide Catalyst. Catalysts 2018, 8, 294.
Note that from the first issue of 2016, MDPI journals use article numbers instead of page numbers. See further details here.
Related Articles
Comments
[Return to top]