Oxygen Reduction Reaction and Hydrogen Evolution Reaction Catalyzed by Pd–Ru Nanoparticles Encapsulated in Porous Carbon Nanosheets
1
Guangzhou Key Laboratory for Surface Chemistry of Energy Materials, New Energy Research Institute, School of Environment and Energy, South China University of Technology, Guangzhou Higher Education Mega Centre, Guangzhou 510006, China
2
Guangdong Provincial Key Laboratory of Atmospheric Environment and Pollution Control, Guangdong Provincial Engineering and Technology Research Center for Environmental Risk Prevention and Emergency Disposal, South China University of Technology, Guangzhou Higher Education Mega Centre, Guangzhou 510006, China
3
Department of Clinical Medicine, Fuzhou Medical College of Nanchang University, Fuzhou 344000, China
4
Department of Physics & Engineering, Frostburg State University, Frostburg, MD 21532–2303, USA
5
Department of Chemistry and Biochemistry, University of California, 1156 High Street, Santa Cruz, California, CA 95064, USA
*
Author to whom correspondence should be addressed.
†
These authors contributed equally.
Received: 7 July 2018 / Revised: 25 July 2018 / Accepted: 2 August 2018 / Published: 11 August 2018
Abstract
Developing bi-functional electrocatalysts for both oxygen reduction reaction (ORR) and hydrogen evolution reaction (HER) is crucial for enhancing the energy transfer efficiency of metal–air batteries and fuel cells, as well as producing hydrogen with a high purity. Herein, a series of Pd–Ru alloyed nanoparticles encapsulated in porous carbon nanosheets (CNs) were synthesized and employed as a bifunctional electrocatalyst for both ORR and HER. The TEM measurements showed that Pd–Ru nanoparticles, with a size of approximately 1–5 nm, were uniformly dispersed on the carbon nanosheets. The crystal and electronic structures of the Pd
x
Ru
100−x
/CNs series were revealed by powder X-ray diffraction (XRD) and X-ray photoelectron spectroscopy (XPS). The as-prepared samples exhibited effective ORR activity in alkaline media and excellent HER activity in both alkaline and acid solutions. The Pd
50
Ru
50
/CNs sample displayed the best activity and stability among the series, which is comparable and superior to that of commercial 10% Pd/C. For ORR, the Pd
50
Ru
50
/CNs catalyst exhibited an onset potential of 0.903 V vs. RHE (Reversible Hydrogen Electrode) and 11.4% decrease of the current density after 30,000 s of continuous operation in stability test. For HER, the Pd
50
Ru
50
/CNs catalyst displayed an overpotential of 37.3 mV and 45.1 mV at 10 mA cm
−2
in 0.1 M KOH and 0.5 M H
2
SO
4
, respectively. The strategy for encapsulating bimetallic alloys within porous carbon materials is promising for fabricating sustainable energy toward electrocatalysts with multiple electrocatalytic activities for energy related applications.
View Full-Text
►

▼

Figures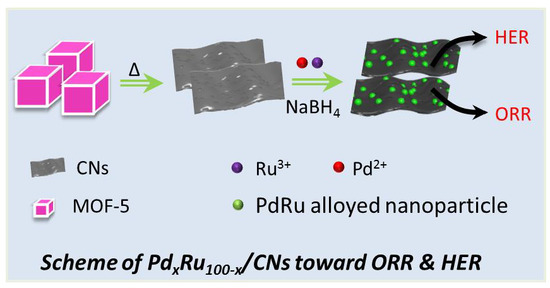 Graphical abstract
This is an open access article distributed under the
Creative Commons Attribution License
which permits unrestricted use, distribution, and reproduction in any medium, provided the original work is properly cited (CC BY 4.0).

Share & Cite This Article
MDPI and ACS Style
Tian, J.; Wu, W.; Tang, Z.; Wu, Y.; Burns, R.; Tichnell, B.; Liu, Z.; Chen, S. Oxygen Reduction Reaction and Hydrogen Evolution Reaction Catalyzed by Pd–Ru Nanoparticles Encapsulated in Porous Carbon Nanosheets. Catalysts 2018, 8, 329.
Note that from the first issue of 2016, MDPI journals use article numbers instead of page numbers. See further details here.
Related Articles
Comments
[Return to top]