Highly Active TiO2 Microspheres Formation in the Presence of Ethylammonium Nitrate Ionic Liquid
1
Faculty of Chemistry, University of Gdansk, 80-308 Gdansk, Poland
2
Faculty of Civil and Environmental Engineering, Escuela Politécnica Nacional, Quito 170525, Ecuador
3
Institute of Physical Chemistry, Polish Academy of Sciences, 01-224 Warsaw, Poland
4
Faculty of Applied Physics and Mathematics, Gdansk University of Technology, 80-233 Gdansk, Poland
5
Department of Analytical Chemistry, Faculty of Chemistry, Gdansk University of Technology, 80-233 Gdańsk, Poland
6
Department of Chemical Technology, Faculty of Chemistry, Gdansk University of Technology, 80-233 Gdansk, Poland
*
Author to whom correspondence should be addressed.
Received: 14 May 2018 / Revised: 13 June 2018 / Accepted: 13 June 2018 / Published: 11 July 2018
Abstract
Spherical microparticles of TiO
2
were synthesized by the ionic liquid-assisted solvothermal method at different reaction times (3, 6, 12, and 24 h). The properties of the prepared photocatalysts were investigated by means of UV-VIS diffuse-reflectance spectroscopy (DRS), Brunauer–Emmett–Teller (BET) surface area measurements, scanning electron microscopy (SEM), X-ray diffraction analysis (XRD), and X-ray photoelectron spectroscopy (XPS). The results indicated that the efficiency of the phenol degradation was related to the time of the solvothermal synthesis, as determined for the TiO
2
_EAN(1:1)_24h sample. The microparticles of TiO
2
_EAN(1:1)_3h that formed during only 3 h of the synthesis time revealed a really high photoactivity under visible irradiation (75%). This value increased to 80% and 82% after 12 h and 24 h, respectively. The photoactivity increase was accompanied by the increase of the specific surface area, thus the poresize as well as the ability to absorb UV-VIS irradiation. The high efficiency of the phenol degradation of the ionic liquid (IL)–TiO
2
photocatalysts was ascribed to the interaction between the surface of the TiO
2
and ionic liquid components (carbon and nitrogen).
View Full-Text
►

▼

Figures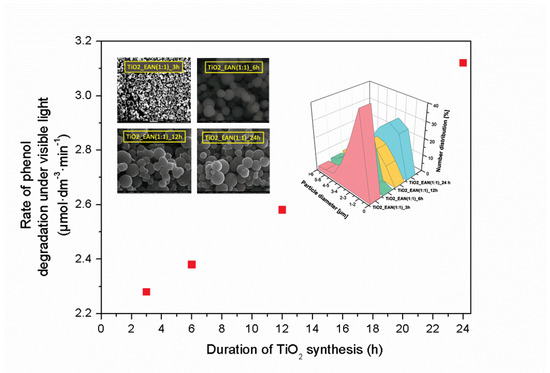 Graphical abstract
This is an open access article distributed under the
Creative Commons Attribution License
which permits unrestricted use, distribution, and reproduction in any medium, provided the original work is properly cited (CC BY 4.0).

Share & Cite This Article
MDPI and ACS Style
Gołąbiewska, A.; Checa-Suárez, M.; Paszkiewicz-Gawron, M.; Lisowski, W.; Raczuk, E.; Klimczuk, T.; Polkowska, Ż.; Grabowska, E.; Zaleska-Medynska, A.; Łuczak, J. Highly Active TiO2 Microspheres Formation in the Presence of Ethylammonium Nitrate Ionic Liquid. Catalysts 2018, 8, 279.
Note that from the first issue of 2016, MDPI journals use article numbers instead of page numbers. See further details here.
Related Articles
Comments
[Return to top]