Synthesis of Sulfur-Resistant TiO2-CeO2 Composite and Its Catalytic Performance in the Oxidation of a Soluble Organic Fraction from Diesel Exhaust
1
College of Environmental Science and Engineering, China West Normal University, Nanchong 637009, China
2
Chemical Synthesis and Pollution Control Key Laboratory of Sichuan Province, College of Chemistry and Chemical Engineering, China West Normal University, Nanchong 637009, China
3
Key Laboratory of Green Chemistry & Technology of the Ministry of Education, College of Chemistry, Sichuan University, Chengdu 610064, China
*
Authors to whom correspondence should be addressed.
Received: 13 May 2018 / Revised: 8 June 2018 / Accepted: 11 June 2018 / Published: 14 June 2018
Abstract
Sulfur poisoning is one of the most important factors deteriorating the purification efficiency of diesel exhaust after-treatment system, thus improving the sulfur resistibility of catalysts is imperative. Herein, ceria oxygen storage material was introduced into a sulfur-resistant titania by a co-precipitation method, and the sulfur resistibility and catalytic activity of prepared TiO
2
-CeO
2
composite in the oxidation of diesel soluble organic fraction (SOF) were studied. Catalytic performance testing results show that the CeO
2
modification significantly improves the catalytic SOF purification efficiency of TiO
2
-CeO
2
catalyst. SO
2
uptake and energy-dispersive X-ray (EDX) results suggest that the ceria doping does not debase the excellent sulfur resistibility of bare TiO
2
, the prepared TiO
2
-CeO
2
catalyst exhibits obviously better sulfur resistibility than the CeO
2
and commercial CeO
2
-ZrO
2
-Al
2
O
3
. X-ray powder diffraction (XRD) and Raman spectra indicate that cerium ions can enter into the TiO
2
lattice and not form complete CeO
2
crystals. X-ray photoelectron spectroscopy (XPS), H
2
-temperature programmed reduction (H
2
-TPR) and oxygen storage capacity (OSC) testing results imply that the addition of CeO
2
in TiO
2
-CeO
2
catalyst can significantly enhance the surface oxygen concentration and oxygen storage capacity of TiO
2
-CeO
2
.
View Full-Text
►

▼

Figures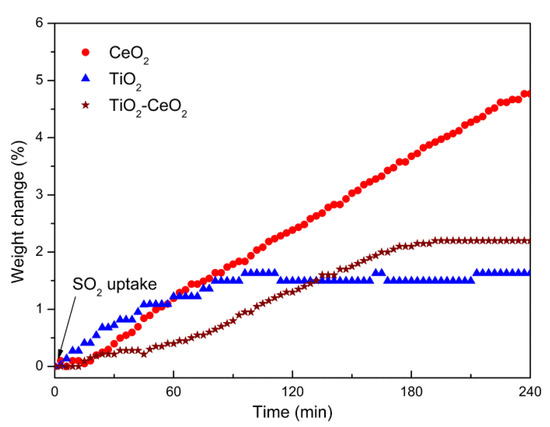 Figure 1
This is an open access article distributed under the
Creative Commons Attribution License
which permits unrestricted use, distribution, and reproduction in any medium, provided the original work is properly cited (CC BY 4.0).

Share & Cite This Article
MDPI and ACS Style
Zhang, N.; Yang, Z.; Chen, Z.; Li, Y.; Liao, Y.; Li, Y.; Gong, M.; Chen, Y. Synthesis of Sulfur-Resistant TiO2-CeO2 Composite and Its Catalytic Performance in the Oxidation of a Soluble Organic Fraction from Diesel Exhaust. Catalysts 2018, 8, 246.
Note that from the first issue of 2016, MDPI journals use article numbers instead of page numbers. See further details here.
Related Articles
Comments
[Return to top]