Open Access This article is
freely available
re-usable
Review
Applications of Immobilized Bio-Catalyst in Metal-Organic Frameworks
Department of Chemistry, Texas A&M University, P.O. Box 30012, College Station, TX 77842-3012, USA
*
Author to whom correspondence should be addressed.
Received: 9 April 2018 / Accepted: 18 April 2018 / Published: 20 April 2018
Abstract
:
Immobilization of bio-catalysts in solid porous materials has attracted much attention in the last few decades due to its vast application potential in ex vivo catalysis. Despite the high efficiency and selectivity of enzymatic catalytic processes, enzymes may suffer from denaturation under industrial production conditions, which, in turn, diminish their catalytic performances and long-term recyclability. Metal-organic frameworks (MOFs), as a growing type of hybrid materials, have been identified as promising platforms for enzyme immobilization owing to their enormous structural and functional tunability, and extraordinary porosity. This review mainly focuses on the applications of
[email protected]
hybrid materials in catalysis, sensing, and detection. The improvements of catalytic activity and robustness of encapsulated enzymes over the free counterpart are discussed in detail.
Keywords:
metal-organic frameworks (MOFs); enzyme immobilization; bio-catalyst; conversion; sensing
1. Introduction
The history of utilizing bio-catalysts in production dates back to thousands of years ago when human learned to make alcohol from sugar via fermentation with the addition of yeast or other microorganisms. With the fusion of ideas from modern protein chemistry and molecular biology, enzymes, as nature's catalysts, have been extensively applied in industrial production, such as drug and food production [
1
,
2
,
3
]. However, these applications are limited by the relatively low stability of enzymes, for example, weak thermal stability and high sensitivity to pH changes, which results in the lack of long-term recyclability and difficulty of separating enzymes from products [
4
,
5
]. A possible strategy to overcome these issues is heterogeneously immobilizing enzymes on solid supports, which keeps enzymes in the confined microenvironment and prevents enzymes from denaturing [
6
,
7
,
8
].
Metal-organic frameworks (MOFs) are an emerging porous materials assembled by the coordination of metal ions or clusters with organic linkers [
9
,
10
,
11
]. MOFs are highly tunable platforms in terms of structure and functionality [
12
,
13
]. Thus, MOFs have shown promising potentials in gas adsorption and separation, catalysis, photosynthesis, biomedicine, and so on [
14
,
15
,
16
,
17
,
18
,
19
,
20
,
21
,
22
,
23
,
24
,
25
]. The high surface area, large pore volume, and high stability of MOFs indicate that they are ideal for enzyme immobilization [
26
,
27
,
28
,
29
,
30
]. This review mainly focuses on the applications of immobilized
[email protected]
materials in biomimetic catalysis and conversion, sensing, and detection. The performance of immobilized enzymes will be compared with the free counterparts and the merits imparted from immobilization will be discussed.
2. Applications of [email protected] Materials in Catalysis, Sensing, and Detection
Due to the high selectivity nature of enzymes, the applications of immobilized
[email protected]
materials are mainly for catalysis, sensing, and detection. Immobilized enzymes are separated by the pores of MOFs, which avoids their aggregation and facilitates high conversion rate. In addition, the physical confinement of the immobilized enzymes by the cavity wall of MOFs prevents the occurrence of protein denaturation.
The synthetic approaches of
[email protected]
materials also play a key role in their practical performances, especially in the aspect of promoting substrate diffusion and prohibiting enzyme leaching. Typically, the synthetic approaches can be classified into two major categories: one-pot synthesis and post-synthetic immobilization. One-pot synthesis, also known as biomineralization or co-precipitation, encapsulates the enzymes in the material through the formation of coordination porous shell structures. The core-shell structure creates diffusion pathways for substrates contacting the encapsulated enzymes. Post-synthetic immobilizations, including the formation of covalent and non-covalent bonds between MOF and enzymes, also provides strong host-guest interactions and accessible enzyme active sites.
2.1. Biomimetic Catalysis and Conversion
2.1.1. Chemical Conversion
2.1.2. Protein Digestion and Chemical Degradation
2.1.3. Tandem Reaction with Multiple Enzymes
Tandem reaction is a chemical process that comprises at least two consecutive reactions [
42
]. The products of the previous step become the substrates in the next step of the reaction under the same condition without the necessity of isolating the intermediates. Thus, compared with single enzyme immobilization, more delicate designs are needed to immobilize multiple enzymes in the same system to catalyze tandem reactions.
Inspired by the hierarchical structure and ligand extension strategy, PCN-888 was rationally designed as a tandem nanoreactor that possessed even larger cavities for the co-encapsulation of HRP and GOx (
Figure 5
) [
41
]. The loading order of the two enzymes (GOx first, HRP second) was essential for the preparation of the bi-enzyme nanoreactor. The reversed order would end up loading HRP in both large and intermediate pores and attaching GOx only on the MOF surface. In the bi-enzyme system, GOx catalyzed the oxidation of glucose by oxygen, yielding gluconolactone and hydrogen peroxide. The latter was the substrate in the conversion of ABTS to ABTS
+
catalyzed by HRP. The generation of ABTS
+
, as monitored by UV–VIS spectroscopy at 403 nm, was utilized to trace the reaction. The leaching of enzymes from PCN-888 was negligible, which could be due to the presence of the π-π interaction between the enzyme and the conjugated heptazine core and terminal benzene rings on the ligands.
A recent work by Zhou et al. reported the encapsulation of two antioxidative enzymes, SOD and CAT, in fluorescent nanoscale PCN-333 (FNPCN-333) for the removal of toxic reactive oxygen species from human cells [
43
]. SOD catalyzes the disproportionation of superoxide and generates hydrogen peroxide and oxygen. Hydrogen peroxide is further decomposed into water and oxygen catalyzed by CAT. The loading of SOD and CAT was conducted in a similar stepwise manner. The as-synthesized "nanofactory" was tested to be stable in the acidic environment and was enzymatically functional in endocytic organelles. Compared with free enzymes, the
[email protected]
nanofactory demonstrated intracellular enzymatic activity for up to a week, thanks to the MOF protection against the proteolytic digestion and acidic organelle environment.
2.2. Applications in Sensing and Detection
3. Conclusions
In summary, we reviewed a variety of applications of MOF-based immobilized bio-catalysts in chemical conversion, protein digestion, tandem reaction, sensing, and detection. MOFs, as the porous solid supports, normally provide the separation of enzymes (in other words, avoiding aggregation), shielding for enzymes against perturbation conditions, cavity micro-environment that may benefit MOF-enzyme interaction and substrate diffusion, and potential catalytic sites from metal clusters or organic linkers. These benefiting factors, in turn, offer better reusability and better catalytic activity compared to free enzymes. However, it is worth noting that even though this area has been studied for almost a decade, there is still a large gap between benchtop results and practical applications. Many of the catalytic reactions and protein digestion cases are proof-of-concept models at ex vivo conditions. The specific interaction sites between the framework of MOFs and biocatalysts are largely unknown. The same statement can be made for the exact effect of the confined environment in MOF cavities on the diffusion of the substrate and product. The size matching between MOFs' pores and enzymes plays a key role in the encapsulation approach as shown in some examples mentioned. The large enzyme may not be able to enter small MOF pores via post-synthetic method, whereas small enzymes may suffer from leaching problems in large pores. The rational design of MOFs that matches the size of enzymes well and provides excellent substrates/products would be of great interest for future study. In addition, few reported examples have shown the capability to immobilize multiple enzymes in one MOF system for tandem reactions. The development of the multi-enzyme systems would have the potential to gain more commercial popularity owing to their multifunctionalities.
Acknowledgments
This work was supported by the Robert A. Welch foundation through the Welch Endowed Chair to HJZ (A-0030) and the Strategic Transformative Research Program, College of Science, Texas A&M University.
Author Contributions
This is a review paper. Q.W. and X.L. discussed the scope and the content of the review. Q.W. wrote the manuscript. X.L. and Y.F. edited the manuscript.
Conflicts of Interest
The authors declare no conflict of interest.
Abbreviations
ABTS
2,2′-Azino-bis(3-ethylbenzothiazoline-6-sulphonic acid)
BPYDC
2,2′-bipyridine 5,5′-dicarboxylate
BSA
Bovine serum albumin
CAL-B
Candida-antarctica-lipase-B
CAT
Catalase
CIE
Carbon ink electrode
CYCU
Chung Yuan Christian University
Cyt c
Cytochrome c
DCC

N

,

N

′-Dicyclohexylcarbodiimide
DMF

N

,

N

′-Dimethylformimade
EDC
1-Ethyl-3-(3-dimethylaminopropyl)carbodiimide
EGFP
Enhanced green fluorescent protein
ETTC
4′,4″,4‴,4‴′-(ethene-1,1,2,2-tetrayl)tetrakis-([1,1′-biphenyl]-4-carboxylate)
FITC
Fluorescein isothiocyanate
GDH
Glucose dehydrogenase
GOx
Glucose oxidase
HRP
Horseradish peroxidase
MCM
Mobil Composition of Matter
MEE
Multi-enzyme encapsulation
MG
Methylene green
MOF
Metal organic framework
MP-11
Microperoxidase-11
NBD
4-Chloro-7-nitrobenzofurazan
NP
Nanoparticle
OPAA
Organophosphorus acid anhydrolase
PCN
Porous coordination network
PDA
1,4-phenylenediacetic acid
SDC
4,4′-stilbenedicarboxylic acid
SEE
Single-enzyme encapsulation
SOD
Superoxide dismutase
TATB
Triazine-1,3,5-tribenzoate
TMB
Tetramethylbenzidine
ZIF
Zeolitic imidazolate frameworks

Figure 1.
Schematic representation of the bioconjugation of the 1D-polymer, [(Et
2
NH
2
)(In(pda)
2
)]
n
, with EGFP. Fluorescence microscopic images of EGFP coatedMOFs. (
a
) 1D + EGFP; (
b
) 2D + EGFP; (
c
) 3D + EGFP. An Olympus WIB filter set (λ
em
= 460–490 nm; λ
em
> 515 nm) was used for recording the fluorescence [
31
]; and (
d
) the catalytic reaction of racemate and the product enantiomers. Reproduced from [
31
] with permission from the Royal Society of Chemistry, copyright 2011.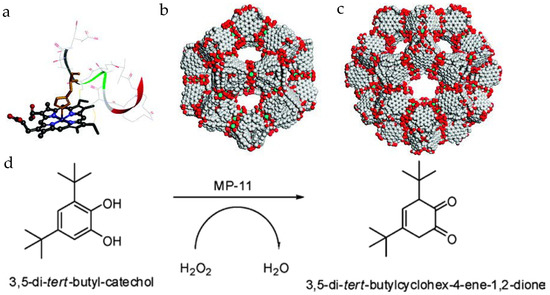 Figure 2.
(
a
) Molecular structure of MP-11 (obtained from the solution structure of PDB 1OCD); (
b
) the 3.9 nm-diameter cage; (
c
) the 4.7 nm-diameter cage in Tb-mesoMOF; and (
d
) the reaction scheme for oxidation of 3,5-di-t-butylcatechol to
o
-quinone [
32
]. Reproduced from [
32
] with permission from American Chemical Society, copyright 2011.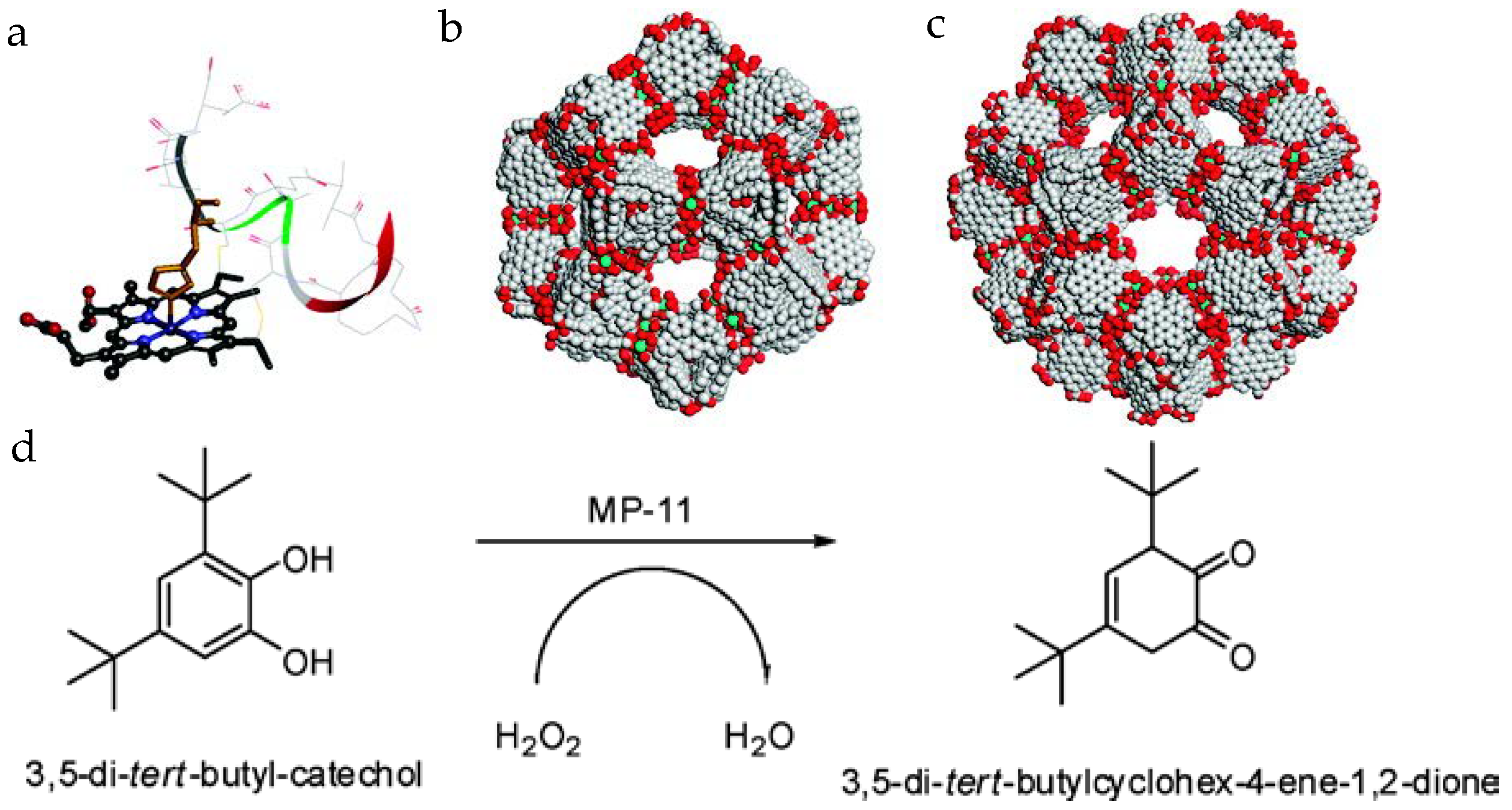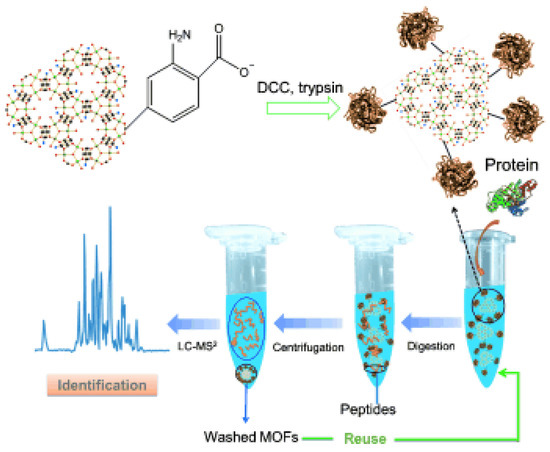 Figure 4.
Schematic of trypsin immobilization on MIL-88B-NH
2
(Cr), protein digestion through trypsin-MOF, and identification by LC-MS
2
. Reproduced from [
39
] with permission from John Wiley and Sons, copyright 2012.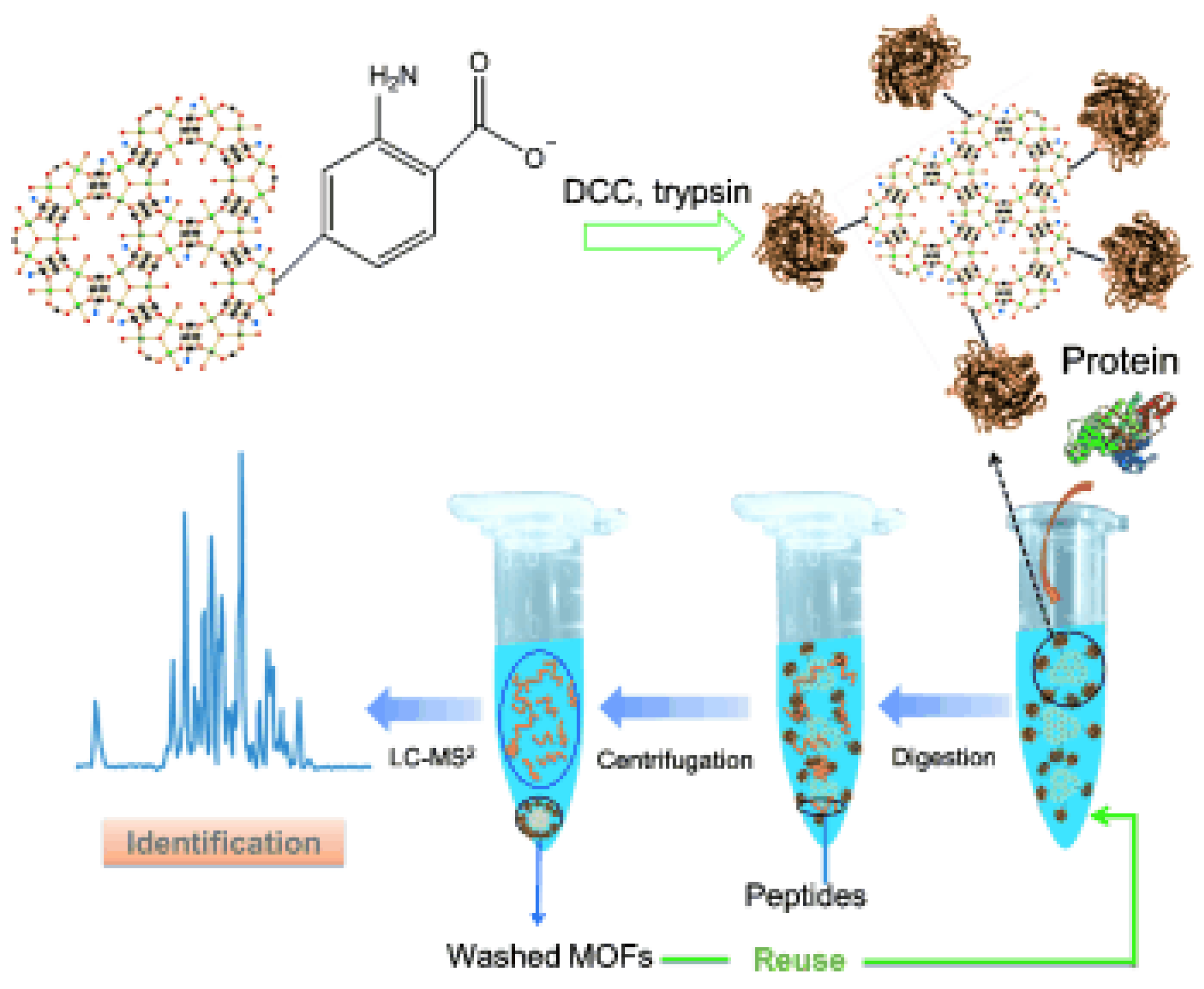 Figure 5.
Schematic of the results of the stepwise encapsulation of GOx and HRP with different loading orders in PCN-888. Reproduced from [
41
] with permission from Royal Society of Chemistry, copyright 2016.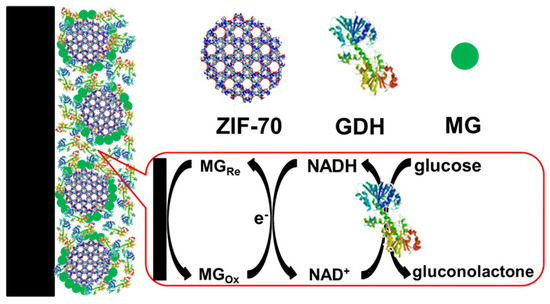 Figure 6.
Schematic of the design of ZIF-70-based electrochemical biosensor. Reproduced from [
46
] with permission from American Chemical Society, copyright 2013.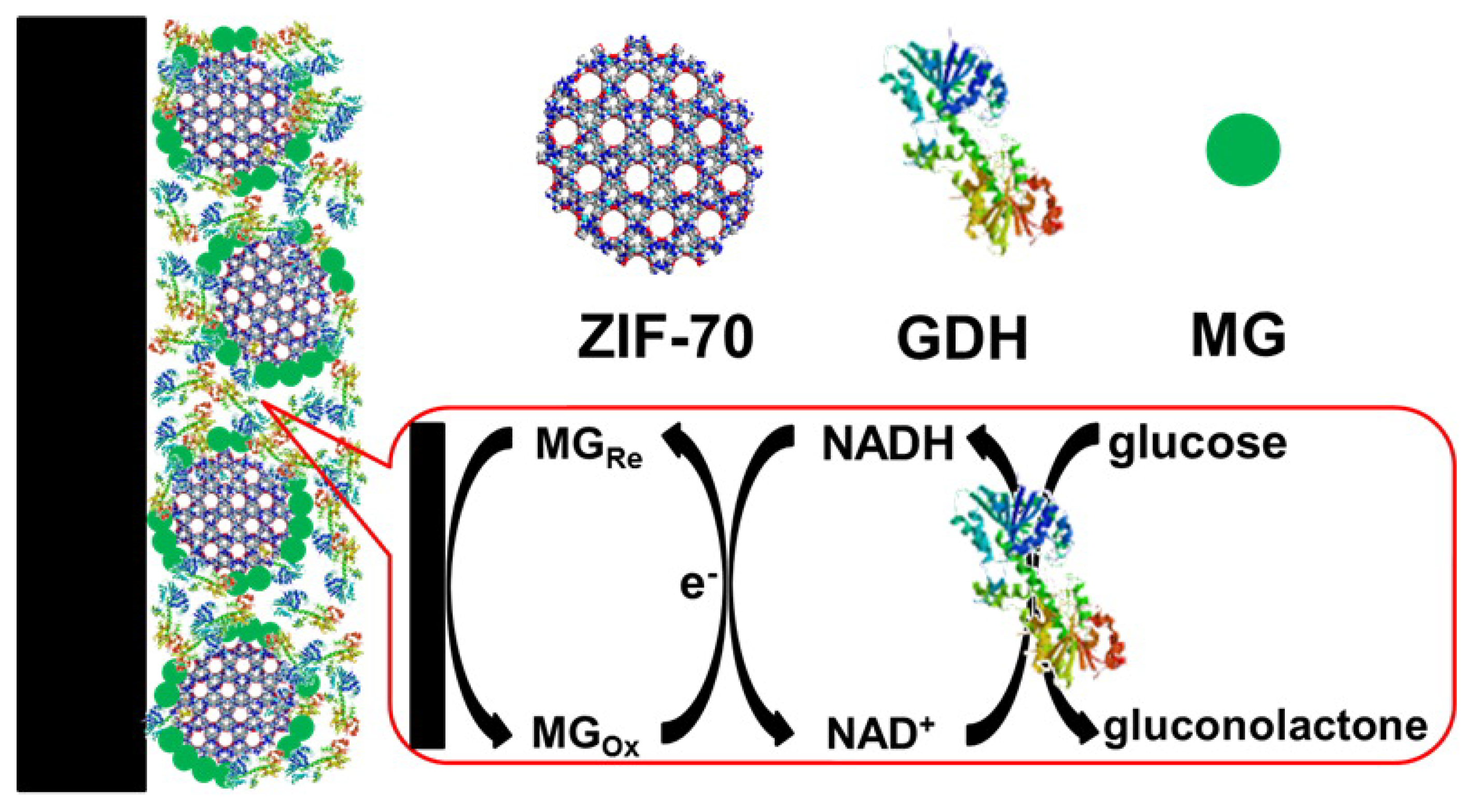 © 2018 by the authors. Licensee MDPI, Basel, Switzerland. This article is an open access article distributed under the terms and conditions of the Creative Commons Attribution (CC BY) license (http://creativecommons.org/licenses/by/4.0/).