The Effects of Coordinated Molecules of Two Gly-Schiff Base Copper Complexes on Their Oxygen Reduction Reaction Performance
College of Chemistry and Chemical Engineering, Liaocheng University, Liaocheng 252059, China
*
Authors to whom correspondence should be addressed.
Received: 23 March 2018 / Revised: 8 April 2018 / Accepted: 10 April 2018 / Published: 12 April 2018
Abstract
In this study, two simple Schiff base copper complexes [Cu(H
2
O)
2
(HL)]·2H
2
O (Complex
1
) (H
3
L = 2-OH-4-(OH)-C
6
H
2
CH=NCH
2
CO
2
H) and [Cu(py)
2
(HL)] (Complex
2
) (Py = pyridine) were initially achieved and authenticated by single-crystal X-ray structure analyses (SXRD), powder X-ray diffraction analyses (PXRD), FT-IR spectroscopy, and elemental analyses. The SXRD reveals that the Cu
2+
center in Complex
1
exhibited a distorted square pyramidal geometry, which is constructed based on phenolate oxygen, water molecules, carboxylate oxygen, and imine nitrogen from a deprotonated H
3
L ligand in an NO
4
fashion. The Cu
2+
atom in Complex
2
had distorted square pyramidal geometry, and was coordinated with two pyridine molecules and one Gly-Schiff base ligand, exhibiting an N
3
O
2
binding set. Additionally, the free water molecules in Complex
1
linked independent copper complexes by intermolecular hydrogen bond to form a 2D framework. However, the one-dimensional chain supramolecular structure of Complex
2
was formed by the intermolecular O–H…O hydrogen bonds. The oxygen reduction performance of the two complexes was analyzed by cyclic voltammetry (CV) and the rotating disk electrode (RDE) method. Both complexes could catalyze the conversion of oxygen to water through a predominant four-electron pathway, and the Cu–N
x
O
y
moieties might be the functional moieties for the catalytic activity. The catalytic pathways and underlying mechanisms are also discussed in detail, from which the structure–activity relationship of the complexes was obtained.
View Full-Text
►

▼

Figures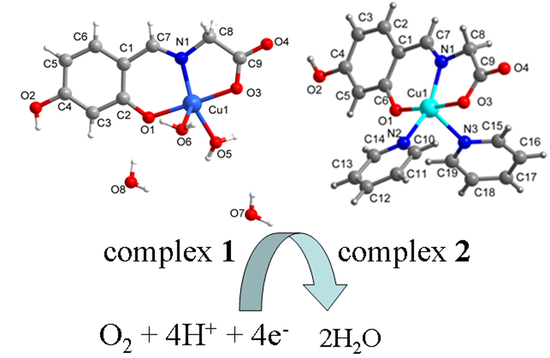 Graphical abstract
This is an open access article distributed under the
Creative Commons Attribution License
which permits unrestricted use, distribution, and reproduction in any medium, provided the original work is properly cited (CC BY 4.0).

Share & Cite This Article
MDPI and ACS Style
Ma, Z.; Chu, Y.; Fu, C.; Du, H.; Huang, X.; Zhao, J. The Effects of Coordinated Molecules of Two Gly-Schiff Base Copper Complexes on Their Oxygen Reduction Reaction Performance. Catalysts 2018, 8, 156.
Note that from the first issue of 2016, MDPI journals use article numbers instead of page numbers. See further details here.
Related Articles
Comments
[Return to top]