Catalytic Conversion of Model Tars over Carbon-Supported Ni and Fe
1
Department of Wood Engineering, Chemical Engineering School, University of Bio-Bio, Concepcion 4030000, Chile
2
Group of Nanomaterials and Catalysts for Sustainable Processes (NanoCatpPS), Wood Engineering Department, University of Bio-Bio, Concepcion 4030000, Chile
3
Department of Chemical Engineering, University of Concepcion, Concepcion 4030000, Chile
4
Unit of Technological Development, University of Concepcion, Concepcion 4030000, Chile
5
Fraunhofer UMSICHT, Institute for Environmental, Safety and Energy Technology, 46047 Oberhausen, Germany
*
Authors to whom correspondence should be addressed.
Received: 9 February 2018 / Revised: 5 March 2018 / Accepted: 15 March 2018 / Published: 17 March 2018
Abstract
Tar removal from gasification gases is a determinant step to guarantee the operational feasibility of gasification-to-chemicals/energy systems. This study aimed to develop novel carbon-supported catalysts for the elimination of tarry aromatics (toluene, naphthalene and benzene) from gasification gases. Effects of reaction temperature (700 < T < 900 °C) and catalyst nature (Fe
0
and Ni
0
) on the activity were assessed by considering thermo-catalytic conversion and steam reforming, under a simulated gasification gas. The catalysts (Ni and Fe) and support (AC) were characterized by X-ray diffraction (XRD), N
2
physisorption, thermogravimetric analysis (TGA), transmission electron microscopy (TEM) and compositional analyses. Both catalysts and support, presented a mesoporous-like texture with a considerable high surface area (690 < S
BET
< 743 m
2
/g). Furthermore, dispersion of the metal nanoparticles (active phase) was uniform as confirmed by TEM images. Results from activity tests suggest that Ni/AC has higher effectivity for converting tars than Fe/AC, as confirmed by the low apparent activation energies (34 < E
app
< 98 kJ/mol) for naphthalene and benzene conversion between 700 and 900 °C. The conversion was 100% above 850 °C; nevertheless; below 750 °C, a sharp reduction in benzene conversion was observed, which was attributed to reversible carbon deposition.
View Full-Text
►

▼

Figures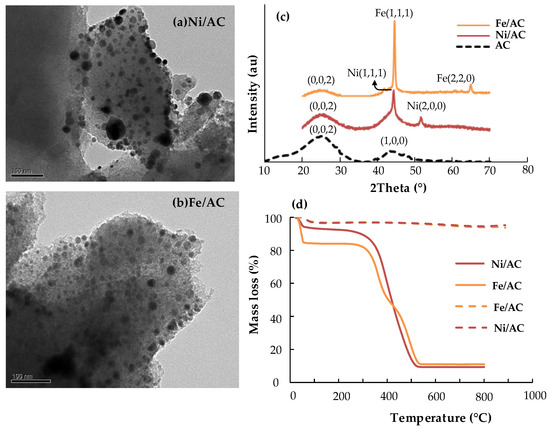 Figure 1
This is an open access article distributed under the
Creative Commons Attribution License
which permits unrestricted use, distribution, and reproduction in any medium, provided the original work is properly cited (CC BY 4.0).

Share & Cite This Article
MDPI and ACS Style
Arteaga-Pérez, L.E.; Delgado, A.M.; Flores, M.; Olivera, P.; Matschuk, K.; Hamel, C.; Schulzke, T.; Jiménez, R. Catalytic Conversion of Model Tars over Carbon-Supported Ni and Fe. Catalysts 2018, 8, 119.
Note that from the first issue of 2016, MDPI journals use article numbers instead of page numbers. See further details here.
Related Articles
Comments
[Return to top]