Galactooligosaccharide Production from
Pantoea anthophila

Strains Isolated from "Tejuino", a Mexican Traditional Fermented Beverage

1

Industrial Biotechnology, CIATEJ, Av. Normalistas 800, Guadalajara 44270, Mexico

2

Instituto de Catalisis y Petroleoquimica, CSIC, Madrid 28049, Spain

*

Author to whom correspondence should be addressed.

Received: 2 August 2017 / Revised: 15 August 2017 / Accepted: 16 August 2017 / Published: 22 August 2017
Abstract
Two
Pantoea anthophila
bacterial strains were isolated from "tejuino", a traditional Mexican beverage, and studied as β-galactosidase producers for galactooligosaccharides synthesis. Using 400 g/L of lactose, 50 °C, and 15 U/mL of β-galactosidase activity with ethanol-permeabilized cells, the maximum galactooligosaccharides (GOS) yield determined by High performance anion exchange chromatography with pulse amperometric detection (HPAEC-PAD) was 136 g/L (34%
w
/
w
of total sugars) at 96% of lactose conversion for Bac 55.2 and 145 g/L (36%
w
/
w
of total sugars) at 94% of lactose conversion for Bac 69.1. The main synthesized products were the disaccharides allolactose [Gal-β(1 → 6)-Glc] and 6-galactobiose [Gal-β(1 → 6)-Gal], as well as the trisaccharides 3′-galactosyl-lactose [Gal-β(1 → 3)-Gal-β(1 → 4)-Glc], 6-galactotriose [Gal-β(1 → 6)-Gal-β(1 → 6)-Gal], 3′-galactosyl-allolactose [Gal-β(1 → 3)-Gal-β(1 → 6)-Glc], and 6′-galactosyl-lactose [Gal-β(1 → 6)-Gal-β(1 → 4)-Glc]. The β-galactosidases present in both strains showed a high transgalactosylation activity and formed principally β(1 → 3) and β(1 → 6) linkages. Considering the stability and bifidogenic properties of GOS containing such types of bonds,
P. anthophila
strains Bac 55.2 and Bac 69.1 possess a high potential as novel biocatalysts for prebiotic industrial production.
View Full-Text
►

▼

Figures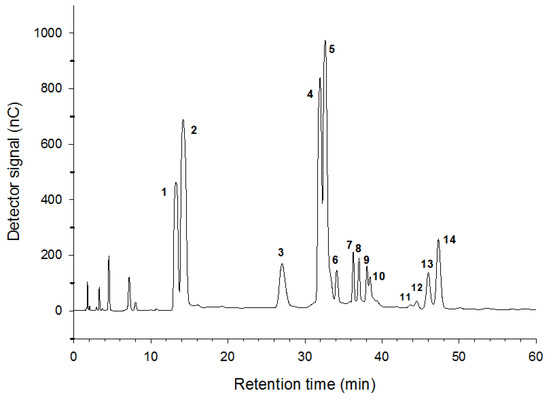 Figure 1
This is an open access article distributed under the
Creative Commons Attribution License
which permits unrestricted use, distribution, and reproduction in any medium, provided the original work is properly cited (CC BY 4.0).

Share & Cite This Article
MDPI and ACS Style
Yañez-Ñeco, C.V.; Rodriguez-Colinas, B.; Amaya-Delgado, L.; Ballesteros, A.O.; Gschaedler, A.; Plou, F.J.; Arrizon, J. Galactooligosaccharide Production from Pantoea anthophila Strains Isolated from "Tejuino", a Mexican Traditional Fermented Beverage. Catalysts 2017, 7, 242.
Note that from the first issue of 2016, MDPI journals use article numbers instead of page numbers. See further details here.
Related Articles
Comments
[Return to top]