Steam Reforming of Bio-Compounds with Auto-Reduced Nickel Catalyst
School of Chemical and Process Engineering, University of Leeds, Leeds LS2 9JT, UK
*
Author to whom correspondence should be addressed.
Received: 15 February 2017 / Revised: 31 March 2017 / Accepted: 31 March 2017 / Published: 13 April 2017
Abstract
As an extension of chemical looping combustion, chemical looping steam reforming (CLSR) has been developed for H2 production. During CLSR, a steam reforming (SR) process occurs following the reduction of catalysts by the reforming feedstock itself (termed "auto-reduction"), as opposed to a separate, dedicated reducing agent like H2. This paper studied SR performances of four common bio-compounds (ethanol, acetone, furfural, and glucose) with a nickel catalyst that had undergone auto-reduction. A packed bed reactor was used to carry out the experiment of auto-reduction and subsequent SR. The effects of temperature and steam to carbon ratio (S/C) on the carbon conversions of the bio-compounds to gases and yields of gaseous products were investigated. The carbon deposition on spent catalysts was characterized by CHN elemental analysis and Scanning Electron Microscopy-Energy Dispersive X-ray Spectroscopy (SEM-EDX). The SR performance with the auto-reduced catalyst was close to that with the H2-reduced catalyst. In general, an increase in temperature or S/C would lead to an increase in H2 yields. The dependence of SR performance on temperature or S/C was specific to the type of bio-compounds. Accordingly, the main bottlenecks for SR of each bio-compound were summarized. A large amount of CH4 existed in the reforming product of ethanol. Severe carbon deposition was observed for SR of acetone at temperatures below 650 °C. A high thermal stability of furfural molecules or its derivatives restricted the SR of furfural. For SR of glucose, the main problem was the severe agglomeration of catalyst particles due to glucose coking.
View Full-Text
►

▼

Figures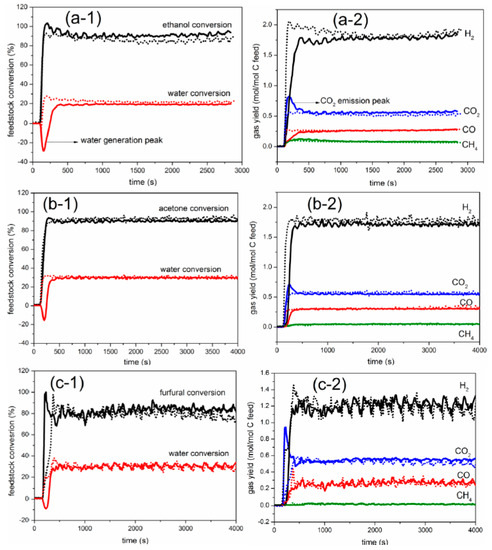 Figure 1
This is an open access article distributed under the
Creative Commons Attribution License
which permits unrestricted use, distribution, and reproduction in any medium, provided the original work is properly cited (CC BY 4.0).

Share & Cite This Article
MDPI and ACS Style
Cheng, F.; Dupont, V. Steam Reforming of Bio-Compounds with Auto-Reduced Nickel Catalyst. Catalysts 2017, 7, 114.
Note that from the first issue of 2016, MDPI journals use article numbers instead of page numbers. See further details here.
Related Articles
Comments
[Return to top]