Design of Cobalt Nanoparticles with Tailored Structural and Morphological Properties via O/W and W/O Microemulsions and Their Deposition onto Silica
1
Istituto per lo Studio dei Materiali Nanostrutturati (ISMN)−CNR, Via Salaria Km 29.3, 00015, Monterotondo, Roma, Italy
2
Division of Chemical Technology, Department of Chemical Engineering and Technology, Royal Institute of Technology (KTH), Teknikringen 42, 10044, Stockholm, Sweden
3
Istituto per lo Studio dei Materiali Nanostrutturati (ISMN)–CNR, via Ugo La Malfa 153, 90146, Palermo, Italy
4
Centro de Investigación en Materiales Avanzados, S. C. (CIMAV), Unidad Monterrey, Alianza Norte 202, 66600 Apodaca, Nuevo León, Mexico
5
Instituto de Química Avanzada de Cataluña, Consejo Superior de Investigaciones Científicas (IQAC-CSIC), CIBER en Biotecnología, Biomateriales y Nanomedicina (CIBER BBN), Jordi Girona 18-26, 08034 Barcelona, Spain
*
Author to whom correspondence should be addressed.
†
These authors contributed equally to this work.
Academic Editor: Keith Hohn
Received: 26 December 2014 / Revised: 18 February 2015 / Accepted: 27 February 2015 / Published: 19 March 2015
Abstract
Cobalt nanostructures with different size and morphology,
i.e.
, spherical nanoparticles, nanorods, and particles arranged into elongated structures, were prepared using micelles and microemulsions as confined reaction media. The syntheses were carried out using three types of systems: aqueous surfactant solutions, oil-in water (O/W), and water-in-oil (W/O) microemulsions. The influence of the surfactant and the precipitating agent used for synthesis was also investigated. For this purpose, cobalt nanostructures were prepared using different non-ionic surfactants, namely Synperonic
®
10/6, Pluronic
®
P123 and a mixture of SPAN 20–TWEEN 80. Three different precipitating agents were used: sodium borohydride, sodium hydroxide, and oxalic acid. Our findings revealed that by changing the type of reaction media as well as the precipitating agent it is possible to modify the shape and size of the cobalt nanostructures. Moreover, the use of O/W microemulsion generates better results in terms of colloidal stability and uniformity of particle size with respect to W/O microemulsion. The different cobalt nanostructures were supported on commercial and mesoporous silica; transmission electron microscopy (TEM) images showed that after deposition the Co nanocrystals remain well dispersed on the silica supports. This behavior suggests their great potential in catalytic applications.
View Full-Text
►

▼

Figures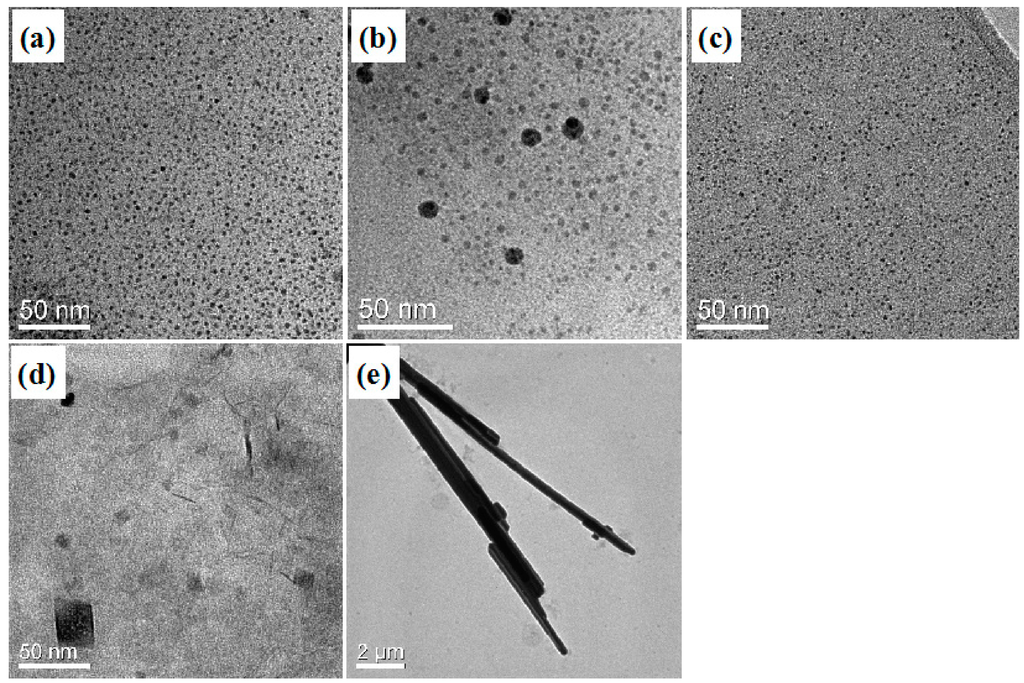 Figure 1
This is an open access article distributed under the
Creative Commons Attribution License
which permits unrestricted use, distribution, and reproduction in any medium, provided the original work is properly cited (CC BY 4.0).

Share & Cite This Article
MDPI and ACS Style
Carlo, G.D.; Lualdi, M.; Venezia, A.M.; Boutonnet, M.; Sanchez-Dominguez, M. Design of Cobalt Nanoparticles with Tailored Structural and Morphological Properties via O/W and W/O Microemulsions and Their Deposition onto Silica. Catalysts 2015, 5, 442-459.
Related Articles
Comments
[Return to top]