Open Access This article is
freely available
re-usable
Review
Complex DNA Damage: A Route to Radiation-Induced Genomic Instability and Carcinogenesis
1
DNA Damage Laboratory, Physics Department, School of Applied Mathematical and Physical Sciences, National Technical University of Athens, Zografou Campus, 15780 Athens, Greece
2
Department of Pediatrics and Adolescent Medicine, Mayo Clinic, Rochester, MN 55905, USA
3
Mayo Medical Scientist Training Program, Mayo Medical School and Mayo Graduate School, Mayo Clinic, Rochester, MN 55905, USA
4
Department of Molecular Pharmacology and Experimental Therapeutics, Mayo Clinic, Rochester, MN 55905, USA
5
First Department of Pediatrics, "Aghia Sophia" Children's Hospital, Medical School, University of Athens, 11527 Athens, Greece
*
Author to whom correspondence should be addressed.
Academic Editor: Samuel C. Mok
Received: 26 May 2017 / Accepted: 14 July 2017 / Published: 18 July 2017
Abstract
:
Cellular effects of ionizing radiation (IR) are of great variety and level, but they are mainly damaging since radiation can perturb all important components of the cell, from the membrane to the nucleus, due to alteration of different biological molecules ranging from lipids to proteins or DNA. Regarding DNA damage, which is the main focus of this review, as well as its repair, all current knowledge indicates that IR-induced DNA damage is always more complex than the corresponding endogenous damage resulting from endogenous oxidative stress. Specifically, it is expected that IR will create clusters of damage comprised of a diversity of DNA lesions like double strand breaks (DSBs), single strand breaks (SSBs) and base lesions within a short DNA region of up to 15–20 bp. Recent data from our groups and others support two main notions, that these damaged clusters are: (1) repair resistant, increasing genomic instability (GI) and malignant transformation and (2) can be considered as persistent "danger" signals promoting chronic inflammation and immune response, causing detrimental effects to the organism (like radiation toxicity). Last but not least, the paradigm shift for the role of radiation-induced systemic effects is also incorporated in this picture of IR-effects and consequences of complex DNA damage induction and its erroneous repair.
Keywords:
ionizing radiation effects; DNA damage and repair; complex DNA damage; carcinogenesis; immune response; radiation therapy
2. Clustered DNA Lesions. A Challenge to Detect, a Challenge to Repair
2.1. Biological Significance and Detection of Clustered DNA Damage
Towards the history and advances in the field of experimental detection of clustered DNA lesions, the reader can refer to the above mentioned references. Current research in this field is based on the idea that theory and predictions do not always coincide with experimental evidence. The major challenges towards the detection of clustered DNA damages have been: (1) the accurate measurement of DSBs and OCDLs levels and their types, especially at the cellular level and (2) theirin situ detection and reliable quantitative measurement.
2.2. The Epigenetic Biomarker γH2AX Detects DNA Double-Strand Breaks
2.3. Using Fluorescence Microscopy for the in situ Detection of Complex DNA Damage. A Useful Tool
The study of complex DNA damage in terms of in situ detection involves the concept of DNA repair colocalization (DNA repair centers) as previously introduced for DSBs [
43
,
85
] and non-DSB damage [
29
,
43
,
64
]. The term "colocalization" actually refers to the spatiotemporal coexistence of two or more proteins of different type. The detection of complex DNA lesions consisting of a variety of DSBs and OCDLs is made possible through the visualization of proteins participating in a distinct DNA repair mechanism, e.g. one protein participating in the base excision repair (BER) processing base lesions and another one participating in the homologous recombination (HR) or the non-homologous end joining (NHEJ) for the repair of DSBs. As shown in
Figure 2
, upon the induction of a cluster of DNA lesions, several DNA repair pathways and proteins will be involved. For short-patch BER, a DNA glycosylase will arrive, excise the damaged base and the repair will be completed presumably by the human AP endonuclease 1 (APE1), a polymerase and ligase III to seal the broken ends. In the nearby DSB area (within a few bp apart), the Ku heterodimer (Ku70/80) initiates NHEJ by binding to the free DNA ends and engaging other NHEJ factors such as DNA-dependent protein kinase (DNA-PK), XRCC4, and DNA Ligase IV to the site of the break. DNA-PK becomes activated upon DNA binding, and phosphorylates a number of substrates including p53, Ku, and DNA Ligase IV cofactor XRCC4. Phosphorylation of these factors is believed to further facilitate the processing of the break. Finally, in order for ligation to occur, a partial processing of the ends by nucleases Artemis, MRE11/Rad50/NBS1 complex and FEN-1 is taking place.
Although the in situ immunofluorescence has been extensively utilized for the detection of single/simple DNA damage including one type of lesions [
74
,
86
,
87
,
88
], the simultaneous detection of DSBs and non-DSB lesions has been reported only in a few studies [
43
,
64
,
89
]. The difficulty in achieving visualization of base lesions, in terms of foci, lies in the fact that only a few molecules of every specific DNA repair protein (e.g., OGG1, NTH1, APE1 etc.) are taking part in the repair of a single lesion, in contrast with DSB repair where hundreds/thousands of molecules of the same DNA repair protein (like γH2AX/53BP1) may contribute to the process, as discussed above. Moreover, unlike γH2AX protein which becomes present mainly upon a DSB formation, most of the non-DSB repair proteins have endogenous concentrations within the cell nucleus, therefore resulting in increased background signal. A pre-extraction step in the experimental procedure, as well as the introduction of the
Pclc
colocalization parameter in image analysis [
64
] have helped researchers overcome these obstacles (
Figure 1
). In
Figure 1
, the theoretical description of the
Pclc
-parameter is given in detail (panel A), along with its application for the detection of complex DNA damage (panel B) and an additional application for the derivation of useful data regarding the localization of DNA repair proteins in euchromatin/heterochromatin regions (panel C).
3. Complex DNA Damage, Immune Signaling and Systemic Effects. A Puzzling Case of Triage for the Cell
4. Clinical Implications of Complex DNA Damage
5. Concluding Remarks
In this mini-review, we present the idea of complex (clustered DNA damage), the signature of IR, by a different perspective that of its clinical implications and its involvement in the route to carcinogenesis. As recently discussed in Pateras et al. [
109
], enthralling evidence supports the idea that DNA damage response and repair (DDR/R) and immune response signaling networks work together towards the proper function of organisms and homeostasis. We believe that there is a strong linkage between the induction of complex DNA damage, deficient or incomplete DNA repair, constant DDR/R triggering and the continuous activation of the immune system. This vicious relationship which is usually accompanied by GI can be considered without any doubt as the major pathway leading to carcinogenesis [
144
,
145
]. Chronic inflammation which is synonymous to the activation of innate immune system can lead to the downregulation of DNA repair pathways and cell cycle checkpoints due to the release of inflammatory mediators and ROS which can lead to GI [
146
]. Towards this direction, Colotta et al. suggested a few years ago, that cancer-related inflammation can promote GI by the various inflammatory mediators, leading to accumulation of random genetic modification in cancer or healthy cells. According to the authors, this cancer-relating inflammation represents the seventh hallmark of cancer [
147
] in addition to the six hallmarks suggested initially by Hanahan and Weinberg [
148
]. The understanding of the mechanisms that repair-resistant DNA damage is processed by the cells will benefit significantly therapeutic applications maximizing tumor killing and minimizing radiation toxicity for the cancer patient under RT.
Therefore, one can easily understand the importance of detecting correctly not only DSBs but also all other forms of non-DSB clustered lesions (OCDLs) and especially in the context of chromatin. A special effort must be made by the scientific community to optimize the specificity and accuracy of all current methodologies for the detection of complex DNA damage in situ and even better under live-cell imaging conditions.
Acknowledgments
This research has been financed by the "Research Projects for Excellence IKY/SIEMENS" awarded to Ifigeneia V. Mavragani and Alexandros G. Georgakilas.
Conflicts of Interest
The authors declare no conflict of interest. The founding sponsors had no role in the design of the study; in the collection, analyses, or interpretation of data; in the writing of the manuscript, and in the decision to publish the results.
Abbreviations
The following abbreviations are used in this manuscript:
| | |
| --- | --- |
| AP | Apurinic/apyrimidinic |
| BER | Base excision repair |
| bp | Base pairs |
| DAMPs | Damage-associated molecular patterns |
| DNA | Deoxyribonucleic acid |
| DDR/R | DNA damage response and repair |
| DSB | Double strand break |
| GI | Genomic instability |
| HMGB-1 | High-mobility group box 1 |
| IL | Interleukin |
| IR | Ionizing radiation |
| HR | Homologous recombination |
| LET | Linear energy transfer |
| MC | Monte Carlo |
| NHEJ | Non-homologous end joining |
| NTE | Non-targeted effects |
| OCDL | Oxidatively-clustered DNA lesions |
| PBT | Proton beam therapy |
| PRPs | Pattern recognition receptor |
| RNS | Reactive nitrogen species |
| ROS | Reactive oxygen species |
| RT | Radiotherapy |
| SPCs | Secondary primary cancers |
| SSB | Single strand break |
| TLRs | Toll-like receptors |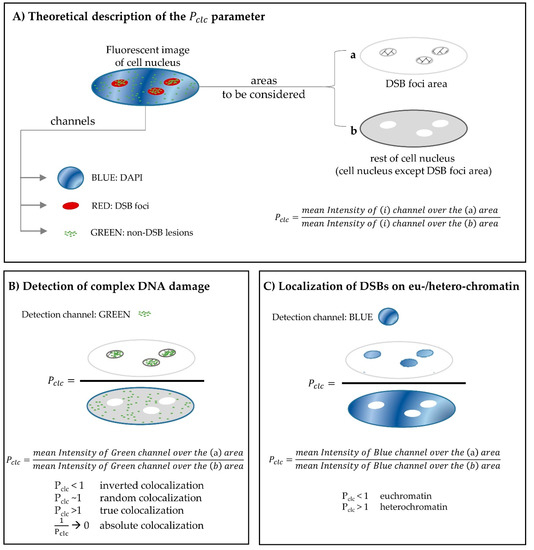 Figure 1.
Optimization of fluorescence microscopy and colocalization assays for detection of complex DNA damage. (
A
) Theoretical description of the
Pclc
parameter [
64
]: An RGB fluorescent image can be split into three channels (Blue: DAPI, Red:DSB foci and Green: non-DSB lesions), and can also be considered as consisting of two geometrical areas: (a) the DSB foci area and (b) the rest of cell nucleus, i.e., the cell nucleus area after the exclusion of DSB foci area. The colocalization parameter
Pclc
examines the mean Intensity of a given fluorescent channel (i) considered over the DSB foci area, with its mean Intensity considered over the rest of the cell nucleus. (
B
) Detection of complex DNA damage: Complex DNA damage can be detected by considering the mean Intensity of the channel that corresponds to non-DSB lesions (Green channel here) for the calculation of
Pclc
parameter. Any
Pclc
values significantly greater than 1 imply true colocalization and subsequently enable the detection of complex DNA lesions. (
C
) An additional suggested application of
Pclc
parameter-localization of DSBs on eu-/hetero-chromatin: Mean intensity of DAPI channel (blue) over the DSBs area divided by the mean intensity of the same channel over the rest of cell nucleus (after excluding any nucleoli areas).
Pclc
values less than 1 imply DSB foci localization on euchromatin DNA regions, where the DAPI intensity is expected to be lower. In each case, measurement of lesions is being performed indirectly by the use of DNA damage/repair proteins specific primary antibodies (e.g., against γ-H2AX:DSB or OGG1:oxidized purines etc.) detected by the appropriate fluorescent labelled secondary antibodies as described in the text.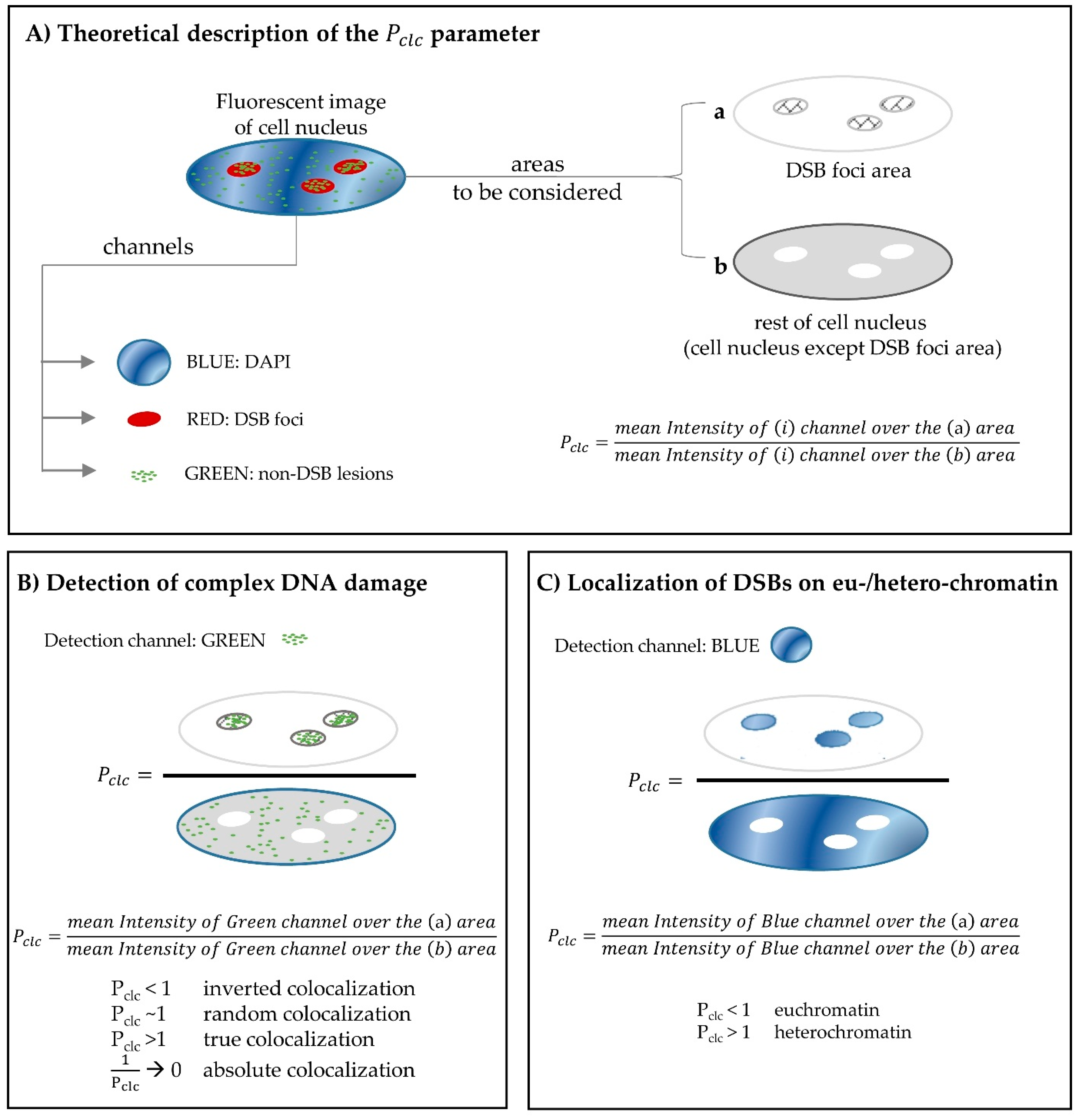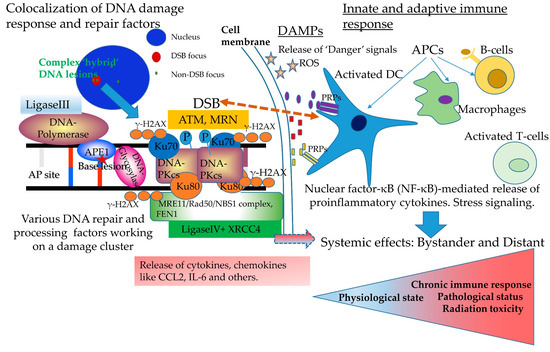 Figure 2.
Linking processing of clustered DNA damage and immune response. I. The challenge of repairing a clustered damaged DNA site: a task for real survivors. Upon the induction of clustered DNA damage consisting for example of one double strand break (DSB) and two oxidative DNA lesions like a damaged base (shown here with an asterisk) and an apurinic/apyrimidinic (AP) site, two at least DNA repair pathways and several DNA repair proteins will arrive at the same chromosome region. For the base damage, the primary pathway is the base excision repair (BER) while for the DSB, here we consider for simplicity only the non-homologous end joining (NHEJ). In all cases, the most basic proteins and enzymes are also described in the main text. Last but not least, as shown by advanced fluorescence microscopy and foci colocalization, each DSB is expected to be rapidly accompanied by the phosphorylation of thousands of H2AX histone protein molecules called γH2AX. The MRN complex functions rather as a sensor of DNA ends and activates ATM kinase. The ATM phosphorylates substrates such as Chk2, p53, and the H2AX in flanking chromosomal regions. II. Linkage to immune response. Processing of clustered DNA damage and especially of unrepaired orpersistent is expected to lead to senescence or cell death i.e., apoptosis, necrosis (accidental, non-programmed), and necroptosis (programmed). All these processes can trigger the extracellular release of diverse signatures of 'Danger' signals or Damage-Associated Molecular Patterns (DAMPs: ATP, short DNAs/RNAs, ROS, heat shock proteins (HSPs), high-mobility group box 1 (HMGB)-1, S100 proteins and others) [
65
]. DAMPs activate different pattern recognition receptors (PRPs) including for example Toll-like receptors (TLRs) and inflammasomes, a process that leads usually to inflammation and immune-related pathologies. Interestingly, recent evidence as explained in the main text, suggests a direct interactions between different PRPs and DNA repair proteins involved in DSB repair and others (Dashed arrow connecting DSB to PRPs). Cellular damage or death can also lead to the release of several cytokines and chemokines that can regulate immune responses. Activation of PRPs usually results in nuclear factor-κB (NF-κB)-mediated release of various proinflammatory cytokines like IL-6, IL-8 and others. The activation of antigen-presenting cells (APCs) like dendritic cells, macrophages will induce primarily the innate immune response (activation of T-cells) and most rarely by B-cells, the adaptive immune response. In all cases, the constituent and constant triggering of the immune system is expected to generate a variety of systemic effects on the organism and possibly pathophysiology, close to the damaged cells often called as "bystander" effects or distant. Overall, for the final assessment of radiation effects and the return to the physiological state, the role of immune response and the systemic nature of radiation is of enormous importance.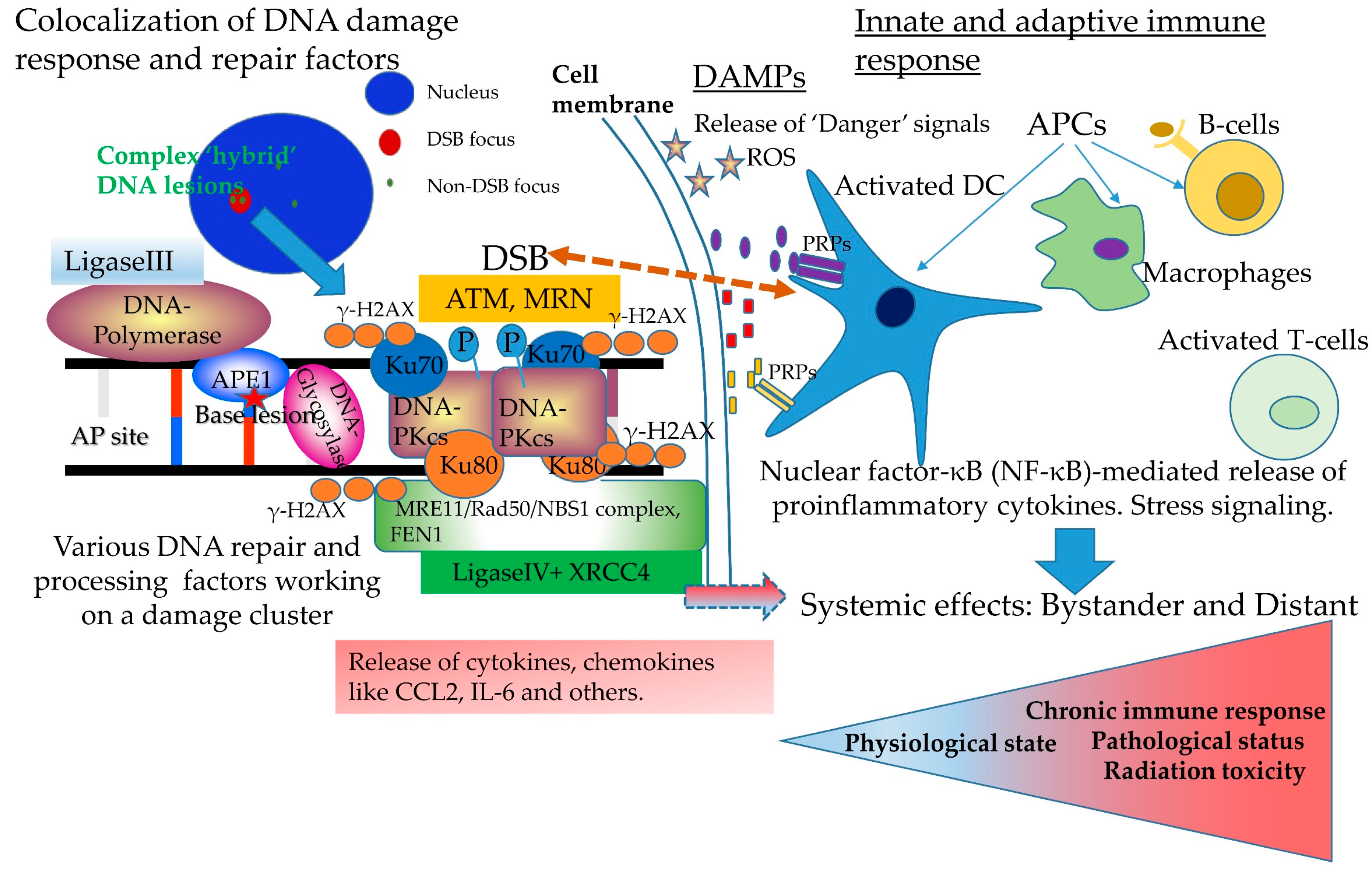 © 2017 by the authors. Licensee MDPI, Basel, Switzerland. This article is an open access article distributed under the terms and conditions of the Creative Commons Attribution (CC BY) license (http://creativecommons.org/licenses/by/4.0/).