Open Access This article is
freely available
re-usable
Review
Can Intensity-Modulated-Radiotherapy Reduce Toxicity in Head and Neck Squamous Cell Carcinoma?
Department of Oncology, Radiation-Oncology, KU Leuven, University of Leuven, University Hospitals Leuven, 3000 Leuven, Belgium
*
Author to whom correspondence should be addressed.
Academic Editor: Samuel C. Mok
Received: 28 July 2017 / Accepted: 1 October 2017 / Published: 6 October 2017
Abstract
:
Intensity modulated radiotherapy (IMRT) is a modern radiotherapy technique that was implemented in the mid-1990s. It allows closer shaping of dose, to target volumes, thereby sparing organs at risk (OARs). Before the IMRT-era, two-dimensional radiotherapy (2DRT) and later three-dimensional conformal radiotherapy (3DCRT) were the techniques of choice, but this robust way of irradiating caused more normal tissue to receive a higher dose. Radiation of cancers in the head and neck region is complex because of close proximity to critical normal tissue and the large target volumes that need to be treated at high doses. IMRT offers an elegant solution compared with 3DCRT and surgery because it allows organ preservation and improved function preservation. In this manuscript, we review the rationales for IMRT, with an emphasis on toxicity outcomes compared with 3DCRT. We performed a review of the literature and looked at the most important randomised controlled trials comparing IMRT with 3DCRT. We conclude that IMRT is safe in regard to disease outcome, and that it allows better sparing of normal tissue, thereby causing less toxicity, resulting in a smaller impact on quality of life compared with conventional radiotherapy in the treatment of head and neck cancer.
Keywords:
IMRT; 3DCRT; head and neck cancer; HNSCC; toxicity; xerostomia; radiotherapy
1. Head and Neck Cancer
Head and neck cancer (HNC) is the seventh most common cancer worldwide with 550,000 new cases every year. It is, furthermore, the seventh most common cause of death, resulting in 380,000 deaths annually [
1
]. Risk factors for the development of cancers occurring in the head and neck region are a history of smoking and alcohol exposure. In developed countries where a decrease is seen in smoking and alcohol exposure, there is a decrease in HNC incidence in general. However, the incidence of oropharyngeal cancer (OPC) at first stagnated, and is now, even increasing due to a different aetiology, namely infection with Human papilloma virus type 16 (HPV-16) [
2
].
HNC is usually diagnosed in a locally advanced but curable stage. This frequently requires a multimodal treatment approach comprising surgery, followed by radio(chemo)therapy or radio(chemo)therapy alone as definitive treatment. The treatment of choice depends on multiple factors such as tumour grade, stage and localisation, nodal involvement, patient characteristics and impact of the treatment [
3
]. Radio(chemo)therapy holds the potential for better functional outcomes compared to surgery, especially in locally advanced cancers where surgery could be mutilating. Treatment intensification with the addition of chemotherapy or by intensification of radiotherapy, has improved survival [
4
,
5
] but also toxicity.
2. Advances in Radiotherapy Techniques
2.1. Conventional Radiotherapy Techniques
At first, robust, simple-shaped radiation fields based on bony anatomy were aimed at the tumour to be sure the tumour was irradiated sufficiently. This was the so-called two-dimensional radiotherapy (2DRT). Large volumes of normal tissue were irradiated using this technique, causing important toxicity such as xerostomia, dysphagia and fibrosis of the skin. Since then, radiotherapy techniques have improved significantly to fit the radiation beams closer around the target volume, thereby lowering the dose to the surrounding organs at risk (OARs). These technological advances gained momentum when computed tomography (CT) scans were introduced in the late 1970s. The possibility to see the tumour and OARs more clearly also changed the way in which radiotherapy (RT) was delivered. In the 1980s, three-dimensional conformal radiotherapy (3DCRT) was implemented. Using CT scan information, the tumour and OARs could be seen, especially in the head and neck region, this has many advantages because of its complex anatomy. Furthermore, there are often multiple target volumes with complex shapes, including the primary tumour, pathological lymph nodes and elective nodal regions which are in close relation to vital structures such as the spinal cord and brainstem. Other OARs such as the parotid and submandibular glands, oral mucosa, thyroid gland and swallowing structures are also in close proximity to the target volume receiving a high dose. With 3DCRT the radiation beams are formed to fit the size and shape of the tumour better, using a multileaf collimator (MLC). This allows the radiation beam to fit the shape of the tumour, sparing surrounding normal tissue better than 2DRT. 3DCRT still causes significant volumes of normal tissue to receive a high radiation dose because RT is delivered in approximately three fields with a uniform dose in each field.
2.2. IMRT
To compensate for the imperfections of 3DCRT, dynamic MLCs were designed so the beams could have a different shape when coming from different angles. The intensity of the beam could also be modified, giving this new technique its name; intensity modulated radiotherapy (IMRT). It was implemented in the 1990s and has become a widespread technique since then. This more precise technique allows not only sparing of OARs, but also makes it possible to deliver inhomogeneous doses which allows simultaneous boosting of the tumour, and could facilitate dose escalation in certain regions of the tumour in the future. Volumetric modulated arc therapy (VMAT) is a specific type of IMRT [
6
]. It also uses dynamic MLCs, but using this technique the MLCs move while the head of the RT machine moves around the patient to allow continuous adjustments, ensuring the target volume is always accurately irradiated. Another advantage compared to IMRT is that this technique is faster.
3. Disease Outcome
There is no doubt that the most important outcome for cancer patients is overall survival. Using more conformal radiotherapy techniques to reduce toxicity implies treating smaller volumes. Target volume definition becomes more crucial since smaller margins are used. In theory, regions which are at risk for harbouring tumour cells could be missed if margins are set too tight, causing a so-called geographical miss. This stresses the importance of target volume delineation. For this review, we only included randomised controlled trials because they offer the best evidence.
4. Toxicity Profile of Conventional RT vs. IMRT
5. Further Improvement in Radiotherapy Techniques
The evidence above underlines the advantages of more accurate radiation techniques, proving that it is safe and has the advantage of causing less toxicity compared to conventional radiotherapy techniques. We have to keep in mind however that these above-mentioned trials were conducted in high volume centres and that these centres may therefore have better oncological outcomes thanks to better quality of care, better treatment plans and treatment delivery. With more complex treatment techniques such as IMRT, great care should be taken to delineate correctly and to deliver the treatment accurately. Shift in tumour volume or change in patient anatomy could potentially form a problem due to dosimetric changes and cause treatment failure or increased toxicity. Adaptive radiotherapy (ART) may form a solution. Using sequential CT scans during radiotherapy, RT plans are adapted to adjust to anatomical changes such as weight loss, and to tumour volume changes due to tumour shrinkage. However, it is unlikely that all patients treated with IMRT need ART. ART is resource intensive and time-consuming and should only be performed in patients where it will have a clinical benefit. Brown et al. [
25
] developed ART risk profiles for nasopharyngeal and oropharyngeal cancers that could be used as a guide for clinical decision-making. This would allow patients to be identified who would benefit from ART, before therapy has started.
Having showed that IMRT is safe regarding oncological outcome, and has a better toxicity profile than conventional radiotherapy, the fundamentals have been laid for an even more conformal technique; intensity modulated proton therapy (IMPT). The benefit of IMPT is that most of the energy is transmitted in the last millimetres, called the Bragg peak. This results in less normal tissue irradiation on the distal side of the tumour as well as the proximal side. With the gaining popularity of IMPT and the opening of more proton centres worldwide, clinical trials with the aim of providing proof of the benefits of IMPT are also increasing. The use of ART will presumably become even more important in combination with IMPT than IMRT because anatomical and tumour changes will have a larger impact on dosimetrical distribution.
6. Conclusions
The most important outcome after radio(chemo)therapy in the curative treatment of head and neck cancer is overall survival and loco-regional control. Theoretically there may be an increased risk of loco-regional recurrence with more precise techniques because there is less room for error. However, Nutting [
7
], Ghosh-Laskar [
9
] and Peng [
10
] proved that IMRT is safe with no increased risk of loco-regional recurrence. The aim of this review was to search the literature for randomised controlled trials that specifically compared toxicity profiles between IMRT and conventional radiotherapy (3DCRT or 2DRT). We can conclude that IMRT has a superior toxicity profile compared to conventional RT for xerostomia and weight loss. Non-randomised controlled trials showed that IMRT was beneficial for voice quality and mucositis but there are no RCTs available to support these results. Fatigue was more prevalent in the IMRT arm compared to the conventional RT in the study of Nutting et al. [
7
], probably because the posterior fossa received a higher dose. Regarding dysphagia, no benefit was shown for IMRT compared with conventional RT in randomised controlled trials, possibly because most trials in the past focused on xerostomia and sparing of the parotid glands. We await the results of the ISRCTN25458988 trial that optimises IMRT for sparing of swallowing structures. IMRT does not seem better than 3DCRT at reducing post-radiotherapy hypothyroidism. It may even increase the prevalence of subclinical hypothyroidism compared with 3DCRT. The thyroid should be delineated and seen as an organ at risk that should be avoided if possible. On the other hand, hypothyroidism can be cured with medication, while other side effects like xerostomia and dysphagia cannot. The effect of the treatment technique on acute dermatitis and fibrosis is not clear. Lastly, studies investigating QoL show at least as good results with IMRT, compared with conventional techniques, and for some aspects a better result with IMRT.
Although for some side-effects, the benefit of IMRT on conventional RT cannot be easily proven, the majority of studies show a reduction in toxicity when using IMRT in head and neck cancer. With the Hippocratic Oath 'first do no harm' in mind, IMRT should be used in all head and neck cancer patients, in order to try to reduce the devastating side effects. Continuous prospective data collection on toxicity and outcome will provide us more data in the future, supporting this technological progress.
Acknowledgments
Part of this work is supported by a grant from Kom op tegen Kanker.
Author Contributions
This manuscript was conceived, drafted and revised through the combined efforts of Julie van der Veen and Sandra Nuyts.
Conflicts of Interest
The authors declare no conflicts of interest.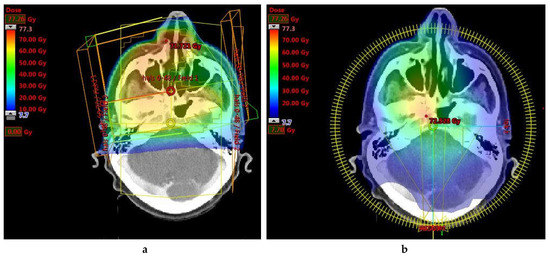 Figure 1. A comparison between a three-dimensional conformal radiotherapy (3DCRT) plan and a volumetric modulated arc therapy (VMAT) plan for a head and neck tumour. Notice the larger volume of the posterior fossa receiving a low dose bath in the VMAT plan. (a) 3DCRT; (b) VMAT.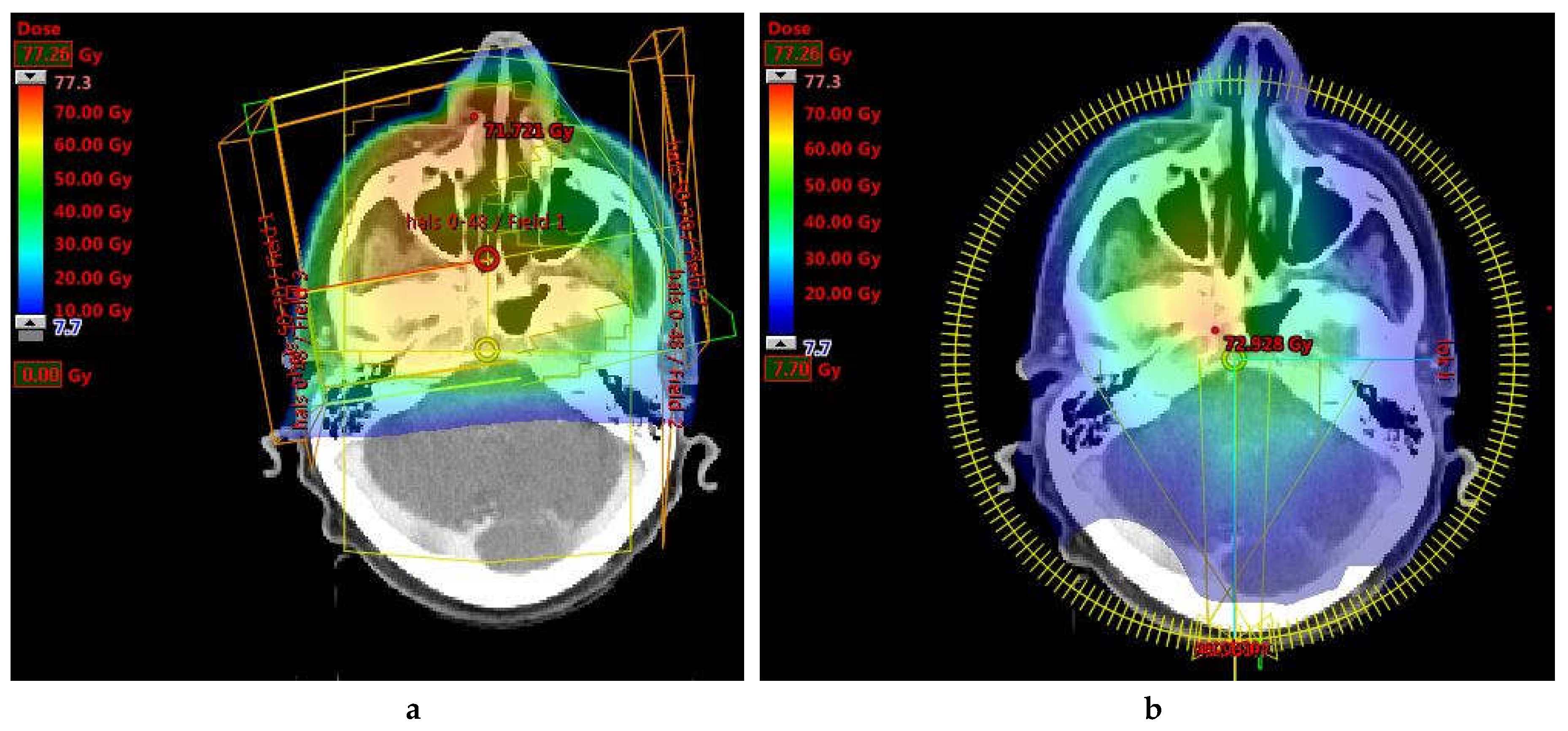 Figure 2. Dose-volume histogram of the dose delivered to the posterior fossa. Although the maximum dose is similar for both plans (red arrow), the average dose is higher in the VMAT plan compared to the 3DCRT plan (red surface).

© 2017 by the authors. Licensee MDPI, Basel, Switzerland. This article is an open access article distributed under the terms and conditions of the Creative Commons Attribution (CC BY) license (http://creativecommons.org/licenses/by/4.0/).