Open Access This article is
freely available
re-usable
Review
The Emerging Role of Polo-Like Kinase 1 in Epithelial-Mesenchymal Transition and Tumor Metastasis
Department of Human and Molecular Genetics, VCU Institute of Molecular Medicine, VCU Massey Cancer Center, School of Medicine, Virginia Commonwealth University, School of Medicine, Richmond, VA 23298, USA
*
Author to whom correspondence should be addressed.
Academic Editor: Joëlle Roche
Received: 7 September 2017 / Accepted: 25 September 2017 / Published: 27 September 2017
Abstract
:
Polo-like kinase 1 (PLK1) is a serine/threonine kinase that plays a key role in the regulation of the cell cycle. PLK1 is overexpressed in a variety of human tumors, and its expression level often correlates with increased cellular proliferation and poor prognosis in cancer patients. It has been suggested that PLK1 controls cancer development through multiple mechanisms that include canonical regulation of mitosis and cytokinesis, modulation of DNA replication, and cell survival. However, emerging evidence suggests novel and previously unanticipated roles for PLK1 during tumor development. In this review, we will summarize the recent advancements in our understanding of the oncogenic functions of PLK1, with a focus on its role in epithelial-mesenchymal transition and tumor invasion. We will further discuss the therapeutic potential of these functions.
Keywords:
PLK1; EMT; tumor invasion and metastasis; drug resistance; cancer therapy
2. PLK1 in Tumor Development
2.1. PLK1 Expression in Human Cancers
Consistent with its role in mitosis, PLK1 is highly expressed in the late G2 and M phases of the cell cycle, and enhanced PLK1 activity is observed in cells with high mitotic rates, including tumor cells [
22
,
23
]. Increasing evidence suggests that PLK1 is closely linked to human cancer development. For example,
PLK1
is overexpressed in a variety of cancers, including prostate cancer [
24
], non-small cell lung cancer [
25
], head and neck cancer [
26
,
27
], esophageal and gastric cancer [
28
], melanoma [
29
], breast cancer [
30
], ovarian cancer [
31
], endometrial cancer [
32
], colorectal cancer [
33
], glioma [
34
], thyroid cancer [
35
], and hepatocellular cancer [
36
]. More importantly, its expression level often correlates with poor patient prognosis [
19
,
24
,
26
,
27
,
28
,
29
,
37
,
38
,
39
,
40
,
41
,
42
,
43
,
44
], suggesting that PLK1 is essential for tumorigenesis. Indeed, emerging evidence supports the notion that PLK1 is actively involved throughout the course of human cancer development [
18
,
35
,
45
,
46
,
47
,
48
,
49
] (
Figure 2
).
2.2. PLK1 and Oncogenic Pathways
2.3. PLK1 and Oncogenic Transformation
The constitutive expression of
PLK1
in NIH/3T3 cells causes oncogenic foci formation and is tumorigenic in nude mice [
78
]. In contrast, depleting PLK1 in U2OS cells abrogates anchorage-independent growth [
79
]. These results highlight PLK1 as a possible driver of oncogenic transformation, although it remains unclear whether PLK1 itself is sufficient to induce tumor development. The oncogenic transformation potential of PLK1 has recently been documented in human cells. Our recent studies show that
PLK1
overexpression in human prostate epithelial cells leads to cellular transformation in vitro and promotes tumor formation in NOD/SCID/γ
c
null
(NSG) mice, which provides convincing evidence that PLK1 is directly involved in neoplastic transformation, and that PLK1 has a tumor-promoting role in the prostate [
47
].
2.4. PLK1 and EMT
A recent study from our group revealed an important additional function of PLK1 [
47
]. We documented an interesting observation that
PLK1
overexpression in prostate epithelial cells causes the cells to change shape from an orthogonal epithelial cell morphology to a spindle-shaped fibroblast-like morphology, reminiscent of cells having undergone EMT. EMT is an important mechanism of tumor progression and metastasis [
80
,
81
]. It involves a loss of epithelial cell characteristics (cell–cell junctions, apicobasal cell polarity, and cobblestone morphology) and an acquisition of mesenchymal characteristics (fibroblast-like cell morphology, increased cell-matrix adhesions, and motility). On the molecular level, EMT can be easily recognized by the reduced expression of epithelial markers such as E-cadherin and some cytokeratin isoforms, and the elevated expression of mesenchymal markers such as N-cadherin and vimentin. Significantly, the loss of cell–cell contacts and the reorganization of the intracellular cytoskeleton during EMT result in increased cell migration and invasion [
82
], which allows cells to invade the surrounding stroma and vasculature, thereby leading to tumor dissemination and metastases [
83
]. In addition, EMT enables cancer cells to avoid apoptosis, anoikis, and oncogene addiction [
84
].
Indeed, forced overexpression of PLK1 in prostate epithelial cells led to the downregulation of epithelial markers (E-cadherin and cytokeratin 19) and upregulation of mesenchymal markers (N-cadherin, vimentin, fibronectin, and SM22) [
47
]. The switch from epithelial to mesenchymal markers did not depend on a specific stage of the cell cycle. Importantly,
PLK1
overexpression in prostate epithelial cells disrupted the localization of E-cadherin, β-catenin, and junctional adhesion molecule (JAM)-A in areas of cell-cell contacts, which are indicative of the profound disassembly of adherens and tight junctions. In addition, this was accompanied by the dramatic reorganization of the actomyosin cytoskeleton manifested by the redistribution of non-muscle myosin IIB from perijunctional F-actin bundles into basal stress fibers. A comparison of EMT induction in cells expressing wild-type, constitutively active, or kinase-defective PLK1 suggests that a PLK1-mediated phosphorylation event contributes to the induction of EMT in prostate epithelial cells [
47
]. The role of PLK1 in EMT induction was further substantiated by the observation that PLK1 downregulation in metastatic prostate cancer cells enhances epithelial characteristics [
47
]. Moreover, an androgen-refractory cancer of the prostate (ARCaP) model was adopted for further validation [
47
]. ARCaP cells were derived from the ascites fluid of an 83-year-old Caucasian man diagnosed with metastatic prostate cancer [
85
]. Epithelium-like ARCaP
E
cells and mesenchymal-like ARCaP
M
cells are sublines of ARCaP cells that were isolated by single-cell dilution cloning [
86
]. Interestingly, PLK1 is not only differentially expressed and activated in these two cell lines (higher in the highly metastatic ARCaP
M
cells and lower in the less metastatic ARCaP
E
cells), it also controls the switch between EMT and mesenchymal-to-epithelial transition (MET) in those two cell lines (EMT induction in ARCaP
E
cells upon PLK1 overexpression, and MET induction in ARCaP
M
cells with PLK1 downregulation). Taken together, these results convincingly established a novel function of PLK1 as a critical regulator of EMT in prostate cancer.
Subsequently, the molecular mechanism underlying PLK1-mediated EMT was investigated [
47
]. We demonstrated that CRAF a member of the Raf kinase family of serine/threonine-specific protein kinases, is a physiological substrate of PLK1. CRAF consists of an N-terminal regulatory domain and a C-terminal catalytic domain. PLK1 directly interacts with and phosphorylates CRAF at S338 and S339 (the critical activating phosphorylation sites), resulting in CRAF activation. The activated CRAF undergoes autophosphorylation of S621, which hinders the proteasome-mediated degradation of CRAF, and thereby generates a positive feedback loop, leading to a further increase in the level and activity of CRAF. This activation event triggers the activation of downstream MEK1/2-ERK1/2 signaling in prostate epithelial cells overexpressing PLK1. Through a series of biochemical analyses, the events between PLK1-triggered MAPK signaling and EMT induction were elucidated [
47
]. ERK activation stimulates Fra1 expression; Fra1 belongs to the
Fos
gene family, whose protein products can dimerize with proteins of the JUN family, thereby forming the transcription factor complex AP-1. The ectopic expression of Fra1 in epithelioid cells resulted in morphologic changes that resembled fibroblastoid conversion, and increased motility and invasiveness [
87
]. Fra1 has been implicated as a potent regulator of anti-apoptosis, cell motility, and invasion in a variety of tumor cell types [
88
,
89
]. Enhanced expression of Fra1 then leads to the transcriptional activation of zinc finger E-box binding homeobox (ZEB) 1 and 2, two key transcription factors in EMT that orchestrate the EMT program [
47
]. Later, Cai et al. documented that PLK1 promotes EMT in gastric carcinoma cells through regulation of the AKT pathway [
90
], which suggests that regulating EMT is a general, and not a cell-type specific, function of PLK1, and the underlying mechanisms of PLK1-dependent EMT induction may vary dramatically from one setting to another. In addition to direct regulation, PLK1 may indirectly contribute to EMT induction through its substrates. For instance, FoxM1 has been linked to EMT in various tumor types, including pancreatic cancer [
91
,
92
], breast cancer [
93
], prostate cancer [
94
], gastric cancer [
95
], and lung cancer [
96
]. Several EMT regulators, such as Snail [
97
], Slug [
93
], and Twist [
98
] have been documented as direct targets of FoxM1. Given the aforementioned PLK1–FoxM1 regulatory circuit [
73
], it is likely that PLK1 may contribute to the EMT process by directly binding to and phosphorylating FoxM1, resulting in the activation of its transcriptional activity (
Figure 3
).
3. PLK1 in Tumor Invasion and Metastasis
Elevated PLK1 expression has been associated with an increased invasiveness of colorectal, breast, renal, and thyroid cancer cells [
45
,
46
,
47
,
48
,
49
]. PLK1 inhibition using either siRNA or pharmacological inhibitors caused significant reductions in the invasiveness of glioblastoma, bladder carcinoma, renal cell carcinoma, anaplastic thyroid carcinoma, and colorectal cancer cells [
45
,
48
,
49
,
99
,
100
]. Our recent study has provided direct evidence of the pro-invasive activity of PLK1 in tumor progression [
47
]. PLK1 was differentially expressed and/or activated in prostate cancer cells (higher in metastatic prostate cancer cell lines and lower in non-metastatic cell lines) [
47
]. In addition to EMT induction,
PLK1
overexpression in prostate epithelial cells led to enhanced motility and invasiveness, as manifested by wound-healing scratch and Transwell invasion analyses [
47
]. The results were further validated by monitoring the random movement of the cells using time-lapse video microscopy and cell tracking, which indicated that PLK1 directly regulates the velocity of epithelial cell migration, independently of its effects on other cellular processes. Interestingly, NOD/SCID/γ
c
null
(NSG) mice engrafted with PLK1-overexpressing prostate epithelial cells developed not only primary tumors, but also lung micrometastases, which suggests that
PLK1
overexpression not only leads to the oncogenic transformation of prostate epithelial cells, but may also drive prostate cancer metastasis [
47
]. Consistently, PLK1 downregulation in metastatic prostate cancer cells inhibited cell motility [
47
].
Both the profound disassembly of adherens and tight junctions and the dramatic reorganization of the actomyosin cytoskeleton were observed in prostate epithelial cells undergoing PLK1-mediated EMT [
47
]. Therefore, the following mechanisms by which EMT induction promotes prostate cancer cell motility were proposed: (1) disassembly of epithelial junctions that weaken intercellular adhesions, thereby allowing cell dissemination [
101
,
102
], and (2) rearrangement of the actomyosin cytoskeleton from epithelia-specific perijunctional bundles to basal stress fibers that are characteristic of mesenchymal cells. This rearrangement enhances cell–matrix adhesion and enables more efficient cell migration [
103
,
104
].
In line with these findings, Rizki et al. showed that PLK1 mediates invasion through vimentin and β1 integrin in breast cancer cells, which is independent of its mitotic function [
46
]. PLK1 phosphorylates vimentin on S82, which regulates cell surface levels of β1 integrin and thereby promotes the invasiveness of breast cancer cells [
46
]. In addition, it has been reported that the downregulation of PLK1 in thyroid cancer cells led to a significant decrease in CD44v6, matrix metalloproteinase (MMP)-2, and MMP-9, which are all key players in tumor invasion and metastasis [
49
].
4. PLK1 as a Key Target for Cancer Therapy
5. Conclusions and Outlook
PLK1 is a fascinating multifaceted protein that targets many binding partners to ensure proper cell cycle progression and cell proliferation, and its deregulation contributes to the genesis of a broad range of human cancers. The differential requirement of PLK1 levels in cancer versus normal cells for survival makes PLK1 a particularly attractive target for anti-cancer drug discovery. Recently, a wealth of data has shed new light on the additional biochemical functions of PLK1 proteins and on the mechanisms through which they function in neoplastic transformation, tumor progression and dissemination, and the development of therapeutic resistance. The identification of the diverse roles of PLK1 throughout the course of tumor development highlights PLK1 as one of the most appealing anti-cancer drug targets.
Anti-PLK1 drug discovery has reached an advanced stage of development. A number of PLK1 inhibitors have been developed. The major problems commonly associated with currently available PLK1 inhibitors are insufficient specificity and cancer cell-selective killing. Further studies are needed to identify new compounds with increased potency and specificity and improved pharmacokinetic properties. Furthermore, there is no doubt that additional functions of PLK1 will be uncovered in the near future. Additional studies aimed at disclosing all of the molecular mechanisms of PLK1 signaling in cancers are needed to achieve the full therapeutic potential of an anti-PLK1 drug. In other words, better understanding of the oncogenic action of PLK1 overexpression will greatly facilitate the optimization of treatment regimens targeting PLK1 signaling to significantly enhance therapeutic efficacy.
Acknowledgments
This work was supported in part by grants from the American Cancer Society (ACS Research Scholar Grant 127626-RSG-15-005-01-CCG to Zheng Fu), and the National Institutes of Health (NIH R01 CA191002 to Zheng Fu). The authors thank Heidi Sankala Bauer for editorial assistance with the manuscript.
Conflicts of Interest
The authors declare no conflict of interest.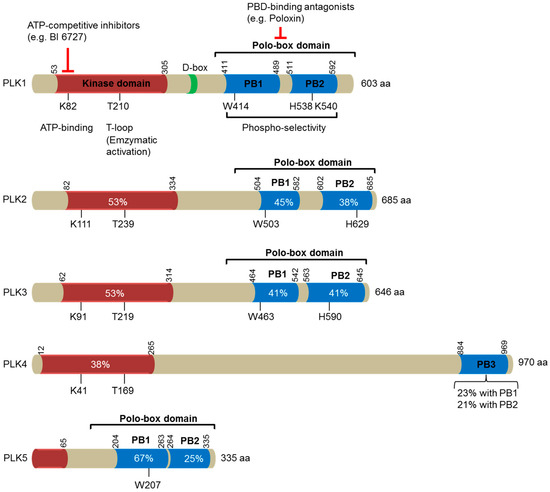 Figure 1. A schematic diagram illustrating the domain structures of the human polo-like kinase (PLK) family of proteins (PLK1-5). The number of amino acids in each family member is indicated on the right. The location of the kinase domains is shown in orange, whereas the polo-box domains (PBD), made of two polo-boxes (PB), are represented in blue. These two domains are separated by the interdomain linker, which comprises a destruction box (D-Box) indicated in green. The numbers indicate the first and the last residues of these domains in human PLKs. Residues that are essential for ATP-binding and enzymatic activation (T-loop) within the kinase domains, and for phosphoselectivity within the polo-box domains, are depicted. Sequence identities with the corresponding domains in PLK1 are provided in percentages. Two distinct strategies for targeting PLK1 are included: ATP-competitive inhibitors targeting the catalytic activity of PLK1, and PBD-binding antagonists competitively inhibiting the function of PBD.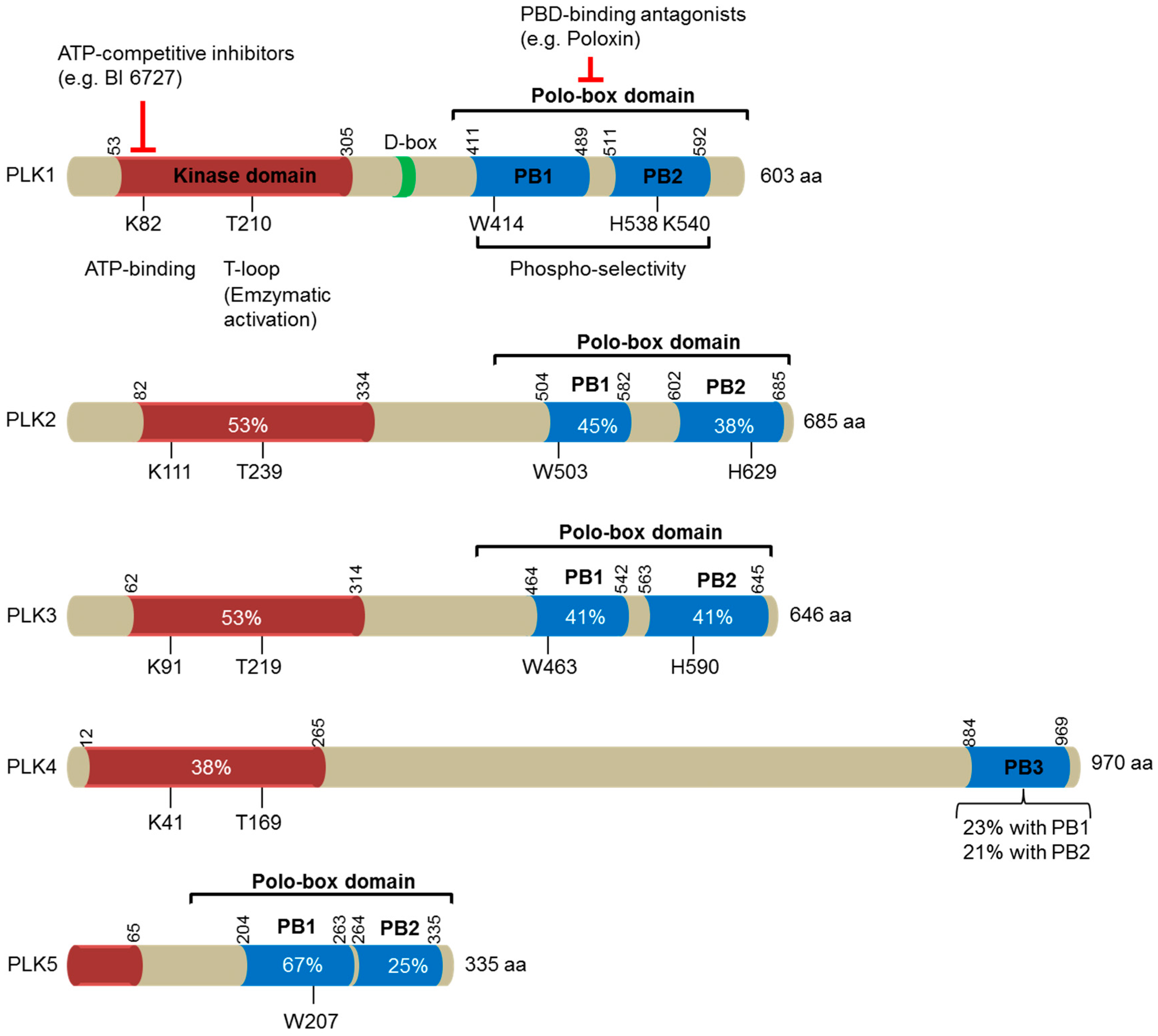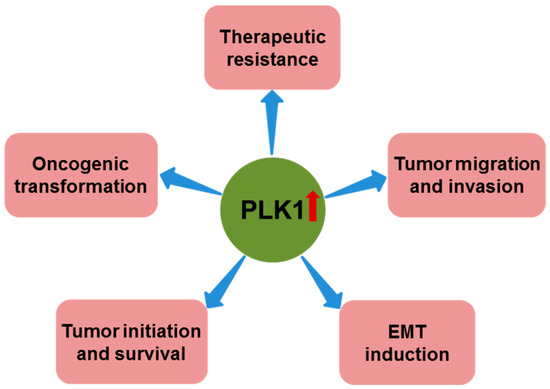 Figure 2. Role of polo-like kinase 1 (PLK1) overexpression in cancer. In addition to its role in promoting cancer cell proliferation and suppressing apoptosis, PLK1 overexpression has also been reported to have important roles in oncogenic transformation, tumor initiation and survival, epithelial-mesenchymal transition (EMT) induction, tumor migration and invasion, and therapeutic resistance.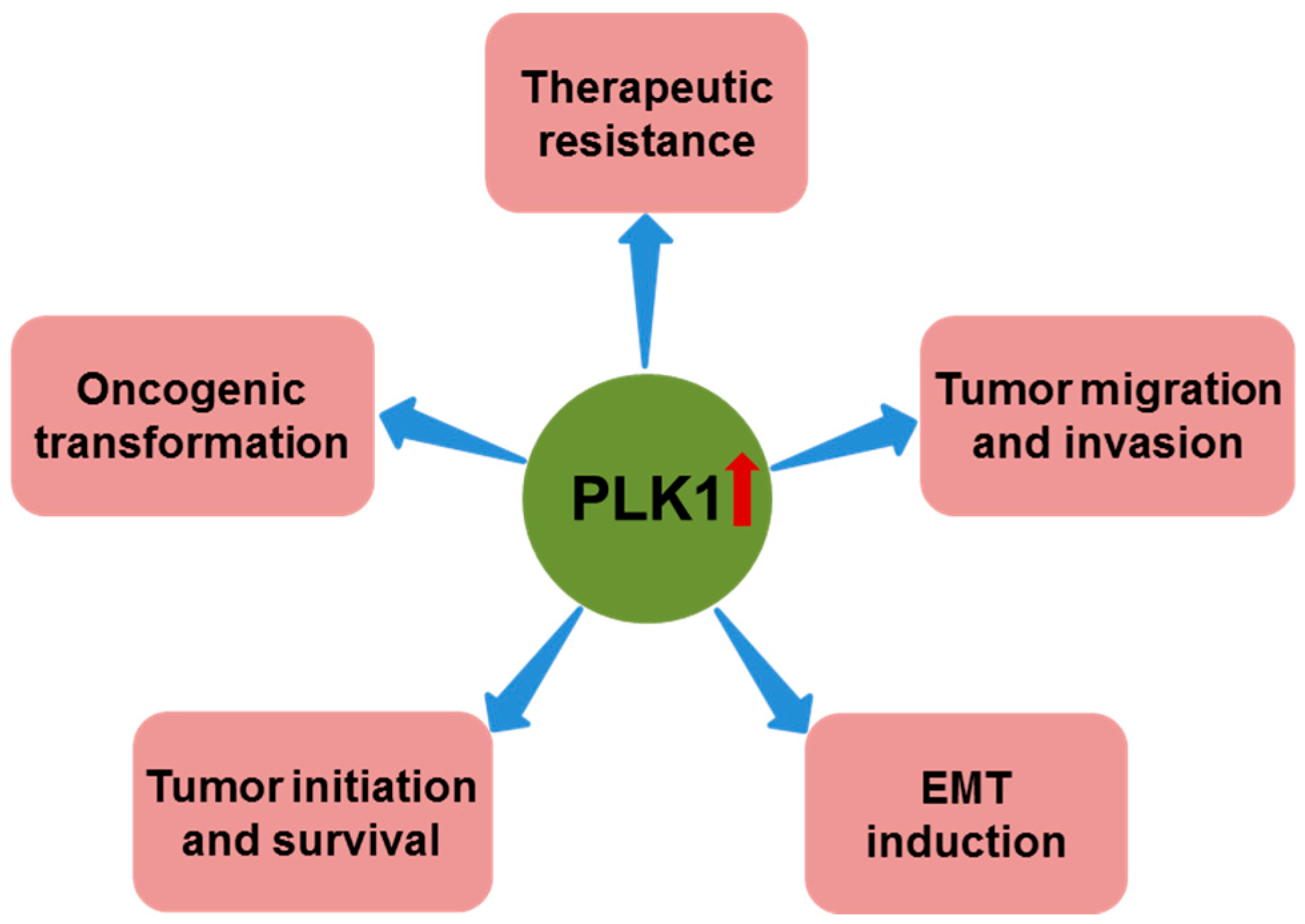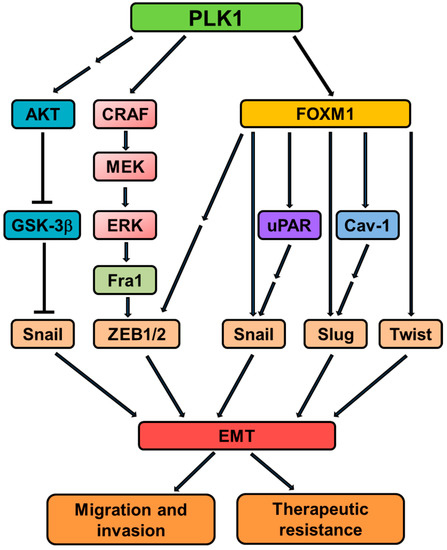 Figure 3. An overview of signaling cascades involved in PLK1-induced EMT. PLK1 activates the MAPK pathway by directly binding and phosphorylating CRAF. The activated MAPK pathway causes transcriptional upregulation of Fra1, which in turn triggers the accumulation of ZEB1/2, thus orchestrating the transcriptional network necessary for the EMT program. PLK1 also induces EMT through AKT or FoxM1-dependent pathways. Together, these signaling events contribute to EMT induction and associated events (such as invasion and therapeutic resistance) in tumor cells overexpressing PLK1.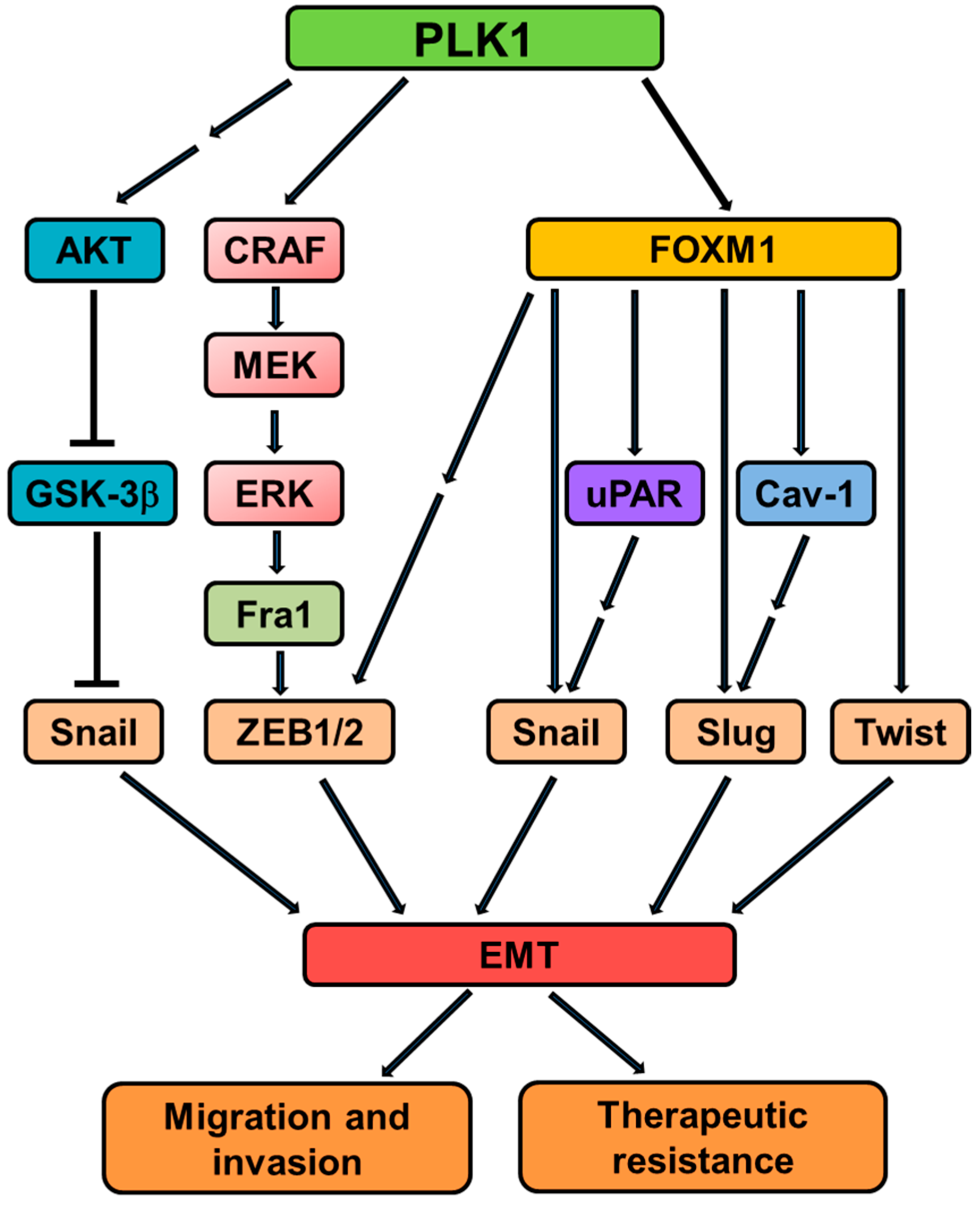 © 2017 by the authors. Licensee MDPI, Basel, Switzerland. This article is an open access article distributed under the terms and conditions of the Creative Commons Attribution (CC BY) license (http://creativecommons.org/licenses/by/4.0/).