Regulation of mTOR, Metabolic Fitness, and Effector Functions by Cytokines in Natural Killer Cells
1
Centre International de recherche en Infectiologie, CIRI, Inserm, U1111, Université Claude Bernard Lyon 1, CNRS, UMR5308, École Normale Supérieure de Lyon, University of Lyon, 69007 Lyon, France
2
Laboratoire d'Immunologie, Hospices Civils de Lyon, Centre Hospitalier Lyon Sud, 69310 Pierre-Bénite, France
*
Authors to whom correspondence should be addressed.
Academic Editors: Andrew R. Tee and James Murray
Received: 31 August 2017 / Revised: 22 September 2017 / Accepted: 23 September 2017 / Published: 28 September 2017
Abstract
The control of cellular metabolism is now recognized as key to regulate functional properties of immune effectors such as T or Natural Killer (NK) cells. During persistent infections or in the tumor microenvironment, multiple metabolic changes have been highlighted in T cells that contribute to their dysfunctional state or exhaustion. NK cells may also undergo major phenotypic and functional modifications when infiltrating tumors that could be linked to metabolic alterations. The mammalian target of rapamycin (mTOR) kinase is a central regulator of cellular metabolism. mTOR integrates various extrinsic growth or immune signals and modulates metabolic pathways to fulfill cellular bioenergetics needs. mTOR also regulates transcription and translation thereby adapting cellular pathways to the growth or activation signals that are received. Here, we review the role and regulation of mTOR in NK cells, with a special focus on cytokines that target mTOR such as IL-15 and TGF-β. We also discuss how NK cell metabolic activity could be enhanced or modulated to improve their effector anti-tumor functions in clinical settings.
View Full-Text
►

▼

Figures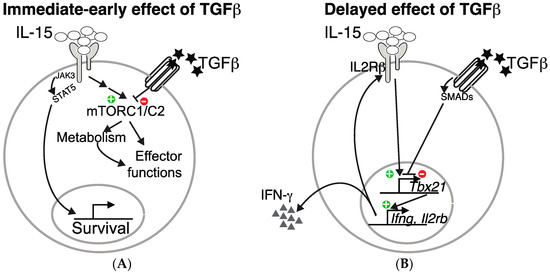 Figure 1
This is an open access article distributed under the
Creative Commons Attribution License
which permits unrestricted use, distribution, and reproduction in any medium, provided the original work is properly cited (CC BY 4.0).

Share & Cite This Article
MDPI and ACS Style
Viel, S.; Besson, L.; Marotel, M.; Walzer, T.; Marçais, A. Regulation of mTOR, Metabolic Fitness, and Effector Functions by Cytokines in Natural Killer Cells. Cancers 2017, 9, 132.
Note that from the first issue of 2016, MDPI journals use article numbers instead of page numbers. See further details here.
Related Articles
Comments
[Return to top]