Reduced Contractility and Motility of Prostatic Cancer-Associated Fibroblasts after Inhibition of Heat Shock Protein 90
1
Medical Research Council, Centre for Reproductive Health, The Queens's Medical Research Institute, Edinburgh EH16 4TJ, UK
2
Department of Urologic Surgery and Cancer Biology, Vanderbilt University, Nashville, TN 37232-2765, USA
3
Edinburgh Urological Cancer Group, Institute of Genetics and Molecular Medicine, University of Edinburgh, Edinburgh EH4 2XU, UK
4
Division of Pathology, University of Edinburgh, Western General Hospital, Edinburgh EH4 2XU, UK
5
Division of Urology, Department of Surgery, Cancer Research Program, McGill University Health Centre Research Institute, 1001 Decarie Blvd, Montreal, QC H4A 3J1, Canada
*
Author to whom correspondence should be addressed.
Academic Editor: Huey-Jen Lin
Received: 21 December 2015 / Revised: 25 July 2016 / Accepted: 3 August 2016 / Published: 24 August 2016
Abstract
Background
: Prostate cancer-associated fibroblasts (CAF) can stimulate malignant progression and invasion of prostatic tumour cells via several mechanisms including those active in extracellular matrix;
Methods
: We isolated CAF from prostate cancer patients of Gleason Score 6–10 and confirmed their cancer-promoting activity using an in vivo tumour reconstitution assay comprised of CAF and BPH1 cells. We tested the effects of heat shock protein 90 (HSP90) inhibitors upon reconstituted tumour growth in vivo. Additionally, CAF contractility was measured in a 3D collagen contraction assay and migration was measured by scratch assay;
Results
: HSP90 inhibitors dipalmitoyl-radicicol and 17-dimethylaminoethylamino-17-demethoxygeldanamycin (17-DMAG) reduced tumour size and proliferation in CAF/BPH1 reconstituted tumours in vivo. We observed that the most contractile CAF were derived from patients with lower Gleason Score and of younger age compared with the least contractile CAF. HSP90 inhibitors radicicol and 17-DMAG inhibited contractility and reduced the migration of CAF in scratch assays. Intracellular levels of HSP70 and HSP90 were upregulated upon treatment with HSP90 inhibitors. Inhibition of HSP90 also led to a specific increase in transforming growth factor beta 2 (TGFβ2) levels in CAF;
Conclusions
: We suggest that HSP90 inhibitors act not only upon tumour cells, but also on CAF in the tumour microenvironment.
View Full-Text
►

▼

Figures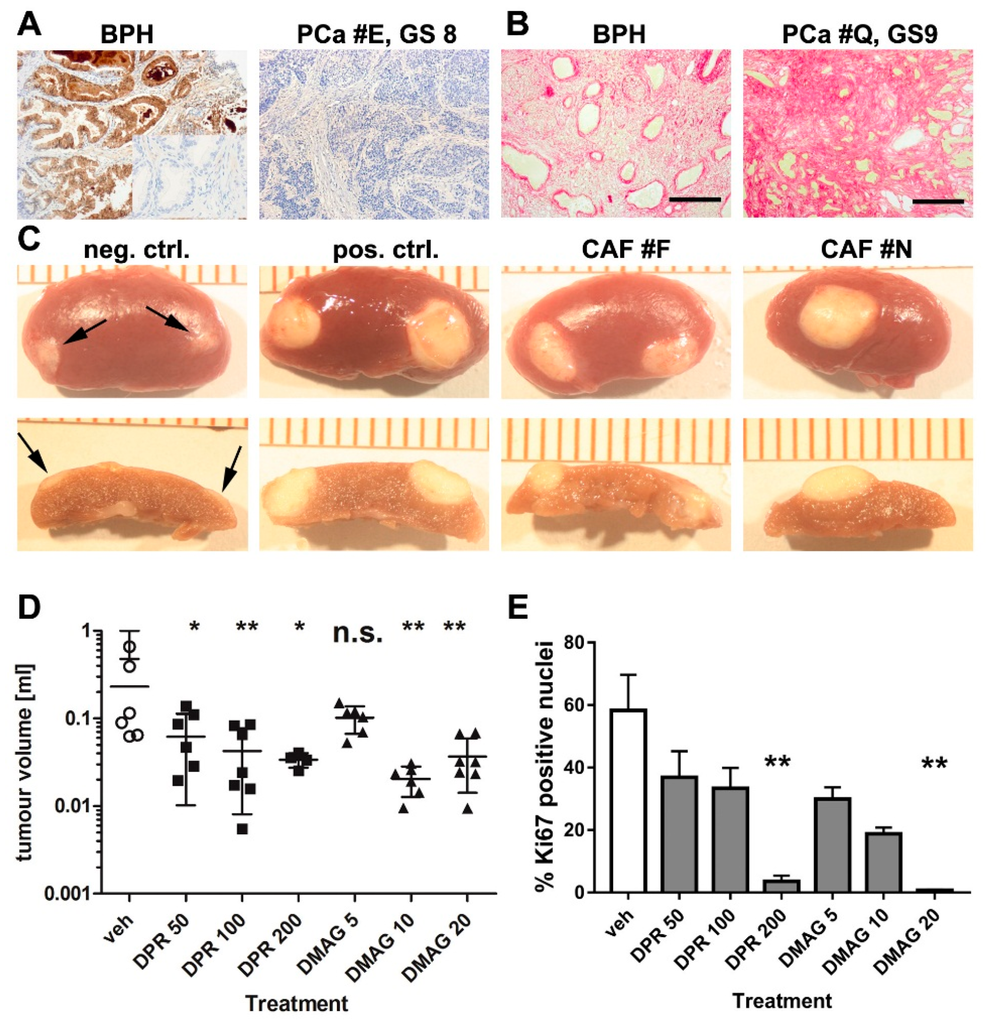 Figure 1
This is an open access article distributed under the
Creative Commons Attribution License
which permits unrestricted use, distribution, and reproduction in any medium, provided the original work is properly cited (CC BY 4.0).

Share & Cite This Article
MDPI and ACS Style
Henke, A.; Franco, O.E.; Stewart, G.D.; Riddick, A.C.; Katz, E.; Hayward, S.W.; Thomson, A.A. Reduced Contractility and Motility of Prostatic Cancer-Associated Fibroblasts after Inhibition of Heat Shock Protein 90. Cancers 2016, 8, 77.
Note that from the first issue of 2016, MDPI journals use article numbers instead of page numbers. See further details here.
Related Articles
Comments
[Return to top]