The Role of p53 Signaling in Colorectal Cancer
Institute of Toxicology, University Medical Center Mainz, Johannes Gutenberg University, 55131 Mainz, Germany
*
Author to whom correspondence should be addressed.
Academic Editor: Anders Jakobsen
Received: 1 April 2021
/
Revised: 23 April 2021
/
Accepted: 26 April 2021
/
Published: 28 April 2021
Simple Summary
The transcription factor p53 is a crucial tumor suppressor that regulates diverse cellular responses to protect against cancer development. Deactivating p53 signaling either by altering p53 regulators or by p53 mutations occurs frequently in human colorectal carcinoma (CRC). Forty-three percent of CRCs harbor p53 mutations that reduce wild-type p53 tumor suppressor activity and often provide neo-morphic functions, which contribute to tumorigenesis. In this review, we summarize wild-type p53 signaling, how it can be deregulated in CRC, and the functional and phenotypical effects of p53 mutations. We also discuss current therapeutic strategies of targeting p53.
The transcription factor p53 functions as a critical tumor suppressor by orchestrating a plethora of cellular responses such as DNA repair, cell cycle arrest, cellular senescence, cell death, cell differentiation, and metabolism. In unstressed cells, p53 levels are kept low due to its polyubiquitination by the E3 ubiquitin ligase MDM2. In response to various stress signals, including DNA damage and aberrant growth signals, the interaction between p53 and MDM2 is blocked and p53 becomes stabilized, allowing p53 to regulate a diverse set of cellular responses mainly through the transactivation of its target genes. The outcome of p53 activation is controlled by its dynamics, its interactions with other proteins, and post-translational modifications. Due to its involvement in several tumor-suppressing pathways, p53 function is frequently impaired in human cancers. In colorectal cancer (CRC), the TP53 gene is mutated in 43% of tumors, and the remaining tumors often have compromised p53 functioning because of alterations in the genes encoding proteins involved in p53 regulation, such as ATM (13%) or DNA-PKcs (11%). TP53 mutations in CRC are usually missense mutations that impair wild-type p53 function (loss-of-function) and that even might provide neo-morphic (gain-of-function) activities such as promoting cancer cell stemness, cell proliferation, invasion, and metastasis, thereby promoting cancer progression. Although the first compounds targeting p53 are in clinical trials, a better understanding of wild-type and mutant p53 functions will likely pave the way for novel CRC therapies.
View Full-Text
►

▼

Show Figures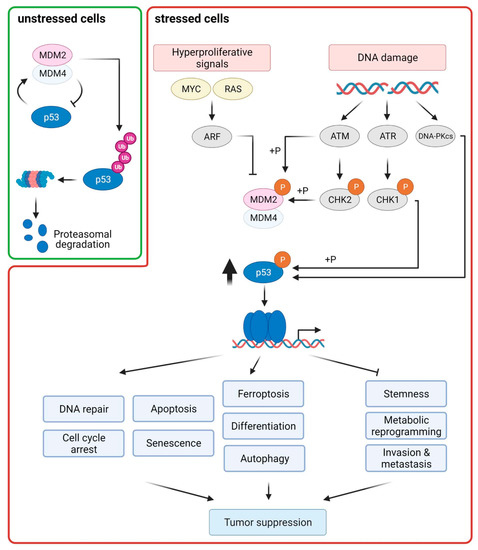 Figure 1
This is an open access article distributed under the
Creative Commons Attribution License
which permits unrestricted use, distribution, and reproduction in any medium, provided the original work is properly cited.

MDPI and ACS Style
Liebl, M.C.; Hofmann, T.G. The Role of p53 Signaling in Colorectal Cancer. Cancers 2021, 13, 2125. https://doi.org/10.3390/cancers13092125
AMA Style
Liebl MC, Hofmann TG. The Role of p53 Signaling in Colorectal Cancer. Cancers. 2021; 13(9):2125. https://doi.org/10.3390/cancers13092125
Chicago/Turabian Style
Liebl, Magdalena C., and Thomas G. Hofmann. 2021. "The Role of p53 Signaling in Colorectal Cancer" Cancers 13, no. 9: 2125. https://doi.org/10.3390/cancers13092125
Note that from the first issue of 2016, MDPI journals use article numbers instead of page numbers. See further details
here
.