Molecular Mechanisms of Alcohol-Induced Colorectal Carcinogenesis
1
Department of Environmental Health Sciences, Yale School of Public Health, Yale University, New Haven, CT 06520, USA
2
Department of Clinical Pharmacy, School of Pharmacy, University of Colorado Anschutz Medical Campus, Aurora, CO 80045, USA
*
Author to whom correspondence should be addressed.
†
These authors contributed equally to this work and therefore should be considered as first authors.
Academic Editor: Axel H. Schönthal
Received: 19 July 2021
/
Revised: 25 August 2021
/
Accepted: 26 August 2021
/
Published: 31 August 2021
Simple Summary
Alcohol consumption is a leading cause of lifestyle-induced morbidity and mortality worldwide. It is well-established that there is an association between alcohol consumption and an increased risk of colorectal cancer. Long-term alcohol consumption causes a spectrum of liver diseases, including steatosis, hepatitis, and liver cancer, and is detrimental to many other organs. In the body, alcohol can be metabolized to chemicals that exhibit biological activity, such as acetaldehyde. The intracellular accumulation of these compounds can result in suppression of antioxidant defense systems, and alterations in DNA. In addition, they can elicit changes at the tissue level, leading to reductions in nutrient absorption, inflammation, and impairment of the immune system. Together, these effects may increase the risk of cancer in a variety of organs. This review discusses the mechanisms by which alcohol may promote colorectal cancer. It is anticipated that a clearer understanding of the mechanisms by which alcohol induces cancer will facilitate the development of more effective therapeutic interventions.
The etiology of colorectal cancer (CRC) is complex. Approximately, 10% of individuals with CRC have predisposing germline mutations that lead to familial cancer syndromes, whereas most CRC patients have sporadic cancer resulting from a combination of environmental and genetic risk factors. It has become increasingly clear that chronic alcohol consumption is associated with the development of sporadic CRC; however, the exact mechanisms by which alcohol contributes to colorectal carcinogenesis are largely unknown. Several proposed mechanisms from studies in CRC models suggest that alcohol metabolites and/or enzymes associated with alcohol metabolism alter cellular redox balance, cause DNA damage, and epigenetic dysregulation. In addition, alcohol metabolites can cause a dysbiotic colorectal microbiome and intestinal permeability, resulting in bacterial translocation, inflammation, and immunosuppression. All of these effects can increase the risk of developing CRC. This review aims to outline some of the most significant and recent findings on the mechanisms of alcohol in colorectal carcinogenesis. We examine the effect of alcohol on the generation of reactive oxygen species, the development of genotoxic stress, modulation of one-carbon metabolism, disruption of the microbiome, and immunosuppression.
View Full-Text
►

▼

Show Figures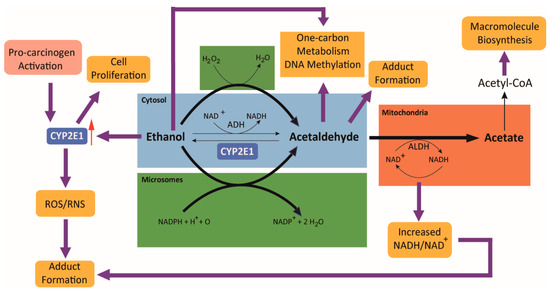 Figure 1
This is an open access article distributed under the
Creative Commons Attribution License
which permits unrestricted use, distribution, and reproduction in any medium, provided the original work is properly cited

MDPI and ACS Style
Johnson, C.H.; Golla, J.P.; Dioletis, E.; Singh, S.; Ishii, M.; Charkoftaki, G.; Thompson, D.C.; Vasiliou, V. Molecular Mechanisms of Alcohol-Induced Colorectal Carcinogenesis. Cancers 2021, 13, 4404. https://doi.org/10.3390/cancers13174404
AMA Style
Johnson CH, Golla JP, Dioletis E, Singh S, Ishii M, Charkoftaki G, Thompson DC, Vasiliou V. Molecular Mechanisms of Alcohol-Induced Colorectal Carcinogenesis. Cancers. 2021; 13(17):4404. https://doi.org/10.3390/cancers13174404
Chicago/Turabian Style
Johnson, Caroline H., Jaya P. Golla, Evangelos Dioletis, Surendra Singh, Momoko Ishii, Georgia Charkoftaki, David C. Thompson, and Vasilis Vasiliou. 2021. "Molecular Mechanisms of Alcohol-Induced Colorectal Carcinogenesis" Cancers 13, no. 17: 4404. https://doi.org/10.3390/cancers13174404
Note that from the first issue of 2016, MDPI journals use article numbers instead of page numbers. See further details
here
.