Neuroendocrine Lung Cancer Mouse Models: An Overview
1
Molecular Oncology Unit (CIEMAT), Institute of Biomedical Research, University Hospital "12 de Octubre", CIBERONC, 28040 Madrid, Spain
2
Biomedical Applications and Pharmacokinetics Unit (CIEMAT), 28040 Madrid, Spain
*
Author to whom correspondence should be addressed.
Received: 20 November 2020 / Revised: 18 December 2020 / Accepted: 19 December 2020 / Published: 22 December 2020
Simple Summary
Neuroendocrine lung tumors are a heterogeneous group of malignancies that share a common neuroendocrine nature. They range from low- and intermediate-grade typical and atypical carcinoma, to the highly malignant large cell neuroendocrine lung carcinoma and small cell carcinoma, with marked differences in incidences and prognosis. This review delineates the current knowledge of the genetic landscape of the human tumors, its influence in the development of genetically engineered mouse models (GEMMs) and the molecular imaging tools available to detect and monitor these diseases. While small cell lung carcinoma is one of the diseases best represented by GEMMs, there is a worrying lack of animal models for the other members of the group, these being understudied diseases. Regardless of the incidence and material available, they all are in urgent need of effective therapies.
Neuroendocrine lung tumors comprise a range of malignancies that extend from benign tumorlets to the most prevalent and aggressive Small Cell Lung Carcinoma (SCLC). They also include low-grade Typical Carcinoids (TC), intermediate-grade Atypical Carcinoids (AC) and high-grade Large Cell Neuroendocrine Carcinoma (LCNEC). Optimal treatment options have not been adequately established: surgical resection when possible is the choice for AC and TC, and for SCLC chemotherapy and very recently, immune checkpoint inhibitors. Some mouse models have been generated based on the molecular alterations identified in genomic analyses of human tumors. With the exception of SCLC, there is a limited availability of (preclinical) models making their development an unmet need for the understanding of the molecular mechanisms underlying these diseases. For SCLC, these models are crucial for translational research and novel drug testing, given the paucity of human material from surgery. The lack of early detection systems for lung cancer point them out as suitable frameworks for the identification of biomarkers at the initial stages of tumor development and for testing molecular imaging methods based on somatostatin receptors. Here, we review the relevant models reported to date, their impact on the understanding of the biology of the tumor subtypes and their relationships, as well as the effect of the analyses of the genetic landscape of the human tumors and molecular imaging tools in their development.
View Full-Text
►

▼

Show Figures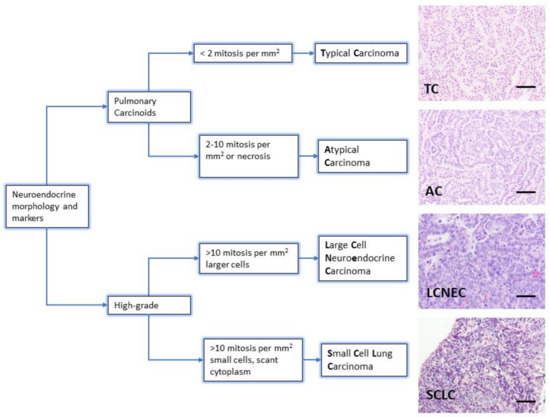 Figure 1
This is an open access article distributed under the
Creative Commons Attribution License
which permits unrestricted use, distribution, and reproduction in any medium, provided the original work is properly cited

MDPI and ACS Style
Lorz, C.; Oteo, M.; Santos, M. Neuroendocrine Lung Cancer Mouse Models: An Overview. Cancers 2021, 13, 14. https://doi.org/10.3390/cancers13010014
AMA Style
Lorz C, Oteo M, Santos M. Neuroendocrine Lung Cancer Mouse Models: An Overview. Cancers. 2021; 13(1):14. https://doi.org/10.3390/cancers13010014
Chicago/Turabian Style
Lorz, Corina, Marta Oteo, and Mirentxu Santos. 2021. "Neuroendocrine Lung Cancer Mouse Models: An Overview" Cancers 13, no. 1: 14. https://doi.org/10.3390/cancers13010014
Note that from the first issue of 2016, MDPI journals use article numbers instead of page numbers. See further details
here
.