The Inducible Role of Ambient Particulate Matter in Cancer Progression via Oxidative Stress-Mediated Reactive Oxygen Species Pathways: A Recent Perception
1
Department of Orthopaedic Surgery, Chang Gung Memorial Hospital, Puzi City, Chiayi County 613, Taiwan
2
Department of Nursing, Division of Basic Medical Sciences, Chronic Diseases and Health Promotion Research Center, Chang Gung University of Science and Technology, Puzi City, Chiayi County 613, Taiwan
3
Department of Safety Health and Environmental Engineering, Ming Chi University of Technology, New Taipei City 243, Taiwan
4
College of Medicine, Chang Gung University, Guishan District, Taoyuan City 333, Taiwan
5
School of Dentistry, College of Oral Medicine, Taipei Medical University, Taipei 110, Taiwan
6
Chronic Disease and Health Promotion Research Center, Chang Gung University of Science and Technology, Chiayi County 613, Taiwan
7
Division of Pulmonary and Critical Care Medicine, Chiayi Chang Gung Memorial Hospital, Chiayi County 613, Taiwan
8
Department of Respiratory Care, Chang Gung University of Science and Technology, Chiayi County 613, Taiwan
9
Department of Nursing, Chang Gung University of Science and Technology, Puzi City 613, Taiwan
10
Graduate Institute of Clinical Medical Sciences, College of Medicine, Chang Gung University, Taoyuan 333, Taiwan
11
Center for Environmental Toxin and Emerging-Contaminant Research, Cheng Shiu University, Kaohsiung 833, Taiwan
12
Super Micro Research and Technology Center, Cheng Shiu University, Kaohsiung 833, Taiwan
*
Author to whom correspondence should be addressed.
†
These authors contributed equally to this work.
Received: 8 August 2020 / Revised: 26 August 2020 / Accepted: 2 September 2020 / Published: 3 September 2020
Simple Summary
Particulate matter, especially the fine fraction PM2.5, is officially stated as carcinogenic to human. There are compelling evidences on the association between PM2.5 exposure and lung cancer, and there are also some preliminary data reporting the significant links between this fraction with non-lung cancers. The underlying mechanisms remain unclear. Further studies related to such scope are highly required. The purpose of this work is to systemically analyze recent findings concerning the relationship between PM2.5 and cancer, and to thoroughly present the oxidative stress pathways mediated by reactive oxygen species as the key mechanism for carcinogenesis induced by PM2.5. This will provide a more comprehensive and updated knowledge regarding carcinogenic capacity of PM2.5 to both clinicians and public health workers, contributing to preventive and therapeutic strategies to fight against cancer in human.
Cancer is one of the leading causes of premature death and overall death in the world. On the other hand, fine particulate matter, which is less than 2.5 microns in aerodynamic diameter, is a global health problem due to its small diameter but high toxicity. Accumulating evidence has demonstrated the positive associations between this pollutant with both lung and non-lung cancer processes. However, the underlying mechanisms are yet to be elucidated. The present review summarizes and analyzes the most recent findings on the relationship between fine particulate matter and various types of cancer along with the oxidative stress mechanisms as its possible carcinogenic mechanisms. Also, promising antioxidant therapies against cancer induced by this poison factor are discussed.
View Full-Text
►

▼

Show Figures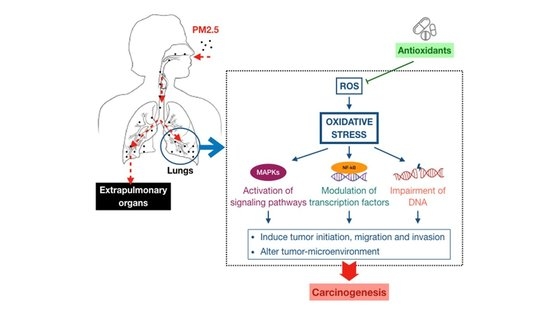 Graphical abstract
This is an open access article distributed under the
Creative Commons Attribution License
which permits unrestricted use, distribution, and reproduction in any medium, provided the original work is properly cited

MDPI and ACS Style
Lee, C.-W.; Vo, T.T.T.; Wu, C.-Z.; Chi, M.-C.; Lin, C.-M.; Fang, M.-L.; Lee, I.-T. The Inducible Role of Ambient Particulate Matter in Cancer Progression via Oxidative Stress-Mediated Reactive Oxygen Species Pathways: A Recent Perception. Cancers 2020, 12, 2505.
Show more citation formats
Show less citations formats
Note that from the first issue of 2016, MDPI journals use article numbers instead of page numbers. See further details
here
.