Prospects for NK Cell Therapy of Sarcoma
1
Department of Clinical Immunology, Doctoral School, Medical University of Warsaw, 02-006 Warsaw, Poland
2
Department of Cancer Immunology, Institute for Cancer Research, Oslo University Hospital, 0310 Oslo, Norway
3
Department of Immunology, Medical University of Warsaw, 02-097 Warsaw, Poland
4
Department of Oncology, Oslo University Hospital, 0310 Oslo, Norway
5
Department of Clinical Immunology, Medical University of Warsaw, 02-006 Warsaw, Poland
6
Center for Infectious Medicine, Department of Medicine Huddinge, Karolinska Institutet, Karolinska University Hospital, 141 86 Stockholm, Sweden
*
Authors to whom correspondence should be addressed.
Received: 15 November 2020 / Revised: 8 December 2020 / Accepted: 9 December 2020 / Published: 11 December 2020
Simple Summary
Sarcomas are a group of aggressive tumors originating from mesenchymal tissues. Patients with advanced disease have poor prognosis due to the ineffectiveness of current treatment protocols. A subset of lymphocytes called natural killer (NK) cells is capable of effective surveillance and clearance of sarcomas, constituting a promising tool for immunotherapeutic treatment. However, sarcomas can cause impairment in NK cell function, associated with enhanced tumor growth and dissemination. In this review, we discuss the molecular mechanisms of sarcoma-mediated suppression of NK cells and their implications for the design of novel NK cell-based immunotherapies against sarcoma.
Natural killer (NK) cells are innate lymphoid cells with potent antitumor activity. One of the most NK cell cytotoxicity-sensitive tumor types is sarcoma, an aggressive mesenchyme-derived neoplasm. While a combination of radical surgery and radio- and chemotherapy can successfully control local disease, patients with advanced sarcomas remain refractory to current treatment regimens, calling for novel therapeutic strategies. There is accumulating evidence for NK cell-mediated immunosurveillance of sarcoma cells during all stages of the disease, highlighting the potential of using NK cells as a therapeutic tool. However, sarcomas display multiple immunoevasion mechanisms that can suppress NK cell function leading to an uncontrolled tumor outgrowth. Here, we review the current evidence for NK cells' role in immune surveillance of sarcoma during disease initiation, promotion, progression, and metastasis, as well as the molecular mechanisms behind sarcoma-mediated NK cell suppression. Further, we apply this basic understanding of NK–sarcoma crosstalk in order to identify and summarize the most promising candidates for NK cell-based sarcoma immunotherapy.
View Full-Text
►

▼

Show Figures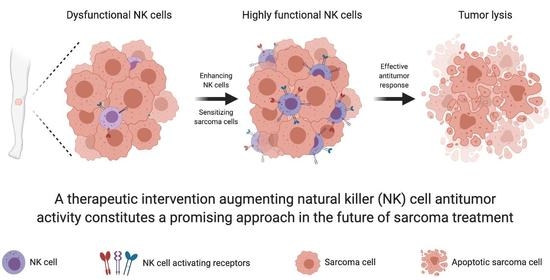 Graphical abstract
This is an open access article distributed under the
Creative Commons Attribution License
which permits unrestricted use, distribution, and reproduction in any medium, provided the original work is properly cited

MDPI and ACS Style
Lachota, M.; Vincenti, M.; Winiarska, M.; Boye, K.; Zagożdżon, R.; Malmberg, K.-J. Prospects for NK Cell Therapy of Sarcoma. Cancers 2020, 12, 3719.
AMA Style
Lachota M, Vincenti M, Winiarska M, Boye K, Zagożdżon R, Malmberg K-J. Prospects for NK Cell Therapy of Sarcoma. Cancers. 2020; 12(12):3719.
Chicago/Turabian Style
Lachota, Mieszko; Vincenti, Marianna; Winiarska, Magdalena; Boye, Kjetil; Zagożdżon, Radosław; Malmberg, Karl-Johan. 2020. "Prospects for NK Cell Therapy of Sarcoma" Cancers 12, no. 12: 3719.
Note that from the first issue of 2016, MDPI journals use article numbers instead of page numbers. See further details
here
.