Targeting the RhoGEF βPIX/COOL-1 in Glioblastoma: Proof of Concept Studies
1
Department of Physiology and Medical Physics, Royal College of Surgeons in Ireland, Dublin 2, Ireland
2
Department of Cancer Biology and Neurological Surgery, Mayo Clinic Arizona, Scottsdale, AZ 85054, USA
3
Epidemiology & Public Health, Royal College of Surgeons in Ireland, Dublin 2, Ireland
4
National Neurosurgical Department, Beaumont Hospital, Dublin 9, Ireland
5
Center for Cancer Biology, Laboratory for Translational Genetics, Vlaams Instituut voor Biotechnologie (VIB), B-3000 Leuven, Belgium
6
Department of Radiation Oncology, Mayo Clinic, Rochester, MN 55905, USA
7
Department of Clinical Chemistry and Haematology, University Medical Center Utrecht, 100 3584 Utrecht, The Netherlands
8
Department of Oncology & Cell Biology, Feinstein Institute for Medical Research at North Shore-LIJ, Manhasset, NY 11030, USA
*
Author to whom correspondence should be addressed.
†
These authors contributed equally to the work.
Received: 26 October 2020
/
Revised: 15 November 2020
/
Accepted: 19 November 2020
/
Published: 26 November 2020
Simple Summary
Glioblastoma (GBM) is an incurable disease with a 14-month average life-expectancy following diagnosis, and clinical management has not improved in four decades. GBM mortality is due to rapid tumour growth and invasion into surrounding normal brain. Invasive cells make complete surgical removal of the tumour impossible, and result in disease relapse. Thus, it is imperative that any new treatment strategy takes these invading cells into consideration. Bevacizumab (Bev), which prevents the formation of new blood vessels, is an FDA approved therapy, but it has failed to increase overall survival in GBM and has even been shown to increase tumour invasion in some cases. Complementary anti-invasive therapies are therefore urgently required to enhance bevacizumab efficacy. We have identified βPIX/COOL-1, a RhoGEF protein which plays an important role in GBM cell invasion and angiogenesis and could be a useful target in this setting.
Glioblastoma (GBM), a highly invasive and vascular malignancy is shown to rapidly develop resistance and evolve to a more invasive phenotype following bevacizumab (Bev) therapy. Rho Guanine Nucleotide Exchange Factor proteins (RhoGEFs) are mediators of key components in Bev resistance pathways, GBM and Bev-induced invasion. To identify GEFs with enhanced mRNA expression in the leading edge of GBM tumours, a cohort of GEFs was assessed using a clinical dataset. The GEF βPix/COOL-1 was identified, and the functional effect of gene depletion assessed using 3D-boyden chamber, proliferation, and colony formation assays in GBM cells. Anti-angiogenic effects were assessed in endothelial cells using tube formation and wound healing assays. In vivo effects of βPix/COOL-1-siRNA delivered via RGD-Nanoparticle in combination with Bev was studied in an invasive model of GBM. We found that siRNA-mediated knockdown of βPix/COOL-1 in vitro decreased cell invasion, proliferation and increased apoptosis in GBM cell lines. Moreover βPix/COOL-1 mediated endothelial cell migration in vitro. Mice treated with βPix/COOL-1 siRNA-loaded RGD-Nanoparticle and Bev demonstrated a trend towards improved median survival compared with Bev monotherapy. Our hypothesis generating study suggests that the RhoGEF βPix/COOL-1 may represent a target of vulnerability in GBM, in particular to improve Bev efficacy.
View Full-Text
►

▼

Show Figures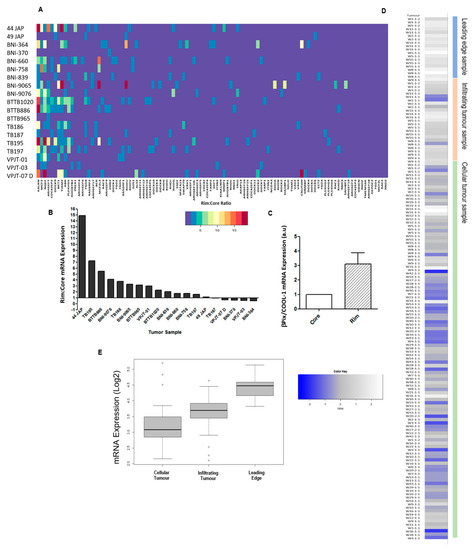 Figure 1
This is an open access article distributed under the
Creative Commons Attribution License
which permits unrestricted use, distribution, and reproduction in any medium, provided the original work is properly cited

MDPI and ACS Style
Connor, K.; Murray, D.W.; Jarzabek, M.A.; Tran, N.L.; White, K.; Dicker, P.; Sweeney, K.J.; O'Halloran, P.J.; MacCarthy, B.; Shiels, L.P.; Lodi, F.; Lambrechts, D.; Sarkaria, J.N.; Schiffelers, R.M.; Symons, M.; Byrne, A.T. Targeting the RhoGEF βPIX/COOL-1 in Glioblastoma: Proof of Concept Studies. Cancers 2020, 12, 3531. https://doi.org/10.3390/cancers12123531
AMA Style
Connor K, Murray DW, Jarzabek MA, Tran NL, White K, Dicker P, Sweeney KJ, O'Halloran PJ, MacCarthy B, Shiels LP, Lodi F, Lambrechts D, Sarkaria JN, Schiffelers RM, Symons M, Byrne AT. Targeting the RhoGEF βPIX/COOL-1 in Glioblastoma: Proof of Concept Studies. Cancers. 2020; 12(12):3531. https://doi.org/10.3390/cancers12123531
Chicago/Turabian Style
Connor, Kate, David W. Murray, Monika A. Jarzabek, Nhan L. Tran, Kieron White, Patrick Dicker, Kieron J. Sweeney, Philip J. O'Halloran, Brian MacCarthy, Liam P. Shiels, Francesca Lodi, Diether Lambrechts, Jann N. Sarkaria, Raymond M. Schiffelers, Marc Symons, and Annette T. Byrne 2020. "Targeting the RhoGEF βPIX/COOL-1 in Glioblastoma: Proof of Concept Studies" Cancers 12, no. 12: 3531. https://doi.org/10.3390/cancers12123531
Note that from the first issue of 2016, MDPI journals use article numbers instead of page numbers. See further details
here
.