Untargeted Assessment of Tumor Fractions in Plasma for Monitoring and Prognostication from Metastatic Breast Cancer Patients Undergoing Systemic Treatment
1
Division of Oncology, Department of Internal Medicine, Medical University of Graz, 8036 Graz, Austria
2
Institute of Pathology, Medical University of Graz, 8010 Graz, Austria
3
Institute of Human Genetics, Diagnostic and Research Center for Molecular Biomedicine, Medical University of Graz, 8010 Graz, Austria
4
Department of Pathology, University of Miami Miller School of Medicine, Miami, FL 33136, USA
5
Research Unit Epigenetic and Genetic Cancer Biomarkers, Medical University of Graz, 8036 Graz, Austria
6
BioTechMed-Graz, 8036 Graz, Austria
7
Christian Doppler Laboratory for Liquid Biopsies for Early Detection of Cancer, 8010 Graz, Austria
8
Research Unit Circulating Tumor Cells and Cancer Stem Cells, Medical University of Graz, 8036 Graz, Austria
*
Authors to whom correspondence should be addressed.
†
Equally contributing senior authors.
Received: 4 July 2019 / Revised: 31 July 2019 / Accepted: 12 August 2019 / Published: 14 August 2019
Abstract
The aim of this study was to assess the prognostic and predictive value of an untargeted assessment of tumor fractions in the plasma of metastatic breast cancer patients and to compare circulating tumor DNA (ctDNA) with circulating tumor cells (CTC) and conventional tumor markers. In metastatic breast cancer patients (
n
= 29), tumor fractions in plasma were assessed using the untargeted mFAST-SeqS method from 127 serial blood samples. Resulting z-scores for the ctDNA were compared to tumor fractions established with the recently published ichorCNA algorithm and associated with the clinical outcome. We observed a close correlation between mFAST-SeqS z-scores and ichorCNA ctDNA quantifications. Patients with mFAST-SeqS z-scores above three (34.5%) showed significantly worse overall survival (
p
= 0.014) and progression-free survival (
p
= 0.018) compared to patients with lower values. Elevated
z
-score values were clearly associated with radiologically proven progression. The baseline CTC count, carcinoembryonic antigen (CEA), and cancer antigen (CA)15-5 had no prognostic impact on the outcome of patients in the analyzed cohort. This proof of principle study demonstrates the prognostic impact of ctDNA levels detected with mFAST-SeqS as a very fast and cost-effective means to assess the ctDNA fraction without prior knowledge of the genetic landscape of the tumor. Furthermore, mFAST-SeqS-based ctDNA levels provided an early means of measuring treatment response.
View Full-Text
►

▼

Figures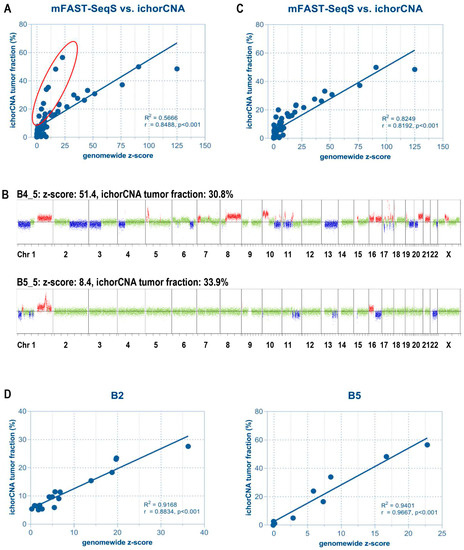 Figure 1
This is an open access article distributed under the
Creative Commons Attribution License
which permits unrestricted use, distribution, and reproduction in any medium, provided the original work is properly cited (CC BY 4.0).

Share & Cite This Article
MDPI and ACS Style
Suppan, C.; Brcic, I.; Tiran, V.; Mueller, H.D.; Posch, F.; Auer, M.; Ercan, E.; Ulz, P.; Cote, R.J.; Datar, R.H.; Dandachi, N.; Heitzer, E.; Balic, M. Untargeted Assessment of Tumor Fractions in Plasma for Monitoring and Prognostication from Metastatic Breast Cancer Patients Undergoing Systemic Treatment. Cancers 2019, 11, 1171.
Note that from the first issue of 2016, MDPI journals use article numbers instead of page numbers. See further details here.
Related Articles
Comments
[Return to top]