Use of Antibiotics and Risk of Cancer: A Systematic Review and Meta-Analysis of Observational Studies
1
Oncology Unit, Oncology Department, ASST Bergamo Ovest, 24047 Treviglio (BG), Italy
2
Medical Oncology Unit, Fondazione IRCCS Ca' Granda Ospedale Maggiore Policlinico, 20122 Milan, Italy
3
Medical Oncology Unit, Casa di Cura Igea, 20129 Milan, Italy
4
Pharmacy Unit, School of Hospital Pharmacy—University of Milan, ASST Bergamo Ovest, 24047 Treviglio (BG), Italy
5
Department of Medicine, Royal Marsden Hospital, London and Surrey, Sutton SM2 5PT, UK
6
Pharmacy Unit, ASST Bergamo Ovest, 24047 Treviglio (BG), Italy
7
Oncology Unit, Fondazione Poliambulanza, 25124 Brescia, Italy
8
Division of Molecular Pathology, The Institute of Cancer Research, Sutton, London SM2 5NG, UK
9
Niguarda Cancer Center, Grande Ospedale Metropolitano Niguarda, 20162 Milan, Italy
*
Author to whom correspondence should be addressed.
Received: 31 July 2019 / Revised: 10 August 2019 / Accepted: 11 August 2019 / Published: 14 August 2019
Abstract
The association between antibiotic use and risk of cancer development is unclear, and clinical trials are lacking. We performed a systematic review and meta-analysis of observational studies to assess the association between antibiotic use and risk of cancer. PubMed, the Cochrane Library and EMBASE were searched from inception to 24 February 2019 for studies reporting antibiotic use and subsequent risk of cancer. We included observational studies of adult subjects with previous exposure to antibiotics and available information on incident cancer diagnoses. For each of the eligible studies, data were collected by three reviewers. Risk of cancer was pooled to provide an adjusted odds ratio (OR) with a 95% confidence interval (CI). The primary outcome was the risk of developing cancer in ever versus non-antibiotic users. Cancer risk's association with antibiotic intake was evaluated among 7,947,270 participants (
n
= 25 studies). Overall, antibiotic use was an independent risk factor for cancer occurrence (OR 1.18, 95%CI 1.12–1.24,
p
< 0.001). The risk was especially increased for lung cancer (OR 1.29, 95%CI 1.03–1.61,
p
= 0.02), lymphomas (OR 1.31, 95%CI 1.13–1.51,
p
< 0.001), pancreatic cancer (OR 1.28, 95%CI 1.04–1.57,
p
= 0.019), renal cell carcinoma (OR 1.28, 95%CI 1.1–1.5,
p
= 0.001), and multiple myeloma (OR 1.36, 95%CI 1.18–1.56,
p
< 0.001). There is moderate evidence that excessive or prolonged use of antibiotics during a person's life is associated with slight increased risk of various cancers. The message is potentially important for public health policies because minimizing improper antibiotic use within a program of antibiotic stewardship could also reduce cancer incidence.
View Full-Text
►

▼

Figures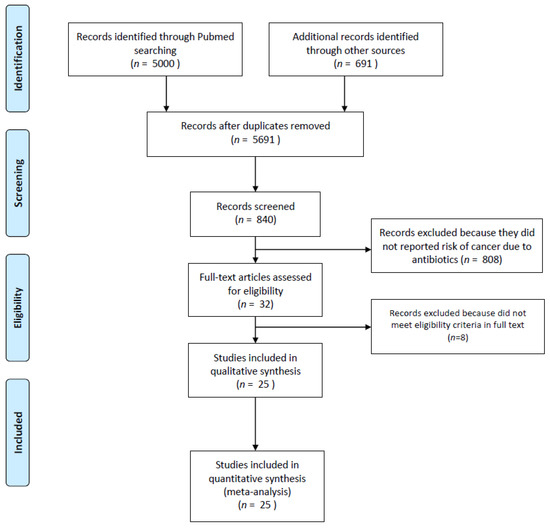 Figure 1
This is an open access article distributed under the
Creative Commons Attribution License
which permits unrestricted use, distribution, and reproduction in any medium, provided the original work is properly cited (CC BY 4.0).

Share & Cite This Article
MDPI and ACS Style
Petrelli, F.; Ghidini, M.; Ghidini, A.; Perego, G.; Cabiddu, M.; Khakoo, S.; Oggionni, E.; Abeni, C.; Hahne, J.C.; Tomasello, G.; Zaniboni, A. Use of Antibiotics and Risk of Cancer: A Systematic Review and Meta-Analysis of Observational Studies. Cancers 2019, 11, 1174.
Note that from the first issue of 2016, MDPI journals use article numbers instead of page numbers. See further details here.
Related Articles
Comments
[Return to top]