Noncoding RNAs in Extracellular Fluids as Cancer Biomarkers: The New Frontier of Liquid Biopsies
1
Department of Experimental Therapeutics, The University of Texas MD Anderson Cancer Center, Houston, TX 77030, USA
2
Department of Medical Sciences, University of Turin, 10124 Turin, Italy
3
Unit of Molecular Epidemiology and Exposome, Italian Institute for Genomic Medicine (IIGM), 10126 Turin, Italy
4
Department of Pediatrics, Marie Curie Emergency Clinical Hospital for Children, 077120 Bucharest, Romania
5
Center for RNA Interference and Non-Coding RNAs, The University of Texas MD Anderson Cancer Center, Houston, TX 77030, USA
6
Department of Leukemia, The University of Texas MD Anderson Cancer Center, Houston, TX 77030, USA
*
Authors to whom correspondence should be addressed.
Received: 5 July 2019 / Revised: 4 August 2019 / Accepted: 10 August 2019 / Published: 14 August 2019
Abstract
The last two decades of cancer research have been devoted in two directions: (1) understanding the mechanism of carcinogenesis for an effective treatment, and (2) improving cancer prevention and screening for early detection of the disease. This last aspect has been developed, especially for certain types of cancers, thanks also to the introduction of new concepts such as liquid biopsies and precision medicine. In this context, there is a growing interest in the application of alternative and noninvasive methodologies to search for cancer biomarkers. The new frontiers of the research lead to a search for RNA molecules circulating in body fluids. Searching for biomarkers in extracellular body fluids represents a better option for patients because they are easier to access, less painful, and potentially more economical. Moreover, the possibility for these types of samples to be taken repeatedly, allows a better monitoring of the disease progression or treatment efficacy for a better intervention and dynamic treatment of the patient, which is the fundamental basis of personalized medicine. RNA molecules, freely circulating in body fluids or packed in microvesicles, have all the characteristics of the ideal biomarkers owing to their high stability under storage and handling conditions and being able to be sampled several times for monitoring. Moreover, as demonstrated for many cancers, their plasma/serum levels mirror those in the primary tumor. There are a large variety of RNA species noncoding for proteins that could be used as cancer biomarkers in liquid biopsies. Among them, the most studied are microRNAs, but recently the attention of the researcher has been also directed towards Piwi-interacting RNAs, circular RNAs, and other small noncoding RNAs. Another class of RNA species, the long noncoding RNAs, is larger than microRNAs and represents a very versatile and promising group of molecules which, apart from their use as biomarkers, have also a possible therapeutic role. In this review, we will give an overview of the most common noncoding RNA species detectable in extracellular fluids and will provide an update concerning the situation of the research on these molecules as cancer biomarkers.
View Full-Text
►

▼

Figures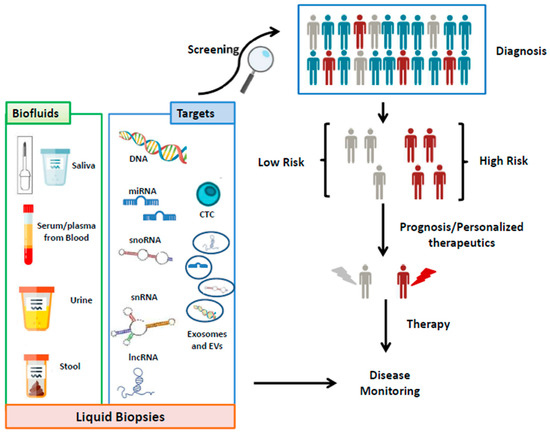 Figure 1
This is an open access article distributed under the
Creative Commons Attribution License
which permits unrestricted use, distribution, and reproduction in any medium, provided the original work is properly cited (CC BY 4.0).

Share & Cite This Article
MDPI and ACS Style
Pardini, B.; Sabo, A.A.; Birolo, G.; Calin, G.A. Noncoding RNAs in Extracellular Fluids as Cancer Biomarkers: The New Frontier of Liquid Biopsies. Cancers 2019, 11, 1170.
Note that from the first issue of 2016, MDPI journals use article numbers instead of page numbers. See further details here.
Related Articles
Comments
[Return to top]