Vesicular-Bound HLA-G as a Predictive Marker for Disease Progression in Epithelial Ovarian Cancer
1
Institute for Transfusion Medicine, University Hospital Essen, University of Duisburg-Essen, Virchowstr. 179, 45147 Essen, Germany
2
Institute for Transfusion Medicine, Hannover Medical School, Carl-Neuberg-Str. 1, 30625 Hannover, Germany
3
Department for Gynecology and Obstetrics, University Hospital Essen, University of Duisburg-Essen, Hufelandstr. 55, 45147 Essen, Germany
*
Author to whom correspondence should be addressed.
Received: 25 June 2019 / Revised: 29 July 2019 / Accepted: 1 August 2019 / Published: 2 August 2019
Abstract
Extracellular vesicles (EV) and their tumor-supporting cargos provide a promising translational potential in liquid biopsies for risk assessment of epithelial ovarian cancer (EOC) patients frequently relapsing, despite initial complete therapy responses. As the immune checkpoint molecule HLA-G, which is operative in immune-escape, can be released by EV, we evaluate the abundance of EV and its vesicular-bound amount of HLA-G (HLA-G
EV
) as a biomarker in EOC. After enrichment of EV from plasma samples, we determined the EV particle number and amount of HLA-G
EV
by nanoparticle tracking analysis or ELISA. The association of results with the clinical status/outcome revealed that both, EV particle number and HLA-G
EV
were significantly elevated in EOC patients, compared to healthy females. However, elevated levels of HLA-G
EV
, but not EV numbers, were exclusively associated with a disadvantageous clinical status/outcome, including residual tumor, presence of circulating tumor cells, and disease progression. High HLA-G
EV
status was an independent predictor of progression, besides residual tumor burden and platinum-sensitivity. Especially among patients without residual tumor burden or with platinum-sensitivity, HLA-G
EV
identified patients with high risk of progression. Thus, this study highlights HLA-G
EV
as a potential novel biomarker for risk assessment of EOC patients with a rather beneficial prognosis defined by platinum-sensitivity or lack of residual tumor burden.
View Full-Text
►

▼

Figures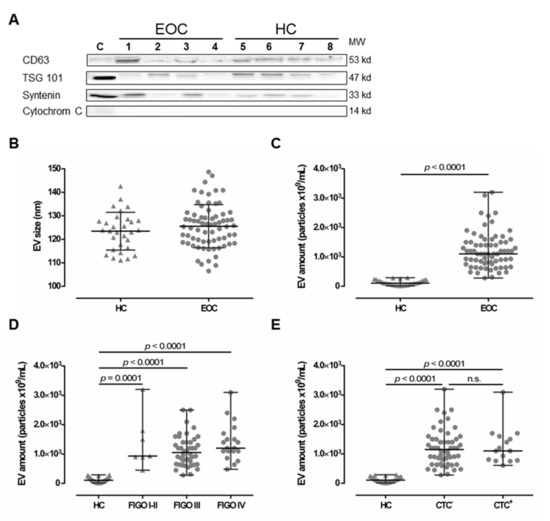 Figure 1
This is an open access article distributed under the
Creative Commons Attribution License
which permits unrestricted use, distribution, and reproduction in any medium, provided the original work is properly cited (CC BY 4.0).

Share & Cite This Article
MDPI and ACS Style
Schwich, E.; Rebmann, V.; Horn, P.A.; Celik, A.A.; Bade-Döding, C.; Kimmig, R.; Kasimir-Bauer, S.; Buderath, P. Vesicular-Bound HLA-G as a Predictive Marker for Disease Progression in Epithelial Ovarian Cancer. Cancers 2019, 11, 1106.
Note that from the first issue of 2016, MDPI journals use article numbers instead of page numbers. See further details here.
Related Articles
Comments
[Return to top]