Locally Advanced Pancreatic Cancer: Work-Up, Staging, and Local Intervention Strategies
1
Department of Surgery, Cancer Center Amsterdam, Amsterdam UMC, University of Amsterdam, 1105 AZ Amsterdam, The Netherlands
2
Department of Surgery, Regional Academic Cancer Center Utrecht, University of Utrecht, 3584 CX Utrecht, The Netherlands
3
Department of Medical Oncology, Cancer Center Amsterdam, Amsterdam UMC, University of Amsterdam, 1105 AZ Amsterdam, The Netherlands
4
Department of Surgery, University of Colorado, Denver, CO 80045, USA
5
Department of Radiology, Cancer Center Amsterdam, Amsterdam UMC, University of Amsterdam, 1105 AZ Amsterdam, The Netherlands
6
Department of Radiology and Nuclear Medicine, Cancer Center Amsterdam, Amsterdam UMC, VU University, 1081 HV Amsterdam, The Netherlands
7
Department of Radiation Oncology, Cancer Center Amsterdam, Amsterdam UMC, University of Amsterdam, 1105 AZ Amsterdam, The Netherlands
8
Department of Surgery, Universitätsklinikum Heidelberg, 69120 Heidelberg, Germany
9
Department of Surgery, John's Hopkins Hospital, Baltimore, MD 21287, USA
10
Departments of Surgery, Regional Academic Cancer Center Utrecht, St Antonius Hospital Nieuwegein, 3435 CM Nieuwegein, The Netherlands
11
Department of Surgery, Erasmus University Medical Center, 3015 GD Rotterdam, The Netherlands
*
Author to whom correspondence should be addressed.
Received: 7 June 2019 / Revised: 5 July 2019 / Accepted: 9 July 2019 / Published: 12 July 2019
Abstract
Locally advanced pancreatic cancer (LAPC) has several definitions but essentially is a nonmetastasized pancreatic cancer, in which upfront resection is considered not beneficial due to extensive vascular involvement and consequent high chance of a nonradical resection. The introduction of FOLFIRINOX chemotherapy and gemcitabine-nab-paclitaxel (gem-nab) has had major implications for the management and outcome of patients with LAPC. After 4–6 months induction chemotherapy, the majority of patients have stable disease or even tumor-regression. Of these, 12 to 35% are successfully downstaged to resectable disease. Several studies have reported a 30–35 months overall survival after resection; although it currently remains unclear if this is a result of the resection or the good response to chemotherapy. Following chemotherapy, selection of patients for resection is difficult, as contrast-enhanced computed-tomography (CT) scan is unreliable in differentiating between viable tumor and fibrosis. In case a resection is not considered possible but stable disease is observed, local ablative techniques are being studied, such as irreversible electroporation, radiofrequency ablation, and stereotactic body radiation therapy. Pragmatic, multicenter, randomized studies will ultimately have to confirm the exact role of both surgical exploration and ablation in these patients. Since evidence-based guidelines for the management of LAPC are lacking, this review proposes a standardized approach for the treatment of LAPC based on the best available evidence.
View Full-Text
►

▼

Figures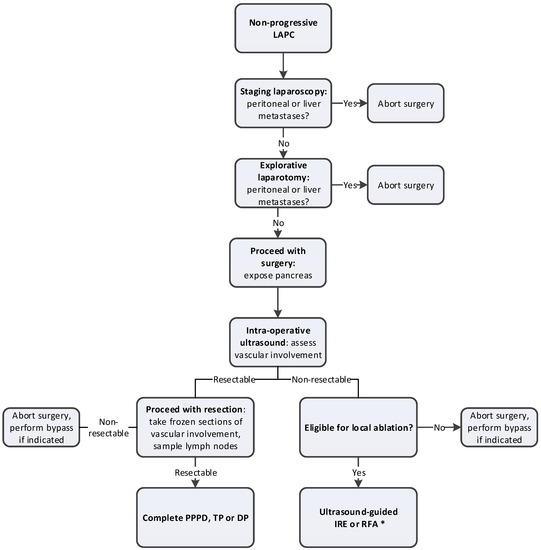 Figure 1
This is an open access article distributed under the
Creative Commons Attribution License
which permits unrestricted use, distribution, and reproduction in any medium, provided the original work is properly cited (CC BY 4.0).

Share & Cite This Article
MDPI and ACS Style
van Veldhuisen, E.; van den Oord, C.; Brada, L.J.; Walma, M.S.; Vogel, J.A.; Wilmink, J.W.; del Chiaro, M.; van Lienden, K.P.; Meijerink, M.R.; van Tienhoven, G.; Hackert, T.; Wolfgang, C.L.; van Santvoort, H.; Groot Koerkamp, B.; Busch, O.R.; Molenaar, I.Q.; van Eijck, C.H.; Besselink, M.G.; the Dutch Pancreatic Cancer Group and International Collaborative Group on Locally Advanced Pancreatic Cancer. Locally Advanced Pancreatic Cancer: Work-Up, Staging, and Local Intervention Strategies. Cancers 2019, 11, 976.
Note that from the first issue of 2016, MDPI journals use article numbers instead of page numbers. See further details here.
Related Articles
Comments
[Return to top]