Genetic Aberration Analysis in Thai Colorectal Adenoma and Early-Stage Adenocarcinoma Patients by Whole-Exome Sequencing
1
Bioinformatics and Systems Biology Program, School of Bioresources and Technology and School of Information Technology, King Mongkut's University of Technology Thonburi, Bangkok 10150, Thailand
2
Bioinformatics Unit for Genomic Analysis, Division of Research and International Relations, HRH Princess Chulabhorn College of Medical Science, Chulabhorn Royal Academy, Bangkok 10210, Thailand
3
Systems Biology and Bioinformatics Research Group, Pilot Plant Development and Training Institute, King Mongkut's University of Technology Thonburi, Bangkok 10150, Thailand
4
Molecular Biology and Genomic Laboratory, Division of Research and International Relations, HRH Princess Chulabhorn College of Medical Science, Chulabhorn Royal Academy, Bangkok 10210, Thailand
5
Cytogenetics Unit, Central Research Laboratory, Division of Research and International Relations, HRH Princess Chulabhorn College of Medical Science, Chulabhorn Royal Academy, Bangkok 10210, Thailand
6
Data Management Unit, HRH Princess Chulabhorn College of Medical Science, Chulabhorn Royal Academy, Bangkok 10210, Thailand
7
Faculty of Medicine and Public Health, HRH Princess Chulabhorn College of Medical Science, Chulabhorn Royal Academy, Bangkok 10210, Thailand
8
Pathology Laboratory Unit, Chulabhorn Hospital, HRH Princess Chulabhorn College of Medical Science, Chulabhorn Royal Academy, Bangkok 10210, Thailand
9
Department of Medical Oncology, Chulabhorn Hospital, HRH Princess Chulabhorn College of Medical Science, Chulabhorn Royal Academy, Bangkok 10210, Thailand
10
School of Bioresources and Technology, King Mongkut's University of Technology Thonburi, Bangkok 10150, Thailand
11
Biochemical Engineering and Systems Biology research group, National Center for Genetic Engineering and Biotechnology (BIOTEC) at King Mongkut's University of Technology Thonburi, Bangkhuntien, Bangkok 10150, Thailand
12
Department of Biomedical Informatics, College of Medicine, University of Arkansas for Medical Sciences, Little Rock, AR 72205, USA
13
Department of Biology and Biological Engineering, Chalmers University of Technology, SE-412 96 Gothenburg, Sweden
14
Department of Physiology and Biophysics, College of Medicine, The University of Arkansas for Medical Sciences, Little Rock, AR 72205, USA
*
Authors to whom correspondence should be addressed.
Received: 1 May 2019 / Revised: 31 May 2019 / Accepted: 3 June 2019 / Published: 12 July 2019
Abstract
Colorectal adenomas are precursor lesions of colorectal adenocarcinoma. The transition from adenoma to carcinoma in patients with colorectal cancer (CRC) has been associated with an accumulation of genetic aberrations. However, criteria that can screen adenoma progression to adenocarcinoma are still lacking. This present study is the first attempt to identify genetic aberrations, such as the somatic mutations, copy number variations (CNVs), and high-frequency mutated genes, found in Thai patients. In this study, we identified the genomic abnormality of two sample groups. In the first group, five cases matched normal-colorectal adenoma-colorectal adenocarcinoma. In the second group, six cases matched normal-colorectal adenomas. For both groups, whole-exome sequencing was performed. We compared the genetic aberration of the two sample groups. In both normal tissues compared with colorectal adenoma and colorectal adenocarcinoma analyses, somatic mutations were observed in the tumor suppressor gene
APC
(Adenomatous polyposis coli) in eight out of ten patients. In the group of normal tissue comparison with colorectal adenoma tissue, somatic mutations were also detected in Catenin Beta 1 (
CTNNB1
), Family With Sequence Similarity 123B (
FAM123B
), F-Box And WD Repeat Domain Containing 7 (
FBXW7
), Sex-Determining Region Y-Box 9 (
SOX9
), Low-Density Lipoprotein Receptor-Related Protein 5 (
LRP5
), Frizzled Class Receptor 10 (
FZD10
), and AT-Rich Interaction Domain 1A (
ARID1A
) genes, which are involved in the Wingless-related integration site (Wnt) signaling pathway. In the normal tissue comparison with colorectal adenocarcinoma tissue, Kirsten retrovirus-associated DNA sequences (
KRAS
), Tumor Protein 53 (
TP53
), and Ataxia-Telangiectasia Mutated (
ATM
) genes are found in the receptor tyrosine kinase-RAS (RTK–RAS) signaling pathway and p53 signaling pathway, respectively. These results suggest that
APC
and
TP53
may act as a potential screening marker for colorectal adenoma and early-stage CRC. This preliminary study may help identify patients with adenoma and early-stage CRC and may aid in establishing prevention and surveillance strategies to reduce the incidence of CRC.
View Full-Text
►

▼

Figures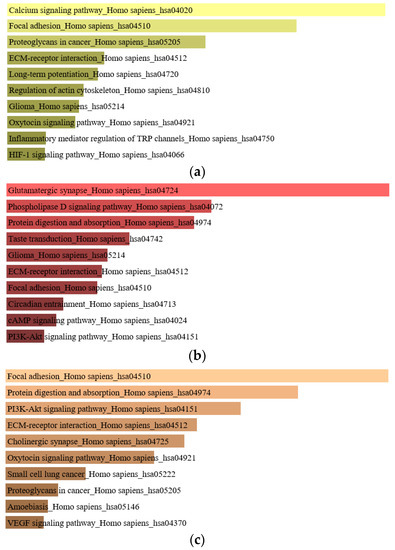 Figure 1
This is an open access article distributed under the
Creative Commons Attribution License
which permits unrestricted use, distribution, and reproduction in any medium, provided the original work is properly cited (CC BY 4.0).
Supplementary materials
Supplementary File 1:

ZIP-Document (ZIP, 472 KB)

Externally hosted supplementary file 1
Doi: 10.5281/zenodo.2656083
Description: Table S1: Cancer related genes in chromosome 20
Externally hosted supplementary file 2
Doi: 10.5281/zenodo.2656083
Description: Table S2: Somatic mutation master table
Externally hosted supplementary file 3
Doi: 10.5281/zenodo.2656083
Description: Table S3: Predicted candidate genes with driver mutation
Externally hosted supplementary file 4
Doi: 10.5281/zenodo.2656083
Description: Figure S1: Data flow of the project

Share & Cite This Article
MDPI and ACS Style
Intarajak, T.; Udomchaiprasertkul, W.; Bunyoo, C.; Yimnoon, J.; Soonklang, K.; Wiriyaukaradecha, K.; Lamlertthon, W.; Sricharunrat, T.; Chaiwiriyawong, W.; Siriphongpreeda, B.; Sutheeworapong, S.; Kusonmano, K.; Kittichotirat, W.; Thammarongtham, C.; Jenjaroenpun, P.; Wongsurawat, T.; Nookaew, I.; Auewarakul, C.; Cheevadhanarak, S. Genetic Aberration Analysis in Thai Colorectal Adenoma and Early-Stage Adenocarcinoma Patients by Whole-Exome Sequencing. Cancers 2019, 11, 977.
Note that from the first issue of 2016, MDPI journals use article numbers instead of page numbers. See further details here.
Related Articles
Comments
[Return to top]